Your new movie Friends, Foes & Fireworks - in a few words, what is it about?
IM: Fiona has recently received a life-changing health diagnosis, so in an attempt to curb feelings of isolation and anxiety she hosts a NYE reunion with her closest female friends. However, not everything goes to plan. Old tensions surface, past rivalries are reignited, truths are told and sparks fly, forcing each of the women to reflect on and re-evaluate past decisions going forward into the new year.
We actually filmed Friends, Foes & Fireworks in a single night on New Year's Eve. And it was all improvised. It's an experimental drama exploring relationships, love, friendship and the truths we try but fail to keep to ourselves.
What were your sources of inspiration when coming up with the storyline for Friends, Foes & Fireworks?
IM: It was a couple of factors actually. The first was frustration. We had just completed a big short film backed by council funding called Half for the Made In Melbourne Film Festival (which we ran at the time), but it was a difficult shoot in the country; cold, rainy, politically-charged and driven by egos. Neither Sarah nor I enjoyed the process, we were at the point of being burned out with film, so we needed to either give up or make something to rediscover our love for film again. Obviously we chose the latter. We chose to create, free of expectations, traditional structure, rigid rules. We chose to experiment and work with a small and intimate team we trusted.
While the New Year's Eve storyline was the result of reflection on past celebrations. The night was always so full of hype, but for us it was invariably a letdown, crowds and drunks and disappointing parties and boredom. So let's do something we typically enjoy on NYE instead. Let's make a film. Once that idea and storyline was established it was a natural progression to film it all in a single night as the filming would mirror the story. In terms of characters, we had spent a decade in the Melbourne independent film scene before filming Friends, Foes & Fireworks so we had a ton of real life stories and experiences with actors to draw upon. Many characters and scenarios in the film began grounded in reality before going in new directions as they developed.
Friends, Foes & Fireworks is a film that's 100% improvised - so why is that, and what are the advantages but also challenges of making a movie this way? And how much of a narrative groundwork did you give your cast to improvise on? Plus, how much did you rehearse before actually shooting?
SJ: The film was totally improvised because we, at the time, were very much inspired by films written and directed by other indie filmmakers within the mumblecore/experimental movement which took off in the early 2000's. Films like Frances Ha, The Puffy Chair, Drinking Buddies, just to name a few more recognised films in the genre, and more recently Victoria, which was shot in one night. Ivan and I also enjoy working with actors, so creating our own improvised style allowed us to do that, and of course do it without the restrictions of traditional filmmaking, which we were finding stagnant and uninspiring at the time. Friends, Foes & Fireworks was an experiment with a bunch of really cool and talented people, that is how we look at it.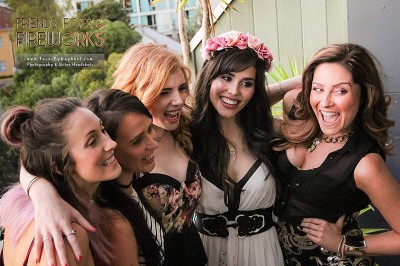 Just quickly, the challenges were numerous, such as the no-script challenge – we were not sure how this would turn out, as we just gave the actors the story beats, the character breakdowns and worked deeply with them months before to know their characters and their motivations.
IM: Improvisation is completely immersive for both cast and crew. One of the sins of mediocre actors, we feel, is waiting for your next line, instead of being "in the moment." But with improvisation you have no choice but to listen and react to situations and conversations around you. You are not performing. You are being human. The freedom of this approach is liberating and can be surprising. Though we work with outlines of each scene and have an idea where we want to go, what is said and how we will get there is a complete unknown. As filmmakers this keeps us on our toes and as actors it means you are constantly engaged – there is no going through the motions because every take is different, every conversation is different. Sometimes, things will go in a direction nobody expected, but you have no choice but to go with the flow, go where the character takes you. In our eyes, that is definitely an advantage of making a film utilizing improvisation.
The biggest challenge, for me, is maintaining continuity. It's actually impossible. Each take is different so you have to find ways on the day and in the edit room to smoothly get from take 1 to take 2 if you choose to. This means a lot of patience in the edit room, and on the day it means looking out for cutaways to use as a backup if need be. It also means a two-camera set-up is essential because so many moments and reactions that happen are only going to happen once – the scene may not go down the same road again – so you better do your best to capture it.
In terms of rehearsals, though there was no traditional rehearsal as there were no lines to rehearse, there is still much discussion, many individual and group meetings with cast, going over character, story beats, relationships, analyse what drives each character, what they are feeling behind each interaction, and where they believe they stand in each relationship. We also play improv games to build team camaraderie; sometimes tailoring the games to play in character or learn more about each other's histories. And we would also film scenes the characters have shared in the past – recreating history – to give each actor common ground to draw upon.
How do you approach an improvisation piece from a director's point of view, also as opposed to a scripted movie?
IM: You have to have an open mind, a willingness to be flexible, and a lot of trust in your cast. With scripted films you may already have an idea on how certain lines should be delivered so you have take after take to hone the performance you want from the actor and get everything how you picture it. But with improvisation, there is no predetermined picture. We don't know what the lines are going to be. So you are multitasking even more so than usual. You are listening to entire conversations for the first time, processing them on the spot, providing feedback immediately, becauses I guarantee the first thing the actors will do at the end of a take is turn to you for an analysis on what they just did. Not only do you have to evaluate performance, you have evaluate whether the dialogue just said was too wordy, not wordy enough, did it convey the right emotion, was there any crucial story info that needed to be conveyed and was it? Did the cameras get enough coverage as there was no blocking either because the actors are free to move where the moment takes them and it is our job to follow. What do you want to focus on in the next take, what do you want to exclude? What can you film cutaways of to use as overlay if you need it in the editing room, because in the next take the dialogue and movement won't be the same again. And so on and so on. You are flying by the seat of your pants and it's exciting. You are always switched on and it's exhausting. You just have to run with it. Trust your cast. But also place a lot of trust in yourself to keep up.
From what I know, you've shot all of Friends, Foes & Fireworks in a single day - so what were the challenges there, and how did you pull it off even?
IM: Lack of time is obviously the biggest challenge. Sometimes we would have liked to spend more time on a scene, on a shot, another take, but the schedule forced us to move on. The first half of the night was key and the most crammed in terms of moments we needed to capture – we had to be at a certain spot at midnight to capture the fireworks so it was go, go, go right from the start. To accomplish this you are you are forced to strip back film to only the essentials. Bare minimum crew, practical lighting, no, we can't have that extra take for safety. You are also forced to think on the spot, adapt as you go, and trust your instincts – it's creativity on the run and there is something invigorating about that. At the same time, despite the flexibility needed, you need to plan and schedule extremely well. We had seven locations to film in a single night, so not only did we have an overall schedule, but everyone involved had their own individual schedules with separate breaks, locations, timings all factored in.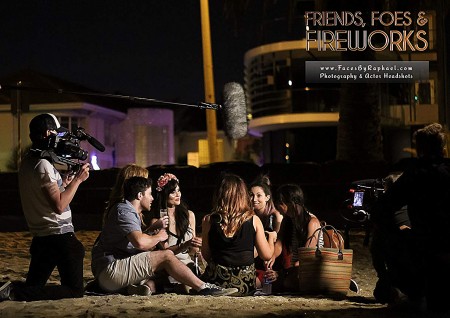 What can you tell us about your collaboration with one another on Friends, Foes & Fireworks? And since this is not the first time you're working with each other, what can you tell us about your previous movies together, and how did you first meet even?
SJ: Our collaboration is one of balance first and foremost when we work together in a directing capacity. We had been friends for a long time before we were married and have always worked together to make films in some capacity through Nexus Production Group. Now that we run the production company together, the only thing that has changed is our workload and our increased drive to succeed. The fact that we are different in nature works well when we co-direct, co-produce and co-write our improvised feature films as we complement each other but also sometimes butt heads, which leads to a healthy balance in the outcome of our projects.
In regards to how we met, both Ivan and I were helping out a friend on his short film, myself in art department and Ivan as a production assistant. However we had not met on set, I worked full time in retail and dressed the sets the night before the shoots and dropped off props when I could, and to this day I have no recollection of having seen Ivan around the set. When the film made it to a major festival in Sydney called Tropfest, we both attended as part of the crew, and Ivan and I ended up chatting at the afterparty while enjoying overpriced champagne at a snobby and pretentious bar. When we arrived back in Melbourne we met up to watch a movie as friends, and we stayed friends for many years after, but we are always together either working on films or dancing at city bars or exploring Melbourne.
IM: We have contrasting styles as directors but somehow we find a balance. For instance, I tend to push too far – louder, harder, more extreme, while Sarah is more conservative and always wants to tone things down. In there we find a happy middle. But it is great having a second director you trust on set as you can bounce ideas off each other, seek feedback, trust your partner to pick up things you may miss yourself. It also forces you to explain why you want to do things a certain way and what is the meaning behind the angle, the colour, the performance, etc. A co-director holds you accountable. And honestly, without co-directing, we would not have been able to shoot Friends, Foes & Fireworks in a single night. Prior to midnight, we were all together as a group, but after midnight the characters and stories split, and so did our teams. So I am shooting in the apartment with a sound recordist and a pair of actors, while Sarah is out at Catani Gardens filming with the DP and another pair of actors. And we even sometimes used this method when we were all in the same location too such as the apartment – I would shoot a scene in the bathroom while Sarah would be simultaneously shooting a scene on the balcony.
Do talk about Friends, Foes & Fireworks' cast and crew, and why exactly these people?
SJ: Ivan and I had been active within the Melbourne indie film scene for a decade each at the time of production, so when we are casting for the five female leads, we knew who was available to fill the roles and this eased the drama of the casting process. For Friends, Foes & Fireworks we simply cast actors we already knew and had worked with in the past, directly on our films, or on other people's projects. This approach was used as we had an idea of each actor's skills, and if they could pull off improvisation, while also being easy to work with.
With Dan Hill, the only male character, he actually stepped in for another actor we had written the role for. We were super blessed Dan said yes as he comes with so much experience in the improvisation technique due to being part of his own improvised series on YouTube called Improv Sessions, of which he has produced and acted in over 100.
IM: In terms of crew, it was also working with people we knew and trusted and had proven themselves on past projects. Our director of photography, Stephen Ramplin, came from a news background so he was already familiar with the 'run and gun' style of shooting we wanted to use – a fly on the wall type of look, as if we were eavesdropping on the conversations of real people. So being at the right place at the right time is what Steve does best.
Following this mindset, we hired people who had strong skills in at least two aspects of filming – indie professionals – as we knew we would use a tiny crew to move quickly and be inconspicuous in the anarchy of New Year's Eve.
Our sound designer, Gerard Mack, mixed the film very naturally, keeping the trailing thoughts, stuttering, people talking over the top of each other, because this is what real conversations sound like. Feedback on the film has often praised the sound design and how real but also clear the dialogue is – something mumblecore is not known to be hence why it is dubbed 'mumble'. So Gerard did a fantastic job, in fact, everyone did and we could not have been blessed with a better team.
What can you tell us about the shoot as such, and the on-set atmosphere?
SJ: On set with the cast and crew at the very first location, as you can imagine the vibe was ecstatic and exciting, we were all just really pumped to be on set together giving this improvised one-nighter a go. As we had not much of an idea as to what was to unfold in the coming 12 hours, so we had this shared sense of anticipation. I can't speak for the others, but I was a little bit nervous too about the whole process and what we were about to undertake. You see when you watch that the actors, as we open the film look all fresh, the tension is there between the right actors, the vibe is chilled and fun, a little bit competitive, but the cast is all hyped and they all look great. Of course as the night wears on, the energy and overall appearance of the actors change – just as it would when you are doing an all-nighter with friends, running around town and drinking. Because it was shot in one night, the atmosphere what you see on the screen in a way mimics the real life feeling. By the end we were all at the point of collapse and the energy went really low, but emotionally for the actors, due to the storyline, that was bound to happen.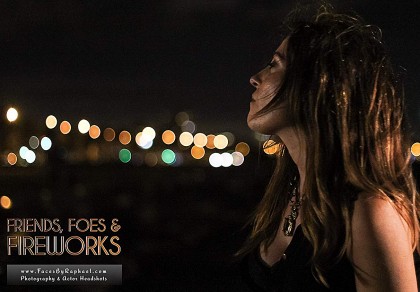 Anything you can tell us about audience and critical reception of Friends, Foes & Fireworks?
SJ: The reception overall has been quite positive, even at the cinema run we secured in Melbourne, the audience seemed to enjoy the rollercoaster ride through the lives of these women and it gets the right reactions.
Reviews for the film have all been positive from critics and many have mentioned it's like eavesdropping on real conversations between friends. Understandably, a lot of people are fascinated with the process and can't believe it was shot in one night. The actors have been praised multiple times for their strong, relatable performances and we have also had positive mentions about our sound design and score, created by Gerard Mack. We also recently won Best Drama at Oz International Film Festival while our lead Lara Deam won Best New Talent as Fiona and Jess Riley won Best Supporting Actor for her role of Zoe.
Any future projects you'd like to share?
IM: Right now we are deep in post production on In Corpore, another completely improvised feature which delves deep into the grey areas of relationships, exploring how four couples deal with love and lust, commitment and infidelity, and traditional expectations versus self-interest. Set in Melbourne, New York, Berlin and Malta, we worked closely with four separate teams to tell anthological stories about couples under strain, loyalties tested, and what happens when one partner's desires deviate from the expectations of the relationship. We wanted to explore the nature of commitment and the idea of sacrificing personal desires at the altar of love – is it selfish to follow the desires of the body and the soul or is this the only path to fulfilment? Even if it means hurting the one you love?
We also release micro-shorts semi-regularly on our YouTube and Vimeo channels called Life Improvised. With these films we tell small human stories and try to capture the moments that make up relationships; the awkwardness, joy, love, despair and more.
Finally, we are developing a feature called To Hold the Moon which actually takes two characters from Friends, Foes & Fireworks, Summer and Lucinda, and explores their relationship two years on. So an indirect sequel, set in Malta and London, a story we have been drafting for several months now, working with a producer in Malta, but also working with Asleen Mauthoor (Summer) and Whitney Harris (Lucinda), doing poster shoots, filming teaser concepts, so it has all been very exciting.
You can find links to all these projects on our website www.nexusproductiongroup.com
You of course also have to talk about your production company, Nexus Production Group, for a bit, and the philosophy behind it!
IM: Nexus Production Group was established in 2007 by myself and Patrick Siscar in Melbourne, Australia. It was a means to produce our first films and learn the craft of filmmaking. Our early work was raw and rough – in fact years and years ago you reviewed my very first feature from 2011 on this site called Dace Decklan: Private Eye, a b-grade gross-out action-comedy. How things have changed.
Sarah joined Nexus in 2010, and in 2014 Clara Francesca joined, completing the collective. Today, myself and Sarah are based in Malta, Clara is in New York, while Patrick mans the ship in Melbourne.
So for us Nexus is shared visions, passions, and skills gelling together to make film that pushes boundaries, that doesn't shy away from the beautiful and ugly in humanity, the intimate, the dirty, the contradictions of men and women, of love, sex, loneliness, confusion – it's an exhaustive list and it changes every day depending on our mood. In the past we aimed wide and played in all sorts of genres, trying everything from comedies to westerns to horror while we found our feet, but today we focus on stories about relationships, usually stories told from a woman's point of view, and often stories told through improvisation.
- Relationships because we are fascinated with exploring the innate human desire for connection and all the rules and expectations we place on that connection and what happens when those expectations are subverted.
- Women because in a male dominated world we want to hear the voices of women. This new narrative has almost been a subconscious shift for us, capped off with our latest feature In Corpore, which is also female driven storywise. We now have a number of short and feature films starring female protagonists who are relatable, strong-willed, flawed, driven and conflicted, and we will continue telling the stories we feel we need to tell.
- Improvisation because it is so exciting to us, so collaborative, so freeing that we simply don't feel like going back to scripts any time soon.
Do talk about some previous releases from Nexus Production Group!
SJ: Our best-selling film is Daughter, an award-winning 28 minute short film and awareness project starring Katherine Langford (13 Reasons Why, Love, Simon) as Scarlett, with the main themes explored in the film being violence against women and victim blaming. The film was inspired by two real life murder cases in Melbourne and the unjust media reporting which followed. The story explores the themes through the eyes of the three varying female characters, who separately venture out on a Friday night but their lives entwine as they each become affected by a single act of violence. In 2017 Daughter joined BeamaClub through a distribution deal with Beamafilm, making it available as an educational tool, on hand to be screened to groups in selected libraries Australia-wide. The film is also available on the Australian Teachers of Media Educational Shop website, making it available for teachers to utilise the film in the classroom alongside their learning and also internationally on FanForce – a fa- based site which allows fans to curate screenings in Australia, Canada, America and New Zealand. Also watch internationally via streaming through Vimeo On Demand, Amazon and IndieFlix.
We have a large collection of diverse short and feature films, many available to watch for free, all the links on our website. If you want to watch some of our latest improvised micro shorts titled Life Improvised, you can do so on our Vimeo channel or search us on YouTube - Life Improvised, Nexus Production Group. All we ask from you in return is that you subscribe to our channels and leave a comment.
Your/your movie's/your production company's website, Facebook, whatever else?
Links aplenty. We are very social. Follow us, subscribe, come say hi:
https://www.friendsfoesfireworks.com/
https://www.nexusproductiongroup.com/
https://www.instagram.com/friendsfoesfireworks/
https://www.facebook.com/friendsfoesfireworks/
https://www.facebook.com/nexusproductiongroup/
https://vimeo.com/nexusproductiongroup
https://www.youtube.com/channel/UCVkH8wivn6eun8QSKO2ka2A

Feeling lucky ?
Want to
search
any of my partnershops yourself
for more, better results ?

The links below
will take you
just there!!!


Anything else you're dying to mention and I have merely forgotten to ask?
SJ: We have a monthly newsletter, where news is shared with our subscribers first, before it hits social media. Creatively Connected is how we stay in contact with our community of like-minded people, share links to articles we have read and feel inspired by, share links to our work, any job postings, updates on the progress of our films, and much more.
https://www.nexusproductiongroup.com/subscribe
Thanks for the interview!