We have talked about his before [click here], but do bring us up to speed: Your new movie Death by VHS - what is it about?
Death by VHS is about a couple who are seeking the ultimate drug. The couple hears about a strange man who rents video tapes that are supposed to get you high when they watch them. The couple rents the tapes which are the short stories in the anthology & after each tape they gradually start to get sick untill the final tape in which the ultimate evil occurs. Here is the synopsis:
A battered and mysterious VCR... A bevy of lethal video- tapes... These are the building blocks of horror in Death by VHS. A mind blowing descent into madness and death. Five shocking vignettes, designed to take your sanity and devour your soul! Mild curiosity leads to severe consequences when a couple rents a supposedly cursed video cassette recorder. An urban legend renowned for leaving a trail of agonizing and torturous death. Unbelieving, they take the plunge... And another legend is horrifyingly born... Do you dare give fate a winning hand, and test yourself against the hellish consequences of the VHS machine? Insert Cassette Press Play...DIE!
At least in my eyes, Death by VHS is quite clearly an hommage to shot-on-video fare from 20 to 30 years ago - what do you find so appealing about these movies, and maybe connected to that, your thoughts on recently resurfacing VHS-nostalgia?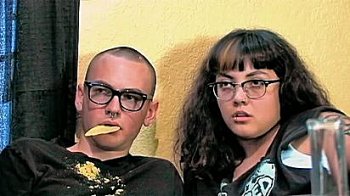 I left Los Angeles as a teenager and moved to a small town in Northern California. The town was called Salinas and it was so boring for me there that I began to rent 5-6 Horror movies a day everyday. Upon watching these films I discovered so many classics & became very schooled in horror, whenever I found something shot-on-video I knew it was going to be so bad it was good, & at that point I realized I got to make my own movie & I did Scarlet Fry's Horrorama, which will be finally getting a VHS retro release with a DVD attached. It will be a VHS/DVD-combo out in Feb 2014 - limited to only 30 units. I loved those old movies like Microwave Massacre, Redneck Zombies etc... what was so appealing about them to me was that they were very funny & really gory, something that I'd never seen before until then.
As far as the comeback of VHS I think it is great, I mean if it wasn't for the 80's video boom we wouldn't have any phsyical media today, it was really a revolution and a true American pastime, I am actually a VHS collector myself.
By what standards were the shorts to be included in Death by VHS chosen, and were there ever any stories you came up with that were just too wild or for other reasons wrong for this film?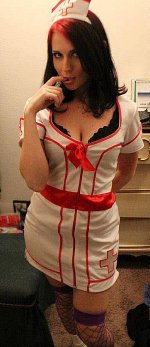 Lepus
At first we really wanted to make a scary movie & we had a different wraparound story planned, but after we began production there was a lot of unexpected obstacles & crew changes and we were going to go way over budget - so we decided to change the wrap around story, we actually wrote it before the movie V/H/S ever came out so this was not an attempt to cash in on that film's success at all. We decided since the story had to do with VHS tapes that we would pay homage to those old shot-on-video cult classics so we decided to stick with that old Scarlet Fry-humor. We really tried to make each short loook as if it was in fact from the 80's, gory & funny in the vein of Herschell Gordon Lewis [Herschell Gordon Lewis bio - click here], Troma-films & movies like Frankenhooker etc, I have always loved horror comedies if done right. I'm not a big fan of spoofs though, there is a difference, I much prefer Toxic Avenger over something like Scary Movie.
I'd like you to talk about the individual segments of your movie for a bit, in terms of inspiration, cast, actual shoot and so on:
Suburban She Freak?
Suburban She Freak was my tribute to Herschell Gordon Lewis [Herschell Gordon Lewis bio - click here], who is my biggest influence. The story is a cross between his films Something Weird & A Taste of Blood, anyone familiar with those two films watches Suburban She Freak, then they'll see what I mean.
Kim?
Kim started as a student film. I was told to write a short that told a story with no dialouge, & that was how this particular short came about. This is my favorite in the anthology, it has a very creepy vibe similar to Romero's Night of the Living Dead - or so I'm told. A huge compliment. What really made this piece special was the radio announcer voiced by David C. Hayes (Bloody Bloody Bible Camp) [David C. Hayes interview - click here].
Christmas Krampus?
Christmas Krampus is interesting. I had originally hired a writer to contribute a short, & he told me that he wanted to do a story about a home invasion on Christmas. This person did not make deadline and so I had to come up with a story - I decided to write something involving Christmas & I came up with Christmas Krampus, which was all from my sick & twisted brain. I really love this short as well, you really can see the humor in this film.
Regenerate?
This was a short film written by Richard Stoudt [Richard Stoudt & Laurence Holloway interview - click here], who is currently in post with his new feature film Voices from the Grave co-written by Gary Brandner, author of The Howling. I read the script & loved it, it is sort of like John Waters meets Re-Animator.
As far as I know, the last segment of your movie, Lepus directed by Jacob D. O'Neal, was pretty much discovered for Death by VHS. Would you like to elaborate on that?
This was the only other short that wasn't written by me, after we shot 4 shorts for the anthology we realized we needed a little more time to make the movie 70 mins with the wrap around included. My camera man David Sabal told me he had a friend who wanted to submit a film which turned out to be Lepus. I am so glad I agreed to let this film be a part of the anthology because it is the best piece in the entire anthology even though I have a soft spot for Kim.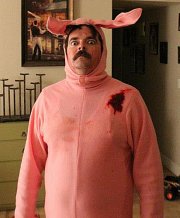 Lepus
What can you tell us about audience and critical reception of your movie so far?
Whenever you make any film there are going to be people that love it & people that hate it, I have learned to accept the bad with the good, so far the response has been amazing, I showed it to the editor of Fangoria & he liked it so much he decided to feature me in the upcoming issue of Gorezone magazine due out in Sept of this year. I am very happy about that , I have been making films & paying my dues for a long time, so to be featured in a major horror publication is a long time coming & I couldn't be more happy & grateful.
Any future projects you'd like to share?

Feeling lucky ?
Want to
search
any of my partnershops yourself
for more, better results ?

The links below
will take you
just there!!!

Find Walter Ruether
at the amazons ...

amazon.com

amazon.co.uk

amazon.de
Looking for imports ?
Find Walter Ruether here ...
Something naughty ?
(Must be over 18 to go there !)

Yes first I have a VHS/DVD combo of my first film Scarlet Fry's Horrorama scheduled for a Feb 2014 release. I also just finished shooting a segment for a documentary about VHS, the 80's video boom & collecting, it will also be out next year & is going to be called Plastic Movies Rewound: The Story of the 80's Home Video Boom. I am also currently working on a new short film called Love's a Loaded Gun - this will be my first film that is going to be serious & not funny. This will actually be a scary intense blood filled short film which will be featured in a new anthology that will be very much like ABCs of Death, it will have over 20 short films from over 20 different indie horror directors, I was very priviledged to be asked to be a part of this, I could'nt pass it up. I just started a fundraiser to raise funds to start production - if you would like to contribute & get your name on the credits & IMDb please click the link below:
http://www.indiegogo.com/projects/love-s-a-loaded-gun/x/35469
Your/your movie's website, Facebook, whatever else?
Facebook page: https://www.facebook.com/DeathByVhs?ref=hl
IMDb page: http://www.imdb.com/title/tt2087937/?ref_=rvi_tt
Thanks of the interview!