Your upcoming movie Lycanimator - in a few words, what's it going to be about?
Lycanimator is about a scientist who discovers that monsters actually exist and are actually just evolutionary offsets of humanity. A slight difference in DNA resulting in new different entities. A group of friends stumble upon this secret, resulting in one of them becoming something elseÖ which I suppose you can guess is the titular monster.
With Lycanimator being a creature feature, is that at all a genre dear to you, and some of your genre favourites?
Monster movies, creature features, those are my favorite movies in the world. Iíve always had a deep-seated love for monsters. Godzilla, Gamera, King Kong, Frankensteinís monster, the Gillman, those were all my heroes growing up. I always knew that those were the kinds of movies I wanted to make.
Other sources of inspiration when writing Lycanimator?
Brian Yuzna and Stuart Gordon were heavy influences. Greg Lamberson [Gregory Lamberson interview - click here] is someone who has really influenced my writing. I always looked up to him and I got the opportunity to work with him on Johnny Gruesome this past summer and learned a lot about screenwriting from our conversations.
Do talk about your movie's approach to horror for a bit (as in suspense vs sudden shocks, atmosphere vs all-out gore and the like)?
Oh, Lycanimator isnít subtle, hahaha. Itís balls-to-the-wall slime, gore and monster violence. Itís insane, over the top but not comical. Itís just a fun B-movie. Roger Cormanís 80ís output [Roger Corman bio - click here] is probably the closest to what weíre going for.
You of course also have to talk about the creatures in Lycanimator for a bit, and how will they be achieved?
The main beast itself is going to be brought to life through two methods. The first is a full body suit being made by Toby Johansen, a really talented guy who is just really breaking into the business now. The second is a puppet being built by Dustin Mills [Dustin Mills interview - click here], a brilliant indie director who also doubles as an equally brilliant effects artist. Heís another personal hero of mine, so I had to have him involved. There are other creatures in the world of the film, but theyíre only mentioned and never seen. Maybe if we ever do a sequel, weíll know more about these other monsters.
What can you tell us about Lycanimator's intended look and feel?
Very colorful and vibrant. I like comic book-ish imagery and lots of color in my horror movies. Iím so sick of the grey, dismal look that became so popular over the past ten years or so.
Anything you can tell us about Lycanimator's projected cast yet, and why exactly these people?
Whoo, boyÖ producer Dustin Hubbard [Dustin Hubbard interview - click here] and I have joked about this almost being the Expendables of micro-budget horror and it sort of is. Dustin has worked with Nicola Fiore for years, so it was a no-brainer to get her involved. Johnathan E. Smith is someone who has lots of passion who really wanted to be involved, so I gave him one of the leading roles. Tyler Hosley has been a friend of mine for years and I pretty much wrote that character for him. On the bigger level we have Joel D. Wynkoop [Joel D. Wynkoop interview - click here], an obvious B-movie icon. Michael OíHear has a voice cameo and heís done so many of these low budgeters over the past 10 years. The biggest name is another voiceover role, Giovanni Lombardo Radice, one of my favorite genre stars. City of the Living Dead, Cannibal Apocalypse, House at the Edge of the Park, just so many great roles in so many iconic films. Iím very honored to have him involved.
There are more, but itís just such a big castÖ Dustin and I have roles as well.
As far as I know, Lycanimator is still in its fundraising stages as we speak - so what can you tell us about your campaign?
Well, I mean the campaign is pretty much perfect for folks who want to be involved. We have producing credits up for grabs, copies of the script, you can even have a monster named after you.
https://www.indiegogo.com/projects/lycanimator-from-melting-man-films-c-word-prods#/
Once the funds are raised, what's the schedule - and even if it's waaay too early to ask, any idea when and where the film will be released onto the general public?
We shoot in July no matter what. As for releaseÖ well, thatís up to the distribution Gods, as they say.
Any future projects beyond Lycanimator?
Plenty. Hehe.
What can you tell us about your filmwork prior to Lycanimator?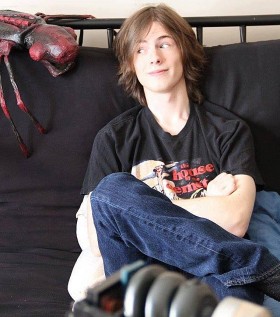 Seb and friend
Iíve been making movies since I was 15. My first short was called Eating Out and it starred Lloyd Kaufman and Dave Parker (Headless, Bathsalt Zombies, etc). My more recent shorts Out of the Box and The Fix have had decent festival runs and both of those are actually viewable on the IndieGoGo page for Lycanimator.
Beyond that, Iíve done acting here and there and even had a lead role in a micro-budget drama called Lavenders Blue. I also crewed on Johnny Gruesome as I mentioned before. I did behind-the-scenes documenting and I was an extra.
Going through your filmography, horror seems a genre you return to time and again - pure coincidence, or is horror a genre at all dear to you, and why (not)?
I love horror. I prefer science fiction, I think, but I do love horror. I love gore and atmosphere and monsters and the cool quirky personalities that the genre attracts.
How would you describe yourself as a director?
I make what I think would be entertaining to me. All I wanna do is create things and have a great time doing it, I suppose. I like to be very stylistically ambitious with low-fi concepts. I also try to give each actor a good basis for who their character really is.
Aside from films, I love anime and I read a fair bit of manga and so I definitely take a lot of stylistic cues from that. Shows like Devil Man, Cowboy Bebop, Evangelion, those all influenced my taste in cinematography and framing.
Filmmakers who inspire you?
I have so manyÖ I mentioned Dustin Mills [Dustin Mills interview - click here] and Greg Lamberson [Gregory Lamberson interview - click here] above, but beyond that, Guillermo del Toro is a big one. David Cronenberg, Ishiro Honda, Lucio Fulci [Lucio Fulci bio - click here], Bruno Mattei [Bruno Mattei bio - click here]Ö More recent ones would be Shinji Higuchi and Hideaki Anno. My absolute favorite director is Shinya Tsukamoto. I find it impossible to watch one of his films without wanting to immediately go out and make something.
Your favourite movies?
Lots of tough questions, huh? Haha. So manyÖ the original King Kong and Gojira, The Bride of Frankenstein, Creature from the Black Lagoon, The Beyond, Tetsuo: The Iron Man, Bullet Ballet, Taxi Driver, The Good, the Bad and the Ugly, The Beast from 20,000 Fathoms, James Gunnís Super, American Movie, The Blues Brothers. My favorite movie of the past 10 years is Shin Gojira. Virtually flawless genre filmmaking.
... and of course, films you really deplore?
I fucking hate almost anything by Terrence Malick, Gus van Sant and Lars von Trier. Iím not too big on a lot of current superhero movies, but I donít think I hate them, I really just really hate overwrought, hollow, soulless filmmaking. And I deplore anything that exploits the most simplistic elements of human sentimentality. Iím a bit of a misanthrope.
Your/your movie's website, Facebook, IndieGoGo, whatever else?

Feeling lucky ?
Want to
search
any of my partnershops yourself
for more, better results ?

The links below
will take you
just there!!!


You can find us on Facebook, and our IndieGoGo campaign is at https://www.indiegogo.com/projects/lycanimator-from-melting-man-films-c-word-prods#/. Feel free to reach out to me personally if you have any specific questions, you can find me on Facebook as Seb Godin.
Anything else you're dying to mention and I have merely forgotten to ask?
Not really. I hope everyone likes the film or at least has fun with it, when itís completed. Iím just a fan who wants to deliver the best monster movie possible. At the end of the day, thatís what would make me the happiest.
Thanks for the interview!