You are about to release a movie called Amateur Porn Star Killer 2. Can you tell us in a few phrases what the film is about ?
Boy watches girl. Boy follows girl. Boy picks up girl. Boy flirts with girl, gets girl to like him. Boy pisses girl off. Boy rapes and kills girl. End. LOL.
But it really does play off the donít talk to strangers, and donít trust the boy next door theme of horror movies, though Iíd say itís anything but a traditional horror film.
In what way does it differ from the first Amateur Porn Star Killer ?

Feeling lucky ?
Want to
search
any of my partnershops yourself
for more, better results ?

The links below
will take you
just there!!!

Find Shane Ryan
at the amazons ...

amazon.com

amazon.co.uk

amazon.de
Looking for imports ?
Find Shane Ryan here ...
Something naughty ?
(Must be over 18 to go there !)

The first APSK basically just puts a camera on a shy girl and watches her for the whole film. Many people who decided based on the title that they wouldnít like the film would make laughs when summing it up that bluntly, but I donít believe every movie needs some twist and turn and suave dialogue and well-constructed story. Sometimes itís just the here and now that matters. Iím more interested in human behavior than plot (which is why I can say I loved The Ruins - killer plant attacks kids is basically how you could sum it up, but what was interesting was how they started reacting to the situation after being quarantined to die). The first APSK deals with the last hour of a girlís life. To me, everything that happens in that last hour is important. Whether itís her being raped, or her just sitting there looking around the room, it all means and it all says something. The first also deals with a young inexperienced girl. And what it really points out (which I think makes it become a feminist film) is how you donít need to use a weapon or force, or hear the word ďnoĒ, to call it rape. The girl is clearly raped, though many men would probably argue otherwise (even some reviewers Ė men Ė pointed out how there was never rape in the film, though it most definitely was). Some women say ďstopĒ by saying ďstopĒ. Others say ďstopĒ by fighting back. And some, some people just shut down emotionally and hope it just stops. Her body language clearly is saying ďstopĒ. Thatís something you donít see much brought up in movies that deal with rape, if at all, so that was another thing the original APSK brought up.

APSK2 is a whole new type of victim. She resembles the first girl in height, weight, dark hair, and while not as young is still very young, but her attitude is much different. She is obviously experienced and wants to fuck the killer, and even becomes a handful for him at a point. But to focus on another kind of rape yet again, we decided to have the killer play his games of finding what pisses the girl off until he eventually does. This gives him the opportunity to force himself on a girl who actually wants to fuck him. This shows just how sick he is, that he has to play this game with them. The only good example I ever saw of this in a film was Bully. Nick Stahlís character and Bijou Phillipsí character want to have sex with each other. They both get undressed, start to get it on, she obviously is going to fuck him, but he does something to piss her off. He purposely does it, waits until sheís so pissed off she tries to leave, then he forces himself on her, therefore raping her.
I just find weird stuff, even normal stuff, in our behavior as human beings that is very fascinating, and criminology in general really fascinates me. I never had much interest in horror films or exploitation films before, it was criminology and behavior that got me started on the APSK films (as well as having to work with no money). The thing that really differs the 1st from the 2nd though is the editing. The first had hardly any editing, aside from adding the old film look and black and white to create the mood I felt was appropriate. The 2nd, however, takes about every editing style Iíve used in the past when making short films and music videos, and somehow incorporating it into each scene in APSK2. I tried to treat each scene like a new film, and get more and more intense and unpredictable with it as the movie went on and the emotions became more intense and unpredictable.
You can see the difference from the trailer we edited directly after filming (when I had considered making it in black and white):
http://youtube.com/watch?v=9CmloEaT94w&feature=related
to the new trailer with the actual look of the film:
http://youtube.com/watch?v=vKxOI8djB-I
and then also compared to the flow of the first APSK:
http://youtube.com/watch?v=ZN7nckMIqs8&feature=related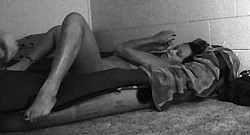 According to my information, in Amateur Porn Star Killer 2 you have included hardcore sex scenes. Why did you decide to go hardcore ?
I felt like the 1st was more mysterious, everywhere from the character of the girl, to hiding the oral sex scene, to having the murder off camera, so I just went the opposite with APSK2. I think the 1st disturbed the people who were disturbed because it was mysterious so Iím hoping the 2nd will catch them off guard with itís in-your-face approach and have the same effect. If we were to make the 2nd film like the 1st it wouldnít have much effect since we just did it that way, so it was all about finding a new approach, while at the same time trying to stay true to the original. Itís still done handheld, documentary style, it just has more editing tricks (or less if you watch disc 2, the bare bones snuff version with absolutely no editing tricks, music, titles, nada). It still has the oral itís just this time itís right there in the open. It still has the murder but this time you watch it, though we still made the choice of keeping it bloodless.

It wasnít really about let's be shocking, it was just about trying to keep it fresh while staying true. Another thing we added a lot of this time (not to contradict what I said before however) was plot. Well, more like backstory. Fortunately I have many unfinished films and footage sitting around from when I was younger, and fortunately it deals with sex and/or violence. So that was a great way to incorporate past events of the killer captured on camera, and possibly give people a better idea how he came to this point.
You have shot the entire film in one day, right ? This must mean a terribly hectic schedule. Isn't it hard to get the whole thing done in such a short time, or does it actually help the immediacy of the movie ?
Aside from the recycled footage the main movie sequence with Kai (just like the original APSK with Michiko) was shot in one night, thatís correct [Kai Lanette interview - click here]. And in the case of the APSK movies I think it worked out great that way. As long as the person youíre working with understands the concept, it just makes it all that more believable to do it in one night, in one shot, in one take. Everything was done only once in APSK, and aside from this quick 5 second sequence in APSK2 which we had to re-shoot, everything was shot only once. For this type of story and style thatís the best way to do it I think, because in many ways it really is real. Thereís no script, not much planning, so it comes off being just that, and thatís the catch. There have been other films Iíve done that have taken much, much longer. Iíve been writing and test shooting stuff for Romance Road Killers on and off for 3 years.
http://alteregocinema.com/Features/ROMANCEROADKILLERS.html
Thereís this 15 minute film Isolation I did a few years back, which we shot on and off for 8 months trying to get everything just right.
http://alteregocinema.com/Shorts/ISOLATION.html
Some people think I shot APSK the way I did because I had never made a film or had no idea how to make one, but I had been directing since I was 7 so I had experimented with a lot of stuff. And I just wanted to see what would happen if I did the opposite of everything I was taught and everything I had learned; and thatís finally what let me take the jump from aspiring filmmaker to multiple distribution deal. So fuck it, break the rules, all that shit new filmmakers always say. But what my dad taught me was learn how to do it right first, then make the choice to change it, to break it, otherwise you have no idea what youíre breaking and it just makes you look ignorant.
Lead actress Kai Lanette
How difficult is it to find actresses to star in films like Amateur Porn Star Killer 2 (the title alone is bound to scare away many girls) ?
Yeah, it does. Weíre trying to cast Part 3 and so far no submissions for supporting roles. Real actors donít tend to want to work with me. Itís usually girls who arenít trying to make a career out of it, so theyíre not as paranoid about what people will think of them. The lead girl Iím working with on Part 3 is like that because she wants to model and act for a living, so weíve really had to go over things more to see what she's comfortable with. (And this just in, she dropped out, wanted a bigger paycheck for one night of shooting than I would get for 3 years of getting the first film out there, so scratch that, yes it can be difficult, LOL.)
But for the most part Iíve stayed away from real actors as I usually just shoot stuff in my hometown. People up there are more excited to be in a movie, willing to do it for free, and not as difficult to work with. An actor from LA sees the $20 budget youíre working on and flips. Versus somebody like Kai [Kai Lanette interview - click here] is approached, we sit down for a few hours to talk about it, and the next day or whatever weíre shooting. Plus being from a small town people know each other whether theyíre friends or not, so Kai and I, like many of the other girls Iíve worked with, had known of each other for several years through mutual friends so it was easy to relax and just do it.

And then thereís plenty of people who have come back later saying they changed their minds, donít want to be in it anymore, etc. Lots of girls do this, even the ones who didnít have sexual roles or were in non sex-related films, both actors and non-actors. It doesnít matter how much explanation you give somebody and whether they sign contracts or not, some people will come back later with a bunch of shit to throw at you, so you better have those contracts. Iíve made mistakes in the past of trusting people will sign them later and have had to re-shoot or shelve projects over that shit because they changed their minds afterwards. Iím a handshake type of person. I trust peopleís word. You canít do that anymore (actually you havenít been able to do that for like 100 years or whatever). Iíve never understood that because I acted in many student and independent films (most or all that didnít get anywhere due to lack of promotion), and I donít think I ever signed anything. I knew none of them were for money, and I didnít care who saw it, it didnít matter if it came out bad or good (though of course Iíd hope good). I made the choice of being in it so Iím not gonna take that back. But many people just arenít like that, and thatís been a big problem for me with the acting part.
Were there any major influences for Amateur Porn Star Killer 2 ?
I had already been influenced by films like 8mm and Tape for Part 1, so the biggest influence would be from where everything originated from. But my own past work was the biggest influence I had on the visual look. Iíve made about 50 short films and music videos and on some of my more recent efforts had experimented with stuff that I wanted to use in a feature. And the music I was given to work with for Part 2 was a big influence. I started working on the film, editing it, according to the music to see if it flowed. And more and more the editing and the music together took a life on their own. I tried editing each scene differently, and each time thought about my past efforts, and what I had done that I think I could recreate for this film. The other major influence was David Fincherís Zodiac and late night TV. I watched Zodiac multiple times before editing, getting the flow of the criminology part and how it worked in the film. We didnít have detective and case files and stuff but we had victims, days, times, names, etc., so I wanted the feel of a forensic files type thing in that regards. And then I usually edit in the middle of the night and while Iím taking a break or waiting for stuff to render or whatever Iíll channel surf and I bet a lot of that had a subconscious influence; anywhere from seeing ridiculous infomercials, to fake religious leaders, to Court TV, to Girls Gone Wild. I also put together the snuff version of Part 2 (on disc 2) for people who want the ultimate realistic approach and that finally gave me a chance to have a black and white feature. But what the snuff version really shows (if you watch it back-to-back with the movie version) is how you can take real life footage of a tragedy, and make it into a visual work-of-art, or more importantly, a mockery. I think itís scary to know that somebody can take real-life tragedy and make it a cinematic event (which is what they did with Columbine, which is what caused me to instantly stop watching television for the most part).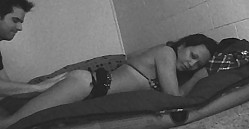 What do you answer to people who accuse you of using gratuitous violence as the main selling point of your movies ?
I ask ďwhat violence? Thereís no bloodĒ. The title draws them in and then I hope the realistic approach knocks them out with a ďwhat the fuck is wrong with me that Iíd want to see that?Ē Some of my other films have blood but I donít think itís gratuitous, I only use it when I feel itís necessary to the situation. Usually people just say I should make a different movie, but since weíre talking about whatever movie theyíre bringing up, Iíd just say, ďwell, if you were involved in a murder like that, how would you have killed that person so it wasnít so gratuitous?Ē Besides, without violent films, we wouldnít get the joy out of things like Finding Nemo. We need a balance. I loved Mr. Brooks and then I loved Martian Child. Sometimes I want a serial killer, other times I want a family film, but not just one.
What can you tell us about your fascination with snuff, the very topic of the Amateur Porn Star Killer-movies ?
8mm really got me interested because it kept the victim mysterious, and mystery always intrigues me, and criminology intrigues me partly because itís mysterious. Snuff is a criminal act thatís very mysterious because itís not proven to exist. And exploring the victims of snuff films, digging into who they are and/or how they would react really interested me because like I said earlier, Iím more interested in how people react and human behavior than I usually am plot. Iíll just sit and watch people or go to bars and not drink and watch people from a sober perspective, itís really interesting, weird, worth exploring.
So, in APSK1 especially, thatís exactly what we do; we just sit and watch every little reaction that the lead girl has to that situation. And then in Part2 we get a much more realistic portrayal of snuff and a new kind of victim in the snuff version. And in the movie/theatrical version we see how glamorized and artsy a filmmaker is capable of making real-life tragedy by adding effects, music, songs, title cards, fast motion, slow motion, etc.

But all in all itís not really that Iím interested in snuff, I just found one out of hundreds of ideas I thought I could actually put into a movie, so thatís the idea I went with. My biggest fascination is doomed ill-fated love (like my film Romance Road Killers). Thereís something about tragic romance stories where you know from the start that theyíre doomed. Itís more intense, more romantic, more passionate, more action, more drama, and therefore always makes an interesting story in my opinion. And you can always seem to relate to the characters in some way since we all want to be in love.
What other films have you worked on besides the Amateur Porn Star Killer-movies ?
Iíve been doing a lot ever since I was about 7 years old. I made films from then until the time I was 16, both acting in and directing (since what I really wanted was to act but was too young to drive myself to auditions or even know how to go about getting them I just grabbed a camera and started doing my own shit).
I acted in several student projects and short films and a couple indie features when I was about 20-21. Iíve done some featured extra work like Thatís So Raven, LOL, which got me all my SAG vouchers (though Iíve never had enough money to join SAG), a stunt fight on The O.C. and a little stunt with Billy Bob Thorton on Bad News Bears. All that was on-the-spot stuff I got picked out for (except the Raven thing I was handpicked for some reason).
I started directing a feature when I was 19 that was never completed and later turned into several short films, including So, We Killed Our Parents and The Snakeís Kiss Good-Bye, both of which are on the APSK1 special features. I shot 2 other features back in 2003 that were halfway edited and have just been sitting around ever since. I started editing them again, trying to get them done, finally. One, Iím sure, would get a fucking mumblecore comparison, even though we shot it over 5 years ago. Itís called The More The Better:
http://alteregocinema.com/Features/MOREBETTER.html

I did test shooting for Romance Road Killers 2 Ĺ years ago, still trying to get that financed.
http://alteregocinema.com/Features/ROMANCEROADKILLERS.html

Prepping to shoot I Fell in Love with The Devilís Daughter, which Cinema Epoch was interested in releasing, so hopefully that oneís a go.
http://alteregocinema.com/Features/DEVILSDAUGHTER.html

And then Iíve done a bunch of short films and music videos, all were on my typical $20 budgets.
http://alteregocinema.com/AlterEgoCinemaShortFilms.html
Any future projects ?
I started directing because I wanted to act, so now that I finally have some credits out there as an actor I was thinking of going full throttle for that because Iím burning out on this directing shit man! There are the couple films I mentioned but itís more like I want to get it out of the way so I can finally see if I can get some kind of acting career. Oh, weíre also doing APSK3, I forgot about that! So much stuff going on, but Iím still paying for gas in dimes, lol. I just need to have this pull in enough money for me to be able to drive my car, drink coffee, and pay rent (which is cheap since I still live at home). But thatís not even happening, so Iíve really been considering what I want to do with my life, since what I want to do isnít letting me survive in the real world.
Your website and/or mySpace and/or whatever else ?
www.AlterEgoCinema.com
MySpace just deleted our main MySpace account, fuck those bastards!
Filmdirectors who have influenced you ?
I gotta say Fritz Lang, Charlie Chaplin, Orson Wells and Hitchcock since I grew up on that stuff and was surrounded by it through my dad. I couldnít have better influences. And then stuff I tracked down on my own, letís see, Tim Rothís The War Zone was probably my biggest influence. Bang was the first really low budget film I saw which inspired me. I remember my dad took me to see it at the same Laemmle Theatre I had both APSK1 and APSK2 Premiere at, funny.
I loved Tony Scottís editing style in Domino but a lot of people donít like that so that sucks to hear but I think itís fucking visually amazing. Man on Fire influenced me to keep making my films the way I wanted once I saw that Hollywood was really pushing the limits with that kind of style. I like Oliver Stone, of course, I fucking love The Hughes Brothers, wish those guys would make more films. Dead Presidents is one of my favorites ever. And Darren Aronofsky, but since those guys rarely make films, maybe thatís why all their films kick ass. Alex Payne, Steven Soderbergh, George Clooney and David O. Russell all rock, despite the rivalry between their connections.

Really, though, I just try to get my influences through life and music. Iíll get an entire idea based on hearing the right part of the right song while being in the right location. I got the entire idea for Devilís Daughter from one little part of a Cat Power song. She mentioned something about being the devilís daughter, and the mood of the song, with those 2 words, and the empty location I was driving through at that exact time instantly gave me the idea for the opening. And within 10 minutes I had the basics of the entire film in my head.

I wrote the script for Romance Road Killers while listening to Cat Power and co-director singer/songwriter Emily Wryn, since they sound pretty much identical. It really inspired everything. Music is a huge inspiration to get my thoughts going, and locations really help me create more so than watching other movies. I made my short film Isolation based on the locations I found and wrote the short script and idea based around the locations.

And finally still photos really inspire me. Especially when itís a really good picture that has a lot to say. Iíll sit there and look at a photo forever, trying to figure what it all means, or if itís of a person, trying to figure out all their thoughts, the photographerís thoughts, etc.

So, all in all, music, people watching, photography and cool locations inspire me more than anything. And sometimes other directors and movies come into play.
Your favourite recent movies and your all-time favourites ?
Hmm, some recents - Once, Zodiac, Into the Wild, Rocky Balboa, Juno, Dan in Real Life, Things We Lost in the Fire, Martian Child, American Crime, Death Sentence, Crank, Family Portraits, Mr. Brooks, Talk to Me, Darjeeling Limited, Sweeney Todd, Michael Clayton, Waitress, Confession of a Superhero, Rambo, The Jason Bourne films, Running Scared, Hard Candy, The Fountain, and I just saw this fucking kick ass movie called Punk Love, it has not one review link on IMDB, I canít believe it, check it out. It has some amateur moments but the rest is so unbelievable powerful, I canít believe I never heard of this.

All-time favs would be True Romance, Made, Swingers, U Turn, Menace 2 Society, Out of Sight, The Limey, Pump up the Volume, Rocky, Jackie Brown, Taxi Driver, Face/Off, Bloodsport (Iím a huge Van Damme fan/geek, lol, I know), Passenger 57 (I also like Wesley) and New Jack City, PI, Almost Famous, Die Hard, Hard to Kill, Enter the Ninja, The Postman Always Rings Twice, Double Indemnity, Plain Dirty, The Recruit (I donít know why, Pacinoís a guilty pleasure), Dog Day Afternoon (I do know why), Collateral, Heat, Kiss Kiss Bang Bang, Donnie Darko, Weekend at Bernies, Garden State, American Psycho, Open Range, 8Mile, Very Bad Things, Grease, B Monkey and thereís just too many and all kinds of films to go on with.
... and some films you really deplored ?
I try not to watch a film if it looks bad, though sometimes I misjudge and in the past I used to watch everything I could find so I definitely saw some stinkers. Speaking of Saw I think the first Saw was really good and then the 2nd wasnít, and the 3rd was so awful I didnít bother with the 4th, so thereís a stinker.
88 Minutes was extremely cheesy, I felt bad for all the actors in the movie. Of course Uwe Boll and Ulli Lommel films are cruel and painful to watch. And then thereís mainstream films that just the trailer alone kills you (i.e. Foolís Gold, Prom Night). I like lots of films so itís hard to find bad ones but Iíve seen a lot of shit at festivals. I remember seeing 9 Songs at Sundance a few months after shooting APSK thinking ďwhat a piece of shit by such a big time director. If this got into Sundance I wonít have a single problem with APSKĒ, lol. But Iíve seen way worse than that as well, though usually Iíll just forget about a bad film unless it really sticks with me for some reason.
Anything else I forgot to ask and you are just dieing to mention ?
While they might be great guys, I AM NOT an Eli Roth fan (I actually just sat next to him at the premiere for Adam Carollaís The Hammer, lol, I kept tripping over his legs until I eventually sat in front of him). I am definitely not a Guinea Pig or August Underground fan (nor have I even seen those or care to). Or a Troma fan (though they are great guys who I would party with any day, fan of them as people, but not the films, though I hope they keep making them). And what else? If I hear one more comparison to any of them I will hunt down that person and sleep next to them in bed naked with poison oak on my body after Iíve infected my self with aids as I will then rape them without a condom. Well, maybe not. Itís actually fun to hear people I donít know say untrue things about me with the confidence that theyíre right when they couldnít be more wrong. So, scratch that. Please, tell me something about me I donít know. I do seem to forget things a lot. Like where I parked my car, I can never fucking remember.
Thanks for the interview,
and good luck with your film.
Thank you. Thank you. Thank youÖ