Your new movie Maturing Youth - in a few words, what is it about, and what can you tell us about your character in it?
Maturing Youth is a coming of age film, albeit one where the hero is coming of age a little bit on the late side. Roger, played by Sean A. Kaufman [Sean A. Kaufman interview - click here], has led a pretty directionless life, heading into his mid-thirties, but still stuck in a teenager mentality. When confronted with the unexpected reality of his being a father, and then becoming the care-giver for the boy Junior, played by Joshua St. Leger [Joshua St. Leger interview - click here], when the mother, named Sadie played by Kim Paris, leaves the child in his care, Roger is totally unprepared for this kind of responsibility. A Mysterious Doctor, named Dr. Riccard played by me, arrives, supposedly to attend to the sick child, but actually, to focus Roger and cause him to face the truth about himself, and help him to "cross the bridge" into adulthood.
What did you draw upon to bring your character to life? And how much Terrence Keene can we find in Doctor Riccard?
Having been a teacher (both high school and grade school),as well as a director and acting coach and teacher, and also the president of my own company, taking large groups around the world for cultural events, I have often been in the role if the "authority" or the "leader". My character knows his mission and he rather enjoys the task before him, like a teacher who enjoys imparting knowledge to his students. So, there are definitely elements of my life that I think became a part of my character. However, Dr. Riccard is a bit "trickier" than I would probably have been....it is not only that he enjoys his mission, he REALLY enjoys playing with his subject (Roger) and both teasing him and taunting him into self realization.
How did you get involved with the project in the first place?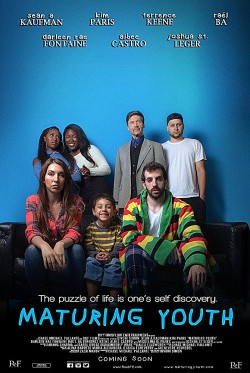 I saw the notice for the audition for the film in one of the trades (Backstage, or other). I submitted my video clips and resume and was called into audition. We were not given the sides in advance. I just had 10 minutes or so to prepare the audition. I have to say, it was one of those situations where I just knew exactly what I had to do. It happens once in a while. Sometimes you just immediately know how this character should be done and who he is. I immediately saw the humor that was the most active part of the persona of the character. I think I threw myself into the "eccentricity" of the part, almost without thinking about it. I felt a good deal of satisfaction with the audition, although I can't claim that I saw any evidence of having "wowed" the monitors. They were quite cool and professional. But I was very pleased to be offered the role a few days afterwards. I later found out there had been some call backs for most of the other actors, but I was not called in for those. I met all of my fellow actors at the first read through.
What can you tell us about your director Divoni Simon [Divoni Simon interview - click here], and what was your collaboration like?
Divoni is a creative young man, who threw his heart into this project. He seemed very appreciative of what I was trying to bring to the part. In the final version of the script, he cut something that I thought had been a very funny item in the audition sides. I asked him to put it back in, and he agreed, with some reservations. At the rehearsal for that section, just before filming, when I got to that part, the whole crew burst out laughing. So I am glad we left it in. Divoni kept after me about a certain quality he wanted for the character, which he described as "passive aggressive". I had trouble getting that, and told him I didn't think that was something I could act. However, I continued to think about it and to work on it and suddenly I understood how to make that work. It definitely added to the humor and eccentricity of Dr. Riccard, and, together with my co-star Sean, we worked to show how that dynamic helped impact on Roger as well.
What got you into acting in the first place, and did you receive any formal training on the subject?
I have always known that I wanted to be an actor. As a child, I made made marionettes and gave puppet shows. I wrote plays that were presented for the whole school. I did my first professional job at sixteen, acting in a melodrama/revue in Cripple Creek, Colorado for an entire summer. I went to the University of Denver on a voice scholarship, with a major in music and minor in theater. Every weekend and in summers I acted professionally in various theaters. After I moved to New York, I studied with amazing teachers for many years, including Terry Schreiber, Michael Shurtleff and Vivian Matalon. An actor is always learrning, always working on his craft, discovering new things...
What can you tell us about your filmwork prior to Maturing Youth?
All my life, my focus was on the stage. I did many productions such as Generation with Eddie Bracken, I was on the national touring company of Jesus Christ Superstar... I did regional theater in plays such as Edward Albee's The Goat. I also got sidetracked a few times from my theatrical endeavors as I was running my own company, involved with cultural events, travel and working in a special relationship with the Kirov and Bolshoi Theaters of Russia. I never really thought that much about film. I did do a short film that was written for me, actually, many years ago, A Better Day, but that was kind of a fluke. In the last three years, however, film has been the focus of my career. I did a black comedy, Broken Faces, where I played a gangster-like character called "The Messenger". I think the clip from that may have been responsible for my being called in for Doctor Riccard. I have done a number of short films, student films as well as several television shows in the last couple of years. I just finished filming my own project, Joaquin and Luke, which I wrote, produced, directed and starred in, along with my partner, Nicolas Conde. We are really excited about this project which will hopefully release early this winter. I went to Philadelphia to film a feature film, The Birth of Deceit, in which I have a starring role.
How would you describe yourself as an actor, and some of the techniques you use to bring your characters to life?
I have tried to combine all of the strong points of the teachers I studied with, to devise my own "method" of acting. While I definitely believe in the personalizarion techniques of "The Method", I'm also very driven by concentrating on exactly what the actions are....I am always asking myself "what am I doing?" on almost every line, and trying to make myself come up with a specific answer, not a wishy washy one. I believe that acting is "doing". I also always try to look for humor in almost everything I do, whether it is a comedy or not. I like working with colleagues who are really interested in exploring the moments and working together to make something work. Again, my colleague Sean and I worked on our own for many hours to get the best out of the Roger/Doctor Riccard scene. I love that kind of detailed work.
Actors (and indeed actresses) who inspire you?
Cary Grant (what an amazing array of roles he did, and he was great in so many different genres), Ingrid Bergman, Vivian Leigh, Barbara Stanwyck, Loretta Young, Lawrence Olivier, Peter O'Toole, Danny Kaye, Alain Delon.
Your favourite movies?

Feeling lucky ?
Want to
search
any of my partnershops yourself
for more, better results ?

The links below
will take you
just there!!!


Gone with the Wind, North by Nortwest, Psycho, Auntie Mame, Ben Hur (1959), Lord of the Rings, Casablanca, Umbrellas of Cherbourg.
Your website, Facebook, whatever else?
Facebook: Terrence Keene Jablonski
Website under construction.
Follow the film here:
Instagram: www.instagram.com/maturingyouthfilm
Facebook: www.facebook.com/maturingyouth
Website: www.MATURINGYOUTH.com
Thanks for the interview!
All images courtesy of R&F Entertainment.