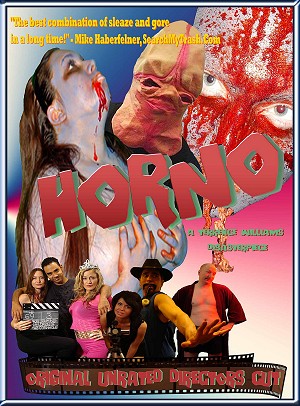 Horno - available at
Your upcoming movie is called Horno. For starters, could you explain what that expression actually means?
Horno is the type of horror film I make. It is a hybrid of three things I love, tits, ass and blood. Itís not porno but it has sexual elements so some people consider it porn, yet underneath itís a horror film, but not 100%. Some people have said my previous films The Hood Has Eyez and Revenge of La Llorona are NOT true horror films, it's exploitation and smut. They are all of those things. Theyíre like a transsexual.
Bearing that in mind, what's the movie actually about?
Horno is about an amateur porn director who is given the chance to direct a low-budget horror movie about killer zombies, but his dreams of fame and fortune soon become a nightmare when REAL zombies crash his film shoot.
How explicit is Horno going to be, concerning both sex and gore?
Itíll be as explicit as The Hood Has Eyez if not more. I wanted to push the limits a little more with this film while also poking fun at some peopleís reactions to the type of films I make, including what a low-budget filmmaker has to go through as well as how some actors react to low-budget horror. There will be blood. As far as on screen penetration, I promised some of the female talent I wouldnít dispense that information. All I can say is it teeters on that thin line between porn and horror.
As a director, which aspect of the film did you prefer, horror or porn?
Both. I think they are like Siamese twins. They need each other to survive. You canít cut one part off without killing the other, except in rare instances. I enjoy filming sex and sexual acts even if they are staged. In fact I think thatís harder because you have to make it believable and sell it to the audience. I also like to film blood and guts Ė push the limits of things. Fucking with peopleís heads isnít as easy as it looks. Itís like trying to make them laugh. Either theyíll get your joke or they wonít. You have one shot. Same goes for porn, either you get them off or you donít. I think horror is on a tier one step above porn, because for so many years it wasnít considered real cinema. Once the powers that be figured out there was a built in audience who fiend for this stuff like crack cocaine and there is a lot of money to be made, only then did they jump on it. Still Ďtho, some people still wince when I say I make horror films for a living.
Have you ever thought about making an all-out porn movie?
Yes. I plan to eventually venture into that. I love porno and I consider it legitimate cinema. I enjoy watching eroticism and peopleís fantasies coming to life on screen. Pornography acts on impulses we all have in our minds, except they capture the images and bring them to life. There are some things in porn that you can get away with that you never could in mainstream cinema, however. Iím not just talking about the fuckiní either. Some of the shit they say on camera is absolutely hilarious, but you suspend your disbelief and just roll with it, because you are trying to get aroused and get-off. Youíre not hung up on what location the film is shot in, if itís 35mm or digital, and if Angelina Jolie is the lead or not. You watch it solely based on the theme of the film and whatís on the box cover. Horror is one of the few genres that will allow a filmmaker to get away with that too. Since there is a world of people who like organic horror films they will give a movie a chance if the box cover looks kick-ass and/or the synopsis peaks their interest. Itís not so much about name actors. As a matter of fact, any true horror fan will tell you that most of the time when Hollywood puts a big name actor in a horror film it tends to suck. It ruins something. I also like the intimacy of how adult films are shot. Itís usually you and a camera, maybe a make-up person, craft service and the actors. Itís very do-it-yourself, hands-on, independent type fare, just how I like it.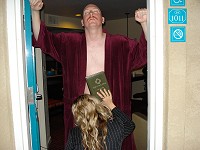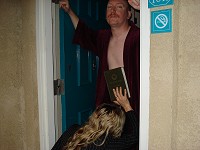 How difficult was it to get actors and especially actresses to be in your horror-porn and did you use actual porn talent?
Iíd be lying if I said Horno was anywhere near being a porn film or the type of horror/porn project I eventually would like to do. This filmís a spoof of those two genres, but the way some potential actresses reacted to the script would have made you think that there is on screen penetration in 3-D, up close and personal! This film is poking fun at peopleís perception of some of my films as trashy and pornographic, so it only made me laugh even harder when a few actors, especially actresses didnít get it and thought it was porno. It just goes to show you that the minute a woman or a man takes off his or her clothes itís considered porn in some peopleís minds, but thatís farthest from the truth. Most horror has naked chicks in it for a reason, it's part of the recipe. It sells a film. Itís like baking a cake and leaving the eggs out, it just wouldnít be right. I hate horror films where no one gets naked and Iíve discovered so do most audiences and fans. They feel jilted if they take a gamble on an unknown movie without any name actors or big name director and there isnít anything special to separate the independent film from the typical Hollywood fare, where you pretty much know what youíre getting. Thatís what being into independent films is all about, itís about doing and seeing shit you normally wouldnít in the safe, pristine world of Hollywood. Itís about freeing up that red tape. Thatís part of the fun. Itís really hard to sell an independent film, but if you give them nudity and attempt to entertain them in a unique and different way that is completely out of the box, you might succeed. In the end if people donít like your movie they can say, ďat least there were tits.Ē I wish I would have used actual porn talent for some of the roles. I think they would have understood the acting part of the project more than some of the potential actresses we turned away, who claim they want to act full time. The people we found were great however, and once they understood the script they loosened up, because itís not porn. If I donít eventually make a porn film because of my love for it, Iíll just do it to shut people the fuck up. Every time I run into people and I tell them I make films for a living the first thing they ask is, ďwhat do you makeÖPorno?Ē Just once I would love to be like, ďfuck yes, thatís what I do! I make hardcore pornography!Ē
What's your opinion about porn stars crossing over into the mainstream movie world, people like Traci Lords, Jenna Jameson, Sasha Grey and of course Ron Jeremy, and why do you think do they often use horror as a launch pad?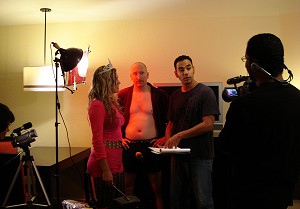 I think itís great. It should happen more. Those people you mentioned understand business and they typically have a firm grip on reality. They know the age old secretÖsex sells. And to make a name and separate yourself from the competition and get attention, you have to do something other people arenít willing to. The easiest and cheapest special effect in film is nudity. And it is still the most effective. Just about every major Hollywood actor has at some point done nudity or taken on a risky role to sell a film and more importantly get attention. There is a reason some people in film, especially horror films, rise to the top and get a name quicker and more securely than the ones who try to play it safe and be glamorous. People like Tiffany Shepis, Misty Mundae [Misty Mundae bio - click here], Monique Dupree, and numerous other actors have risen to notoriety and have eventually worked on big Hollywood sets, like some of the names you mentioned. Their names are known. Horror is the perfect launching pad, because again, for so long it was that film tier directly above porn. They decided to make themselves stand out in a crowded field. Thatís not to say those ladies are not talented, they are very talented and they can act, but what good is acting if no one is watching your films, or no one is casting you in films. This is a tuff game and if you donít do something to stand out from the rest then youíll fall to the wayside. Thereís already a million starry eyed girls who donít do nudity and who want to make it big and respect their bodies. So you can just about pick any one of them and itíll do. Theyíre a dime a dozen. They donít do this and they donít do that, etc., etc. Fair enough. But the actress who does do nudity will get the part. I have seen this in Independent films as well as big Hollywood films. You have to have a really big name to be able to sell a film and not take your clothes off. And most of the people with the big names who no longer do nudity did do it earlier in their career. I guarantee you that if you go anywhere and take your clothes off you will get attention. Once you get that attention itís on you what you do with it. Some people will shy away and believe it was the biggest mistake of their lives and never do it again, others will embrace what follows. Again, it's business, and we as filmmakerís arenít in this for ourselves, weíre in it to entertain and sell a film. At the end of the day a lot of people might hate me for having said this stuff but itís the truthÖsex sells. No one can argue with that.
Relating directly to my last question: Do you think horror an porn have much in common?
Yes. As I stated earlier, I donít believe you can have one without the other. People forget that during the late 60ís, early 70ís, the big Hollywood films werenít making money anymore, and during the 80ís it was just as grim. There is only one thing that saved many companies from going underÖthe b-movie. Drive-in theater fare in the 60ís and 70ís and then the straight-to-video boom of the 80ís saved Hollywood to a point. All these films were packed with nudity and debauchery Ė things you could never get away with today in theaters. But it sold. And most of them were horror films. Thatís where we saw the birth of the scream queen. She ran, she screamed, got bloody then topless. We had a movie. A lot of the directors we love and respect today were making a name for themselves back then, making what was at the time considered smut to some people. Some folks today would still consider it smut, but it gave them a launching pad. Horror has always had a pseudo pornographic element to it. Some people just exploit it more than others. Films like Coffy and Foxy Brown made Pam Grier a star and a lot of moneyÖand it wasnít the plots always selling these movies. It was the tits and ass. She had talent, but to get people in those seats to see that talent, you had to lure them in with something. Now Pam Grier is on network TV and doing big Hollywood features, and is an icon. I know Grier starred mostly in blaxploitation films, but you get my point. Look at horror talents like Barbara Crampton, Ingrid Pitt, and Barbara Steele to name a few more.
While not the most usual blend, the horror/porn hybrid does have a little bit of a tradition, dating back to films like Ed Wood's Necromania (1971) or Joe D'Amato's Porno Holocaust (1980). Have you watched any of the other, older hybrid movies, and what's your opinion about the state of the subgenre so far?
I am a big fan of Joe DíAmatoís films [Joe D'Amato bio - click here]! I love Emanuelle In America. See, people who know horror know stuff like this. People who consider horror the latest Hollywood remake would be shocked by a film like Emanuelle In America and not understand how anyone would watch something like it let alone distribute it. But Joe DíAmato made a career off of stuff like Emanuelle In America. And thatís one of his tamer films in my opinion. The scene where the woman gives the horse a hand job alone would startle most folks today who only like Hollywood horror. I love exploitation films, b-movies, and horror/porn hybrids. Thatís my shit. Some of my favorite movies fall into those categories. Films like, Goodbye Uncle Tom, The Story of Joanna, Salo: The 120 Days of Sodom. I like a lot of Alejandro Jodorowskyís films as well, Holy Mountain, El Topo.Of Course John Waters stuff, Pink Flamingos, Female Trouble, Desperate Living. Virginie Despentesí Baise-moi was the shit. Gun in the asshole, canít beat that. Lately there have been a few filmmakers who have truly impressed me in the horror/porn genre. My buddy and fellow filmmaker Shane Ryan [Shane Ryan interview - click here] gets made props for Amateur Porn Star Killer and Amateur Porn Star Killer 2, especially part 2. He made me proud. There was everything in that filmÖblow jobs, on screen penetration, violation, and a decent story. Another film I recently enjoyed was Dawna of The Dead. That blew my socks away. That film was heavier on the porn than on the horror. It had everything from double penetration to facials, girl on girl stuff, you name it. I just wish there had been more story in that film, but in the end at least there were tits. I also have to give mad credit to John Cameron Mitchell for making Shortbus. When I see a movie like that - that received theatrical distribution, premiered at Cannes Film Festival and is a hardcore fuckiní porn film at its core, it makes me ask myself why havenít I made an adult feature? A guy cums in his own mouth in that movie and you see it on screen. Iím not necessarily into men jizzing into their own mouths, but films like Shortbus give me hope for the genre.

Feeling lucky ?
Want to
search
any of my partnershops yourself
for more, better results ?

The links below
will take you
just there!!!

Find Terrence Williams
at the amazons ...

amazon.com

amazon.co.uk

amazon.de
Looking for imports ?
Find Terrence Williams here ...
Something naughty ?
(Must be over 18 to go there !)

Do you watch porn in your private life, and what's your favourite kind of porn/what are your favourite porn movies?
Hell yes. I love gonzo porn. I donít like the VCA, Vivid, story driven porn. The scripts usually suck and so does the acting. If the scripts were better and the girls were less porn star looking then maybe I could dig those. Thatís why I would like to do one, but more hardcore with a better script. I know how to write scripts and I could bring something unique to the table that is lacking in some of those films. Thatís why 70ís porn was so much better. The stories were good and the acting was decent. When you got around to the sex it was that much better. Adult films like The Story of Joanna are actual films with big production value, but they donít skimp on the hardcore sex scenes. Now in the digital age, I like the straight up meat and potatoes stuff. Some of my favorite gonzo films would have to be the Little White Chicks and Big Black Monster Dicks-series as well as the Chillin' with Jake Steed's Freaks Whoes & Flows-series. Miscreants, starring Stephanie Swift, one of my favorite porn stars ever, Hot Latin Pussy Adventures, any number in the series, and the Slap Happy-series.
And - to not only cover the porn angle of Horno - were there any zombie movies that particularly influenced your film, and your all-time favourite zombie flicks?
Porno Holocaust was a big influence as a matter of fact, so was Braindead and I Drink Your Blood. Some of my favorite zombie pictures would have to be the original Dawn of the Dead, Return of the Living Dead, Braindead, as mentioned, Undead, Black Sheep, Phantasm and 28 Weeks Later.
I have to clarify though that Horno is not really a zombie film in the classic sense, there are creatures or ghouls if you want to call them that Ė that are turned into flesh eating beings after smoking methamphetamineís, but thatís where the similarities end. This film isnít about a city thatís overrun with scores of the undead, itís about a porn set thatís overrun with a few crank heads
The film's website/mySpace/whatever else?
To find out info visit the films official website: http://www.cinemathreat.com/horno The MySpace page is: http://www.myspace.com/cinemathreat.
When will Horno be coming out?
Mid June 2009.
We have already been talking about your previous films at some length at a prior occasion [click here]. Is there anything you want to add about any of them you forgot to mention in our last interview?
The Hood Has Eyez is now available for download at Filmbaby.com and Bside.com for those who donít want to wait for the DVD in the mail. And we are currently working out a deal with Ryko Distribution which will make The Hood Has Eyez available on NetFlix.com and Blockbuster.com for rent as well as available in major retail DVD chains worldwide like Walmart, Suncoast, Bestbuy, etc.
Leaving the past behind for the moment: Any future projects you'd like to talk about?
We are busy chiseling away at the script for The Hood Has Eyez 2: Urban Nightmare, which is set to begin shooting in late 2009. We plan to take the rape/revenge/torture genre to a whole other level. Itíll be more brutal than the first and we plan to have on screen penetration. It will not be all shock and awe, however there will be a very deep story involved.
Anything else you are dying to tell us that I have just forgotten to ask?
Watch more independent horror movies. You just might learn something. Oh, and visit our blog sometimes if youíre bored and want to enlighten yourself: http://madmoviemakers.blogspot.com/.
Thanks for the interview.