Your In Fear of-episode Toxiphobia: Fear Of Being Poisoned - in a few words, what is it about?
Toxiphobia: Fear Of Being Poisoned is about a woman who basically has been starving herself because of an eating disorder that causes her to always suspect her food is poisoned. In this short we see her loving husband taking on the tedious (and somewhat dangerous) task of coaching her through a meal.
How did the project get off the ground - and how did you get involved with In Fear of in the first place?
I met Scott Perry [Scott W. Perry Interview - click here] through Jeremiah Kipp [Jeremiah Kipp interview - click here] on the set of Fear of Being Touched. When Scott found out I was also an indie director he asked me if Iíd like to take on directing one of the In Fear of-episodes. I was happy for the opportunity to be a part of a horror series so I gladly accepted!
The fear of being poisoned - something you can actually relate to, and what are your own pet phobias, actually?
I knew right away that Toxiphobia was going to be the fear that Iíd tackle because I have a friend that has this condition. Heíll buy a sandwich and then throw it out when he gets home because heíll think itís been poisoned. Heís always been aware that his thoughts were illogical, but eventually he ended up having to be put on medication to keep them under control. Watching how my friend coped with this fear was really my inspiration for writing Toxiphobia. I definitely donít have this phobia though. Not much can stop me from eating! My problem is I am severely claustrophobic. I hate elevators and I donít like being in large crowds for long periods of time. I like my space. I NEED my space! LOL. I have found that it is often necessary to explain to others that this is your nature so people arenít offended when youíre not overly social.
Do talk about your episode's look and feel for a bit?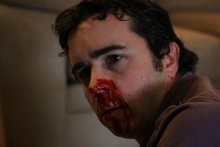 Pete Mizzo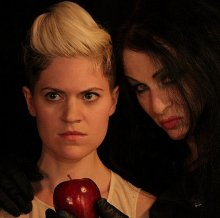 Kelly Rae LeGault, Manoush
Steven-Mark Glassner (cinematography) [Steven-Mark Glassner interview - click here], Scott Perry (producer) [Scott W. Perry Interview - click here], and myself talked for hours before shooting on the look of the film. One of the challenges that came with working on Toxiphobia was needing to show 3 different states of reality. Each state had to have its own unique look. We used altered colors, contrasting images, and a few fairy tale references to create a type of crossroads between the worlds that we made. In the end Toxiphobia comes across as a serious toned dark fantasy. Mike Polizzi [Mike Polizzi interview - click here] gave us an amazing music score which really drove the dark fantasy theme home.
What can you tell us about your key cast, and why exactly these people?
I also met my female lead, Kelly Rae LeGault [Kelly Rae LeGault interview - click here], on the set of Fear of Being Touched. After watching Kelly on set I knew she would be great for the part of the wife. She had the right look, intensity, and possessed a certain natural flare that made her perfect.
Pete Mizzo was referred to me by a good friend. Peteís a very talented actor. He does a great job portraying a husband that remains loving and supportive, but is extremely tested by his wifeís condition.
Iíve always been a fan of Manoush so I really wanted her to play the role of the witch from the start. The character of the witch is very dark, but itís also extremely passionate and powerful. Manoush nailed it hands down.
What can you tell us about the shoot as such, and the on-set atmosphere?
The on-set atmosphere was pretty warm and laid back. We shot in a very comfortable location and most of us had worked together before so everything flowed well. It was a long day but we all had a lot of fun on set. Those are the kinds of shoots I enjoy the most.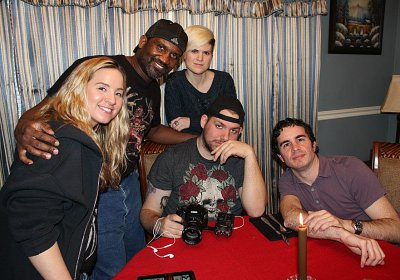 Heather Drew, Thomas Norman, Kelly Rae LeGault, Steven-Mark Glassner, Pete Mizzo on set of Toxiphobia

Any idea when Toxiphobia: Fear Of Being Poisoned will be released onto the general public yet?

Toxiphobia will premiere online sometime in late spring/early summer.

We are currently still looking for an online venue to showcase In Fear of.

Any future projects you'd like to share?

I have a few screenplays that are works in progress. They include a zombie period piece, a vampire drama, and a horror short set to dark poetry. Iím not sure which one Iíll bring to the screen first.

What got you into filmmaking in the first place, and did you receive any formal training on the subject?

Well, I always really enjoyed acting and writing short stories. One day I was offered a main role in a local independent feature film (a film I will never publicly admit to being associated with). I canít say I was happy with the finished product but my experience on set showed me that I could actually bring one of my short story ideas to the screen. I had no formal training but I was now connected to all the technical talents I needed. That gave me the drive to try directing a film myself.

Do talk about your short Gitchy for a bit?

Ah yes, Gitchy. Gitchy will probably always be the film Iím most known for. Gitchy is a horror comedy (although the comedy aspect of the film is often debated) about a 6'5', 400 pound clown that kills people by tickling them to death. Gitchy is really the film that put my name out there in the indie horror scene. At this point the film has won multiple awards and also has developed a small cult following. I currently donít have a fear of clowns, but when I was younger I hated them. The idea of Gitchy actually came from a nightmare I had in second grade. The whole concept of a killer tickling clown sounds completely silly, but I always knew it could work as a psychological type of horror. I truly do see Gitchy as the perfect nightmare creature. If anyone is interested in watching Gitchy they can purchase the DVD from the Gitchy website: www.gitchytheclown.com

Gitchy can also be rented and streamed online at Amazon: http://www.amazon.com/exec/obidos/ASIN/B004W7PLTC/researmytras-20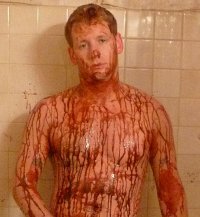 Just Like You...
What can you tell us about Just Like You...?
Just like YouÖ is a micro horror short that I wrote and directed. The filmís runtime is approximately 2 minutes. Iíve often thought about how crimes of passion are not rare occurrences. We all have felt the same very emotions that have caused others to commit murder. Just like YouÖ tells a tragic story in an intimate setting involving just the audience and the main character. Itís currently available to watch online for free:
http://www.youtube.com/watch?v=wr3vr9BEmUo
Any other films of yours you'd like to talk about?
The first film I directed was a 30 min short called Mad Mad Margaret. This film definitely had its flaws but I learned a great deal from the whole experience. The story is about a man whose wife has been driven insane by some unknown presence. The film is online somewhere.
Your films never seem to stray far from horror - a genre particularly dear to you, and why (not)?
I am definitely a huge horror fan. Psychological horror has always been my favorite. I can still enjoy some good gore but I think the best slasher films are ones with strong psychological elements.

Feeling lucky ?
Want to
search
any of my partnershops yourself
for more, better results ?

The links below
will take you
just there!!!

Find Thomas Norman
at the amazons ...

amazon.com

amazon.co.uk

amazon.de
Looking for imports ?
Find Thomas Norman here ...
Something naughty ?
(Must be over 18 to go there !)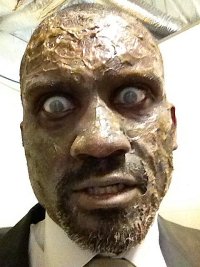 Thomas Norman in Glossophobia
The horror genre is definitely what drew me to film making. My mother was also a horror fan so I was introduced to it at a young age. Some of my best childhood memories are of when she used to read me Edgar Allen Poe at bedtime. I remember loving how his poetry would use these insanely dark and intense themes. Some of the images were horrible but they were described with such artistic genius that they created this amazingly morbid place that I just loved to be in. It was like a dark wonderland for me. I was hooked. I wanted to spend more time in this magically place. I wanted to help create it.
How would you describe yourself as a director?
I know what I want but Iím pretty laid back in general. I try to give everyone involved enough room to be creative. When you allow some artistic freedom your project is able grow into something bigger and greater than its original design. Thatís exactly what I always want to happen.
Filmmakers who inspire you?
Lucio Fulci [Lucio Fulci bio - click here], John Landis, Lee Daniels, and Quentin Tarantino.
Your favourite movies?
City of the Living Dead, The Burning, Halloween, Nightmare on Elm Street, An American Werewolf in London, Kill Bill.
... and of course, films you really deplore?
Films that destroy the images of classic monsters like vampires and werewolves. Yeah... those films. I hate them!
Your website, Facebook, whatever else?
Iím on Facebook, feel free to send me a friend request: https://www.facebook.com/thomas.norman2
Gitchy website: www.gitchytheclown.com
In Fear Of website: http://www.infearoftheseries.com/
Anything else you're dying to tell us and I have merely forgotten to ask?
Look for my cameo as a zombie in Glossophobia: Fear of Speaking in Public :)
Thanks for the interview!