Your upcoming movie Savor the Kill - in a few words, what is it about?
Savor the Kill follows three power driven gamblers take extraordinary risks playing an ancient game using innocent victims as pawns. The reward for winning - power. The wager - human life. But someone they thought they killed isn't and he is hell bent on revenge.
Gambling with the souls of the dead has some sort of history in mythology and literature alike - so to what extent do you follow story conventions ... and to put the question right on its head, what do boardgames mean to you in your private life? And connected to that, to what extent can you identify with your power-hungry gamblers?
Savor the Kill explores the underlying theme of the secret world of gamers. Our players are sadistic parasites that exist on both sides of the mirror of reality and fantasy. They live amongst us yet prey on the souls of humans like monsters. It's not a coincidence that Jim Hell (a Player) is a businessman. Essentially, these sort of sociopathic capitalist prey on people as well. The Painter (another Player) kills a critic - something that resonates with all artists.
Monica - JC is in fact a gamer. He grew up playing Dungeons and Dragons and games of the like. He told us, "Being a gamer is like living in a world different than everybody else. Gamers being absorbed within the world and the culture of their game. A secret world you can only talk about with the people in your gaming circle."
Tim - I always love to play a good board game! One game my brother and I used to play was Crossbows and Catapults. The whole idea of the game was for each player to build their own castle, then using crossbows and catapults you would shoot these small plastic discs to knock down your opponent's castle. Pretty fun!
(Other) sources of inspiration when writing Savor the Kill?
Tim - I started forming an idea for Savor the Kill when we were finishing up our last film Lights Camera Dead. So maybe that was one. I am a huge horror movie fan. Films like Evil Dead, American Psycho, Jumanji, Suspiria, Texas Chainsaw Massacre, I Spit On Your Grave and Machete. Also, I love heavy and death metal. So that always works its way into there too. In fact, the title of the film, "Savor the Kill", was inspired by the Darkest Hour song title of the same name.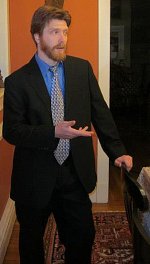 JC Lira

Monica - Themes of revenge like in The Crow and I Spit On Your Grave.

The idea of monsters living among us like in American Psycho and Silence of the Lambs.

And the bloody brutality of battling the undead like in Evil Dead.

Your co-writer JC Lira - what can you tell us about him, and what was your collaboration like?

Monica - We have known and worked with JC for twelve years now. We collaborated on our first script Zombie Carjackers. JC also starred in Lights Camera Dead playing the ever so pretentious writer-Stephen Didymus. We all bring something very different to the table collaboratively. JC brings a rich knowledge of literature and a knack for story structure.

Tim - The writing process was great! When we write none of us ever plays the "my ideas are better than your ideas" card. No egos. I hate that shit! We all knew we wanted to tell this story the best way possible. We feel really good about it and we're excited to see it on the screen!

By design alone, your film suggests quite a bit of violence - so how far are you planning to go in that direction, and is there a line you refuse to cross (for other than budgetary reasons)?

Tim - My filmmaking philosophy is "Less Bore, More Gore!" This is a very tragic story and it does not end well for anyone!

Monica - Savor the Kill rests on a thematic foundation that justifies its considerably effects-driven narrative. In other words, despite some of the more "brutal" set pieces, the violence is justified. The brutality is really an extension of the theme we hope to explore throughout the film: Man's age old desire for the power that comes with controlling one's destiny, and the often-tragic sacrifices that come with such tendencies.

Monica, as far as I know, you also appear in front of the camera in Savor the Kill - so what can you tell us about your character, and what will you draw upon to bring her to life?

Monica - You're speaking of the character in the concept trailer. She merely illustrates how even in the circles of the wealthy and privileged, nobody is safe from the game or the lengths the players will go to to secure a pawn. I will most likely be playing a similar character in the film, that is, a self-serving bitch who attaches herself to people she see as having money and power.

Tim - I'll tell you about the character - she's a slut and hopefully she'll show her tits.

Anything you can tell us about the rest of your cast yet, and why exactly these people?

We're still working on casting. So far we've cast:

COLDON MARTIN as CHRISTIAN (our protagonist): From day one we wrote the film for Coldon to star in. He's an incredibly talented actor and musician. He has the passion and the presence to carry this film.

PAUL CHAPMAN as JIM HELL (a player): Paul blew us all away with his power and a real understanding of a white collar business criminal. He draws you in and makes you cringe uncomfortably with his intensity.

EMILY SERGEANT as SARAH (CHRISTIAN's girlfriend): Emily is a wonderful young actor who captivated us all with her energy. The audience will love Sarah and heartbreakingly feel for her.

As we're talking, your film is still in pre-production, right? So when is it going to be filmed, and any idea when it's going to be released onto the general public yet?

We're going to be filming in early 2014. We're anxious to get started but we're taking our time to ensure we have the resources to make this the best film it can be.

Any future projects beyond Savor the Kill?

Always. We're also working with some local indie filmmakers in Richmond on their projects.

What got you into filmmaking in the first place, and did you receive any formal training on the subject?

Tim - I studied theatre in college and have always been a lover of films. I took a Super 8 class my last year and loved it. After college I focused on touring around the U.S. building stages, hanging lights, sound and filming concerts for bands like Kiss, Bruce Springsteen, Dave Matthews, Eminem, and GWAR. This stuff gave me a lot of experience. So later on I started making short films and eventually Lights Camera Dead.

Monica - I studied musical theatre in college. When I graduated, I moved to Chicago and did a lot of live theatre and started writing plays. After my first play was produced - that was it. I knew that was what I really wanted to do. I also have always been a huge movie person. To quote Quentin Tarentino "I didn't go to film school, I went to films." If I credit anyone with giving me an education in film/visual storytelling it would Tim.

Loosely connected to the last question: What got you together as a team, both privately and professionally?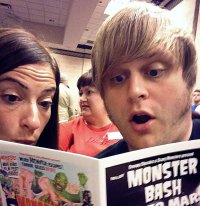 Monica and Tim Moehring
Monica - I left Chicago and after a brief stint in New York, I moved to Richmond. We met at Wednesday Dollar High Life Night at Sticky Rice (a favorite RVA bar). That's when it happened. Our eyes locked and we started screwing on the bar. Just kidding. Actually, Tim's friend who was hitting on me was wearing a shirt that said "You Are All Whores." I was amused and mocking him and Tim was laughing at him. Tim and I started talking and the rest is history. He told me he was a filmmaker with a great idea and a skeletal script and I told him I was a writer. We got together the next night, read through the script, and made out on his futon while watching Tromeo and Juliet. That was twelve years ago this October.
You of course have to talk about your debut feature Lights Camera Dead for a bit?
Lights Camera Dead is a dark comedy about indie filmmakers trying to make a horror movie and everything falls apart so they decide to kill their cast and crew and "finish the film."
Monica - It kind of wrote itself based on the experiences we've had in indie filmmaking. Of course, I'm almost positive we didn't kill anybody. I love everything about that movie good and bad. It was my film school. The joke now is that all the new experiences and dramas and such we've had starting with making Savor the Kill is going to be used in a Lights Camera Dead sequel - Lights, Camera, Still Dead.
Tim - That was a film was a blast to make. We filmed at an old sharecropper's house on a peanut farm out in the country. The owners claimed it to be haunted. I never saw any ghosts but a lot of fake blood was spilled making that film. It was also amazing working with Richard Christy from The Howard Stern Show. He made an appearance in the film. Super cool guy and an incredible drummer! He's been in a lot of brutal metal bands like Death, Iced Earth, and most recently, Charred Walls of the Damned.
Any other films of yours you'd like to talk about?
We made a short film called The Music Box. It's a special feature on the Lights Camera Dead DVD.
After Lights Camera Dead we produced an urban indie drama about counterfeiting money called The Two Plates (available on Maverick). Tim has also filmed a variety of GWAR videos and concerts over the years.
What can you tell us about your production company Aisthesis Productions and the philosophy behind it?
We make movies we would want to see. While we wholeheartedly understand the importance of a singular vision, we define this vision as the sum of many intertwining skill sets, passions, and voices. Creating a film, and most importantly, a GOOD film, represents the culmination of all these parts, yielding an entity that is undeniably owned by many, not by few. We believe on surrounding ourselves with a full range of talented artists looking to bring their strengths to the table. For example, Davis Bradley. He's the artist who sculpted and made the board game for the film. Davis is a part of Slave Pit Inc. and has been an artist on and off stage with GWAR for over fifteen years. We're also stoked to have Jack Skyyler on as a co-producer. His talent and experience is really helping to shape Aisthesis Productions because he truly gets what kind of film we want to make.
How would you describe yourself as a director, writer, actress ...?
Tim - As a director I like to be as prepared and organized as possible. Filming a movie to me is like going out to battle! You need to keep the energy up, make sure everyone is clear and get them excited about the project. I try to keep things moving so people don't get discouraged. You don't want people to think you are wasting their time by not having your shit together. If things are running smoothly you are going to get the best film result. You've got to plan, look at the scenes and think in your head how the time is going to go. I have learned to write everything down so that nothing gets overlooked. I think rehearsals are crucial. Any actor can interpret the script themselves but it's exciting when I can help them become this different person! The more we talk about character background, personality, and motivation the easier it is for everything to fall into place.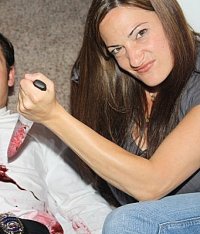 Monica in
Bloodbath in the House of Knives
Monica - As a writer, I would describe myself as being character obsessed. When I'm not working in film I write and direct plays. I am constantly thinking of creating characters – knowing them so well, you know how they speak and their fears and their history. I think being an actor and studying theatre has been the integral key to my success as a writer. I enjoy acting as well. Because of all the other responsibilities I have behind the scenes during a production, the roles I play in our projects are usually minor. Fun bitchy characters mostly.
Filmmakers, actors, whatever else who inspire you? And your favourite movies?
Tim - My all-time favorite director is Dario Argento. Others would be Peter Jackson and Sam Raimi. A huge influence of mine is Clive Barker. He can do it all. He directs, writes, and is an amazing artist. I am not a big reader but I have read all his books.
Favorite Movies - The Evil Dead-series, Suspiria, Deep Red, Lord of the Rings-trilogy, Goonies, The National Lampoons-series, Hellraiser, Nightmare on Elm Street, Psycho, Romero Zombie films, and I am big fan of the old Universal Monster films.
, Texas Chainsaw Massacre, I Spit On Your Grave and Machete
Monica - Clive Barker is a big inspiration of mine as well. It's amazing when a character created in words on a page or painted on a canvas can invoke a physical discomfort in me. Clive Barker makes me scared of monsters. The way he creates rich worlds around his characters is amazing. Richard Matheson's another. I'm also inspired by filmmakers that do essentially we strive to do - write, direct, and produce - i.e.early Sam Raimi, the Cohen Brothers, Edgar Wright, and Kevin Smith. I'm also a big Tim Burton fan, particularly his early films.
Favorite Movies - Shaun of the Dead, The Big Lebowski, Brain Candy, The Descent, Martyrs, The Prophecy, Beetlejuice, Edward Scissorhands, Nightmare Before Christmas. I too love old movies - Wizard of Oz, Blazing Saddles, The Portrait of Dorian Gray, Frankenstein, Bride of Frankenstein, Young Frankenstein, the whole original Planet of the Apes-series, The Wolfman, The Birds, Hammer-films, Roger Corman films [Roger Corman bio - click here]. Favorite TV - We love Dexter and Spartacus and Supernatural.
... and of course, films you really deplore?

Feeling lucky ?
Want to
search
any of my partnershops yourself
for more, better results ?

The links below
will take you
just there!!!

Find Savor the Kill
at the amazons ...

amazon.com

amazon.co.uk

amazon.de
Looking for imports ?
Find Savor the Kill here ...
Something naughty ?
(Must be over 18 to go there !)

Tim - The new Hellraiser movie! What a piece! In my world Doug Bradley is the only Pinhead! I am not into romantic comedies either.
Monica - Films I deplore — we watch a lot of movies on all budget scales. I try to see the positive even in the shittiest of the shitty films. I say, "Hey, at least they finished it." There's something to be said for that. I gotta agree with Tim. The last movie I saw that made me 'boo' was Hellraiser Revelations. What a waste of a great opportunity.
Your/your movie's website, Facebook, whatever else?
www.facebook.com/savorthekillmovie
On Twitter: @savor_thekill
Thanks for the interview!