Your film Burlesque Massacre - in a few words, what is it about?
Burlesque Massacre is just a classic 70s drive-in exploitation/slasher film, with a backdrop we haven't seen before (at least I don't think) in a horror movie.
Why choose the Burlesque scene as a backdrop for your story? And do you have any personal connections to the Burlesque?
This kinda happened in a weird way. I had an itch to do a old school horror. like a Slumber Party Massacre-type thing. Today's horror to me seemed to be trying too hard, trying to top themselves. Be darker, bigger etc. But it was failing on one major level: It wasn't fun. I wanted to do something old fashioned, blood, boobs, a house, a few young pretty actresses etc.
So I asked Crystal if she wanted to do something like that. She had jsut been in our fan film Friday the 13th - The Storm and we got along well. As it turns out she was also a Burlesque dancer and it was she who suggested that. I have to be honest I didn't know much if anything about Burlesque, but, as it turned out it was a great idea because while the film still had the old school style, it still had something a bit new to offer.
Burlesque Massacre shows more than a few influences from grindhouse movies from the 1970's and slasher flicks from the 1980's - what do you find so appealing about those, and some of your genre favourites?
I LOVE Friday The 13th and Jason. I grew up on him actually. Other horror came to me as I needed more fixes faster than they could produce Friday The 13th-films, but Jason was really my god. Well, Jason and Darth Vader, which I think was probably scary to my parents looking back. It wasn't really the kills and stuff like most fans either. I was fascinated with the levels to Jason, and how, almost by accident over the years developed much more depth and conflicts than the creators I think were attempting. It just happened because there were so many films and each writer and director added to him. When Kane Hodder arrived it added an incredible level that made Jason himself much more complex than the films ever were.
As I got older I took a liking to Elm Street for the complexity of the series itself, and Freddy was cool as well. But Jason was still my favorite. I liked how he wasn't a dirty evil guy like Freddy, Jason was something else. Not a good guy for sure, but not 'evil' either. When they made Freddy Vs Jason I was glad I saw that I wasn't the only one who thought that way, because when compared to Freddy, Jason kind of became the hero!
I think one of my favorite horror films is Wes Craven's New Nightmare... it's a masterpiece. I love that film. I LOVE the complexities and depth of Rob Zombie's Halloween films. While I'm the first to agree that he has vastly changes the series, to me it's for the better. While I think Halloween is a classic, the Halloween sequels have never really impressed me. In fact I only like Halloween 4 and parts of H20. Rob raised that series to a whole other level. I saw his Halloween II six times in the theaters.
A few words about your key cast?
The main cast were real Burlesque dancers and were a lot of fun. You can easily look up Crystal and Olivia. They have pages devoted to them. I also 'reuse' actors a lot. Jake, Keith, Marie are all in Photographic as well. Burlesque Massacre was a crazy over the top shoot, just like the film. The girls really brought a lot to the film, like I said I knew nothing about that world of Burlesque, so they had a lot to share.
You just have to talk about the bizarre mask of your killer for a bit!
That mask was not made for the film. It was actually made by Gene Mazza II years ago for a short film directed by Joe Patnaud (Snuff, Friday the 13th: The Storm). Gene has made hockey masks for all of our Friday The 13th fan films, and we just had this old skull mask lieing around that he had made before he became a pro mask maker. I used it because I felt horror of today tried to hard too be clever and have a 'great' mask, but the truth is, if some dude made a mask it would look like that skull mask. Yes it was amateur looking, but amateur looking looked REAL. It also, by pure chance had a bit of a Burlesque-ish feel to it anyway, so it really fit the film.
Burlesque Massacre is a pretty violent film, but time and again, there are splashes of comedy as well. How would you describe your film's brand of humour, and would you describe yourself as a humourous person?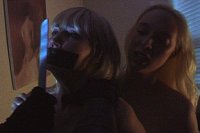 I have to admit I don't think I'm that funny, and Burlesque Massacre isn't really my usual style. I'm also not a fan of most comedy, especially today's comedy. I do like Burlesque Massacre's style of 'straight faced comedy' though I guess, and that is probably how that came to be. I was watching the original Last House On The Left, which is a pretty dark rape and revenge film. But right in the middle of the whole thing are these two almost slapstick cops. I found that really amusing that Wes Craven almost didn't know what kind of film he was even making, maybe just happy to be making his first film at all. I tried to keep that attitude though I had made many shorts and stuff before. I liked the idea of the cast and crew of Last House On The Left just being happy to be making a movie. Not trying to be famous, not trying to make a blockbuster - just happy to make it at all. I think my films shows that.
A film like Burlesque Massacre suggests a sequel almost by definition. Is there one planned by any chance?
Yes, we have one planned. We were going to do one this summer, but we decided to wait one more year for the first one to find its audience... and boy is it ever now. While the first one was a 70s drive-in type film, the sequel will be in the style of a 80s DTV sequel. The first one is a splash of Slumber Party Massacre, the sequel will be a splash of Sleepaway Camp.
Other than the darkly humourous Burlesque Massacre, Photographic is a dead serious film (pun inevitable) - in a few words, what is that one about?
Anger and twisted, lost souls. Basically how far a person will go. I was kinda angry and in a dark place when I made it, and it shows. I was not working, I had lost a girl I thought I loved - all of that usual bullshit. But it helped me make a great film. I could not make Photographic today. I don't have it in me to be that mean and angry.
Parts of Photographic feel like a Hollywood cautionary tale. Are any parts of the film based on actual events or Hollywood's own urban legends?
I don't think it was 'based' on anything particular, however it was written to be a precautionary tale to those girls in LA, or anywhere really. You see I am also a photographer, and there are many actresses and models in my life, some of them I consider very close to me. In discussions they have had with me over the years, I have heard some very creepy tales of 'photographers' and indie movie makers and even guy fans that have crossed the line. Thankfully, as far as my friends are concerned, nothing 'dangerous' - but still downright bizarre and simply wrong. It's amazing what a man thinks is 'normal' or acceptable behavior when trying to flirt, or hook up with a woman, especially when the woman isn't there for that at all. She is there for work. I took that and amped it up to a level of rape and murder. What COULD happen if you met the wrong people. It was imortant for me to show that the killers don't think they are doing anything wrong - just like those stalker-ish people my friends have met.
On the flip side, the human mind is fascinating to me, and the idea of revenge and being pushed too far, especially applied to a woman is a fascinating subject. I used these two ideas to form the film.
I have described Photographic as "an exploration of the addictions to both fame and violence, and how these meet in snuff movies" - a comment you can at all live with, and would you like to elaborate?
I think that is accurate. In fact I wish I had more 'movies' within the film. I think it would have been interesting for one of the girls, or even the villains watching more of what they had recorded in the past to really show how sick and addicted they are. But yes, Amanda is clearly blinded by the need for fame. Yes she is raped, and is a victim, but before that, she was more than willing to have sex for a role. She was already on a slippery slope before her attack. Several of the characters have many levels. I very much like exploring people and behaviors.
In between murders, Photographic features quite a few interviews with aspiring actresses/future victims about their hopes and motivations. Were these at all genuine, scripted or ad-libbed?
It's a mix. I love actors, and what they can bring to the table. So while it had lines, and a focus, I did let the actresses explore their characters in those scenes. So it wasn't 'ad-libbed' so much on the spot, but it was discussed, and explored over a few takes beyond the written page.
Your personal views on Hollywood?
I could write 4 paragraphs. But overall I think they are too much about money now. I'm not stupid, I know its always been about money. I want to make money too. But there is a fear to take chances now on films that leads to very standard, and predictable fare. I think the difference now is before they would take a chance on stuff that they pretty sure COULD make some money, now they seem to do stuff designed ONLY to make money based on the stuff that made money last week and nothing else... Even lower budget stuff on the whole seems so pre-planned. You don't see as many chances today. Don't get me wrong, I love many of the superhero movies and the like. I also love some really stupid teen comedies. I love all sorts of films. But I see it getting very repetitive lately to a level it NEVER has before. Sometimes the more people like the same film means the more watered down and generic it is. The films that are interesting are the ones people fight about. I know they can't make a 50million art film - but they can take a chance on something a little different, a little new. That's how Jaws was made, Star Wars, Godfather etc etc. Yes we still get Black Swan and stuff here and there, but it's few and far between. I don't think Pulp Fiction could happen today. They would not chance it.
What can you tell us about Photographic's cast and crew, and the on-set atmosphere given its rather downbeat topic?
The set was a bit more focused on this compared to Burlesque Massacre, which was a bit more silly and fun. Not that it wasn't fun, but there was much more time spent preparing and discussing the conflict and the characters. The cast was very interested in keeping it very real and very dark. We got along great and it was still relaxed when it needed to be. But I think everyone knew what we were trying to achieve.
Both Burlesque Massacre and Photographic feature quite a bit of violence. How were your special effects achieved, and is there actually a line you refuse to cross?
The effects were mostly traditional fake blood in a bag and stuff like that. But we did have a couple digital effects as well. I'm very pleased with Photographic as far as effects, but if I could do it again I would have a bit more 'over the top' Friday the 13th style kills in Burlesque Massacre. We have a couple but I think we drifted into strangulation one or two times too many. Which was on purpose at times since strangulation is slightly 'sexual' in some ways, so the theme of the film allowed it. But, if we do a sequel, I would like to see a few larger classic 80s style Friday the 13th kills.
Also, both Burlesque Massacre and Photographic seem to be quite straining on their actresses and require quite a bit of nudity. So how easy or difficult was it to cast these movies?
Actually, Photographic doesn't really have as much nudity as it 'feels' like it does. It's a bit front loaded with the nudity and I think it gives the impression it's loaded with it. But it really doesn't have 'a ton' overall. Maybe for the US these days it does, but for the European market or 70/80s films it's just the same as most other horror. I also write very strong female roles, so the actresses were up for the challenge anyway. In addition, if you notice, the rape scenes don't have nudity, but the voluntary sex scenes do... and that was intentional. I wanted to show rape as dirty and hidden, and sex and love making as natural and free. Then of course I intercut the rape scenes with the love scenes to make it awkward and uncomfortable. I am very European and natural in my views and style. I don't like how sex and nudity are viewed as dirty and 'wrong' in America by some, but we can watch Rambo mow down and entire country. Don't get me wrong.. I LOVE Rambo... lol. But if I had to choose I think I would rather my kids see some boobs than people getting shot, stabbed and killed.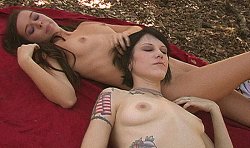 The lead Jill Evyn was very brave and loved the idea of the film from the get-go. She even helped cast a few other roles All of the actresses were very talented and professional and we didn't have any real issues with them. The guys were much harder. It took a long time to cast the two 'rapists' and it fact Keith was brought in later. One of the original guys quit after shooting a few scenes. The content was just too strong for most of the actors we auditioned.
Burlesque Massacre does have a lot of nudity, and its very exploitational, but the actresses are mostly actual Burlesque dancers and nude models. The two girls in the woods are actually adult film actresses, so there were no issues. It was a fun and silly set.
Let's go back to the beginnings of your career: What got you into filmmaking in the first place, and did you receive any formal education on the subject?
Not so much, I kinda studied film since I was little on my own. I did go to college to learn about editing and shooting on a more technical business level. But the creative side I developed myself.
I've read somewhere that one of your first films was the unfinished fan movie Friday the 13th: The Obsession. What can you tell us about that project, it's resurrection as a webseries, your other Friday the 13th-fan films, and your (inevitable pun alert!) obsession with Friday the 13th to begin with?
Obsession haunted me for years. I shot the first one with my friends from a restaurant I worked at back then. A few had some acting background, but mostly it was friends getting crazy with other friends. But it was a very serious idea to me, and a story that was partly true (not the killing part, but the romance and the fan fascination part). It was too big for a bunch of friends to make and it was never finished. Eventually i moved on to original stuff, but Obsession was always eating at me.
Timberwolf started to get popular for its fan films and for its original work, but no matter what I posted about new ideas and new films we were making, people would go "Yea, that's cool... but what about Obsession?" It haunted me on a fan level and on a personal level as I wanted to tell that story. In 2004 I re-wrote Obsession and even started to shoot it as an original project, replacing Jason with "Jack" from my Samhain films (Legend Of Samhain and Samhain 101, the later a short directed by Joe Patnaud). While Joe was the DP and he achieved a new technical level with the 2004 Obsession, the story just didn't work, it was missing something without Jason. So we dropped it and moved on.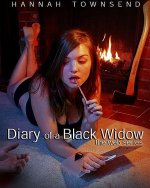 I moved to LA in 2007 (I'm from Rhode Island) and started a new larger projects but Obsession was still eating at me. After making Burlesque Massacre and Photographic I decided now or never. I had co-produced a web series Diary Of A Black Widow with a group called Ynot/Sin Pelo and it turned out very well with a workable budget. Uploading full productions in high quality wasn't available in 1997/1998 when making the original Obsession. I felt this was the a great way to reach out and finally make it. Hannah Townsend from Diary of a Black Widow actually also stars in Obsession.
I re-wrote it a bit and made the lead character woman fan instead of a guy like in the original, but the story is very much the same. 6 of the 7 episodes are online as of March 8th 2012 and the final show will be on in a couple of weeks. The Friday the 13th-fan community has really latched on, and even non-fans have liked it as well for its great story. While it wouldn't make a good 'official sequel' as it takes place in the real world, it's a great story to hold over fans for the next studio sequel. I am so very happy I finally made it and can move on.
Timberwolf is about to move to another level of production on our next feature, and I wanted to bring that part of my life to a close before we did that. I am so glad so many people enjoy it.
What can you tell us about your movie Summer's End: The Legend of Samhain?
Legend Of Samhain was my first original attempt at a feature (not a fan film) - It's a simple guy in a mask stalking teenagers. It was a mix of Halloween and Friday The 13th with a few of my own twists. Shot it in 2000/2001 on miniDV. Much like Burlesque Massacre, it was what it was and didn't try to be anything else. A good review at the time said it felt like someone found a old slasher on VHS from the 80s, and decided to release it on DVD... I was very flattered by that. I guess that is a recurring talent of mine. Making films for the audience it's meant for, and not showing off. Sure even Burlesque Massacre has a deeper level for those that look - but at the end of the day it's a 70s drive-in exploitation film, and doesn't try to be anything else.
2004 Joe Patnaud directed a short film 'follow-up' called Samhain 101, which is on the Detour Into Madness Vol 1 DVD.
Looking back I really like Legend Of Samhain actually, and we are discussing a remake/reboot of sorts.
A few words about your Detour into Madness-anthologies?
Joe Patnaud and I made a bunch of short films from 2004 till 2006 to try out cameras, story ideas etc. After we released them on two different DVDs. It was a great way to learn and create and we met many great actor/actress friends in the process. A few of the shorts are now online, but the DVDs are still available on Amazon for those who want to own a higher quality version of them. Vol. 1 is more straight horror, where Vol. 2 is more of a mixed bag with a dark comedy and a heavy drama as well as horror.
Some of the stories have been updated and made into new productions. Rydell Danzie and Ynot/SinPelo made my short film Diary Of A Black Widow into a web series last year that is FAR better than the original short. This year I am turning The Boyfriend Killers into a web series and Lesser of 2 Evils (a vampire tale) into a feature film.
Any other films of yours you'd like to talk about, any future projects?
We are currently prepping a Vampire feature film called Lesser of 4 Evils based on my short film. This will be a much more polished film than the last two, but still be very violent. While there will be serial killers and stuff in it, it's not as dark and hopeless as Photographic, it has a love story and is more tragic than mean-spirited.
http://www.indiegogo.com/lesserof4evils
I am also making a web series about a group of girls who decide to kill off cheating boyfriends in The Boyfriend Killers which is a dark comedy in the Heathers-vein - but with a gorier and more violent feel.
We are also releasing the film Lucid Fear, which is already completed. It stars Marie Lynn and Hannah Townsend and is about two sisters who kill a Call Girl who then seems to haunt them for the next few days. It's loosely based on a short I did called The Call Girl in 2005, but we changed the title because the feature really took on a life of its own and really has little to do with the original short other than the initial thrust of the Call Girl's murder. That should be out by summer.
Directors who inspire you?
Steven Spielberg, Rob Zombie (odd mix huh?), Alfed Hitchcock, Milos Forman, Stanley Kubrick, Darren Aronofski, Sylvester Stallone... he really is an incredible artist.
Your favourite movies?
You would be surprised. Overall I am not a HUGE horror fan. The horror movies I like, I LOVE, but when I was younger I never really enjoyed much beyond Jason and Freddy. I also don't like 'monster' movies. To explain, I like the Predator much more than the Alien. The Predator has a personality, the Alien is just a creature and I don't really find that interesting. People, or at least 'things' with levels, complexities interest me.
However, my favorite film of all time, oddly is Jaws, which is a monster movie more or less. But the complexities of everyone else, the great acting, and characters bring that to life. It's the only movie I've ever seen that seems to be everything. It's a action movie, a horror film, a buddy picture, while it gets too violent for little kids, it still leans toward a family film as it's not 'offensive' or anything like that. It even is a bit of a romance with the Sheriff and his wife. It has so much going on.
My Favorites in order:
Jaws
Amadeus
Psycho (1960)
American History X
The People Vs Larry Flynt
Rocky
Black Swan
Eyes Wide Shut
Favorite Horror films:
Jaws
Psycho (1960)
Carrie

Feeling lucky ?
Want to
search
any of my partnershops yourself
for more, better results ?

The links below
will take you
just there!!!

Find Timothy Whitfield
at the amazons ...

amazon.com

amazon.co.uk

amazon.de
Looking for imports ?
Find Timothy Whitfield here ...
Something naughty ?
(Must be over 18 to go there !)

Rob Zombie's Halloween II
A Nightmare On Elm Street (1984)
The Shinning
Rob Zombie's Halloween
Christine
Friday the 13th (all of them.. except Jason X)
... and of course, films you really deplore?
I've kinda learned not to hate as usually someone likes it. But back in the day I hated, and I mean hated Halloween 6, I mean it's just plain awful. A horror film buff I knew once said it's not the worst film ever, but it could be the worst studio franchise horror ever. I think what he meant by that is there is no reason for a sequel to a series to turn out to be a film so, so bad. They should have had the budget and knowledge by then to at least have the ABC's to make it watchable. They didn't!
I also really hated Jason X for the same obvious reasons as H6.
Your website, Facebook, whatever else?
https://www.facebook.com/pages/Timberwolf-West-Midnight-Hill-Entertainment/146395741759
http://www.indiegogo.com/lesserof4evils
Thanks for the interview!