Your upcoming movie At the Edge of Time - in a few words, what is it about, and what can you tell us about your character in it?
At The Edge Of Time is a science fiction time travel film set in multiple realities.
It involves a man with a Messiah complex, who, upon seeing his world in decay, travels through time, rewriting history in vain. Dijanne (my character), a General in an exhaustive twenty-year war, tries to stop what he is doing.
What did you draw upon to bring your character to life, and how much of Tracey Birdsall can we find in Dijanne? And how badass are you in real life?
Other people call me badass, but only because I really stop at nothing when it comes to a challenge, or a workout, or anything I set my mind to. I could use that in my character development but Dijanne has big guns and exhaustive intelligence. She also has time travel on her side (which us mere mortals are currently exempt from) so I could say that certain parts of her have me in them, and certain parts of her stayed with me.
How did you get involved in the project to begin with, and how did you end up on the production side of things as well?
I teamed up with Neil Johnson, the director, over a year ago and we wanted to produce something together. Since it was our first project together, I didn't want to do one of the lead roles – moreover major supporting – as I was also producing. Since that time we've made another film, Robot Fighter (pka Robot Armageddon), in which I'm the lead. Needless to say, the teamwork went amazingly.
With At the Edge of Time being a science fiction movie - is that a genre you can at all relate to?
I grew up with a father who was (is) really into science fiction so it was something I always wanted to do as an actress. Star Wars, Star Trek, Lost In Space, Planet of the Apes… those were all part of my childhood so I definitely related and loved it.
What can you tell us about your director Neil Johnson [Neil Johnson interview - click here], and what was your collaboration like?
Neil Johnson has been making science fiction films now for decades. He's quite well respected in the genre. Seeing as I was an actress and a producer and he was a director and a producer, it was a natural progression of the relationship and collaboration. We worked well together, seamlessly even. He's produced and directed many more films than I have so he was definitely at the helm; however, every idea and suggestion I made he considered. I took on as many of the tasks that I could (while still leaving ample room for my role) to make it all go smoothly.
Do talk about the shoot as such, and the on-set atmosphere?
The shoot was smooth as it was so well-organized. We had some last-minute cast changes and a couple of weather issues we dealt with, but nothing unsurmountable. The camaraderie was excellent, and the crew seasoned.
Any idea when and where the film might be released onto the general public yet?
Science fiction takes a while to get through postproduction due to all of the special effects. If I had to make a guesstimate, I would say within a year. Since we have two of them in post, hopefully they will both be out within that amount of time.
You have recently received a Maverick Award for your work on Dawn of the Crescent Moon - so apparently, you have to talk about that movie, your character, and the shoot as such for a bit!
Actually the Maverick Award was for my contributions to the independent film world in both acting and producing (and sometimes helping with producing even when I wasn't even a producer… to get things finished that are otherwise stuck). That was an honorary award that was all encompassing.
Dawn of the Crescent Moon received a big award that night also as we received the "Best Cast Ensemble Award." Dawn of the Crescent Moon was produced and directed by some filmmakers I've known many years. They wrote the part in for me, which was quite an honor in itself. Working with Barry Corbin was really a blast and enlightening, so it was an overall great project!
I've read one of your upcoming movies is called Who's Jenna...? - with a title like this, you just have to say a few words about the movie!
In Who's Jenna...? I play a lawyer who is a virtual doppelganger for a famous porn star. It's a big comedy so the jokes are endless and unrelenting! It's the twists in this movie that make it really incredible… did I say enough?!
Any other current and future projects you'd like to talk about?
One of my favorite projects we just wrapped, is entitled Robot Fighter. It's a film set in the distant future, which deals with the overthrow of humanity by AI. I loved making this film as it wasn't only multi-dimensional as far as the character I played – but it was also very action packed and filmed in a multitude of locations. The physical demands were also more intense – which I loved. I would consider it to be a science fiction action movie to say the least.
Your initial claim to fame was as a model - so what can you tell us about that aspect of your career, and how did your experience with modelling help you as an actress?
I really grew up doing both. My father did photography on the side so I was his "go-to" girl as a kid when he tested out new set-ups. My acting was limited to theatre and musical theatre growing up, with my first SAG gig being a commercial for Sunkist Soda at the age of 15. Similarly, at about 16, I was booking print work pretty consistently – mostly in swimsuit in those days. It went hand-in-hand through my early twenties. When I booked a few consistent recurring gigs, my acting became more prevalent as I didn't have the time for print. Although I still worked it in between projects, print work did (and still does) take a back seat to when I have acting jobs. The nice thing about doing both was always that I had a way to pay the bills! I enjoyed both, but would always give preference to a great role.
What got you into acting eventually, and did you receive any formal training on the subject?
Throughout my life I've studied various methods in depth. I have bits of various methods as part of my fabric from studying so many techniques. I take parts of each of them that work for me and integrate it. We are always learning. Years ago, I started studying with Margie Haber in her Master's Class, and adopted her take on it all – just live the life. You simply become the character. It's my favorite way of explaining it as it is just the life that you're living at the time. All of the other wonderful teachers I've worked with had something to do with how I work today, but I prefer not to pick it apart.
A good example is this last movie we were filming, Robot Fighter. We worked with this really amazing dog in many of the scenes – Moose. Moose just loved the filming and was really fantastic (he actually has his own Instagram now which is @mooseinmalibu)… in the beginning. By the middle of the shoot, the AI was taking over the world and it was so real to me as I was living it. I had some shots we did where I was running from them (with Moose) and there was a huge amount of fear (real fear). Moose was really scared from the adrenaline and his little heart was beating. That's how real it all becomes.
From what I know, some of your earliest acting work was on the daily soap Loving - so what can you tell us about your work on that one, and how does shooting a daily soap compare to making movies?
Daily soap is rigorous work, but at that age (well, any age really) you're just so appreciative to be working. It's more like a fulltime job, although after hours are spent memorizing. There's very little break between scenes as it's shot in sets, and since you're working on it almost every day – there isn't the same amount of prep time for getting deep within a character and their arcs – like in film. That said, you are playing the same character day in and day out so you already know who you are. Finding out who you are and how you feel and relate to the other characters is a huge job in itself so there's an advantage there. I would always prefer to work in film where I can delve deep into who the character is and find their journey.
Even before At the Edge of Time, you did serve as producer on a couple of projects - so what made you pick up behind-the-scenes duties as well?
First of all, I love a great challenge… Producing is a bit like a puzzle, and I had been around sets for many years by the time I decided to produce myself. I had written a script that I wanted to bring to life and knew enough about the process that I decided to do it myself. I will admit that I went to the Dov Siemen's weekend crash course just to be sure I felt confident in my abilities, and then I made a feature film. I assembled a fantastic team of people I could trust, brought on an amazing director (David Worth – who I've worked with a couple of times), hired a screenwriter to tighten up the script and overall fill in the story (Victor Perillo), hired an editor who I truly respected (Steve Swersky – who also edited Tick Tock which I produced several years ago) and all the pieces just fell into place. It was a lot of hard work, but worth it. I gathered a great team and a great cast – which is key.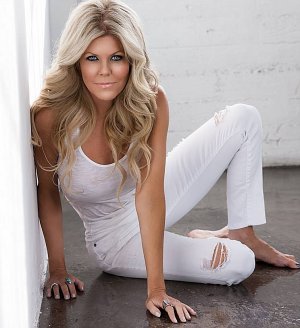 How would you describe yourself as an actress, and some of your techniques to bring your characters to life?
I am a brave actress. I am a giving actress (to the other actors on set). I am an actress who lives her roles and experiences life as that character would experience it. It's more of an immersion. I study who they are, I create the environment they grew up in, the experiences they had prior that led them to where they are today and I start thinking like them. I ask my characters a lot of questions before taking them on (Stanislavsky), and I'm dedicated to the integrity of who they are. I am an uninhibited actor and aware of the body movement differentiation and habits of the character I am being (Alexander). I connect to my characters personal and emotional state (Strasberg) and their thoughts and feelings (Method). Mostly I live their lives (Margie Haber) and enjoy the journey.
Actresses (and indeed actors) who inspire you?
The actors whose work most consistently inspires me would include Meryl Streep, Daniel Day Lewis, and Benedict Cumberbatch.
Your favourite movies?
This year my favorite was The Imitation Game. Last year my favorite was a tie between August Osage County and The Wolf of Wall Street. Overall it would be Star Wars: Episode IV – A New Hope and A Clockwork Orange. I'm guessing over the next year it will be the new Star Wars (fingers crossed) and the new Mad Max.
... and of course, films you really deplore?

Feeling lucky ?
Want to
search
any of my partnershops yourself
for more, better results ?

The links below
will take you
just there!!!

Find Tracey Birdsall
at the amazons ...

amazon.com

amazon.co.uk

amazon.de
Looking for imports ?
Find Tracey Birdsall here ...
Something naughty ?
(Must be over 18 to go there !)

I hate to call any movie "bad" as it's someone's art that they made to entertain the world – someone's dream. That said, I would have to say that Birdemic was the worst film I've ever seen that was distributed! It was actually so terrible though that I watched it and laughed and oftentimes winced! I do believe that they knew it was terrible and made it that way on purpose however. That just can't be an accident! They had a huge viewership just because it was so terrible, which in a way – makes it a success.
Your website, Facebook, whatever else?
http://www.imdb.com/name/nm0435942/
Facebook: https://www.facebook.com/traceybirdsallofficial
Twitter: @traceybirdsall1
Instagram: traceybirdsall1
Thanks for the interview!