Hot Picks

Bloody Drama


USA 2017
produced by
Mike Ettnie, Jason Harlow, Joey Espinoza (executive), Todd Jason Falcon Cook (executive) for Sceamtime Films
directed by Colin Bressler
starring Cristina Cruz Rodríguez, Katusha Robert, Sky Hawkes, David Carbajal, Jaelynn Blount, Billionna Olivia Reyes, Madison Weilbacher, Scotty Walker, Monika Hernandez, Mike Ettnie, Makayla Keck
written by Colin Bressler, music by Colin Chinchar

review by
Mike Haberfelner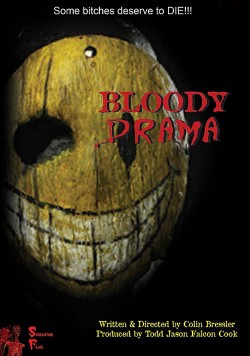 Former sorority sisters Rene (Cristina Cruz Rodríguez), Brittany (Katusha Robert), Kim (Jaelynn Blount), Kelly (Billionna Olivia Reyes) and Megan (Madison Weilbacher) decide to have one final party together while all going their separate ways ... which turns out to be not such a great idea almost from the get-go, as Rene and Kim could never stand one another, with Rene being the openly lesbian of the bunch who was always subject to bullying even if she knew how to hit back, and Kim the hottie and queen bee - and now that the sorority days are over, their aversion pretty much gets a nre outlet. Kelly on the other hand still hasn't come over her separation from Darren (David Carbajal), so she sends him a dirty text, totally knowing his new girlfriend Nelly (Sky Hawkes) will read it as well and suspect him cheating on her - which is of course totally what happens. Problem is, Nelly runs of and nobody knows where - but everybody knows she might do something stupid, as she had attempted suicide not too long ago.
At the same time, a masked serialkiller is roaming the town, killing people left and right, but he has taken a special interest in our former sorority sisters - and they realize they're actually fighting for their lives only much too late ...
Basically, if you love classic slasher movies, you'll really like this one, a throwback to the movies of old before post-modernism and genre-awareness set in. And if the classic slasher's not your cup of tea, Bloody Drama still works as a nice murder mystery that keeps one guessing to the end and features many a red herring, and the finale's really air-tight to satisfy any thriller fan's needs!