Hot Picks

Desert Mirage


USA 2016
produced by
Michael Fredianelli, Maralynn Adams (executive), Paolo Polesello (executive) for Wild Dogs Productions
directed by Michael Fredianelli
starring Jeremy Koerner, Michael Fredianelli, Tabbitha McBride, John S. Boles, Sheilah Morrison, Melinda Torgersen, George S. Gemette, Morgan Finley King, Landon Torgersen, Tyler Torgersen, Mason Torgersen, Brandon Peterson, David Lambert, Nick Stielstra, Chad Kaplan, Lava Gnome
written by Michael Fredianelli, Jeremy Koerner, music by Clay Rudolph Scott, animation director: Chad Kaplan


animation

review by
Mike Haberfelner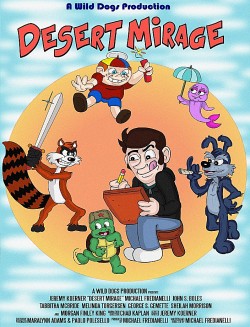 Cliff (Jeremy Koerner) is an extremely gifted cartoonist and inventor who's big break's to happen any day now ... which is how he sees himself at least, actually he's a gumbuster at an amusement park (yup, a guy scratching gums off benches) who isn't even good at his job, who still lives at his parents (John S. Boles, Sheilah Morrison) despite being in his mid-40s, and whose social skills are, well, improvable - especially when it comes to his neighbour Rebecca (Tabbitha McBride) who he desparately tries to ask out without ever getting it remotely right. His only friends are his cartoon creatures, who appear to him in real life to give him advice, even if the advice is horrendous more often than not - especially Ryley Raccoon, a sexist rogue, usually only gets Cliff into trouble.
Still, Cliff thinks he's got what it takes, and thus, one day he takes a train to LA to show up on the doorstep on his animation entrepreneur brother Jack (Michael Fredianelli), who has long broken with his family to become a success, and tries to convince him of his ingenious ideas ... but instead only messes up his family life and becomes indirectly responsible for Jack's fatal accident. But before dying, Jack hands Cliff a treasure map. But when it comes to two cartoonists, what might that something be they both consider a "treasure"?
Now Desert Mirage isn't exactly a film that follows the rules of political correctness, its lead character isn't 100% likeable, despite being part-animation it's definitely not for kids, its humour is often blunt and not too far removed from the toilet, and one might find most of the lessons learned in this a bit on the questionable side ... and it's also tons of fun. Basically, the film is a loving tribute to cartoons from the 1940s, especially those of Tex Avery and Chuck Jones, down to its sight-gags and character designs, but updates the humour for a more adult audience, focussing on the meanness and occasional vulgarity of yesteryear's animation - which is what makes these movies special and timeless ... and that's exactly why the humour of Desert Mirage works quite that well.
Now all of this might not exactly make this movie a modern animation masterpiece ... but a near-perfect party flick at the very least.