Hot Picks

- Nox 2019
Eullenia

episode 1


Thailand 2018
produced by
David Cluck, Robert Neft (executive), Patrick Martineau (executive), Jeff Calman (executive), Brian Askew (executive), Peter C. Green (executive), Hugh Woolley (executive), Alan Woolley (executive) for Commercial Films Siam
directed by Paul Spurrier
starring Alec Newman, Vithaya Pansringarm, Apicha Suyanandana, Sahajak Boonthanakit, Gigi Velicitat, Katrina Grey, Nithid Benherdthaworn
written by Paul Spurrier, music by Paul Spurrier, Steve Jones


TV-series
Eullenia

review by
Mike Haberfelner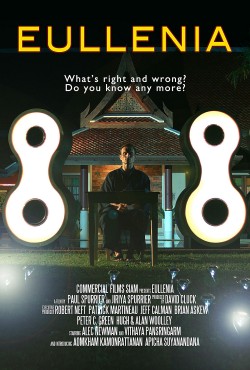 Marcus Hammond (Alec Newman) is head of Eullania Bank, which means he's a major player in the Thai financial world and thus a man as capitalistic as they come - but he's also a philanthropist, picking seemingly random people off the street, offering them great deals to improve their lives or the lives of those dear to them. Take Nam (Apicha Suyanandana) for example, a girl who has come to Bangkok from the country to make some money - but now that she has arrived she doesn't have a clue how to, which is doubly hard as she doesn't need the money just for herself but to help her sister who's suffering from cancer and who needs quite a bit of money for her treatment. Now Marcus is touched by this story, and he has more than enough to help the girl ... but he asks for something in return - and no, it isn't sex, but something much much darker ...
Allegedly Thailand's first genre TV series, and produced first and foremost for the international market, Eullenia is nothing if not extremely interesting, wrapping a piece of social commentary and bitter satire in a piece of suspense and cruelty that leaves no box unticked for genre audiences but manages to remain fresh and surprising throughout, and that's carried by a very slick and stylish yet subtle directorial effort and a bunch of strong performances.
In all, a pilot that really makes one long for more ...