Hot Picks

Hog Hunters


USA 2017
produced by
Aaron K. Carter for Rotten Productions
directed by Aaron K. Carter
starring Joe McQueen, Kevin C. Beardsley, Michael Camp, Chris Morris, Cal Alexander, Kwas, Aaron K. Carter, Dante DeNicola
written by Aaron K. Carter, Ronnie Jimenez, music by Anthony P. Robinson, Dolph Castrillo, hog makeup by Ken Nolls


short

review by
Mike Haberfelner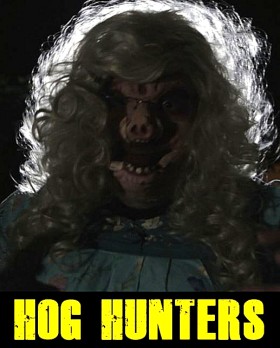 A trio of redneck bowlers (Kevin C. Beardsley, Michael Camp, Chris Morris) are looking for a fourth guy to join their team - and Lenny (Joe McQueen) comes highly recommended. But when they meet him for the first time and sees he's black and might be gay (well, he wears a pink shirt), they show their reservations, and decide to play a little prank with him, introducing him to their maaad partying style, which includes heavy drinking and a visit to an obscure whorehouse for some hog-hunting - meaning hooking up with some extremely obese prostitutes in their lingo. But the farmer (Cal Alexander) who runs the whorehouse takes the term hog-hunting quite a bit more literally ...
A short that will very probably not revolutionize the horror genre, this is pretty much the dirty joke equivalent of a horror movie: You know it's wrong, you know it's on the crude side, but you just can't help but chuckle - so you better not go into this with expectations of an intellectual revelations, but be prepared to be entertained by things that you know are basically wrong - but not wrong enough not to cuckle ...
By the way: Hog Hunters is expected to be part of a four-story horror anthology that Aaron K. Carter is currently working on, so keep your eyes peeled!