Hot Picks

Siembamba

The Lullaby


South Africa 2018
produced by
Andre Frauenstein snr, Samuel Frauenstein, Arthur Crewe (executive), Lester Din (executive) (executive), Darryl MacDougall (executive), Riana MacDougall (executive), Fred Welman (executive) for Valhalla Productions, Phoenix Films
directed by Darrell Roodt
starring Reine Swart, Thandi Puren, Brandon Auret, Deànré Reiners, Dorothy Ann Gould, Shayla-Rae McFarlane, Eckardt Spies, Amjoné Spies, Samuel Frauenstein, Briony Horwitz, Anne-Marie Ellis, Lara de Villiers, Dayna McFarlane
story by Samuel Frauenstein, Darrell Roodt, screenplay by Tarryn-Tanille Prinsloo, music by Alun Richards

review by
Mike Haberfelner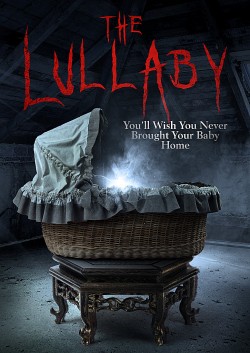 Chloe (Reine Swart) has run away from home months ago, basically because she couldn't stand her overbearing mum Ruby's (Thandi Puren) constant nagging anymore, she wanted to get away from her wannabe-boyfriend Adam (Deànré Reiners), and smalltown life in general pissed her off ... but now she has returned highly pregnant, but remaining absolutely mum about the baby's father, and it's not long before she gives birth. After that though, she feels an emptiness inside her, an emptiness that's not at all helped by the constant nagging of her know-it-all mother who doesn't seem to understand her at all. Now one could think what she suffers from is just post-natal depression, which especially at her young age wouldn't be all that surprising. But there's more: Chloe soon starts to have visions of her hurting or killing the baby, or some weird undead looking figure stealing the baby. A friend of Chloe's mum, psychiatrist Dr Reed (Brandon Auret) soon gets to treat her, and can't help but noticing her visions are somehow tied to the small town's bloody past, which included institutionalized rape and infanticide. Thing is, Dr Reed might know more than he lets on ...
Now one thing's for sure, The Lullaby isn't a movie that spells "spectacle" in big letters - and that's a good thing, too, as this is a deliberately slow moving shocker that's heavy on atmosphere - even if it has its fair share of jump scares in all the right places - that really keeps one guessing and on the edge of one's seat until the very end. Now that's of course thanks to a very well-structured and well-told script and a strong directorial effort - but also a very solid ensemble cast, who really bring this film's story to life.
Definitely worth a look!