Hot Picks

Murder in the Woods


USA 2017
produced by
Luis Iga, Yelyna De Leon, Abbey Cañas (executive), Alejandro Cañas (executive), Marcela Salguero (executive), Wilsons Salguero (executive), Claudia Castañeda (executive), Sonia Castañeda (executive), Robert Chartier (executive) for Chop Chop Entertainment, Rezinate Entertainment, Yel Productions, Hugh Aodh O'Brien (co)
directed by Luis Iga
starring José Julián, Jeanette Samano, Danny Trejo, Chelsea Rendon, Catherine Toribio, Kade Wise, Jordan Diambrini, Soledad St. Hilaire, Kurt Caceres, Rolando Molina, Max Chavarria, Yelyna De Leon
written by Yelyna De Leon

review by
Mike Haberfelner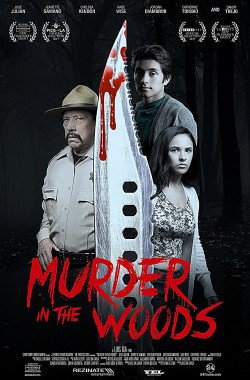 For Chelsea's (Chelsea Rendon) birthday party, she and her friends go on a trip to Jesse's (José Julián) house deep in the woods to do some heavy partying including hard liquer and drugs undisturbed ... but somehow the party quickly falls apart when Chelsea learns her boyfriend Gabe (Jordan Diambrini) had an affair with the hottie in their midst, Celeste (Catherine Toribio) while Jule (Kade Wise) is too fixated on getting into Celeste's panties to act at all like a human being and innocent Fernanda (Jeanette Samano) proves to be quite a bit of a party pooper. But after a big row, Celeste sets off to walk home alone, the rest of the gang find out their car has broken down, and it's about then people start to die, too, and mostly violently. And it's about then those of our kids still alive start to realize there might be someone with lethal tendencies after them, one who might have access to the house they're at ...
The always dependable Danny Trejo plays the local Sheriff.
So ok, Murder in the Woods is a slasher movie and doesn't try to hide it, so you better not expect the re-invention of the wheel. But while the film at first follows the standard formula almost a bit too closely, it really picks up steam the longer it goes and the longer it refuses to reveal the identity of the killer - which creates tension all by itself and really sucks one into the story of the film. And ultimately, the film delivers on its promise in heaps, culminating in a very tight finale with all the suspense and shocks in their right places and plenty of gore as well.
Very cool genre entertainment!