Hot Picks

Party Bus to Hell


USA 2017
produced by
Sonny Mahal, Michael Mahal, J. Spencer (executive), Neel Esh Patel (executive), Greg Munsell (executive), Tara Reid (executive), Carole Vesely (executive) for Mahal Empire
directed by Rolfe Kanefsky
starring Stefani Blake, Shelby McCullough, ViDonna Michaels, Sadie Katz, Demetrios Alex, Ray Gutierrez, Ben Stobber, Richard Hochman, John Molinaro, Nailya Shakirova, Brian Blu, Elissa Dowling, Devanny Pinn, Michael Forsch, J. Spencer, Robert Rhine, Selena D., Tara Reid, Aaron Groben, Nicholas George, Lonnie Alex, Steven Krasner, Jeremiah B. McQueen, Erin Jill, Keith Kramer, Leonard Steinman, Ronnie Nanos, Sarah Eliza, Santy Luangpraseuth, Shawnn Morris Slaughter, Matt Christy, Cotti Daniels
written by Rolfe Kanefsky, music by Christopher Farrell, theme song by David Rosen, special effects by Break All Productions, demon design by Jake Wyman, special makeup effects by Katie Jacobs, Haley Dunphy

review by
Mike Haberfelner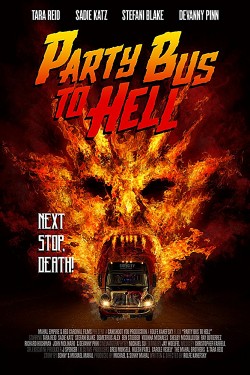 All a bunch of youngsters wanted to do was to get to the Burning Man festival for some big time partying - but the driver (Sadie Katz) of the bus they rented has her own ideas, takes a "short cut" through the desert, then leaves them stranded in the middle of nowhere - which is bad enough, but it's even worse that this particular corner of "nowhere" is also the roaming ground of a particularly nasty sect of demon worshippers who have the one advantage over other demon worshippers that they are actually able to summon demons - and soon the bus is under siege as the cultists outside are sure the "chosen one" is in the bus and demand her release. Bad thing then that our youngsters have no idea who of them the chosen one might be ... until Lara (Stefani Blake) admits she's still a virgin. So they decide in order to make her an "un-chosen one" one of them - young investment banker Peter (Demetrios Alex) - is to deflower her. And since Lara's somewhat eager to lose her virginity and is rather a looker, that doesn't prove too big a problem ... until the sexual contact turns her into a homicidal demon taking out the wannabe ravers one by one until only two girls (Vidonna Michaels, Shelby McCullough), the handiest of the bunch, are left standing. And even if they know how to fight back, this might be a battle too big for them ...
Top billed Tara Reid gets run over by the bus early in the movie, on the run from a bunch of mummies, who also happen to kill fan fave Devanny Pinn a few minutes into the film.
So ok, this movie might by no definition be the re-invention of the wheel - but taken as a slightly mindless party movie it delivers in droves: There's blood and boobs in all the right places, the violence might be at times over-the-top but it's off-set by (self-)irony in writing, direction and performances, the thing moves along at a steady pace and gets the most out of its limited locations, and while it might be silly, everyone seems to be in on the joke and have one hell of a time.
No masterpiece perhaps, but definitely worth a look!