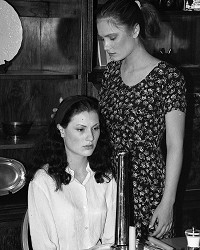 Still from Pheonix
Daliah, a waitress on the run from her wannabe-rapist, roams the cemetary every day, to look for her sister whom everyone believes to be dead, though her body was never found. Her only lead is cemetary worker Sam, a weirdp who can only have sex with his stickdoll - which might or might not be the key to the secret of Daliah' sister.
Sam is warned of Daliah by Necra, though Necra is kind of weird herself, as she likes to spend her time in bodybags in the cemetary's morgue, and might or might not be dead.
By and by, light is shed on what happened to Daliah's sister - she actually poured gasoline all over herself and set herself on fire after her dad raped her, something Daliah has witnessed herself but has supressed for the longest time (and she might or might not have killed her father becase of it).
But what is Daliah's cartharsis is Sam's demise, as he kis unable to distinguish between his stickdoll, whom eh really loves, and Daliah's dead sister, and in the end, he himself takes a gasoline shower and sets himself on fire, just to be closer to her ...
At least, the above is what I read out of Phoenix, you might come to a different conclusion, because it is not a narrative film in the traditional sense but a carefully woven network of associations between everything and everything else, somewhere along the lines of Lynch and Godard, Jodorowsky and Fellini. but even in his first feature, Tony Marsiglia proves himself a clever enough filmmaker to not make the movie for the sake of itself but turn it into an entertaining piece of weirdness, a film that might not be accessible to everyone, but it doesn't lock itself away from its audience altogether either.
Phoenix isn't director Marsiglia's best film, it's a bit too much art for the art's sake (as debut features often are) to succeed on every level, but it's a fascinating experience nevertheless, and it shows a very promising director, a promise Marsiglia later kept especially with movies like Sinful and Suzie Heartless.