Hot Picks

Rave Party Massacre
DeadThirsty


USA 2017
produced by
Maggie D. Hickman, John F. Stevens (executive), John Hickman (executive), Joshua W. Hickman (executive)
directed by Jason Winn
starring Sara Bess, Evan Taylor Williams, Jared Sullivan, Melissa Kunnap, Pedro Ferreira
story by Jason Winn, screenplay by Jonathan W. Hickman, Maggie D. Hickman, music by Freddy Boehm, Ray McNeil, Chad Vincent, Greg Kosnoski, David Szuchan

review by
Mike Haberfelner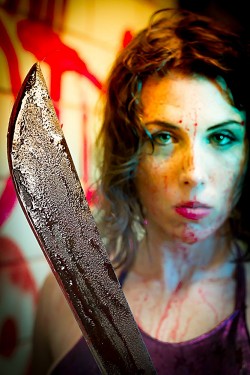 1992, a time of global political changes, a "new world order" if you may - but Rachel (Sara Bess) is young, and all she expects from this rave party at an abandoned hospital is weird drugs, plenty of dancing and meaningless sex with whoever - even if she came with her boyfriend Branson (Jared Sullivan) ... but then she, Branson, her stud-for-the-night Thomas (Pedro Ferreira), attractive but air-headed Clare (Melissa Kunnap) and slightly creepy Phillip (Evan Taylor Williams) wake up in the facilities the next morning to find them otherwise empty - apart from the occasional corpse, and that soon gets them in the right mindset that there's a killer on the loose who's more likely than not after them. And soon enough the (masked) killer shows himself, slaughtering Rachel's friends left and right, and as she's trying to figure out what's actually going on (while running from the killer of course), she less and less likes what she manages to come up with ...
Now there's an interesting genre blend: A movie that works equally well as slasher, survival horror, whodunnit and conspiracy thriller - basically because it never lets up regarding tension and suspense, balances atmospheric filmmaking with jump scares, fuels the formulas it follows with many jump scares - and basically is just an awful lot of genre fun.
Basically, if you're a horror fan, you'll love this!