Hot Picks

Shanda's River


Italy 2017
produced by
Giorgio Galbiati, Marta Bruno Ventre (executive) for Iria Cultura
directed by Marco Rosson
starring Margherita Remotti, Diego Runko, Claudia Marasca, Marcella Braga, Toni Pandolfo, Giulio Oldrati, Michele Viola, Mario Chindamo, Michele Merli
written by Nicola Pizzi, music by Mauro Crivelli, special makeup effects by Eleonorita Acquaviva

review by
Mike Haberfelner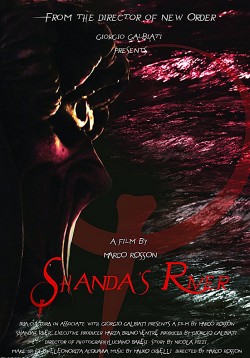 Emma (Margherita Remotti) is a scientist from America specialicing in (actual) witch hunts and their relation to feminism and female supression who has just come across the Italian witch Shanda (Marcella Braga), who back in the times of the inquisition was actually a herb woman who got blamed (and branded a witch and killed) for the very epidemic she tried to fight. Now Emma is up for taking a tour to all the places in Shanda's legend with local guide Giulia (Claudia Marasca), and they're accompanied by a journalist with a predilection for the uncanny, Daniel (Diego Runco). And on the way to what's dubbed "Shanda's River", their car breaks down and they are approached by a couple of masked man - and brutally killed ... and then Emma wakes up in her hotel room, and it was all just a dream - only she again goes on the tour with the same people, the car stops at the exact same spot, and the party is killed again by masked men ... and Emma wakes up again!

Not really all that surprisingly, Emma decides to skip the tour the third time round, but a masked man then enters her room and brutally kills her. Soon Emma has to realize whatever she does, she will get killed before the end of the day to wake up again in the morning. She soon researches the story a bit closer, and learns the one person who can probably help her is Daniel, who stays at the same hotel, only a couple of rooms down the hallway. That said, it's of course hard to convince him what Emma's living through, and when she has succeeded, she doesn't exactly like what he tells her to do to end the curse ...

Now of course, in premise and structure, Shanda's River is more than a little reminiscent of that comedy favourite Groundhog Day, no matter how you turn things ... but that said, the movie still manages to tell a very interesting story with its fair share of violence for the average horror fan and plenty of unusual plottwists for those who dig deeper. And it manages to create a mythology that makes the "reliving the same day"-premise feasible in its own logic. And add a directorial effort with an emphasis on atmosphere and tension and a relatable cast, and you've got yourself pretty good genre entertainment.