Hot Picks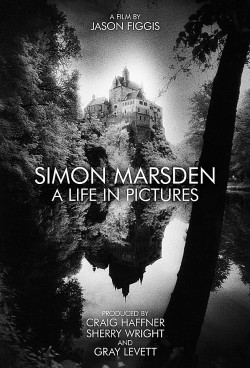 Back in 2003, filmmaker Jason Figgis shot a documentary about photographer Simon Marsden, The Twilight Hour: Visions of Ireland's Haunted Past, where he accompanied him to shoots and would document the man's work routine first hand. Marsden has sadly passed away in 2012, but Figgis revisited the subject anyways, this time putting an extra focus on Marsden's pictures, photos shot on analogue film with infrared cameras that almost always look rather haunting and that often show ruinous abbeys and castle. Set to this, Figgis talks at length about his collaboration with Marsden on above-mentioned film, lets some of Marsden's acquaintances tell anecdotes and a few of Marsden's own writings are thrown in to round out the film, so one gets a pretty good picture of the man and his way of thinking - while ironically Marsden himself as good as never appears in the whole film physically other than a handful of photographs of (rather than by) him.
The result is a film that really gets one interested into the subject, even if one's unfamiliar with Simon Marsden and his work, as Figgis as a filmmaker gives Marsden's pictures enough room to speak for themselves while he has carefully chosen the soundclips to not overpower the casual viewer with too much information but make this more of a tribute to Marsden, whom Figgis very clearly admires.
Worth your time for sure, especially if you're into haunting, slightly other-worldly photography.