Hot Picks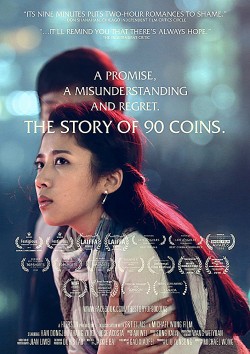 Yuyang (Han Dongjun) wants to marry Chen Wen (Zhuang Zhiqi), but while she likes him a lot, her feelings don't exactly point in that direction. So he makes her promise to give him 90 days to convince her otherwise, and every day he gives her a coin, so at the end of the 90 days they can afford a marriage license. The scheme works, Chen Wen falls in love with Yuyang ... but at the end of the 90 days, they have more pressing matters than getting married right away, like move in together, move forward in life and all that - but they're a cute couple and everything seems to be perfect. But there's Andre (Jose Acosta), a guy Chen Wen has met at work who wants to convince her to go to Paris with him to study fashion - and upon that Yuyang throws a jealous fit, no matter if it's justified or not. The two break up, Chen Wen decides to go to Paris - but while packing she stumbles upon the 90 coins again, and a little romantic secret they hold ...
In a nutshell, The Story of 90 Coins is romance done right, it's short, stringent, to the point, doesn't cheese up its cute parts - and still gets one in just the right mood, thanks to a rich visual language that chooses atmosphere over pomp, makes the most out of little gestures, and tells its story in a very economic yet touching way.
Definitely worth a watch, especially if romances are not your thing to begin with!
... and if this has at all gotten you interested you might as well watch the movie for yourself: www.vimeo.com/143267832/ - plus, for more info, go to www.facebook.com/thestoryof90coins/.