Hot Picks

Strange Rituals


USA 2017
produced by
Michael Fredianelli for Wild Dogs Productions
directed by Michael Fredianelli
starring Lara Jean Mummert, Laura Warner, Jeremy Koerner, Paul Spadaro, Skipper Elekwachi, Michael Nosé, Bryan Wilks, Mike Dinsmore, Pauletta Hickerson, Dick Raley, Marsha Hovey, Karie Geiger, Carey Atwood, Scott Cofer, Michael Fredianelli
written by Michael Fredianelli, music by Dakarius

review by
Mike Haberfelner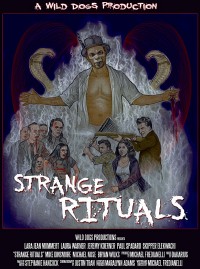 It was just a party, and Jeanne (Lara Jean Mummert) and Deb (Laura Warner) got a wee bit drunk, so driving home, the two got the backroads right through the middle of nowhere to minimize risk for themselves and others ... and still run someone over. In their panic, they of course run, and Deb, professional party girl if there ever was one, wants to forget the thing the quickest, but responsible Jeanne wants to return to the scene of the accident to see what had actually had happened and make amends if needed - and invites a bunch of friends with her even ... but things don't turn out as planned, as they first run into a dangerous redneck and later into a voodoo priest (Skipper Elekwachi) and just about make it away from there ... and the next day, both Deb and her boyfriend (Bryan Wilks) die bizarre deaths but return to haunt Jeanne - who then urges her boyfriend (Paul Spadaro) and her brother (Jeremy Koerner) to make another attempt to set things right ... to only then find out an army of zombies has been raised, and they're at the center of their attention ...
Now Strange Rituals might not exactly be reinventing genre cinema ... but horror fans will love it for what it is, a slim and swift zombie story without big pretentions, instead concentrating on delivering a tense story arc with shocks and gore in all the right places, and believable and flawed but likeable characters to carry the story. And it might not be a total coincidence that the film's score in places is more than a little reminiscent of Italian zombie flicks from the early 1980s, either.
In all, very decent genre fun not to be missed by zombie lovers!