Hot Picks

Strip Club Massacre


USA 2017
produced by
Dave Leskie, Bob Clark, Bruce Kilroy, Tim Arter (executive), Les Peterson (executive), Jack Kelly (executive), Pam Brown (executive), George Miu (executive) for Reel Bloody Films
directed by Bob Clark
starring Alicia Watson, Erin Brown, Courtney Riggs, Mark Law, Danielle Page, Layla Heather Pendley, Stefan Rollins, Garrett Able, Victoria Stevens, Jenna Alger, Nicole Lynch, Daniel Patrick Shook, Haley Leary, Brett Lee Clark, Jason McDaniel, Eric Poe, Mary Kilroy
written by Bob Clark,Bruce Kilroy, special effects by Meredith Kurbel

review by
Mike Haberfelner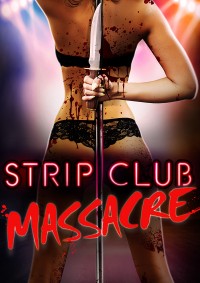 Megan (Alicia Watson) is really blowing on her last hole of late - having been cheated on by her ex (Garrett Able) and thrown out by her roommate (Haley Leary), she has to accept the hospitality of her best friend Amanda (Courtney Riggs), and accept a job at a strip joint Amanda's boyfriend Bobby (Stefan Rollins) and his associate Johnny (Mark Law) run - but only as a barmaid, no nudity ... at first, as soon Megan has to notice the actual strippers don't only make much more money than she does, they also look down on her. So eventually, she does take the stage as a dancer and does lapdances and all that sort of stuff - but nothing that would cross the line, really ... which doesn't sit well with the queen bee of the club, Jazz (Erin Brown), who gives Megan grief wherever she can. Of course this doesn't go unnoticed by Johnny, so eventually he invites Megan, Jazz, and Jazz's associates Carmen (Layla Heather Pendley) and Kim (Danielle Page) to a pool party at his place, to straighten things out between the girls. Good idea, but what Megan does not know, even though Johnny claims to be a caring soul, he's really in league with Jazz, and Jazz isn't only a bitch but a full blown sadistic psycho ...
Well, those of you expecting nothing but a blood and sleaze festival based on the title be warned, Strip Club Massacre doesn't feature too much sex and gore (though doesn't shy away from either should the occasion ask for it) - instead it's a rather nicely built-up story that gets its tension out of Megan's rather tragic story off-set by Jazz's rather insane shenanigans until the whole thing comes to a head in a finale that's not only quite mental but features quite a few unexpected twists.
In all, maybe not the re-invention of the wheel, but good genre fun!