Hot Picks

Tikli and Laxmi Bomb


India 2017
produced by
Sweta Chhabria Kripalani, Aditya Kripalani, Vijay Nair (executive) for Mumba Devi Motion Pictures
directed by Aditya Kripalani
starring Vibhawari Deshpande, Chitrangada Chakraborty, Divya Unny, Kritika Pande, Mia Maelzer, Rakhi Mansha, Bageshri Joshirao, Manasi Bhawalkar, Mayur More, Kamil, Upendra Limaye, Suchitra Pillai, Saharsh Kumar Shukla, Uday Atrolia, Vikas Shukla
screenplay by Aditya Kripalani, based on his novel, music by Aditya Kripalani, Dhanashree Ganatra, Laxmi Bomb, Ganesh Talkies, Akshay Gidwani

review by
Mike Haberfelner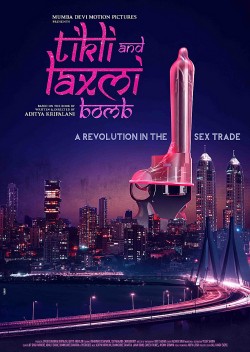 Laxmi (Vibhawari Deshpande) is a seasoned sex worker in the streets of Mumbai who seems to have seen pretty much everything and who has come to accept her status in society, which includes to be taken advantage of by every man she meets, from her small fry pimp AT (Mayur More) to his boss Mhatre (Upendra Limaye), from the corrupt local police officer Moray (Uday Atrolia) to random motel clerks where she does her business at. Enter Tikli (Chitrangada Chakraborty), the new girl on the streets whom Laxmi is to show the ropes - though at first Laxmi's less than impressed by Tikli, as Tikli's fresh, won't stand for abuse, and questions the whole system that grants the actual workers in the sex business the least rights. But Tikli's not just hot air, she's quick with the knife to get out of dangerous situations, she at one point attacks AT for not helping her, and she gets Laxmi out of a jam - only to as a thank you later be raped by Moray while at the police station. This should have broken her spirit, but it only gets Tikli all the more mad, and while Laxmi at first wants to break all contact with her, she later learns this was exactly how she was broken many moons back - and now she and Tikli create a collective of self-controlled prostitutes who won't take any shit from any men anymore - but Mhatre and gang try to crack down on them every step along the way. But neither Tikli nor Laxmi are in a position to give up anymore, so they plow on with original business ideas and special tricks to stay out of Mhadre's hair while siphoning off his business all the same - something which soon steers towards disaster. But the girls soon figure they have to play the system to beat it and seek employ with the same big boss Mhadre's working for - and it seems to add up. But when one works in a business like this, more misfortune's always around the corner ...
A very strong and touching drama that in approach is reminiscent first and foremost of neorealist cinema - what with its contemporary, straight-from-the-headlines topics, no-frills filmmaking approach, its authentic locations and its being shot (mostly) with out the shoot of artificial light sources. But this is certainly not a movie reminiscent of cinema of old but one very much in the now, and one that doesn't forget the art of good storytelling, which includes some violence as well as lighter moments, even bits of comedy. And the ensemble cast's very natural performances don't hurt one bit either.
Recommended for sure!