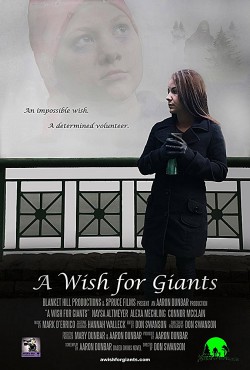 Tween Roxie (Alexa Mechling) has brain cancer, and the prospects don't look good. But the Make a Wish Foundation is granting her a wish so she can have some great memories at least - and she wishes to meet Bigfoot. Now obviously that's rather big a wish, especially since the mere existence of Bigfoot is more than a little doubtful - but Sophie (Naysa Altmeyer), a college student and volunteer to the organisation who has been assigned to her case, is more than willing to do everything in her power to make the girl's wish come true anyhow - which might be complicated by the fact that she's not even sure she believes in Bigfoot, and has no idea where to begin looking for him. Enter fellow student Derrick (Connor McClain), who obviously has the perfect plan and all bases covered - but Sophie doesn't trust him one bit as Derrick's just the son of a politician (Joe Fishel) who's been born into money and he just might have chosen her Bigfoot project just to prove himself to his father. Furthermore, Sophie expects that if she lets Derrick take over that he'll only hire a man in a monkey suit for some publicity for himself. And of course, Sophie's very right about everything - but little Roxie hasn't got long, and it's up to Sophie to make her wish come true, so she might just make a deal with devil Derrick ...
Bigfoot expert Stan Gordon appears as himself in a short scene.
Now I'm not a particularly sentimental guy, and the Bigfoot-subgenre as such doesn't exactly spell itself "tearjerker" - but if you don't need a tissue at least once during that movie's running time, there might be something wrong with you. But that said, this is more than a sappy story about a girl getting her wish, it's actually a well-written mystery (if without a body) that manages to keep its audience guessing on its rather simple premise and come up with a surprise climax that ties things up beautifully nevertheless. And of course, a relateable cast only helps to draw the audience into this one.