Hot Picks

WTF!


USA 2017
produced by
Kyle Zingler, Peter Herro, Steve Parker (executive), Jody Wheeler (executive) for Cthulhu Crush Productions
directed by Peter Herro
starring Callie Ott, Nicholas James Reilly, Andrea Hunt, Benjamin Norris, Sarah Agor, Johnny James Fiore, Adam Foster, Perez Hilton, Shawn C. Phillips, Jonathan Sterritt, Aye Jaye, Nicolle Blair, Adam Blake, Madison Nelson, Nick Stellate, Dennis Nicomede, Ana Dela Cruz, Linda Michaels, Cheyann Dillon, Chloe Berman, Anna Sambrooks, Steve Pawlik, Angela Ware, Z'Dra Jaye, Velizar Ionikov, Marcia Montgomery, Ronny Borrelli, Taryn Piana, Nick Mcloughlin, Antonios Antoniadis, Colby Lemmo, Coby Connell, Miguel-Andres Garcia
written by Peter Herro, Christopher Lawrence Centanni, Adam Buchalter, music by Adrian Sealy, special effects makeup by Sabrina Castro

review by
Mike Haberfelner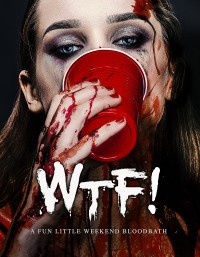 For this year's spring break, Rachel (Callie Ott), her brother Toby (Nicholas James Reilly) and her best friends (Andrea Hunt, Benjamin Norris, Sarah Agor, Johnny James Fiore, Adam Foster) go up into the woods to spend a few days of booze and weed out of reach from everybody who could be a spoilsport. Thing is, Rachel has lived through a serial killer's massacre a couple of years ago, and now she's a bit nervous - and thus isn't always totally in the swing of things ... especially when it comes to her boyfriend Sam (Johnny James Fiore), whom she flatly denies sex, which he's of course not at all mad about, so ultimaely he has sex with Rachel's best friend Lisa (Sarah Agor) ... which is when the killings start: One by one the youngsters are slaughtered by a mysterious killer who has sabotaged the kids' cars so they can't leave, and since the tensions are quick to rise between our heroes, they tend to split up again and again, making it easy for the killer to catch them alone ...
So ok, WTF! is a slasher flick that's rather good at following the formula - and yet it's pretty good at keeping even those in the audience who don't like slasher movies entertained, thanks to a cast of relatable characters played by a cast of competent actors, and also by giving the characters backstories, making them more than just cannonfodder. Plus, despite all the gore and killings, the film's rather light-footed, at times almost comedic in approach, and despite the rest of the film being formulaic, the resolution, as in the unmasking of the killer, is quite a shocker.
Totally worth a look!