Your new movie Dry Spell - in a few words, what is it about, and what can you tell us about your character in it?
It's about female impotency, which I don't think people talk about enough. I play Lacey, and my best friend Sasha, (played by the lovely Suzi Lorraine [Suzi Lorraine interview - click here]) is the soon to be ex-wife of my brother (played by the wonderful Kyle Hoskins [Kyle Hoskins interview - click here]). Though they maintain that their relationship is better now that they are separated, my character does a lot of going back and forth between them, trying to make Sasha see sense and comfort Kyle, who is trying to appease her. After a failed booty call, where she cannot gush to the occasion, she convinces herself she will not be able to... perform if Kyle does not move on. As such, I watch both of my best friends torture themselves. Which is not a stretch for me.
What I loved about Dry Spell, however, is that Travis Legge [Travis Legge interview - click here] let me run with the script. He gave me complete freedom to ad lib, change it up, surprise myself and my fellow cast. I ended up saying things I usually never say without several glasses of scotch (like several fisting jokes).
My character was also a very promiscuous person, which I am not, and I really enjoyed being able to objectify men and shamelessly flirt to the point of offense. One thing about my character that was very much me was the fact that she was so unpredictable, and so honest. People never really know what to expect from me, because I never know what to expect from me, and I'm a very honest person. But I'm not usually thanked for my honesty, so I'm usually pretty quiet. Lacey is not a quiet person, so it was great to explore that flippancy.
How did you get involved with the project in the first place?
I got involved with the project when my best friend in real life (Kyle Hoskins) started writing it. Then he would update me on what he wrote, and Travis wrote, and I just laughed. It became a new thing every night when I'd come home-I'd have had a hard day on set and he would say: "I've got something that will cheer you up." And he'd read a scene to me.
What can you tell us about your director Travis Legge [Travis Legge interview - click here], and what was your collaboration like?
Travis, who I have worked with on several occasions, is truly wonderful to work with. He is open, honest, and goes far above and beyond for his actors. I have never worked with a director that was so respectful and conscious of his actors. Working with him is a gift. And it definitely spoiled me - because I know I'm not going to get it on another set. He's a gem, and he fights like a pitbull for what he wants. He refuses to give in, when so many people try to bully or bribe him into submission.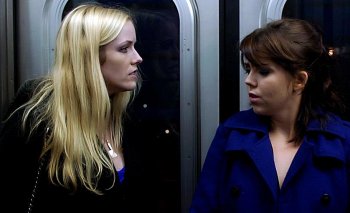 Amanda with Suzi Lorraine
What can you tell us about the shoot as such, and the on-set atmosphere?
The shoot itself was the best two weeks of my life - I literally cannot remember ever having so much fun. There were no divas, there were no weak links, we all came together and stayed together, like a family. I laughed for two weeks straight. We stayed up laughing in the same room and eventually fell asleep in that room, next to each other like sardines. It was great.
With Dry Spell being a romantic comedy - is that a genre you can at all otherwise relate to?
I don't know if romantic comedy was ever a genre I enjoyed - until Dry Spell. I always thought they were too kitschy, cheesy, always-have-a-happy ending type of genre. Dry Spell broke the mold for me, and I think it will for others. The story and characters are something everyone relates to.
How could you relate to the brand of humour of Dry Spell - and since your performance was spot-on, would you at all consider yourself a funny person off-screen?
The brand of humor in Dry Spell - that's hilarious, because we pretty much compiled all of our brands of humor into one movie - and I'd say everyone but bible thumpers will love it. It's definitely raunchy, way more towards Judd Apatow type of RomCom. As for me being a funny person off screen, people tell me I am, but it's very much unintentional. I'm honest, and I have a more unique perspective of the world than everyone else, so I suppose that's what made people laugh.
Let's go back to the beginnings of your career: What got you into acting in the first place, and did you receive any formal education on the subject?
What got me into acting: Alan Rickmans performance in Robin Hood: Prince of Thieves. I was 13 and couldn't stop watching him. I'd fast forward to get to his parts. And I thought: Wow. He makes money being a sick bastard. That's amazing! Then as I got older I thought: Hell, if Keanu Reeves can make it in this circus, what the hell am I waiting for?
I was lucky enough to win full scholarship to NYCDA in NY. I was halfway through a Psych degree and figured what the hell - they're handing me a life. Can't turn that down. They made us do everything there. We were the grips, the DPs, the stand-ins, the prop people, etc, so we knew our way around a set when we graduated. I was also lucky enough to study under Jay Goldenberg, who prepared me for any director I'll ever work with.
What can you tell us about your filmwork prior to Dry Spell?
Before Dry Spell I had done a lot of dramatic work - I played a killer, a rapist, a POW, Medea, Antigone - so I was very grateful for Dry Spell. No screaming, crying, stabbing, etc. But I really can't complain. I love playing the sickos.

Any future projects you'd like to talk about?
Right now I'm working on a movie called Injun which I'm VERY excited about. I play a Comanche woman that is beaten and left for dead by Confederate thieves that murder her husband and son and take over her ranch. She is nursed back to health by an old trapper and she returns and picks them off one by one. So it's all guns blazing, bow and arrows and bull whips, jumping and running through cattle and all sorts of phenomenal stunts. My first Western. It's a he'll of a time.
Besides movies, you have also done quite a bit of theatre - so what can you tell us about your stagework, and how does performing on stage compare to acting in front of a camera, and which do you prefer, actually?
Theatre and film are very different beasts, but the premise is the same - commit, be generous to your fellow actor. I definitely prefer film as my chosen medium, and with theatre it has to be a hell of a piece - like Mamet or the Greeks or Shakespeeare. Medea was my favorite play so far. It was very challenging playing the famed sorceress that murders her children, and it was intimidating at first, but she came naturally to me. Which probably sounds weird.
You have also done your fair share of modeling - care to talk about Lizbeth Sawyers, the model, for a bit?
Honestly, I only started modeling for the money. It wasn't until I met people out of the commercial circuit that really cared about their work and what they loved to do. Modeling for MAXIM was a lot of fun, because everyone was SO freaking cool. Especially the other girls. Hot, fun, wild women that love themselves and love their lives.
What can you tell us about your general approach to acting, and the techniques you use to bring a character to life?

Feeling lucky ?
Want to
search
any of my partnershops yourself
for more, better results ?

The links below
will take you
just there!!!

Find Lizbeth Sawyers
at the amazons ...

amazon.com

amazon.co.uk

amazon.de
Looking for imports ?
Find Lizbeth Sawyers here ...
Something naughty ?
(Must be over 18 to go there !)

I don't really have a technique with my acting. I go upon instinct. David Mamets True or False is sort of my bible. I find my mark, look the other guy in the eye, and pursue my motivation. I heard once: You're an actor. Take action. I do anything it takes to get what I need. As I would in life. I'm hired because whatever is needed for a character is within me, and they've seen it.
Actresses (and indeed actors) who inspire you?
Actresses that inspire me: Edie Falco, Jane Lynch, Cate Blanchette.
Actresses I respect: Anne Hathaway.
Actors: Alan Rickman, Vincent Cassel, Geoffrey Rush, Gaspard Ulliel.
Your favourite movies?
Scarface, The Godfather, Hard Candy, Irreversible, Tropic Thunder, Django.
... and of course, films you really deplore?
The Stepford Wives literally made my want to puke in my mouth.
Your website, Facebook, whatever else?
Website: www.aesawyer.net
Facebook: Lizbeth Sawyers
IMDb: Lizbeth Sawyers
Thanks for the interview!