Your new movie Dry Spell - in a few words, what is it about, and what can you tell us about your character in it?
Dry Spell is about a a woman named Sasha (Suzi Lorraine) and a man named Kyle (that would be me), who are in the middle of their state required separation before they finalize their divorce. Sasha decides that it is time to get her groove back but when she brings home a hook-up she discovers she has lost the ability to perform... basically sheís all dried up. She is mortified by this and decides that this problem is psychosomatic, that her subconscious is punishing her body out of guilt for moving on before Kyle does. To fix this she goes on a mission to get Kyle laid. You could accurately describe what happens after that as hilarity ensuing.
My character, Kyle, is a smart ass with a heart of gold who is doing his best to make his ex-wife happy but has some problems taking care of his own needs.
What were your inspirations when writing Dry Spell - and was any of this based on personal experience?
I tried to keep the honesty of High Fidelity and the soul of Chasing Amy in mind. I loved both of those movies and as far as romantic comedies go they are definitely the kind of ones Iíd rather see. And Travis and I tried to stay as far away from Say Anything as we could. I love me some John Cusack and even though Lloyd Dobler ruined an entire generation of women for men everywhere I dig that movie - but Travis and I both agreed that we didnít want to write a movie about two co-dependents who needed someone else to be whole.
The over-reaching theme of divorce was based on personal experience. I got married very young and got divorced about four years ago and at least some of this was me exorcising some demons in regards to that. One of the reasons I wanted to work on this is I feel that there are a lot of 20 something divorcees out there, it is a story worth telling and I donít see anyone telling it. Itís a fact of the country and culture we live in now and I really want there to be a voice that makes light of that instead of treating it like a dirty little secret.
What can you tell us about your collaboration with your co-writer and director Travis Legge [Travis Legge interview - click here]? And how did you two first hook up to begin with?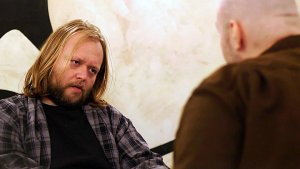 Kyle with Travis Legge
Working with Travis was an absolute blast. I have acted under his direction before but Iíve never written with him (or anyone else for that matter) before and the experience was definitely one I would like to recreate at some point. I think we have starkly contrasted voices but our motivators and our sense of humor are very similar which made the entire process a pleasure rather than a labor.
I met Travis when he was casting for Skeet Shooting. A mutual friend of ours suggested I audition. He cast me, we made that movie and we became fast friends. He has been one of my closest and dearest friends ever since. (Cue violins and soft lighting.)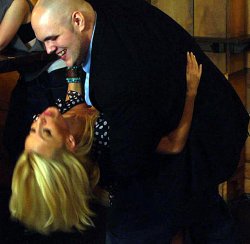 Kyle with Rachael Robbins
What did you draw upon to bring your character to life, and to what extent can you identify with your role?
When Travis and I ran one of the drafts past our mutual friend Alex he said ďSo... Kyle is basically the uber you.Ē Which isnít far from the truth. I figured I was working on a story about something that kind of happened to me, why not? Also, one of the reasons I write screenplays at all is to make more work for myself as an actor so why not write a role I know Iíd fit well in? When we actually started filming the character evolved into something very different, now I think Kyle is a guy I would definitely hang out with but we are very different people.
You just have to talk about your co-stars for a bit, and considering you're also writer and executive producer of the film, did you have any say when it came to casting?
Because we wanted to make this in New York on an indie budget we wanted to make as much of the cast New York-based as possible. Seeing as Travis lives in Illinois I was in charge of setting up auditions. As far as actual casting goes, I was consulted and we both had to agree on someone before a final say was made but all of the final decisions came down to Travis.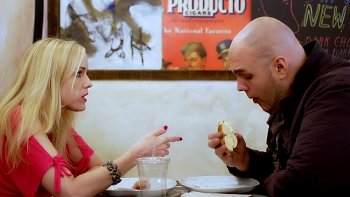 Kyle with Suzi Lorraine
We struck gold with our cast. Suzi Lorraine is an absolute dream [Suzi Lorraine interview - click here]. She is gorgeous, incredibly talented and hilarious. I was intimidated to work with her because of the respect I have for her work but she is really one of the sweetest people you will ever meet.
We had someone else in mind when we were writing the part of Lacey but she couldnít commit to the project which turned out to be a blessing in disguise because Lizbeth Sawyers [Lizbeth Sawyers interview - click] is one of the most talented actors I know. Also it works that she was playing the role of my sister because we are very close in real life, she actually is like a sister to me and after Travis saw her audition there was no question that she was the woman for the job.
Steven Lee Edwards is absolutely brilliant and I was so excited I had the chance to work with him again. We made Raymond Did It together and it was great to have him on set again, that man is going places.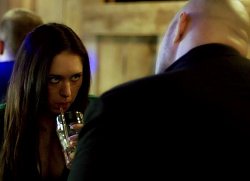 Kyle with Heather Dorff
Heather Dorff [Heather Dorff interview - click here] deserves a special thank you from me because watching her work, be as daring and open as she was, really encouraged me to open up my performance.
Iím sure my space here is limited but if I could I would dote on every single one of these cast members for pages. It sounds like Iím just up selling my peers but Iím not kidding when I say this movie is absolutely star studded and no one knows it. I expect greatness in the future for every one of them.
With Dry Spell being a romantic comedy - is that a genre you can at all otherwise relate to?
Yes and No. Like I said if you show me a High Fidelity or a Chasing Amy then yes. Most romantic comedies I canít relate to but I can enjoy. I usually check my snobbery at the door when it comes to my movie taste and I am not too proud to cry like a baby gorilla at a Nicholas Sparks flick... except for Walk To Remember.. .kill it... kill it with fire.
What got you into writing and what got you into acting to begin with, and did you receive any kind of formal education on either subject?
Iíve been writing short stories since I was in second grade. I had to write a story for class and it made me really happy, which was in short supply in those days, so my mother saved up and brought home a word processor. Iíve been in love with it since. Acting was a very similar deal, I did a play in fourth grade, I really enjoyed it, I thought I was pretty good and ever since then that is the path I have chosen. My mother really encouraged anything that made me happy, she is directly responsible for anything of worth I have or will create.
I havenít really had any formal training no. My theater teacher in high school had us on some really advanced curriculum (as I would later find when I dropped out of the college course I was taking because I realized half way through that it was redundant) but other than that nothing.
How would you describe your approach to both writing and to acting?
Honesty. I mean, there is a lot of work involved and that work needs to be managed and stylized and one needs to figure out how to do that for themselves, and that learning process is never ending. However, if you put ďfiguring it outĒ down for a second (and forgive me for sounding like a pretentious hipster for a second) I try my hardest to approach anything artistic with as much honesty as I can. Readers and watchers alike can smell a lie from a mile away, and that aside if Iím honest then I have created something that is a part of me and there is nothing in the world quiet like that feeling.
What can you tell us about your filmwork prior to Dry Spell?
Before this I portrayed Raymond in Travisí Raymond Did It. Before that I was in his zombie short Kept and my first real screen role was Travisí short Skeet Shooting. Iíve worked on a few things since Iíve moved to New York, like a bit part in a web series called NightWing, but Iíve been focusing more on writing these days. Also once you work with/for Travis you are spoiled for all other directors. He is just the ideal person to work with and doing a project that doesnít involve him is something Iíll certainly do but I won't necessarily be as excited about it.
Any future projects you'd like to share?
At the moment Iíve been putting a lot of energy into a website called flatbrokepoets.com as well as that Facebook page because spoken word poetry has kind of re-surfaced in my life. Other than that though nothing pressing. I have things in the works but nothing that will be relevant to share for a while.
Actors, writers, filmmakers, whatever else who inspire you?
Anthony Hopkins, John Goodman, John Candy, Edward Norton, Cuba Gooding Jr (pre-Sled Dogs or whatever that garbage Disney has him doing is) - what people donít realize when they watch these people in movies is that they are getting the best acting class money can buy.
Your favourite movies?
Instinct is a favorite of mine, that is one of those movies that spurns an actor on to keep acting, same for Fracture, and Fallen with Denzel Washington is a must see.
... and of course, films you really deplore?
Lord Of The Rings is a franchise everyone thinks I should love that I just cannot get into... we get it Peter Jackson... shit's intense... do we have to build the moment for half an hour before you get to some dialogue?

Feeling lucky ?
Want to
search
any of my partnershops yourself
for more, better results ?

The links below
will take you
just there!!!

Find Kyle Hoskins
at the amazons ...

amazon.com

amazon.co.uk

amazon.de
Looking for imports ?
Find Kyle Hoskins here ...
Something naughty ?
(Must be over 18 to go there !)

And if anyone makes me watch Never Been Kissed again I will smack their baby, if they donít have a baby I will wait... I have time... I will MAKE time.
Your/your movie's website, Facebook, whatever else?
You can buy a copy of Dry Spell right now at our IndieGoGo page http://www.indiegogo.com/watchdryspell - you can get a digital download for 10 bucks but I would spring for the DVD because the bloopers and commentary tracks are going to be hilarious.
Also we are damning the man, saving the empire and distributing this entirely independently. At the moment we are using IndieGoGo for that platform so if you want to support indie film it doesnít get more indie than this.
Anything else you are dying to mention and I have merely forgotten to ask?
Yes actually, Ann Hathaway if you are reading this, I love you...Marry me.
Thanks for the interview!
No sir, thank YOU. I really dig your site and the support youíve shown us means a lot.