We have talked about the movie before briefly [click here], but once again, your upcoming film Dry Spell, what is it about?
Dry Spell is the story of a couple who are in the final weeks of legal separation. Sasha (played by the lovely Suzi Lorraine [Suzi Lorraine interview - click here]) decides that with her divorce just around the corner she should re-enter the dating scene. Recruiting her roommate, and soon to be ex-sister-in law, Lacey, (played by Lizbeth Sawyers [Lizbeth Sawyers interview - click]) to act as a wing girl, Sasha goes out on a date with an attractive bachelor by the name of Scott (Steven Lee Edwards). The date goes very well and Sasha and Scott head back to Sasha's place to have sex. As things get hot and heavy it becomes clear that Sasha's body is not cooperating. She's unable to get excited. In effect, she's dried up. Blaming guilt about moving on from the relationship before her soon-to-be ex-husband (Kyle Hoskins [Kyle Hoskins interview - click here]) for her impotence, Sasha resolves to get Kyle laid. Above the protests of his embittered man-child roommate, Trey (played by me, yep, acting in this one too), Kyle agrees to go on a series of dates set up by Sasha.
The film basically deals with the emotional baggage of going through a divorce and coping with the huge life change of being single again with an eye toward the comedy. While Dry Spell is a romantic comedy, it is certainly closer to films like Forgetting Sarah Marshall or Something About Mary than it is to say, 13 Going On 30 or 27 Dresses.
You are currently still in the process of getting financing for Dry Spell - what can you tell us about your funding campaign?
Well, that's kind of an interesting process. We are raising money for Dry Spell via Kickstarter. (http://www.kickstarter.com/projects/216634181/dry-spell-a-feature-length-romcom-starring-suzi-lo), essentially using crowdfunding like many indie films are doing now. However, our principal focus for the Kickstarter campaign is to treat this crowdfunding opportunity as our primary method of distribution. To that end, we are offering digital downloads of the film and DVD copies as a donation reward that is comparable to what a customer would pay for the film on Amazon or iTunes. I've worked with established independent distribution before and I was unimpressed, so I decided to try something new this time around. Our target budget is only $23,000. A pittance when you think about it. If we sell a thousand DVDs via Kickstarter, we will not only reach our goal, but in fact we will be well into the black.
Of course, we have several other cool perks on the Kickstarter page, ranging from a shoutout for a single dollar donation, all the way to a private screening with members of the cast & crew at the $10,000 level, with a ton of neat stuff in between. However, our primary goal is to sell DVD and digital download copies of the film.
There is an old saying "you can't make a successful independent romantic comedy without an A-List actor attached" - your answer to that?
It's antiquated dinosaur thinking. Total bullshit. It seems to me that many distributors, even indie distributors, still haven't realized the versatility and buying power of the independent media consumer via the internet. People assume that the independent audience seeks out only niche material, so to try to step out of that box is a financial risk too great to bear. No one buys independent romantic comedies because no one tries to make them, because no one buys them. I firmly believe that a solid script with talented actors and skilled crew can be successful in any genre, without any "A-List" actors involved. It's a bit more of an uphill battle to get attention for the project to be sure, but I welcome that sort of challenge. I bristle at being told what I "can't" do. I aim to prove the naysayers wrong.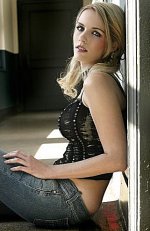 Suzi Lorraine
(photo by Louis Pereyra)
I would also like to point out that often times filmmakers and distributors get hung up on some silly definition of sucess that leads them to believe if they dont make x dollars, a film is a failure. As an indie filmmaker, I've given this matter a TON of thought. What defines success? To me, if we finish the movie, pay everyone's wage, I can put a Dollar in my pocket when it's all said and done, and the audience enjoys themselves, then I've succeeded. I don't need Dry Spell to make a million Dollars to be successful. I need it to make $23,001.
Your lead actress Suzi Lorraine is known primarily for her horror films [Suzi Lorraine interview - click here] - how did you get her for Dry Spell, and why her (not that I'm complaining in the least)?
I met Suzi via a mutual friend through social media when I was making Raymond Did It, which was my directorial debut and a horror film. When we screened Raymond Did It in New York City, I met Suzi in person at the premiere and I immediately recognized that while she is clearly sexy, charismatic and alluring, and while the body of her work speaks for her immense talent, above all, she is fraking hysterical. The girl is just plain funny, fun to be around and totally willing to do what it takes to get the laugh. She's brave enough to let herself look stupid for a laugh and that's a rare commodity. I often describe her as a way hotter Anna Faris.
At that initial meeting we both expressed an interest in working together sometime down the road. Once Kyle (Hoskins) and I came up with the idea for Dry Spell, we pitched it to Suzi and she was immediately on board.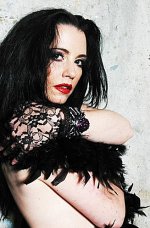 Debbie Rochon
(photo by Gary Cook)
Dry Spell will also star indie horror icon Debbie Rochon - again how did you get her, why her, and is there a conscious strategy behind casting scream queens in your romantic comedy?
I became acquainted with Debbie via Twitter while I was promoting Raymond Did It. I've been a huge fan of her work for ages and I'm often too dumb to know better than to ask iconic legends if they are willing to look at my scripts or consider a part in my films. I shot her a direct message, asked if she'd look the script over, and much to my delight, she agreed.
Mary, Debbie's character, has some heavy lifting to do comedically, but also in terms of bringing the story toward its conclusion. She will need to be able to go from the funny to the serious and back without missing a beat. If you have a role that intensive and demanding, you want someone who knows their craft filling the role. Debbie knows her craft ... of course the fact that she's one of the prettiest women on the planet didn't hurt either.
I definitely did have a conscious strategy by casting scream queens in Dry Spell. I wanted people who were going to bring their A game in less than optimal conditions. We are shooting on a very low projected budget, on a tight schedule. The content of the script often calls for the performers to commit to dialogue and situations that are absurd and over the top, and they have to do it in a convincing way. When you look at it through that lens, there is no one better to have on your comedy set than a performer with extensive experience working on low budget horror. The demands made during a comedy and the demands made during a horror film are very similar, even if the comedy is a little less bloody.
Also, take a look at actors like Kevin Bacon, who transitioned from Animal House to Friday the 13th to Footloose and She's Having a Baby, or Bradley Cooper who went from Midnight Meat Train to The Hangover. There is a definite Hollywood precedent for comedic actors doing well in horror roles and vice versa. Why wouldn't the same hold true in the indie world?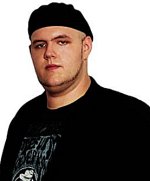 Kyle Hoskins
(photo by Michelle Talich)
Dry Spell's male lead is played by Kyle Hoskins [Kyle Hoskins interview - click here], who has also co-written the screenplay with you. What can you tell us about Kyle Hoskins the actor, and what was your collaboration on the screenplay like?
Kyle is just amazing. Comedically, he's like a cross between Jason Segel, Ethan Suplee and Jonah Hill. Just incredibly funny, charming, got a boyish cuteness, he's got everything we could possibly want for this role. The first time Kyle and I worked together was on a raunchy romantic comedy short film called Skeet Shooting. He was hilarious then and he has only grown since as an actor (though he's shrunken considerably as a dude). Kyle is also a very dedicated actor: When we were preparing to shoot Raymond Did It, Kyle did extensive research to be able to portray Raymond Rourke as a developmentally delayed man in a realistic way that wasn't insulting or poking fun at the condition. He's got the charm, the acting chops and the professionalism to carry this kind of film and we're lucky to have him aboard.
Working with Kyle as a writer was excellent for two reasons. First off, he created some real gold in his dialogue and his development of the comedic beats of the script. He had some very cool ideas and was never afraid to take a joke that extra step. Secondly, when I would give notes, make alterations, or recommend tweaks, Kyle would act like he was blown away by my writing which was awesome for my ego.
In earnest, it was by far the best experience I've ever had in colaborating with someone to create a unified vision from disperate ideas. I hope we have occasion to do it again soon.
A few words about the rest of your cast?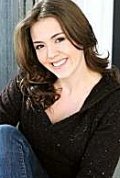 Lizbeth Sawyers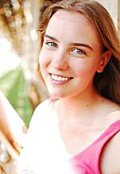 Deann Baker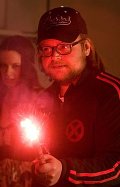 Travis Legge
In the role of Lacey, we have Lizbeth Sawyers [Lizbeth Sawyers interview - click], who has been acting and modeling on the East Coast for a few years now. I met Amanda while visiting Kyle in New York City. She was his roommate at the time and Kyle was very insistent that one day we should all work together. Amanda is beautiful and in person, she is one of the funniest, wittiest conversationalists you could ever hope to meet. I knew I wanted her on board for Dry Spell, but we had initially planned to look at her for a different role. We had another actress in mind for Lacey at the time, but it simply didn't work out. So when Amanda auditioned, Kyle had her read for Lacey, which proved to be a great boon. Lacey is another character that has to hit several beats in fairly rapid succession and be able to stick the landing. Lacey is confident, empowered, promiscuous in a very traditionally male sense of the word, but also sensitive, intelligent and reasonable. Not any actress could pull her off and we are very fortunate that Amanda can.
In the role of Scott we have Steven Lee Edwards, who I had the pleasure of directing in Raymond Did It. Steven comes from a strong theatrical background and brings incredible technical skill and know-how to the party. He's also one of the highest energy performers I've ever worked with. I'm not sure if he ever gets tired or impatient, and as anyone who has seen Raymond Did It would know, I've pushed that boy pretty far in the name of getting a shot. His character in Dry Spell is the sexy new guy in Sasha's life and Steven has the presence and the looks to convince us that he could send even the coldest heart aflutter with a smirk.
The role of Karen will be played by Deann Baker [Deann Baker interview - click here]. Karen is a strong, snarky woman that Kyle encounters at a few pivotal points in the story. I've worked with Deann on both sides of the camera and I knew once she signed on that the impossible task of knocking this film out on our tight shooting schedule became just a bit more possible with her joining the cast. The girl is on point in every aspect of her work. She also loves independent film (so much so that she runs a webseries about it called Filming Round Midtown http://www.facebook.com/filmingroundmidtown).
As I mentioned above, I will be hopping in front of the camera to play Kyle's roommate, best friend, and thoroughly awful jimminy cricket, Trey. Trey is an irresponsible, pot-smoking slacker who is obsessed with comic books, strippers and sleeping in. He's the villiage idiot, which of course means that in some strange fashion, he's right about things ninety percent of the time. I'm looking forward to being on screen again in this film, despite the challenges that come along with acting and directing at the same time. I've been told that I'm funny on occasion. Here's hoping that those who have said as much weren't just being nice.
What were your inspirations for Dry Spell, and is any of your movie based on personal experience?
The movie stems much more from Kyle's personal experience than my own. I've been through some bad breakups in my life, but I'm happy to say that marriage has been very good to me. Kyle married his high school sweetheart and for a number of reasons that didn't work out. There are several elements of that very real situation in the story of Dry Spell. You should talk to him about that. He could elaborate better than I.
Romantic comedies tend to follow a rather rigid formula. Did you pay any heed to that at all,a nd your favourite romantic comedies?
There are definitely fomulaic elements in Dry Spell. I think there are scenes and tropes that the audience will recognize as romantic comedy moments. However, I will say that I wouldn't count on the formula playing out too much to the letter. We have a few surprises in store.
As far as my favorite romantic comedies, that's a pretty long list. I'm a huge fan of Overboard with Kurt Russell and Goldie Hawn. It's hilarious, but also incredibly dark when you think about what Kurt Russell's character is doing throughout the film. I love Zack and Miri Make a Porno as well. I'm a fan of dick and fart jokes, raunchy humor, and being very blunt and on the nose about taboo topics. I think that will show in Dry Spell. We get pretty raunchy. I also love The Sweetest Thing. I wholeheartedly believe that women tend to have much more vulgar and graphic locker room talk than men do. Women love sex and they love to talk about sex. There is a social misconception in the U.S. that would have you believe that guys are raunchier, but it's a total fallacy. The Sweetest Thing illustrated that very well. We definitely aimed for similar things thematically in Dry Spell: The guys talk about feelings and morality, the girls talk about anal sex, lube and banging strangers.
Tentatively, when will Dry Spell go into production, how long will principal photography take (if all goes well), and do you know yet when it will be released?
If we reach our Kickstarter goal, we will begin filming at the end of September and shoot for fourteen days. Digital copies will be available the second week of February and DVDs will ship out in time for Valentine's Day.
We have every intention of screening the film in theaters ourselves, through four-walling. We will definitely screen in Rockford, Illinois, Chicago, Illinois New York and Los Angeles. Beyond that, it will depend on the success of the Kickstarter campaign (more money equals more screenings) and the demand of the fans.
Any future projects beyond Dry Spell you'd like to talk about?
I have a few projects that have just become available or are about to be released. The Asunder DVD, which collects several of the short horror films made by my company, Plastic Age Productions, is now available online at http://www.aegisstudios.com/store.
Asunder is a horrific morality play about infidelity and consequence. This is a nightmarish tale in which reality melts away and the protagonist finds himself falling deeper and deeper into a lust-filled, blood-drenched damnation.
Visually ambitious and darkly sensual, Asunder pushes boundaries unlike any film produced by Plastic Age Productions - http://www.aegisstudios.com/film.html - to date. This film is NOT APPROPRIATE FOR AUDIENCES UNDER THE AGE OF 18.
Asunder is a short horror film with a runtime of approximately nine minutes. Additional short films included on the Asunder DVD include Taxidermy, Event Invitation, Nation Undead: Kept, Widdershins and City Without Walls.
A feature film that I edited and acted as executive producer on, Matthew Cichella's Poetic [Matthew Cichella interview - click here], will be holding its premiere screening in Rockford, Illinois on June 30th. Tickets, info and the teaser trailer are available online at http://www.brownpapertickets.com/event/234529.
I just sent off my superhero webseries Legacy of the Masque to our distributor. If all goes well I will be announcing a release date for the first four episodes within the next week or two at http://www.facebook.com/whoistheMasque.
Lastly, I am in postproduction on a documentary about the Kryptonite Bar (http://kryptonitebar.com/), a local establishment in my hometown of Rockford, Illinois. Kryptonite just celebrated their tenth anniversary of being in business, and the film focuses on the changes that the business has undergone, the changes that the business has created in the community, and the changes that the past decade has brought upon the bar owner, Chris Wachowiak. It's a very interesting story about entrepreneurship, chasing your dreams, and growing up. I feel honored to be able to be the guy to tell it.
Your/your movie's website, Facebook, Kickstarter, whatever else?

Feeling lucky ?
Want to
search
any of my partnershops yourself
for more, better results ?

The links below
will take you
just there!!!

Find Travis Legge
at the amazons ...

amazon.com

amazon.co.uk

amazon.de
Looking for imports ?
Find Travis Legge here ...
Something naughty ?
(Must be over 18 to go there !)

http://www.kickstarter.com/projects/216634181/dry-spell-a-feature-length-romcom-starring-suzi-lo
http://www.facebook.com/DrySpellMovie
https://twitter.com/#!/TravisLegge
Anything else you are dying to mention and I have merely forgotten to ask?
I just want to reiterate that our goal here is to make a fun, funny film without distributor interference, without naysayers getting in the way and establish a direct rapport between the filmmakers and the fans. I'm not saying it's an utterly new approach, but I would say it's a unique one. We can only do this with the help of fans. I encourage everyone to check out the Kickstarter page, order a copy, and pass the link to everyone you know on every social media outlet you use. Even if romantic comedies aren't your thing, you probably know someone who would enjoy this film. Pick up a copy and give it to them for Valentine's Day. We are trying to do that which we were told was impossible. By helping us out, you can be part of proving that the impossible CAN be done. If this approach works this time, there's no reason to think it won't work again. I ask everyone reading this to help show that this can work by supporting the film. Thank you so much.
Thanks for the interview!
Thank you. It's been an incredible pleasure.