Your movie The Crossing - in a few words, what is it about?
Well, as I tell people, it's about a young woman who wakes up in the woods... no idea who she is, or how she got there. Her only clues are an engagement ring on one hand, and a knife in the other. Before she can even get her thoughts together, she starts to hear these strange, inhuman groans and realizes she needs to escape... fast. But amidst her journey, she encounters three creatures (read: "zombies"... but we all know we can't say that ;-) ), and with this increasingly primal instinct to kill them, she realizes there's something familiar about each one of them. But not all is what it seems to her.
Basic question: Why another zombie movie, and is that a genre dear to you - and what do you think makes your zombie flick special?
It's funny, because one thing people have said when watching it or reviewing it is that zombies seem to be so popular these days... almost too much. I got bit with the "zombie bug" back in 1996 when Resident Evil came out for the Playstation, which led to my discovery of George Romero (it's been stated that Dawn of the Dead was the primary inspiration for the first RE game), which in turn led to my discovery of Lucio Fulci [Lucio Fulci bio - click here], and so on and so forth. So even back then when I was 11, I knew I wanted to make *something* with zombies. But on that note, I knew that getting my foot in the door to make a feature would be tricky, so I wanted to make something short, around 15 minutes, that would stick with people after they see it. So I came up with the concept (obvious "spoiler alert" here) of wondering what exactly does a zombie see? Do they know that they're a zombie, or do they still think they're human? So I went with the latter as an interesting concept, also showing why zombies attack... they just think they're about to be attacked and they protect themselves. Ironically, this year the film adaptation of Warm Bodies came out, also with the whole "what do zombies think?" theme. However, it's thankfully completely different in that they're well aware that they're zombies.
Your (other) sources of inspiration when writing The Crossing, and what got the project off the ground?
I suppose a lot of Twilight Zone episodes were in my subconscious when I had the idea :-p I always loved their seamless twists that would make you have to go back and completely rethink what you just saw... not like M. Night Shyamalan's later twists where they're twists just for the sake of twists. As for what got it off the ground... well, the initial concept popped in my head around 2008, I believe. But financially and technically speaking, I wasn't prepped at all. But a couple more years working my way up at my day job and investing in new cameras (the Canon T2i was the primary camera for the film), as well as saving a decent sum of money (the budget was $1,500), I felt I was ready by the end of 2010/early 2011.
How would you describe your directorial approach to your story at hand?
Hmm... I'm not that deep, really :-p Well, I like to have a strong emotional backing with the characters whenever possible, even in a short 15 minute block. I knew I wanted the emotional tension to be at its peak when "The Stranger" realizes everyone she's killed. The angles, the acting, the music, everything needed to align *just* right. It's probably my favorite scene of the short, sold wonderfully by my leading lady (and girlfriend ;-) ). As for my approach in general terms, I always try to have a "mental movie", and then scribble it out onto storyboards. I then take them on set, and try my best to create the puzzle pieces that I'll need to assemble in editing. If we decide some shots just won't work, I'll ditch them. If someone else comes up with a better idea, we'll go with that. I can be picky, but I also greatly appreciate everyone's input and try to integrate them when I can.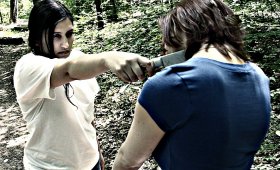 Despite taking a slightly different look on zombie mythology, your movie still contains plenty of the genre-typical blood and guts - so what can you tell us about your gore effects, how were the achieved, and was there a line you refused to cross in terms of violence for other than budgetary reasons?
Well, since Night of the Living Dead, zombies and gore have pretty much been hand and hand... you just can't get around it. Well, unless your film's budget has ballooned to $200 million and will be getting released in the middle of summer... not that I'm referencing any film currently in the American box office top 10 - but I digress...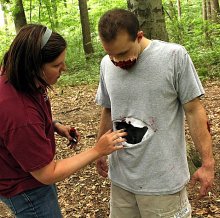 Well, I wouldn't really consider anything "crossing the line", as I knew I wanted a decent amount of gore. I mean, Romero set a standard... you need at least one shot of someone's entrails :-p However, I'll admit, the shot of the intestines drooping down from the "second encounter" wasn't quite as good as I had hoped (it's the one scene where some may "chuckle" a bit), but considering I made those guts from scratch (are fake intestines really that hard to find?) I think it's not too bad ;-) As for *how* they were achieved, we had a lot of plastic tubing and plastic syringes squirting left and right on set. Some "cg touch ups" were required to hide said tubing, but it turned out pretty well. As for the afore-mentioned intestines? A 16 oz bottle of skin-colored liquid latex, rolled up paper towels, a flat surface, and a hair dryer... took quite a while :-p
What can you tell us about The Crossing's cast, and why exactly these people?
Well, funny thing was that the lead was originally going to be a man, with the best friend also being male and the fiancee being a woman. Only the brother would have remained the same gender. That changed when I had trouble locking down a cast, but was dating someone (Josette Dubois) who was known for acting in the Annapolis theater scene. So I suddenly thought about the gender reversals that we could do, and everything worked perfect. I figured I was seeing the lead multiple times a week, so she'd be easy to keep in contact about the project ;-) "The Friend" was played by a theater acquaintance she had worked with, Christina McAlpine, who had some acting experience as well, despite primarily working in costumes. I saw her perform in a one-act show, and knew she definitely had the acting chops, so I didn't hesitate to cast her. "The Brother" was a happy accident, as I went on Facebook asking for friends who would want to play a zombie... straight to the point, really :-p Thankfully, one of my old film studies classmates, Jesse Fresco, stepped up for the job, and also brought to the table a TON of behind the scenes help. This is why you'll see his name pretty much as many times as mine in the end credits ;-) As for "The Fiance"... well, it wasn't supposed to be me, but that happened anyway. I was looking for someone else to play this role, and almost had someone locked down until they had to bail on it for a paid gig for an HBO role. Can't blame him, really. So, with just weeks left, I decided to step in as "The Fiance". As the lead's real life boyfriend, it was an easy role ;-)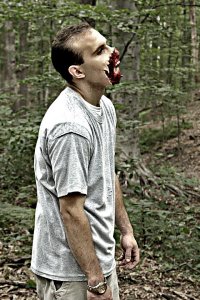 Do talk about your locations and the actual shoot for a bit if you can!
Shot entirely in my hometown of Bowie, Maryland :-D The woods are actually in the back of the neighborhood I grew up in and they are VERY expansive, as you saw in the film. The flashback scenes were actually shot in my parents' house in the same neighborhood. The one lone day of air conditioned filming ;-) As for the shoot overall... hot and humid come to mind :-p We tried to plan out each scene carefully and figure out what we could shoot which days. Each "encounter" took a day to film, with the ending with the soldiers being its own day as well as the "role reversal flashbacks" being shot in the same day. Filming began in June 2011, and we shot the three encounters and "The Stranger"'s intial "awakening" (the film's original title, btw) over the summer. We resumed filming in November to film the "role reversal flashbacks" and the scene with the soldiers, and then the primary flashbacks in December... hence the Christmas theme :-p
The $64-question of course, when and where will the film be released onto the general public?
Well, the film has only had one showing thus far, and that was at the Horrorfind Weekend Film Festival in Gettysburg, Pennsylvania last summer. I hope to get it out to more festivals, it's just a matter of me staying on top of those deadlines!
What got you into filmmaking to begin with, and did you receive any formal training on the subject?
It actually started because of a career day in 2nd grade in elementary school :-p Funny thing was, my main interests at that time were video games. However, when we were told to dress up as what we want to be when we grow up, I threw together a "director's outfit"... over 20 years later, it's stuck with me! As for formal training, I did go to college for it, but I also tried to absorb a lot from films themselves.
What can you tell us about your filmwork prior to The Crossing? And any future projects you'd like to share?
Not much :-p I did a few short things in college, but nothing I'm overly proud of. The Crossing was my first truly independent project, in that it wasn't for a grade for a class or for a project for my day job. It was just me, my script, and a hope and a prayer... well, my cast and crew as well :-p My greatest "claim to fame" prior to The Crossing was actually a high school TV Production film called (wait for it) The 17 1/2 Annual Super Duper Street Kombat Hyper Turbo Happy Hour Special Collector's Edition!!!!!, which was a spoof of old school fighting games such as Mortal Kombat and Street Fighter. It was a bit of a "cult hit" in my high school years later :-p
As for future projects? There are a few ideas rumbling around, mainly short projects again. I do have a horror feature written, but it's just a matter of assembling the budget. Hopefully I can use The Crossing the same way Sam Raimi used Within The Woods for The Evil Dead as a stepping stone towards a feature. I can dream, can't I?
How would you describe yourself as a director?
Picky. Open to suggestion, but still picky :-p Usually with myself. Sometimes I'll watch my footage and then go "why didn't I do this instead?" As I currently do my own editing, I always try to figure out how well shots will flow from one to another. But once again, you sometimes don't catch your own mistakes until you're actually in the editing room.
Filmmakers who inspire you?
George Romero, Sam Raimi, Peter Jackson... basically the guys who started small and worked their way up. Romero always stayed more "indie", but that's pretty much how he wanted it. I know he spoke of John Carpenter trying to get him to be more "Hollywood", but Romero just felt comfortable doing his own thing.
Your favourite movies?
Well, for horror, Romero's original Living Dead trilogy of course. I know it's technically two trilogies now, but the first three films were still the best. The Evil Dead trilogy is another obvious group. Also, Lucio Fulci's Zombie (well, Zombi 2) and The Beyond. As for non-horror, my all-time favorite film is Bruce Lee's first martial arts film, The Big Boss. From a filmmaking standpoint, it's easily his worst, but for pure enjoyment, it's his most raw, brutal, and badass film. It's the only Bruce Lee movie where he stabs a poor bastard in the chest with his bare fingers... how can you NOT enjoy that? :-p
... and of course, films you really deplore?

Feeling lucky ?
Want to
search
any of my partnershops yourself
for more, better results ?

The links below
will take you
just there!!!

Find Brandon Bentley
at the amazons ...

amazon.com

amazon.co.uk

amazon.de
Looking for imports ?
Find Brandon Bentley here ...
Something naughty ?
(Must be over 18 to go there !)

Well, saying "the Twilight films" seems like such a cop-out... but for people like myself who appreciate old-school R-rated (at least) horror, seeing those movies make the numbers they do just makes my blood boil. Oh, and The Blair Witch Project was just an amazing letdown, especially considering it was shot in my home state!
Your/your movie's website, Facebook, whatever else?
You can see more of my work (primarily photography) at https://www.facebook.com/B2Pictures. In short, I've used this indie company as a hybrid of photography and filmmaking... part of the "2" in "B2". Also, you can get more info on The Crossing at the IMDb page: http://www.imdb.com/title/tt2342226/combined I still need to get to work on a full-fledged website, but multitasking can be tricky these days!
Anything else you are dying to mention and I have merely forgotten to ask?
Hmm... I think we covered it all :-p
Thanks for the interview!
Thank *you*! It was my first one :-D