What can you tell us about your production company ScUMBAG Movies?
We are a husband and wife team based in San Diego. We've been making films together since 2006. We use a experimental approach to our filming and draw on personal experience to call up visual stories. We're ScUMBAGs for a lot of different reasons but mostly because we work with extremely low budgets and have to do some "scummy" stuff to complete a project. Namely do all the work ourselves with the exception of a few loyal ScUMMY folk. We do music videos as well which we really love! We're always looking for cool musicians to work with.
Your first movie was Grape Jelly: Memoir of a Teenage Cannibal. How did that one come into being?
Brandon had wanted to make that film since high school. We were living in Santa Barbara at the time. Brooks Institute photography school is there and Brandon, being an ex-model, was always being asked to model for the students. But them being students they were not paying him, and though it would be great to be in a position to work for free for struggling students, at the time, we weren't. Then a student named Brian Kelly began his campaign to recruit Brandon. And his work was really good. So we bargained with him. Brandon would model if he would help us shoot a film we wanted to make and at the same time show us how to use these new digital video cameras. Brandon had only ever used a 8mm just to fuck around with. So we were happy with the film and we had so much fun with Brian we decided to make another film with him and some others he introduced us to. By the end of that film we had learned enough to start working on our own.
What were your main inspirations for Grape Jelly: Memoir of a Teenage Cannibal?
The story came from the sleeping brain of an old friend Rick Reger. He shared a story with Brandon about a dream. In the dream he was eating brains and when Brandon asked him what it was like, he said it just smelled like grape jelly. Rick was also into the Nights Templar, so Brandon and Rick came up with a story around the dream and the legends. But the idea sat on the mental shelf for years.
Looking back at Grape Jelly: Memoir of a Teenage Cannibal all these years later - what were the lessons learned from your directorial debut?
Mostly all technical stuff. Learning how to use a camera, editing software, and how to articulate images in your mind to words in order to be able to convey your ideas to others you are working with. Also keeping the faith. Besides the couple people like Brian working with us on the first project, everyone was telling us we couldn't do it. People, family, friends would ask "what are you up to these days" and we'd tell them "making a movie" and they'd laugh. "You can't make a movie without any money!" And while you do need some money to buy that first camera, after that everything else is within reach. So believing in yourself and your abilities is a struggle, but luckly for us we've always been over confident.
What can you tell us about your experiences in filmmaking prior to Grape Jelly: Memoir of a Teenage Cannibal? And did you receive any formal education on the subject?
Brandon had always wanted to be a filmmaker and bought his first 8mm camera when he was 14. The first footage he ever shot was of Josh of The Seat Sniffer, but it sat on the shelf for years. But that was it before Grape Jelly. We were both more into graphic design and did T shirts. Then we got a itch to finally do this film, so we ate eggs for about 3 months so we could save up for our first digital camera and mac computer.
No formal training for either of us. Just got the equipment we thought we needed and started messing with it. You'd be surprised how fast you can learn on your own. Especially now with the internet. We consider every film we make as part of our education. Maybe our technical know how is not the most accurate, but every project teaches us something new we need to know and we have a lot more films under our belt than most film school graduates we know. And as even they'll tell you, its your reel that will get you jobs, not a piece of paper with your name on it.
After Grape Jelly: Memoir of a Teenage Cannibal came The Seat Sniffer. What made you switch gears and try your hands on a documentary?
Actually Brandon had started The Seat Sniffer when he got his first camera. It started out just experimental in order to learn how to use the camera. But because he had to follow Josh around for so long we did Grape Jelly in the mean time, it just ended up being finished first.
Where did you find Josh and Terry, the two subjects of The Seat Sniffer - and what has ever become of them?
Rick Reger, the interview conductor, had introduced Brandon to Josh. He was neighbors with him. Rick and Brandon were in a band together at the time called The Hateful Dead. They practiced in Rick's garage and Josh used to come and sit out on the curb to listen. Eventually Josh made his way into the garage and would dance. Rick thought it would be great to be a fly on the wall in this strange guys house, so the next natural thought was to make a documentary on him. Rick and Brandon followed Josh around for a few years getting footage, but nothing really happened until they were over at Josh's house and Terry showed up. None of us knew Terry beforehand. What you see in the film is how we came to know her.
As far as what happened to them, last we talked to Terry she is born again Christian. Reconnected with God I guess. Josh is still doing the same old thing. He may be in your town, still sniffing seats.
ScUMBAG the Musical is about a girl falling in love with her rapist - now why did you think it was a good idea to turn this story into of all things a musical?
We were getting really beat back then. We had met Paul Rey, he does all the strange ukulele music, and he and Brandon were planning on doing some spoken word performance. So Brandon had been writing some poetry. For some reason their beat duo never panned out. So guess we were just in the musical mood. We also just love irony, combining the dark with the light.
A few words about the music in ScUMBAG the Musical?
Well, we worked with a few different musicians. Paul Rey and Ian Reigalmen wrote all of the music to the songs that I (Leia) sang and I wrote the lyrics. A group at the time called The Cotton Ponies wrote The Lesbian Song, and Brandon put together a few of the songs that he sang. All the musicians we worked with are some of the most talented people we know. We are very jealous of musicians. We always wished we were good at music. That's probably another reason we like doing musicals, cause we get to work with musicians and get to pretend we are some for a while.
Honestly, are either of you into musicals at all, and your genre favourites?
Yes, we both like musicals. Some of our favorites are The Sweeney Todd, Cannibal, and the best of all, Cry Baby. Brandon spending some time in New York, used to go to on and off Broadway musicals all the time. Back in California Brandon even played Rocky in the Oakland production of Rocky Horror Picture Show, another great. We just feel that the marriage of film and music is one of the most expressive mediums. Maybe if we were better at music we'd do more musicals. We like to incorporate as much music as possible in our films one of our ultimate goals is to make a movie that's a really long music video.
Holy Shit - in a few words, what is it about, and how does (actual) shit figure in a satire on (commercialized) religion?
On the surface it is about a preacher who wants to start his own church so he can use the congregation for his own sinful cravings. He uses a naive girl to get it started. The story was adapted from someone we know. He told us that when he was really down and out, deep into drugs and depressed, he visited hell and was told that he needed to start a church and that he was a prophet. The sermons in the film are really from this person. When we learned of this it was amazing to us that someone would chalk up this experience to reality instead of the self induced high from huffing paint. So to us this prophet church stuff he was talking about was all just bullshit. Thats where the shit factors in. Also this person we know perplexed us, before this spiritual realization of his, he was rather obsessed with his own fecal matter . When we asked him about the seemingly contradiction of this fetish and other sexual preferences rejected by the church, his answer was, "Nothing is forbidden in the marriage bed." So a Christian can shit and piss on his wife but can't be truly be in love with someone of the same sex? It just all seems like a bunch of dogmatic bullshit. Picking and choosing the shit they want to eat.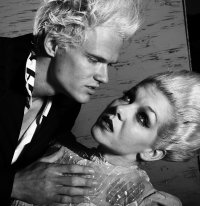 Are you religious persons, and your thoughts about religion as such?
Though we are fascinated by it we are not religious. To us it is only a archetypical mental protection mechanism. Religion is an issue that we have had to deal with our whole lives. Both of us were raised in strict religious households. For some reason both of us were able to see through to the hypocrisy in the churches we attended and in our immediate families. That's were the shit factors in. To us the contradictions and obvious business model of the church that was spewed from the pulpit was as plain as shit coming from their mouths. Pigs returning to their vomit. We feel that in a day and age where you can communicate with someone face to face on the other side of the world its a little childish to believe in the god that religion has painted for us in order to spiritually blackmail us with our immortality. Unfortunately as a species we have not psychologically, mentally, emotionally, and spiritually evolved as fast as our technology has. Maybe unfortunately is not the appropriate response, I suppose it is a necessary step in the progression of people.
The film features a great silent avant garde-style sequence during your lead character's epiphany. A few words about that sequence, and what inspired you to shoot it that way?
We've always liked silent films and we wanted to do some experimenting. We are going to be expanding on that idea in future projects.
You just have to talk about the extended GOD TV sequences in Holy Shit for a bit!
Ha! Yeah that was some funny shit. Again we just wanted to show that religion is just any other business. But the Pastor Patrick sequence was inspired by a TV evangelist in the town we're from called Peter Popov. He would come on public access and sell the strangest little items like buttons and bits of string, but what was special about this crap was that he had blessed it. Now who would want to be without that!
Holy Shit did cause a bit of a controversy, right?
A small amount. Mostly just got us kicked off a couple online social sites and video sharing sites. Guess we should have known better though. At that time we still did not have our own website so we split it up into smaller videos and posted them on this un-named social networking site. It was up for about 5 weeks or so before we got the plug pulled on us. No biggie though, no matter who tries to shut you up there will always be another platform. Sometimes we get a nasty comment or email about the film but surprisingly we get much more positive feedback. In fact that trailer and the Pastor Patrick sequences has done a lot to get us commissioned work and help us pay the bills. Must be God's hand ;)
For me, Home Made Monster is your take on Frankenstein. Would you agree to that, and what were your (other) sources of inspiration?
We would absolutely agree with that. Frankenstein is such a wonderfully imagined story. Exploring the origins of life and the endeavor to be that origin I think is a subject all humans have examined it the dark hidden parts of their minds. Some humans have taken it farther than most, Jeffrey Dahmer, for example, another inspiration for the film. That's where the main character's obsession with being loved factored in. We had read in a article about Dahmer that he was looking for the part of the brain where love resided. In Home Made Monster she was looking for what would animate the body.
You made Home Made Monster into another musical. Why, and what can you tell us about the music used in this one?
We made Home Made Monster a musical for the same reason we did our first one. Just a love of music. Also I (Leia) just really wanted an excuse to sing and dance. We've been close friends with The Jim Rowdy Show since high school. We've always loved the horror psychobilly ambience of their sound and their stage show. We wanted to reinterpret that onto the screen with a little bit of sexuality.
Based on this, will you ever make another musical?
That's a very difficult question to answer definitively. One can never know how when or for what inspiration will strike you with. But if an idea that seems to be perfect for a musical ever enters this plan through us again, of course we would.
Leia, in Home Made Monster you appear in a series of very revealing outfits and also have a nude scene. Did that at all bother you?
No. I am very clear with myself and with Brandon what I am comfortable with in any aspect of filmmaking and in life for that matter. Plus by this point I've been nude in front of the camera a number of times, so I've had practice at it. But I do insist on the set being clear of crew. Brandon and I are the only ones on the set, which can make it a challenge for the cinematography. I felt that the nudity and provocative dress was imperative to the story. In fact the strip/necromantic scene was written exclusively by myself. I wanted to express the feeling of yearning and desperateness to be loved that goes along with vulnerability and being exposed emotionally.
On Home Made Monster, you shared directing duties (at least officially) for the first time. How did that go?
Except for Grape Jelly all of our films have been unofficially co-directed. This one was official because I (Leia) had written this story and really wanted to have a influence in its execution. Of course we do have differences of opinions. We both respect each other creatively so much that we are very open to our different ideas, but we do decide during pre-production which one of us has the ultimate authority on the project. That usually boils down to who ever had the initial idea. I think us working together is perfect for the type of films we make. I feel we balance each other perfectly resulting in the strange but "cute" films we make. And I think that Home Made Monster is the pinnacle of that arrangement.
Home Made Monster's open ending almost suggests a sequel. Will there ever be Bride of the Home Made Monster?
Haaa, Haaa! I love that! And yes we did leave it open-ended in case we ever do want to do a sequel, just like the original film. But mostly it was to say that when you try to change someone into someone to love, instead of loving someone for who they already are, it will only end badly. You can't change people.
We talked about Trantastic at length in our last interview [click here]. Anything you want to add?
Trantastic is our latest film. It is our seventh. It is a mocumentary or docudrama. Guess some people have been mistaken about whether it is real or not. To be clear, it is not.
Any future projects you'd like to talk about?
We are currently in production on our first Sci Fi exploitation film and some animated shorts. We're also doing a music video for Erleen Nada, who is contributing a song to the Sci Fi film. All the information on these projects will be up on our website shortly.
You usually tend to appear in front of the camera in your movies as well. What can you tell us about Leia and Brandon Gadow, the actors?
Well, we have a lot of reasons for acting in our own films. The reason we even started doing acting in our films is that we don't have the money to pay actors. Also as the writers of our own movies we know exactly what we want the characters to portray. There's no way for you to misinterpret your own intentions for a character. We also look at our films much like a band does their album. A band doesn't hire someone else to play their instruments or sing their songs. We feel like that about our films, we want all the control. We want to do as much as we can to make a film. Write, direct, produce, act in, edit and promote everything we do. Our last challenge is music, though we have gotten to dabble in it on the musicals we've done.
Acting is very liberating. Being in character and reacting as that character is freeing. A little vacation from yourself kinda. A chance to know what it would be like to be someone else.
Your films are usually accompanied by very compelling musical scores of the underground variety. Would you like to comment on that?
Sure. The music we use in our films are always from artists we love and respect. These are groups that we already listen too. We both grew up on the musical underground, so its just what we like and relate to and express the same mood our films do. We want our films to not just be a visual experience but also a audible one. We would love to make our films one long music videos.
You have also made a series of music videos, right? A few words about these, and how does making a music video differ from making a feature film?
Yes we have done a number of music videos. We LOVE doing them. It is a chance to be more experimental both in story and technique. It is a chance for us to be more expressive without have to worry about it "making sense." Also its another excuse to work with musicians.
What can you tell us about your cinematic work outside of ScUMBAG Movies? And what prompted you to start your own company?

Feeling lucky ?
Want to
search
any of my partnershops yourself
for more, better results ?

The links below
will take you
just there!!!

Find Scumbag Movies
at the amazons ...

amazon.com

amazon.co.uk

amazon.de
Looking for imports ?
Find Scumbag Movies here ...
Something naughty ?
(Must be over 18 to go there !)

We do commissioned pieces not under ScUMBAG Movies. These are works for hire that we cannot speak of directly because of contractual obligations - and anyone looking for video production services can contact info@scumbagmovies.com ;)
We stared ScUMBAG Movies because we wanted to make films. Our films, and we didn't want to have to compromise our vision in order to receive distribution. So we decided to distribute ourselves. We follow the business strategy of the indie music labels. And though we don't make much money off our films we get to make exactly what we want.
Quite a few folks pop up in movie after movie of yours. What can you tell us about your ScUMBAG-regulars?
These people are our ScUMMY family. These people are always down to work on our films. We couldn't do it without them. They share our vision for a entertainment outlet that bleeds freedom from the typical. We let them interpret the characters as they wish and they always deliver the ScUMMY goods.
Your website, Facebook, whatever else?
Our website is scumbagmovies.com, Facebook is http://www.facebook.com/pages/ScUMBAG-Movies/115208147491, twitter http://twitter.com/#!/scumbagmovies, and YouTube http://www.youtube.com/scumbagmovies.
Thanks for the interview!