Your upcoming movie More than a Conversation - in a few words, what's it going to be about, and what can you tell us about your character in it?
I'm the lead actress Lori, a wife, avid runner and strong person who ambitiously and optimistically paves her way thru life one day, running through the woods, as she does every day, she comes across an unexpected fight for her life. A crazy individual scoped her out to be his next victim. She is alone, in the woods, with no one to help her, only herself, her phone, with the psycho on the other end of the line, lurking behind the trees. As the conversation progresses, she does the only thing she can do to survive... fight back, play the game of her life, and race to the end.
What can you tell us about your preparations for your character so far, and how much Daiane Azura can we find in Lori actually?
Well, first, in the real world, you will find that I'm not married. lol ;) But... as an athlete, in the past I've joined one of my favorite things to do which was... KUNG FU. So I guess you could say that I'm a bit tough cookie as this character is in the film when it comes to protecting myself. I do take care of myself as the character does when it comes to exercise and all... but all in all, this is something new to me and I'm always excited to experience a new characters, especially if they have nothing to do with my everyday life. My preparation for this particular character ahead of time is to memorize my script and rehearse my lines and actions. It will be very emotional and it will vary towards different scenes. I'm going to have to use the "substitution" and the "psychological" gesture techniques. This makes it much quicker and easier for such a challenge and an intense role. I just can't wait!
How did you get involved with the project in the first place, and to what extent can you identify with More than a Conversation's horror theme?
Well, I got involved through the writer of the film Luc Bernier [Luc Bernier interview - click here], who seems to know me very well as an actress due to have worked with him before in several films. Therefore, he knew within himself that I would be a perfect actress for this role. He said that he envisioned me and only me for this film; I was really happy when he asked me if I would be interested and without any hesitation I said YES, of course. Hehe.
What can you tell us about your director Jeffrey Schneider [Jeffrey Schneider interview - click here], and what's your collaboration been like so far?
I've never worked with him before, I'm totally looking forward to though, because what I know about him is that he has a professional creative mind and he's very well known and respected in the film business. He directed several films such as Lake Noir, Stella's Adventure Academy (TV show) and much more... and I'm so looking forward to collaborate with him in this project to bring the story on screen. It's an honor to have been chosen to be in one of his films.
Any idea when the film starts shooting, and do you have a to-do list regarding this movie prior to the shoot?
The dates are still uncertain at this time but at the latest sometime in 2018 next year for sure. My only to-do list is super amazing! It would be to focus immensely on this project by memorizing my script, rehearsing my parts, keeping in touch with the people in it, making sure we're all happy and showing up for the scenes. Since there's only gonna be 3 or 4 days to shoot the long scenes for this awesome movie I gotta make sure I got all of my lines down and ready to go cause there's no time to waste. Adventurous isn't it?! Some of the cast I already know and have worked with before such as Tim O'Hearn [Tim O'Hearn interview - click here] as the bad guy and Donna Hamblin [Donna Hamblin interview - click here] with a quick cool scene. I'm so looking forward to meeting everyone, the cast and crew... The beauty of being an actress... I LOVE it!
Any future projects beyond More than a Conversation you want to talk about?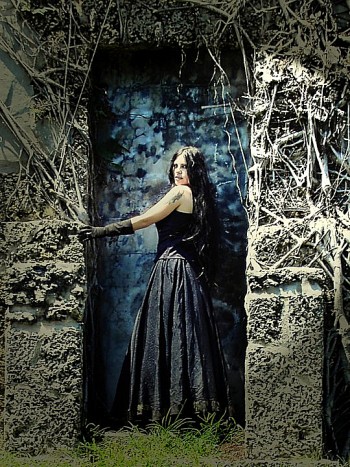 photo by Ramiro JeanCarlo
But of course! I'm actually getting ready to shoot a film in Texas coming up now in June called Stirring with director Troy Escamilla [Troy Escamilla interview - click here] which will be released next year, 2018. I admire his work, he's a great director known for his movie that has just been released Party Night. In Stirring I will be portraying Sophie, who's more interested in frat boy Grant than she is in her own sorority sisters. Looking forward to be sharing the scene with this awesome and talented actor Ryan Poole, he will be portraying Grant. The story is about some students that are attending a Christmas party at a sorority house with a sinister past are stalked by a bloodthirsty killer disguised as Mrs. Claus. This film is going to be amazing, I'm so super excited to be in the same film with one of the coolest actresses, Brinke Stevens [Brinke Stevens interview - click here]. Some of you might know her from the 90's independent movies such as Sideshow and Teenage Exorcist.
And I also have other movies/films to mention here in which will be released sometime this year in 2017 and they are called:
- Stained Encounter, filmed in Canada, a QuattroVenti Scott Productions and HellbeFilm Productions movie. It's a paranormal film in which was written by Luc Bernier [Luc Bernier interview - click here], and I'm portraying Cassie, the younger sister that is trying to help her depressed older sister Celeste with some marriage issues. Donna Hamblin and Mark Gordon both do a fantastic job with their characters, Donna as the wife Celeste and Mark Gordon as Percy the husband that is no longer interested in being with her.
- O' Bloody Night, filmed in Montreal Canada, this one was directed by Luc Bernier, Paul Wennersberg, Eskild Krogh, and filmed by Alain Juteao, and Tony Newton is the co-producer for it. I'm portraying Noella, a woman that is trying to get to a Christmas party in a very cold winter day but things happen and get in her way. Luc is the driver that gives me a lift but maybe that was not a good idea for him to do... and she ends up getting possessed and the rest... well... there's only one way to find out... It was amazing to work alongside with actor Luc Bernier, I admire his talent. And Alain was such an amazing videographer, I was very impressed by his work.
- 60 Seconds to Di3, also shot in Canada. I'm the Lady Vampire in the segment Reddish Gloom. It was directed by Luc Bernier as well and Tony Newton. I was very honored to have worked alongside the actor Guillaume Cloutier, he was my victim in the film. In real life Guillaume is also a professional musician for his well known in Canada psychedelic band called Electrique Junk.
- Home Videos by director Tony Newton, and it was filmed in Canada as well. I'm the only actress in this particular paranormal segment called Hallway Investigator. At the ending of this film something unexpected happens... watch out! This particular film was actually also directed and filmed by me with the assistance of Luc Bernier. On this one.. I'm proud to say... that it's the very first film I've ever directed besides the music videos I have created. So stay tuned for the release dates...
What got you into acting in the first place, and did you receive any formal training on the subject?
I've been into acting since a very young age, it all started with play pretend, than performing in plays, than it eventually went towards acting in films in front of professional cameras. I've always had the passion to do so, when you believe in yourself, anything is possible. The only training I've gotten in my life was in high school such as in drama classes... I've never been to actors training centers or actors school or anything of that fancy sorts. I have great respect for those who go through such lessons and it will certainly look good on their resumes. But I didn't, and I probably never will, because I feel that to me acting comes natural. And my attitude towards it is that: "If some little kids can do it... so can I". And I treat my music skills as the same... my singing comes natural... I don't need to go to school for that, lol. No hard feelings please... I'm just being honest, I mean everyone is different and if they wanna join a class or two, to better themselves, then by all means do it... Power To Them!
How would you describe yourself as an actress, and some of your techniques to bring your characters to life?
I would like to think of myself as a very determined and serious actress in making sure I get the role just right. Depends of the character, I tend to use various different approaches to my techniques. I'm very easy to work with on film and even though I have role preferences, I know how to cope when it comes down to the demanding intense roles. I'm realistic but know how to defer from what is real life and real movies. I say that because believe it or not... I had actually some people in the past thinking that I'm what they've seen on movies; not being able to decipher between the entertainment business and the real life... I'm very good with becoming the character that I'm supposed to be real fast. And very enthusiastic in making movies and/or anything that has to do with the entertainment world. I relish a challenge! I'm the kind of actress that don't mind at all and loves if a professional director points out something he or she feels I should do, which does not happen very often. Unfortunately, they feel I do an excellent job which is flattering to me, of course, and I love them for it! I guess it would make me feel more as if I'm on a film set that way. Weird... I know. LOL. But then at the same time, there's another side of me that prefers it that they allow me to do what I wanna do because I'm there to be doing what I'm supposed to be doing correctly, being on a scene I feel there's no time for mistakes... it is just better to keep it that way... they know whom they are hiring and dealing with, lol. And I understand, as a director I would much rather be working with somebody on the set that knows what they're doing than having to getting their attention every so often in telling them what to do. In this case, I'm glad they chose me for their films and I'm so so so glad to have worked with such wonderful directors in my life. I'm truly blessed to have worked with directors that believed in me, I hold a special place in my heart for those directors that did not make me have to do those auditioning tapes. They could tell right away I could nail my parts...
Hope I didn't confuse you yet. haha A good director knows what's up and I've been only working with the best.
Can you still remember your first time in front of a camera, and what was that experience like?
Yes I totally can and it was amazing!... and that's what made me fall in love with making films in first place even more. It was during the Disney shoot of Big Trouble that I said to myself I wanna do this for the rest of my life, lol! That experience was my first time being an extra and the last... because after that, I only made sure that I'm the lead or supporting actress. You know, it's one of those things to perform at a play but being in front of a camera is much more rewarding to me I think. The advantage of being featured on DVD, being aired in movie theaters, recording and sharing what you love to do with the rest of the world is much more fulfilling to me... if you know what I mean... I think film technology is a phenomenal way of art and of communication, it has its various ways to reach out to people such as through making believe fantasy stories and etc... that's what drives you to want to be more involved in it, it makes me want to make more movies or music videos for sure. And I will.
What can you tell us about your filmwork prior to More than a Conversation?
Actually prior to More than a Conversation, I did one film after another...like bang, bang, bang, lol! Nothing like finishing one project and moving on to the next, life is beautiful! Thanks to everyone that has given me the opportunities. And it just keeps getting better and better with not only films but with everything else too such as my music.
O' Bloody Night was one of them, I loved it because it was adventurous... I had to run in the snow... I couldn't feel my toes anymore and I was freezing my ass off (excuse my language) but I loved it, haha!
Reddish Gloom was a vampirc film, so I obviously had to get bloody dirty... so to me when you go out of your way to do such scenes is fabulous as an actress and the directors love an actor that does not mind at all, lol.
Can't quite explain but, all, in general putting up with such scenes that demand extra work in a professional fantastic way for some reason makes you feel like the act of making a movie is really happening. I think mainly, when you do scenes that you usually would not do in real life is a form of proof that you are in the spotlight and it's now or never so you better give your all. It's part of being wiling to be a great actor... especially when you nail it. And there's a scene in Stirring that I've never done in a film before, and I'm definitely looking forward to it, it's a scene that involves being and interacting with a lover. I'm thrilled to have been cast for this feature movie, it's that for some odd reason, being in a semi relationship is something I've never experienced before in front of a professional camera. Regardless of the length... And I truly can't wait for the release of all of these fangtastic movies including Stained Encounters, mostly throughout the whole movie I'm on the phone as I was in different ways with Dead Ink and will be with the More Than a Conversation.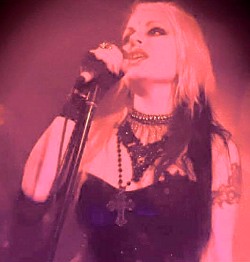 Besides being an actress, you're also a musician - so do talk about your music for a bit, and how did that start out actually? And some of your musical influences?
Let me start by mentioning that Some of my music influences are (Dead Can Dance, Sisters of Mercy, Diamanda Galas, Diary of Dreams, The Doors, Pink Floyd, Legiao Urbana, A-ha and more...) My music was the same way, it started at around the same time as the acting and modeling. I always say: I wasn't born crying... I was born singing." LOL I've created many musical projects such as my solo Album Demona Bast - Vicious Tongues, which is out on Amazon, iTunes, CD Baby and in other places as well. It includes various artists I've worked with around the globe. One of my songs, "Innocence Lost", have been featured on a Netflix paranormal movie called The Prison Of The Psychotic Damned, which was directed by D.W. Kann and written by David R. Williams [David R. Williams interview - click here]. There's a music video of it out there... Being that said, I'm also one of the lead actresses in that movie. The name of my character is Aurora, the psychic medium girl. And also, another song from the Demona Bast album called "The Masquerade" has been featured at the "Agora Kitchen" Mediterranean Restaurant commercial, they feature live belly dancing.
A long time ago I was in a band called Wet, I was the lead singer for a five year alternative rock band project and this happened before all of this solo and Pandora Black band started back during the 90's... which was an amazing and great experience. We performed in big clubs such as The Culture Room, fetish factory, we were featured on international TV, magazines, newspapers and radio interviews with radio play on the famous Florida rock station 94.9FM ZETA and in other countries as well. The members were also Dain Miller (bass), Rob Rogers (drums) JT aka John Thomas & Jasper (guitars)... super talented musicians.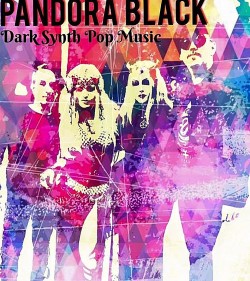 But my newest project right now is definitely one of my all time favorites and it's an electronic/synth-pop/dark-wave band from South Florida called Pandora Black. The album has just been released on January 2017 called Into the Shadows. One of our tour spots was in the New Orleans area, we performed at the famous Vampire Ball for author Anne Rice, the creator of the Interview With The Vampire. We also got the chance to open for a big act such as Skold, the members of the KMFDM and Marilyn Manson. Pandora Black consists of four incredible members, me as the lyricist and lead vocalist, Ricco Black as the guitarist, Earnie Noir as the keyboardist and Synn Hexxx as the bass player. They are all super amazing musicians, I'm proud of this band and how far we've come together. Our music is both film and radio friendly, with a touch of a more modern 80's which makes our sound unique. In fact, our music video "Here is Love" is actually being aired on Jam Session TV ((daily)), airs various times on cable and over the air TV. It is also being aired on ROKU and in Monster Madhouse episodes and Jam Session TV mixes. The future looks bright! We're planning our Love Spring Eternal tour and we do perform live very often so fans know to keep track for our latest shows, news, merchandise and etc through our Facebook fan page. Our Pandora Black album Into the Shadows can be found on our official website, ITunes and other online music sites.
Last, to top it off, I never stop. I recently started to work on my new Daiane Azura solo music and for a tease there's a new music video for my project that has just been released under my official Daiane Azura Facebook fanpage called Darkness and Light. I'm now focusing in other ways of making music as well instead of what I was doing before regarding other musicians' collaborations, I'm also focusing on something new which is creating my own instrumental parts for my own songs, which I've never done before. So it's quite exciting experimenting with new stuff, thanks to the technology of today. Though I'm always open for including musicians as well regardless of my focus. The truth is, the more love the merrier. LOL I've decided that any songs that I'm not using with my band Pandora Black, I'll simply use it for my advantage and personal solo projects and bring it to life instead of putting it aside because these are ALL great songs and it has been of a great confirmation through the fans reaction. And in case I didn't mentioned before, I've got tons of other music videos which may be found on YouTube as well. Stay put for more...Enjoy! ;)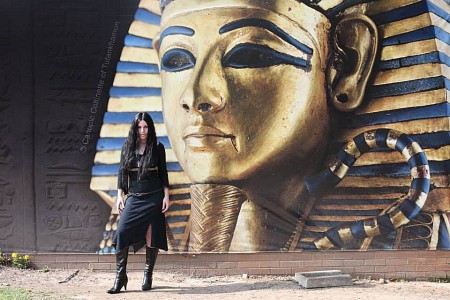 photo by Bivas Biswas
You also work as a model - so what can you tell us about that aspect of your career, and how does it influence your acting and your music (and vice versa)?
It's really tough to figure out which I love doing most. Working as a model to me is also exciting experience, because you get to be creative in many unique ways, you get to travel as well, change of outfits often, visual looks are important etc... I enjoy working with different photographers, because each one of them brings a different feel, different flavor of their artistic work. They transmit all of their special individual touch into their photos with artistic and uniqueness in which to me makes it even more special so that all the photos won't look the same. One of my favorite photos were taken in Atlanta, which has a cool Egyptian image in the background taken by photographer Bivas Biswas. He is a SAG-AFTRA actor and an awarded filmmaker. He recently completed directing his latest feature film Atrophy and an HBO mini-documentary and a series for Discovery Science. He was one the top 3 contestant for Warner Bros' The Bachelorette.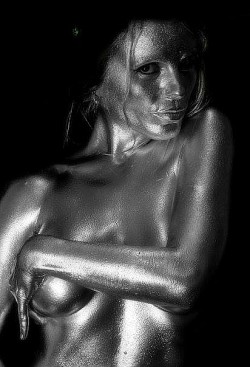 photo by Dewayne Flowers
I don't do nudes, but my other favorite photography that I've done and that I really loved was the sensational body-paint photography by Dewayne Flowers. Where others may see it as semi-nude in the entertainment modeling business, others like myself... see it as a professional artistic way of expressing creativity. Just as some see it in the Leonardo Da Vinci paintings in which those are perfectly fine and respected by many generations and cultures, and especially by me.
The other photography that I've also done and admire very much is the theatrical photo-shoot that I did in NY with photographer Steward from The House Of Indulgence. It's similar to acting but through photos. Mike Gutowski, who also worked on the film set of the The Prison Of The Psychotic Damned as the special makeup effect artist, he certainly did an amazing job at my body-paint for this particular shoot. He's a spectacular artist without a doubt.
Another beautiful photoshoot was done by the photographer Ramiro JeanCarlo, it has the gothic fantasy feel to it along with Lord Crusan's mesmerizing special background effects. Ramiro had actually also collaborated musically with me before in the making of Demona Bast with a few songs featured on the CD. He's an incredible musician with his classical music project called Staccato Du Mal, it is breath taking and everyone should take a listen.
I have many modeling pics that can be found online at the Model Mayhem website and all over the net for your viewing pleasure.
Actresses, musicians, models, filmmakers, whoever else who inspire you?
Actors: Johnny Depp, Norman Reedus, William ShaoFeng, Ma Tian Yu, Tak Sakaguchi, Keanu Reeves, Leonardo DiCaprio, Gary Oldman and many more...
Singers: Diamanda Galas, Lisa Gerrard, Jim Morrison, Andrew Eldritch.
Filmmakers: Well besides all the wonderful filmmakers that I have worked with before and am working with now... I definitely admire Francis Ford Coppala (Jeepers Creepers), James P. Lay (Dreamland), Zack Snyder (300), Ted Nicolaou (Subspecies), Colin Minihan (Grave Encounters), Don Coscarelli (Phantasm), Greg and Colin Strause (Titanic), David R. Williams (The Prison Of The Psychotic Damned), Gasper Noe (Love), and many many more...
Your favourite movies? ... and of course, films you really deplore?
Oh my gosh I'm a movie fanatic, with probably weird mixed choices...haha, I love so many movies: Dracula, Love Never Dies, Ice Fantasy (Series), Cleopatra, Gone With the Wind, Streets of Fire, Skyline, The Walking Dead (Series), Barbarella, Dagon, Titanic, The Cube, Dead End, Extant, The 100, 300, Once Upon a Time, Love, Dreamland, Death Trance and many many more...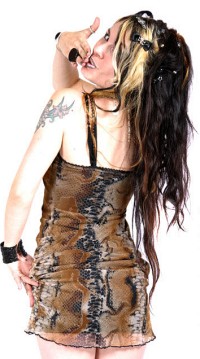 Feeling lucky ?
Want to
search
any of my partnershops yourself
for more, better results ?

The links below
will take you
just there!!!


The thing is that, I guess after ever since I became an actress in my life I don't see the movies same way I used to... maybe it has to do with the fact that I see them in different light due to being an actress. But regardless, one of my main hobbies is watching movies endlessly... And I don't really deplore movies. Maybe I guess for me the less gore the better but whatever... Not sure how to explain it but I now see it as an art and therefore, I've learned to respect even home videos.
So it's hard for me to deplore because I appreciate the art effort and time that a director puts into it regardless if its low budget or not. Of course though, there are better movies than others... but that's a form of personal opinion and taste and part of the film process so we need those as well...
I don't know, things change... I used to be a total horror fan and I regret it... there's so much to appreciate in every genre and I'm glad that my views have broadened and that "I only watch horror movies"-phase has gone. So I watch horror among Romance, adventure and you name it. But that's me!
With so many opportunities and incredible movies that are out there... one should not focus in only one genre. Don't you think? ;)
Your website, Facebook, whatever else?
Fanpage: www.FaceBook.com/DaianeAzuraOfficial
Trailers/music videos: www.YouTube.com/DaianeAzura
IMDb: www.imdb.com/name/nm1958264
Pandora Black fanpage: www.FaceBook.com/PandoraBlackBand
Pandora Black band official website: www.PandoraBlack.net
Demona Bast music CD: www.CDbaby.com/DemonaBast
Demona Bast MySpace: www.MySpace.com/DemonaBast
Pandora Black MySpace: www.MySpace.com/PandoraBlackBand
More Than a Conversation Facebook: www.FaceBook.com/More-than-a-Converstion-1874958149429989
Stirring Facebook: www.FaceBook.com/StirringMovie/
Anything else you're dying to mention and I have merely forgotten to ask?
Yes indeed...lol
I'm dying to mentioned that I'm so very thankful for considering me for this wonderful interview opportunity. I enjoyed answering. It's truly an honor and I greatly appreciate it.
All the best and lots of successssssssss....
Thanks for the interview!