Your upcoming film The Undead - in a few words, what's it going to be about?
Full fat awesomeness full of zombies and ladies!
How did you get involved with the project in the first place, and what draws a filmmaker from the UK to Massachusetts to shoot a zombie film?
I got involved when a very charming young man called Mark Anthony Del Negro [Mark Anthony Del Negro interview - click here] sent me a script called The Heir. I read it, loved it and offered my services not knowing that this was the plan all along. A wonderful actress (Miss Suzi Lorraine [Suzi Lorraine interview - click here]) who worked with me on my first feature (Three's a Shroud) had very kindly suggested me to direct. Well, it turns out that there was another film Mark had in mind that he could get done a lot cheaper and would be a hell of a lot of fun to shoot. This one was The Undead, again it was sent to me and again I really liked it. Mark seems to be on the same wave length so I leapt at the chance to direct this film.
With The Undead being a zombie movie - a genre at all dear to you, and what will set your film apart from the usual genre fare?
I like zombies, they're like the punk rockers of the horror creature world. They're pure anarchy and are very good for social commentary. Not only do they resemble the mass conformity of the ever increasing consumer culture and mirror our own fears of becoming "one of the masses" but are also good ways of showing how people react in situations once the facade of "society" has been stripped away. This is where Romero really did the genre justice, it wasn't about the zombies, it was about how people reacted to the situations that they created.
Do talk about your writer/producer Mark Anthony Del Negro [Mark Anthony Del Negro interview - click here] for a bit, and what has your collaboration been like so far?
He's a complete tyrant... hahaha, only joking. Mark's got his head on in a serious way. Not only is he creative enough to come up with cool scripts but he's got a real business mind on him. He's very open for ideas and I've been working closely with him on zombie designs (the bear being a favourite of mine) so we can give this film a our own stamp rather than just another zombie film.
What can you tell us about the intended look and feel of The Undead?
I am very much influenced by Tobe Hooper and Rob Zombie in terms of style and cuts. I'm obsessed with extreme close ups and fast cuts, so when you hold for longer cuts it has more impact. I love the grainy gritty style of films like The Devil's Rejects and The Texas Chainsaw Massacre, so I'm intending for a very raw film, very in your face.
No zombie film without quite some blood and guts - so what can you tell us about the intended gore effects in The Undead, and is there a line you refuse to cross (for other than budgetary reasons)?
With zombies films I think you either have to be very selective about gore so when it shows it has real impact, or go for all out spatterfest. For this one, as it is more people driven the gore will be used sparingly throughout the script, but when it does happen it'll be graphic. The zombies themselves will have a much more infected look than undead. That way we can have a more stylized look without having to worry about not having Hollywood budgets.
As far as I know, The Undead will be starring genre fave (and good friend of this site) Suzi Lorraine [Suzi Lorraine interview - click here], with whom you've worked before on several occasions. So why her, and what are your collaborations with her usually like?
Suzi is amazing, plain and simple. She's diverse, easy to work with, a bloody good actor and I cast her in every film I can. Case in point, my latest feature Serial Kaller. Suzi played a TV call-in girl. The role was was a bitchy character but both Suzi and myself thought that most of the characters were bitchy, so to make her character stand out more she talked to me about going for a slightly comedic element. Well, once her scenes were shot, EVERYONE decided that she should have had more. Suzi (and her fellow actor Jessica Ann Bonner) brought a new angle to the film and gave it some much needed comic relief.
What can you tell us about the rest of your cast yet, and why exactly these people?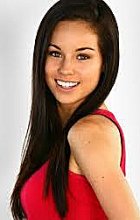 Ashleigh Lawrence
There are some cast I have not worked with that Mark has chosen, he has a good eye for talent so I have complete faith in his decisions. There are others that I have worked with (Suzi Lorraine being one). I worked with an actress called Ashleigh Lawrence on Serial Kaller (who is also attached to this project). Why her? She blew me away in her death scene, absolutely blew me away. I've shot a lot of people dying but no one has ever made me feel guilty about it. For someone to pull that off on camera in a room full of people, I had to get her involved.
So what's the schedule, when will the film go into production, and any idea when it'll be out yet?
We are planning on shooting October this year. Mark wanted it shot in the autumn as with the coming of winter - it's almost like sunshine and hope is dying so it mirrors the end of humanity via this infectious outbreak. Also the colour pallet would be amazing.
Any future projects beyond The Undead?
Yes, as mentioned I am attached to The Heir, which last I heard had Robert Englund himself showing interest [Robert Englund bio - click here]. I have been offered a vampire film from Razor Blade Smile star Eileen Daly, there's hoodie horrors and zombie films and all kinds of cool stuff coming up.
What got you into filmmaking to begin with, and did you receive any formal training on the subject?
This is a long answer haha. About five years ago a friend of mine (who made films) got sick of me pestering her to make films and dared me to write one. So I did. When she read it she was amazed that it was actually quite good, and so was another friend of mine who had just decided to start doing short films of his own. He asked me to join him and we did our first short Ouija. Now at this time the best way to explain how little I knew about film making is by relaying this conversation with another girl I knew who made films called Sarah.
Sarah - "Right, Dan, we're shooting on location so first thing we have to know is do they have any lights."
Me - "Of course they have lights, they live in a house."
After the mishmash that was my first attempt I was hooked. I started making my own micro horror films, greatly inspired by the Fewdio Company (my films can be seen here: www.youtube.com/brandbcorporation).
I got around enough to get enough money to do my first funded short about a killer teddy called Bear Scary, this got enough attention to do my first anthology Three's a Shroud (which I produced, executive produced and directed sections of). That won two awards and got me enough attention to do my first full on feature Serial Kaller. As a friend of mine once said "you can go to uni and learn to make films or you can make a film", it's all one big learning curve and if you keep the good people around you, treat everyone with respect and have true passion you'd be surprised what you can do.
What can you tell us about your filmwork prior to The Undead?
Erm, see above, haha. I really have been experimenting with film. All my micro horrors are nice little ideas, most of them massively influenced by my favorite films. I started off doing everything and then started to delegate duties to other people so that I had at least a basic understanding of how everything worked. I can tell you you'll learn a lot more by not having the right equipment and people on board than having everything going perfectly. The screw ups have given me more confidence than the things that have gone right. Me standing there explaining to someone who obviously knew shit all about horror on how to shoot a scene made me so much more confident in myself as it backed up the fact that I KNEW what I wanted and could explain it. If the person knew what they were doing I wouldn't have had the self clarification. Now I'm not saying fill your crew with idiots, but learn from every mistake.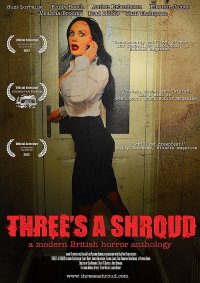 So far, most of your movies seem to be of the horror-variety - a genre at all dear to you, and why (not)?
Horror is the most beautiful genre because it's just so dam diverse. If a comedy's not funny it failed. If a thriller's not tense, it failed. Horror can be tense, funny, silly, creepy, scary, political. People think that's a cop out or an excuse to make non-scary films and call them horror, but it's what has kept the genre so strong and constantly evolving.
How would you describe yourself as a director?
I'm not sure I'm qualified enough to answer that haha. Actors and crew that I've worked with always seem to get a lot out of the experience so I can only assume I'm good at it it at some level. I'm passionate about what I do, I love collaborating, I love creating. I think film is an ever-evolving art form that never ceases to impress me. It can change your life, make sense of a senseless world and bring people together. It's such an effective medium that when I'm swimming in a local swimming pool (in East London) if it's empty I still get scared that there's a shark behind me thanks to watching Jaws. A moving camera just off shore put a life long fear into me, Jesus that's powerful. Not sure if that really answers your question but hopefully it's a little insightful into my director brain.
Filmmakers who inspire you?
Love, love, love Rob Zombie. I think he's the best horror director out there at the moment. He takes risks and creates wonderful worlds of dark crazy action. I'm a fan of Jake West, Tobe Hooper, Wes Craven and a score of other directors that are toom many to list. There are so many creative people out there making films and some scenes from films you are just "wow, that scene was amazing." I massively rate, look past the extreme nature and it's a bloody well put together dark political satire, and at the same time Killer Klowns from Outer Space is my all time favorite film. I like lots of things for different reasons and as a director (though I always sound stupid saying stuff like that) it's my goal to put all these together into something new.
Your favourite movies?
Killer Klowns from Outer Space (Stephen Chiodo) - best film ever, the creatures are amazing, the kills inventive and the whole tone just such a wonderfully bizarre pastiche on alien invasion films.
The Texas Chainsaw Massacre (Tobe Hooper) - the original and the best, brutal unforgiving. Changed the face of horror and is still one of the most influential film to the genre ever.
House of 1000 Corpses (Rob Zombie) - his best and not yet beaten head fuck, roller coaster of colour, kills and bizarre characters. This to me is chainsaw massacre pinball. Such a rich source of visual material and styles, just genius.
The Blob (Chuck Russel) - The Blob was made before CGI, can you imagine if they tried to remake this, all those lovely colours and textured sinew of the creature would be lost, and the gore was amazing in this film.
F (aka The Expelled) (Johannes Roberts) - this film made me fall in love with hoodie horrors. I met the director and he said this was his answer to Assault on Precinct 13. With strong creepy, malevolent yet still competently human antagonists this film mixes beautiful cinematography, a Goblin-esque score and a the open wilderness of an nearly emptied school to create something truly terrifying.
... and of course, films you really deplore?

Feeling lucky ?
Want to
search
any of my partnershops yourself
for more, better results ?

The links below
will take you
just there!!!

Find Dan Brownlie
at the amazons ...

amazon.com

amazon.co.uk

amazon.de
Looking for imports ?
Find Dan Brownlie here ...
Something naughty ?
(Must be over 18 to go there !)

I really don't like disaster movies... don't know why, they just aggravate the hell out of me. Apart from that, not a fan of period dramas, general rom coms (especially by the way they're referred to as that). I mean all film is great to a certain extent. Making a film is a bloody hard thing to do and even though I may have the subject matter or intentions behind the studio that did it, a lot of people put their heart and sole into that film so can't really degrade them to much.
Your/your movie's website, Facebook, whatever else?
These are the best ways to keep up with my films and films goings on
Hopefully there will be loads more to come!
Anything else you are dying to mention and I have merely forgotten to ask?
Yeah, why the hell can't you get root beer in England? I mean you can in specialist shops but not from normal shops. That's some bullshit right there.
Thanks for the interview!
Thank you.