Your new movie Infirmity - in a few words, what is it about?
Infirmity is about a couple who are behind on their rent and stumble across an article in the newspaper that could free them of their money troubles. The catch is that they have to take part in a testing program for a new drug called Cronephin. However the drug's side effects begin to take a toll on their lives.
Is any of the movie based on personal experience? Or to to put this question another way, to what length have you gone to put up the rent money?
Well I know for a fact there's a couple of moments in the film that come from co-writer and co-director Kyle Hytonen's life [Kyle Hytonen interview - click here]. Speaking for myself however, I wouldn't say there's any direct experience that I put into the writing on the film but I did take place in a fitness test when I was younger. Essentially had to get up early and run the treadmill in a bunch of simulated temperatures. One day, it would feel like a hot desert, and another day, they'd adjust the room to feel like a rainforest. I did get paid pretty well for that and the actual hospital that ran these tests on me was very similar in industrial design to our lab that the characters visit. So I guess that would be a general inspiration for the concept from my end of writing.
(Other) sources of inspiration when writing Infirmity?
Speaking for Kyle on this one, I know that there's a couple of Cronenberg influences (CRONEphin anyone?) on the film as well as Misery with Kathy Bates. As for me, I have trouble watching body horror and particularly some Cronenberg movies. I don't know how much of The Fly I actually watched without hands over my eyes. It may be my true genre weakness. Personally though, I'm a massive Saw fan. I really wanted that hallway in the lab feel as weird and terrifying as the hallway leading to the bathroom in the original Saw film. And Ben crawling his way across the kitchen is pretty much a direct reference to Saw.
So how did you collaboration with Kyle Hytonen [Kyle Hytonen interview - click here] come into being in the first place, and do take us through the process of co-writing Infirmity?
Well, Kyle had just worked on a feature film I directed last summer called The Lone Paddler. And knowing he was a big fan of the outdoors we went out for another forest campfire after we wrapped on the shoot. That's where the seed of shooting a thriller in an apartment was planted.
As for writing, basically I said to Kyle, I've got this empty apartment that would be pretty cool to use in a short film. And especially in the off season in Canada, it's a quiet time of year and a nice way to fill some time in the cold winter months. So Kyle came up with the initial idea for the story based around my location and he soon after sent me a first draft. That first draft was crazy different from the movie we ended up with. I think it fell a bit more into science fiction actually. But after a couple of drafts he sent me one a bit closer to the film we ended up with. That's where I started writing. Knowing the location and the strengths and weaknesses of it, I re-wrote his script to capitalize on those strengths. That's where the laundry room became a part of the film and Paul basically became more of a character in the movie. After that, we'd shoot drafts back and forth and then BAM! We were done.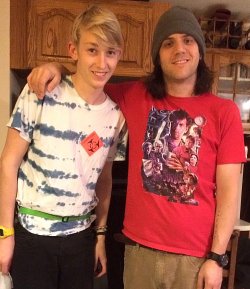 Derek with Kyle Hytonen
Do talk about your movie's approach to horror for a bit!
So I'm not sure how Kyle writes in terms of horror but I like to write a draft first where I don't think about genre too much. I just like to write what's best for the story and then if we can get some cool tropes in the film afterwards, assuming it makes sense, I like to indulge a bit. And sometimes those things come really naturally in the story. For instance, Kyle came up with the vomit pill scene and that to me is a perfect horror moment because it speaks to both the desperation of the character, marking a point in character change, as well as is pretty disgusting and horrific. One organic element like that I brought in, was the ending of Sarah going back to the lab to basically raid the place. It was something that made sense for her character to do at her stage in the Cronephin side effects but also it made for some awesome horror iconography.
At least for me, Infirmity also has a streak of dark humour - something you can at all subscribe to?
That's interesting. I can see that. There was never any conscious effort to make the film darkly comedic but I suppose that's something that comes out of the story inherently. Not to mention our use of contrapuntal music towards the end helps that strange feeling for sure.
Do talk about your directorial approach to your story at hand! And how did you and Kyle work with one another on set actually? And based on that experience, will there ever be another collaboration between the two of you (however tentatively)?
Well, we knew we wanted to approach it very simply. Being a simple story, it made sense but we also wanted to ensure that there was a lot of imagery to the film. Water, circles, light, dark were just a few things that were motifs throughout the film so we tried to shoot the scenes simply wile ensuring that these motifs were clear.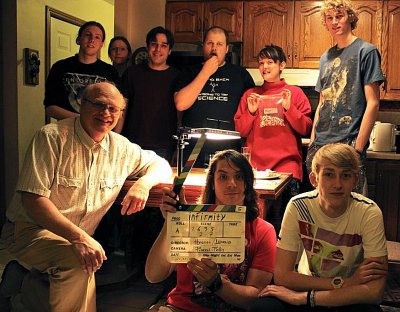 In terms of actual on set duties, I think I can honestly say that there were sub-duties that we each agreed to sort of specify in on set. So I was kind of the lighting liaison for the shoot, as well as set design and Kyle worked on the props as well as the special effects. In terms of actual directing, we both kind of have visions for a few particular scenes which was kind of cool. We sort of spearheaded particular scenes that we were drawn to but ultimately we both agreed on the approach for these scenes. For instance, my "baby" was the bathroom scene where Sarah soaks in the pills, while Kyle really took control of the soup scene. Generally though, it was just as simple of each of us jumping in with different notes as we shot.
We've definitely spoken about directing something again. I can speak for myself by saying it felt like an easier process, directing with someone else, especially in the micro-budget world because it means you can complement the other's weaknesses. So yes, we'd like to do something again, but it really just depends on timing and getting a script together. Not to mention, I feel like both of us directing together again would have to merit a particular type of story.
What can you tell us about your cast, and why exactly these people?
Well, Brent Baird played Ben and he worked on this awesome Canadian feature film called Secret Santa that I'd heard about and Kyle had seen and we thought he would be the right type of actor to bring this "everyday man" to screen. Kyle had worked with Heather Dicke, who plays Sara, a few times already and it was just a natural starting point with casting. As for Rod McTaggart, who plays the landlord, he was someone who Kyle had also worked with and the second I saw his audition, we knew he was the Paul we'd been looking for.
With most of Infirmity having been filmed in what appears to be one apartment, do talk about your location for a bit, and what were the advantages but maybe also challenges filming there?
So I work as a property manager for an AirBnB business which is actually the apartment that we shot in. I knew that the winter months would be a bit slower for business so I suggested we shoot something in there as it would be quiet, secluded and we could pretty much do whatever we wanted with it. The advantages were that we could decorate the set pretty much however we wanted it to look. But that was also a challenge. Because it's an AirBnB, it's pretty plainly decorated so the challenge was basically making it look like a completely "lived-in" apartment. But mostly, we had complete control over the location which made it an ideal space to shoot in. Paul's section of the apartment is actually just upstairs as well so it was nice that everything was just so close together. Fun fact though; Brent actually slept in the bedroom between shooting days.
What can you tell us about the shoot as such, and the on-set atmosphere?
The shoot was actually really quiet and relaxing. It was the first time I'd ever shot anything completely indoors and in a location where we had 100% control over. Kyle and I have made many films [separately] that completely take place outside where you have less control over. So this was a nice change of pace to not have to worry about people getting rained on or sound being ruined by a distant truck.
The $64-question of course, when and where will the movie be released onto the general public?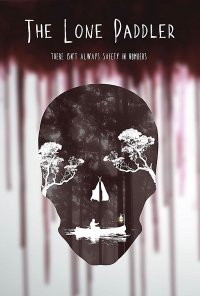 Feeling lucky ?
Want to
search
any of my partnershops yourself
for more, better results ?

The links below
will take you
just there!!!

Find Derek Lukosius
at the amazons ...

amazon.com

amazon.co.uk

amazon.de
Looking for imports ?
Find Derek Lukosius here ...
Something naughty ?
(Must be over 18 to go there !)

Well first off, I have to send a "holla" to our IndieGoGo supporters because this film simply would not have been possible without them. As a segway, we are getting ready to send out some DVDs to our supporters as per their perks. Also, our festival run will begin as early as the end of August and continue into the winter months this year. Once we've hit up a few of our major festival stops, we'll take the film to some horror conventions and we'll definitely be selling DVDs there.
Anything you can tell us about audience and crtitical reception of Infirmity just yet?
We can't speak to that a whole lot just yet since nobody has really seen it! We can say that we had a Quality Control screening with friends of Kyle's who have a beautiful projector system and they definitely enjoyed it. Beyond that, this film is still really just a newborn.
Any future projects you'd like to share?
Personally, I just began the festival circuit for a little short film I directed called Face Value which premieres at the Shock Stock Film Festival in London Ontario at the end of the month. And we've got a couple of other screenings coming up with that film.
Also, my feature film debut The Lone Paddler is currently in post-production and we're hoping to have that completed before the end of the summer. I'm really excited about how it's coming together and it's something awesome I'm looking forward to.
Your/your movie's website, Facebook, whatever else?
Kyle's production company Facebook page, a Henry Krinkle Production, will be our home to everything Infirmity. Here's the link to that: https://www.facebook.com/A-Henry-Krinkle-Production-328942153788610/
And if you're interested in following my progress of my latest film, The Lone Paddler, you can check out our Facebook page here: https://www.facebook.com/lonepaddler/
Anything else you're dying to mention and I have merely forgotten to ask?
That's all from me and thanks for having us!
Thanks for the interview!