Your upcoming movie Happy Ending - in a few words, what is it about?
Phil Condit: Happy Ending tells the story of what happens when an ALIEN PREDATOR escapes from a top secret military base in the remote desert and invades a nearby BORDELLO, forcing the working girls and their Johns to fight for their lives and humanity's very survival
What were your inspirations when writing Happy Ending? And why of all places a bordello?
Phil: I wanted to write a story that would be fairly inexpensive to make, so if all the action could take place in a single location, the production costs would be low. Next, a staple of low budget horror movies are scantily clad women. Strip joints have been used a lot but they are generally in population centers and harder to isolate. But if my alien escapes from a Nevada Area 51 type military base that is remote, near the bases are, you guessed it … Bordellos!
I also had watched an HBO series called Cat House that took place in a bordello. I was very surprised to find out that the ladies who worked there LOVED their jobs! They were not the drug-addicted crack whores I often thought of as prostitutes. These were sharp, funny, happy girls who love sex. And they were all a bunch of characters which is exactly what I wanted for my film.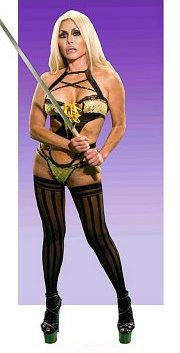 Dawna Lee Heising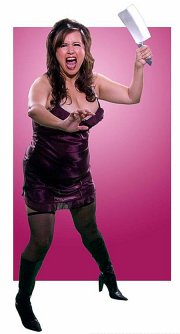 Dolores Quintana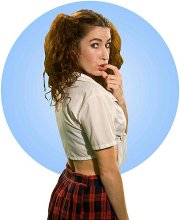 Victoria De Mare
How did you all get involved in the project?
Cleve Hall (Monster Man SFX Artist): How did I get involved in the project? Phil came to me and said he needed a monster... showed me a rough sketch... I said How Big? and When?!!
Brad Potts (plays Sarge): Saw the audition notice. Wanted to meet Phil & Maria Olsen [Maria Olsen interview - click here]. So, I auditioned.
Dawna Lee Heising (plays Alice): I have a television show called Eye on Entertainment and I interviewed Maria last year about her amazing career. She mentioned Happy Ending and said that Phil Condit wanted to talk to me. I had played a cougar named Veronica in Phil and his daughter Emily's really funny film called Boner. Then I interviewed Phil at the 2013 Shriekfest Film Festival and he said that he had written a role for me in Happy Ending. It's been a dream of mine to work with both Phil and Maria as they are both such talented professionals, and I am very excited to be playing Alice!
Erik A Williams (plays Steve): Like any diligent actor, I spend copious hours sifting through the breakdowns on the casting sites for the most amazing roles. I submitted for the role of Steve on LA Casting. Soon after I had a callback and NAILED IT. Fast forward to the now and here I am gearing up for what I'm sure will my favorite role to date!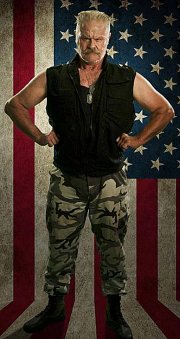 Brad Potts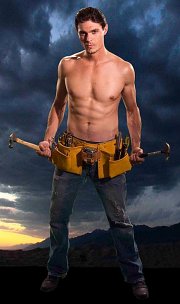 Brad Slaughter


Erik A Williams
Dolores Quintana (plays Roxanne): It's a longish story. I actually met Maria at an audition a few years ago. When I saw she was my audition partner, I knew I had seen her face before. She was terrific and I definitely remembered her from that experience. A little while later, I started seeing her posts on social media through friends and thought, Wow, that's her! I forget if I friended her or she friended me, but I had to mention our meeting and she was so cool about it. Cut to a little later on and Maria had so much going on and I submitted to audition for a reading for a future project, that is still in the works, for her MOnsterworks66 production company. I was totally impressed at the sheer amount of work she was doing and I was very excited to audition again. Then the casting notice for Happy Ending came up and the role of Roxanne just jumped out at me. I love horror and it sounded so fun, I had to submit, even though it's not the type of role I was going for usually. I can't really say why, but I just had a feeling about Roxanne and Happy Ending, so I went for it with all I had. Things seemed to go well and time went by, but instead of fretting about it, I had faith. Then I got a call back and I was on cloud nine. I went in with all guns blazing and I was amazed to find out that I had been cast. Everything seemed to go so well and my feeling that this role was special turned out to be vindicated. I just felt like I had been touched by a little bit of destiny. Sounds corny, but it's true. So that's how I was cast as Roxanne and I love it.
Brad Slaughter (plays Rick): I came in for an audition and met the two wonderful producers. They gave me the great opportunity to be Rick in this film.
Victoria De Mare (plays Cinnamon): I auditioned for the project, but I had worked with Phil Condit for years prior as a model.
What can you tell us about your respective characters, and what will you draw upon to bring them to life?
Brad Potts: After being in the USMC more than 10 years, I will have plenty to draw from. The rest is Government Classified. IHTKYIIT. I'd havta kill ya, if I told.
Dawna: Alice is an ex-showgirl from Las Vegas, who is now a prostitute at Madame Wang's. She switched to Madame Wang's because the pay was so much higher and Madame Wang offers benefits. I see Alice as a mother figure to the other girls and to the young men who come to see her. She is also an expert with her Samurai sword and at the card game Slap Jack. I love the outfit that Phil picked for my character and am taking pole dancing classes every day to lose a few pounds as the outfit is tiny and the leggings are really tight. The script is SO funny – like Phil himself – and I can't wait to meet the other cast members. It's going to be a really fun set and I know the film will win tons of awards, unless Phil and Maria bring it straight to distribution. Then it will be a major hit!
Erik: I've played some pretty zany characters. Most of which appeared in my work with offensive horror comedy team Hack Movies with auspicious titles like Colonel Kill Motherfuckers, CockHammer, and Nixon and Hogan Smoke Christmas. Drawing upon the roles I played with Hack and combining what I see as a cross between Shaggy from Scooby Doo and Barney Stinson from How I Met Your Mother, I will bring to life a character that is perpetually horny, hungry, and hankering for alien death!
Dolores: I don't know any other way to describe it, but Roxanne is such a big and warm hearted character that I kind of just get out of her way and let the ROOOOXXXXAAANNNNE flow. I think she's very strong and simple, but not stupid woman, a person who loves her friends and would do anything to help them, including going up against tentacled monsters from outer space. She has huge appetites: for food, for love, and for sex and absolutely no shame. She can't feel bad about who she is because no one ever got through her tremendous confidence and ever shamed her for what she looks like or what she does. She's beautiful and she knows it. If she wants a guy, she can have him. Simple as that. I'm totally serious when I say I have very little input and Roxanne is in charge. I'm just there to make Roxanne roar through me.
Brad Slaughter: Rick is a man's man, or at least tries to be. I think he tries too hard to impress Candy and flounders because of it. I know how this feels myself and can put that into action. I like Rick and I think I can put some great work up on the screen.
Victoria: Cinnamon is like no other. She sweet & innocently a little dense, but, don't underestimate her either because she may just shock the hell out of you. I've never played a character like Cinnamon before, so this will be organically stepping into her skin for me.
Do talk about the rest of your key cast, and why exactly these people?
Phil: OK. So I wrote a script peopled with a bunch of real characters. They were sharply defined people. I just had to find actresses who embodied these people. So we put out casting calls with the general physical characteristics of the girls and that they had to be comfortable with nudity which occurs in occasionally. We then auditioned until we found our characters. And we assembled a kick ass cast!
The leading lady of my last film, Empress Vampire, Ange Maya, did such a spectacular job I knew I wanted to work with her again. I had heard of "happy endings" being associated with Asian massage parlors, so I made Ange the Madam of "Madam Wang's House of Happy Ending".
Next I needed a kick-ass, drop-dead gorgeous leading lady who takes the fight to the alien. So I came up with Candy. Candy had been a vice cop until she found out just how much hookers got paid for doing something she loved and without any commitments which she loathed. She jumped the fence and never looked back. I was blown away when Jill Evyn read for Candy. She is the embodiment of Candy and extremely DDG (drop dead gorgeous).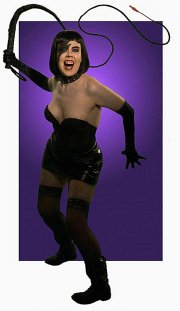 Maria Olsen
Filling in the rest of the ladies is:
The Rubenesque Hispanic foodie Roxanne, brought to giggly life by the delightful Dolores Quintana.
Cinnamon was written as a high-energy, slightly ditzy youthful redhead, but when Victoria De Mare auditioned, she played her as a cute, loveable, dumber than a bag of doorknobs, hooker, and totally blew our minds.
Ex Vegas showgirl Alice, played by Dawna Lee Heising in a role written specifically for her (I had met her when she acted in my daughter's film Boner and loved her to pieces).
Dominique, the dominatrix, is played with particular glee by my co-producer and extremely talented actress, Maria Olsen [Maria Olsen interview - click here], who occasionally takes to dominating me, which I find strangely enjoyable!
The stunningly beautiful and more than a little vain role of Bridget was won by the smoking hot Phedra Syndelle.
And did I mention we have guys, too?
Hunky construction worker Rick has a heart on for Candy, who likes him too but dreads commitments, is played by the equally hunky Brad Slaughter who plays the perfect foil for Jill's Candy.
Rick's bud is the bone skinny, always hungry jokester, Steve, who finds his food and love goddess in Roxanne, played to perfection by Erik A, Williams.
Rounding out the cast is Sarge from the military base who came to life when Brad Potts auditioned for us. He knew exactly the right blend of macho and humor we were looking for. Dominique is the object of his affection and she dearly loves paddling him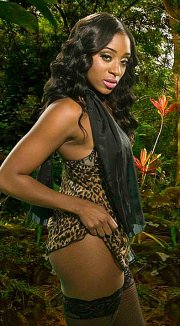 Phedra Syndelle
You of course also have to talk about your creature/the creature effects for a bit!
Phil: I wanted something that was otherworldly. As much as I love a man in a suit, I wanted something else, I needed something else. This creature would have to be able to hide effectively in a brothel. I recalled a comic I read as a kid that had a hand on a long tentacle that would come out of the sewers and grab people. That sounded like it could hide so I incorporated that and gave it a multitude of other tentacles and a bulbous amorphous body – of course, dripping with alien goo. The idea creeped me out so hopefully it will have the same effect on our audience.
I am a big fan of practical effects and can't watch films that are mostly CGI, which is a shame since so many genre films are relying so heavily on CGI these days. When I thought of practical effects I immediately thought of Cleve Hall, the SyFy Channel's Monster Man. It turned out he really liked the concept and is chomping at the bit to do it.
What can you tell us about your movie's intended look and feel, and also its brand of humour?
Phil: I personally like rich blacks, brilliant colors, and high contrast, all in a dark, low key setting. I love lighting and plan to use a number of tricks I've learned over the past, uh, shall we say "few" years? (52 to be precise).
My humour is broad, over the top, and often physical in addition to clever dialog. The timing is key to get humour right. I've seen so many lower budget comedies that should have been funny – they had the right set-ups, they had clever dialog – but they lacked the timing, so it just lay there. I hope to not make that mistake and count on my years of being a funny guy (non-professional) to make it work.
As far as I know, you're presently still raising funds for Happy Ending - so what can you tell us about your fundraising efforts?
Phil: Maria Olsen [Maria Olsen interview - click here] is spearheading a fabulous crowd funding campaign. She flogged me hard to get the media she wanted to promote the campaign and she is brilliant for it. We have a visually lush campaign with beautiful and funny stills of our actors, and videos in which they answer questions about their character while in character. This gives the audience a good idea of what the rest of the movie will feel like.
We hope to raise 20% of our budget through crowd funding. That will make it that much easier to secure equity financing. We have an executive producer lined up to help out once we have that amount raised.
Update: presently you can support the movie by buying merchandise from their store: http://happyendingmovie.com/store.html
Once your funds are raised, what's the schedule - and any idea when the film might be released onto the general public yet?
Phil: Once the funds are raised, we will have approximately 2 to 3 weeks of final preparations, followed by an 11 day shooting schedule. After that it's into the editing bay we go and don't come out until it's complete. That will probably take 9 months to a year to finish with the musical score, a 5.1 surround track, and color corrected master.
Any future projects beyond Happy Ending?
Phil: Funny you should ask. I set one film aside to shoot Happy Ending first. The title of that film is Girl Prey. It's more of a mainstream film with name stars and a slasher vibe, but with significant differences. The logline is "Six spring break coeds are kidnapped by a band of serial killers and released onto a tropical island to be hunted for sport, but it's never that simple". The not so simple part is that the girls don't go down easy. They give as good as they get. It finally comes down to one killer and one girl, but with a twist that sets this up with the potential for a franchise. Another film is Spawn. A what happens when Rosemary's baby, who was raised in the Catholic church and has no idea of his heritage, is seduced by the devil's daughter to finally produce the Anti Christ. I also have an alien invasion story that is on a larger scale than Happy Ending and a retelling of Dr. Jekyll and Mr. Hyde when a scientist working on a transporter clones himself, but the clone has no soul.
Brad Potts: Have 2 other features currently in pre-pro. As well as several other projects. For example: http://youtu.be/TiHLtMFZgoM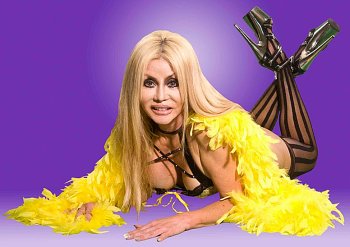 Dawna: I'm currently shooting a film with Steve Oakley, Melanie Grunder and Domiziano Arcangeli called Natural Born Filmmakers, and I hope to be working soon on a film called Carny Girls with Jared Masters [Jared Masters interview - click here]. In the future, I'll be playing The Snake Woman in Circus of Dread from legendary Australian filmmaker Mark Savage and Faith Dowling in Lawrence Nelson's You Found Me [Lawrence W. Nelson II interview - click here]. Next year I'll be playing the Outlaw Crego in Jezebeth 3: The Guns of El Diablo and I'll be in a SPECTACULAR series of films that I can't talk about yet. I'm also playing Honora Turner in the third story called Salvation of One in the feature film Book of Choices from Chandra Gerson. Book of Choices is currently filming. I will also be playing Michelle Willoughby in the upcoming feature film Past Due, which will be directed by Robert Conrad and star Eric Roberts, and Stella in the feature film Mouthpiece.
Erik: I will soon be introducing the world to my Amish alter ego Jebediah as a series regular in Amish Paradise the Web Series also starring many comedy greats. I will also be playing the lead in the horror thriller Feeding on Fear, which will be the first in a dark thrillogy called The Breed coming soon from Midian Entertainment.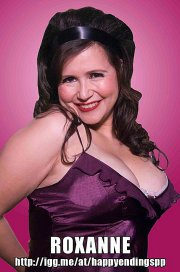 Dolores: A few things: I have a film on the festival circuit currently called Lake Los Angeles. It just won the awards for best feature, best actor, Roberto Sanchez of 2Fast2Furious and Gang Related to list his most well known and recent credits, and best cinematography by a fantastic cinematographer by the name of Michael Gioulakis, who previously shot John Dies At The End. It debuted at the Los Angeles Festival about a month ago and is just starting its run. I play a prostitute in that one too. I've also been working on a couple of projects with Craig McIntyre [Craig McIntyre interview - click here], the director of The Los Angeles Ripper. We shot a short for the Southern Sykos', the founders of the PollyGrind film festival Chad Clinton Freeman and Jack Saint, found footage anthology film, Paranoia Tapes, called Anarchy In LA and another role in a movie Craig is also making called Future Punks. Both projects also star a great actor named Randy Tobin [Randy Tobin interview - click here], who was also the lead in the The Los Angeles Ripper, which is out on streaming video and DVD through Troma Entertainment. Do you notice that I seem to have a run of films where the title includes the city Los Angeles? I have and It's totally cool. I also work with Alone: An Existential Haunting, an interactive haunted attraction that had its debut last year. We'll be at the Scare LA convention this weekend and I will also be a part of Alone: 2014 this Halloween. On the internet, I am a company member in the sketch comedy webseries Starving In Hollywood, for Shameless Redhead Productions, which is run by Rebecca and Chris Honett. It's available on YouTube and is part of the FullScreen network. It's chock full of offensive and political humor and is hilarious and goes places most sketch comedy doesn't. Thank you so much!
Brad Slaughter: There is a film and a series that I'm in preliminary works for that I'm producing. Can't give too many details, but a lot of great things on the horizon.

Feeling lucky ?
Want to
search
any of my partnershops yourself
for more, better results ?

The links below
will take you
just there!!!

Find Happy Ending
at the amazons ...

amazon.com

amazon.co.uk

amazon.de
Looking for imports ?
Find Happy Ending here ...
Something naughty ?
(Must be over 18 to go there !)

Victoria: I have many projects coming up such as horror/comedy Killjoy Psycho Circus, horror/thriller 13 Girls, horror/comedy series My BFF Satan, as well as gritty action feature CAB, where I'll be playing a serial killer on a rampage!
Your/your movie's website, Facebook, IndieGoGo, whatever else?
Website: http://happyendingmovie.com/
Store: http://happyendingmovie.com/store.html
Facebook page: https://www.facebook.com/HappyEndingSPP
IMDb page: http://www.imdb.com/title/tt3281882/?ref_=nm_flmg_spl_1
Sick Puppy Pictures website: http://sickpuppypictures.com/
Twitter feed: https://twitter.com/happyendingspp
Anything else you are dying to mention and I have merely forgotten to ask?
Phil: You've rung me like a sponge! The only thing I can add is to encourage people to support the projects they want to see and resist being overwhelmed by requests for contributions. It's amazing how just a few dollars can make or break a film trying to get off the ground. So take some of the money you're saving on DVD rentals by subscribing to Netflix and throw filmmakers a bone. You'll be glad when you see the fruits of their labor.
I thank you for the opportunity to share my projects and love of the genre with your readers! – Phil Condit, SickPuppyPictures.com, HappyEndingMovie.com, EmpressVampire.com.
Thanks for the interview!