First off thanks for the interview. My name is Jacob Ennis, and I'm filmmaker from Kentucky. I have been making movies really since I was a kid. It all started when my parents bought the first VHS camcorder in the mid 80's. I have always been fascinated with movies, and from early on have fond memories of watching horror films and tv series with my dad as a young kid. I was always drawn to the lower budget films. Movies like you would find on USA's Up All Night. I would stay up all night and watch those films, and I fell in love with the charm of them. I never will forget the first time that I got to see The Toxic Avenger. That is where it all started.

Stash is a film that has a very long road behind it ...
Well, living in KY Marijuana cultivation is very common occurrence in many rural locations. There were always those spots you just didn't dare to venture into. In all seriousness, there would be a good chance you might not make it back out of there. Those type of farmers really don't think too kindly of someone messing with their cash crop. It really started from just thinking about that concept. I started writing it as a novel, then after it was on the shelf for about two years I dusted it off and made it into a script. All in all it was about a two year process.
A few words about your main cast?
We were really blessed to have such an amazing cast. Almost all of our cast were local, or regional with the exception of Debbie Rochon. I had worked with most of them before on other projects, and it only made sense to work with them again. Stacey Gillespie (Stan) is a KY indie icon. It really is easier to list what movies he has not been in around here, than to say all he has been in. Nathan Day (CJ) was also someone I had worked with before on a George Bonilla movie called Dance with a Vampire . He came into audition and really nailed it. He is also a director and is working on a film right now called Bullet Song. I met Karen Boles (Sarah) at a local film convention in Lexington, and we were all very impressed with her. She really stepped up her game for this project. She knew it was going to be a very tough role to pull off, and she just blew us all away. We had the entire cast with the exception of Bud. I knew this character had to be cast perfectly in order to pull it off. I was describing the character to our Production Assistant Claude Miles and he said I might have the perfect person for you. He had told me of his friend and old roommate Kevin Taylor. He sent me a pic of him the next day, and I knew before I had even seen him act that we had found our Bud. Kevin had a lot of theatrical experience and it all fell into place
On Stash, you also worked with B-movie veteran/icon Debbie Rochon. How did you get her, and what was it like working with her?
I had met Debbie on the set of a good friend of mine, Jerry Williams. They were shooting Zeppo, and at the time the producers (Billy W. and Denise Blackwell) and I were doing a late night Arts and Entertainment show called Moonlight Café. We got a chance to interview her for the show, and learned what a fantastic person she was to work with. We later contacted her about the role, sent her the script, and she was thrilled to be a part of it.
As far as I know, Stash literally took years to make. Why did it take so long, and what can you tell us about production of the film?
I'm sure many other Indie filmmakers who are reading this could see how this could happen. Most of our cast had their day jobs, so we could only shoot on weekends. Due to other commitments and my own personal life, we could only shoot every other weekend. That on top of some sickness we had on the set ... that's how it developed into a three and a half year process. I edited along the way, so I would still be working on it, if I hadn't done that.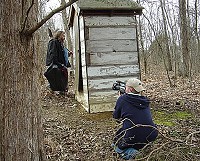 Stash
With Stash being a horror film, is horror a genre that has always dear to you?
I would not really describe Stash as a horror film. I would say it's more of a crime/thriller. Horror films have always been my favorite type of film. I mentioned earlier how I grew up on them. I still love them. That is really about all I ever watch, when I have the time. I think they can become stale in today's market, but there is always a film that seems to come from nowhere that will make you say, that's why I love the genre. I would actually rather watch a bad horror film, than the best blockbuster action movie or whatever.
How easy or hard is it to get a decent cast and crew for a horror movie?
I think there are good people wherever you are, you just have to go out and find them. Get on other people movie sets, and make connections. It really is all about who you know.
Also, there's quite a bit of nudity in the film. Did any of the actresses have a problem with that?
Everyone of my actresses knew about the nude roles way before they hit the set. A couple of them were fetish models so they were very accustomed to being nude in front of other people on a professional level. They were all total pros. There were some very demanding scenes in the film and they really were troopers throughout the whole process. It was at least twenty degrees in the basement on a couple of shoots. We ran a closed set, so there were no gawkers looking on. If you were not working, you were not on the set.
Stash was shot in Kentucky. Why Kentucky, and what can you tell us about Kentucky's indie film-scene?
Stash was shot in KY, because that is my home state, and where I currently reside. I can't even imagine a better setting than what we were able to have. KY has some of the most beautiful locations you could ever imagine. With our landscape there are so many possibilities. The KY Indie film scene is actually booming a bit. There are movies being shot everywhere. A few of these Directors are: Jason Crowe, George Bonilla, Mark Poole, Jerry Williams, Gregory W. Brock, and Stephen Zimmer to name a few.
Stash was picked up for release by POP Cinema (formerly EI Independent). How did that come into being?
I have always been a fan of Pop Cinema's films. I'm a huge Brett Piper fan and had a deep love for many of their titles. I had become friends with cult Director Tim Ritter (Truth or Dare, Killing Spree) and asked him what he thought about the company. I had already sent out a screener to one distributor and they wanted the film, but we were not happy with the terms. Tim gave Alternative Cinema President Micheal Raso a heads up about the film and I was asked to send in a screener. I sent off the film and within a couple of days I got word back from Mike that they loved it and wanted to distribute it. I was thrilled! Our first feature and we landed a legitimate distribution deal. That does not happen too often. You can learn more about the company at www.Alternativecinema.com.
Stash was your debut feature film. How did you get into filmmaking to begin with, and what did you do prior to Stash?
Stash was my first feature film as a director. I had worked on a few other feature films on the crew and done some editing for some other people. I have always been into films and had done many little short films with my friends and family. I just decided that I wanted to make my own feature. I had gained a lot of technical experience from working in the TV industry for about 10 years. I actually learned to edit on Non-Linear systems at the TV station and how to operate broadcast quality cameras, and learned the basics of lighting. I received a degree in Radio and Television Broadcasting in '98, but learned more in the first few months at the TV station than my entire time in school.
Since Stash, you have also directed a documentary, Haunted Kentucky: The Spirits of Bluegrass - a documentary that interestingly also has a horror theme. What can you tell us about that film?
Right now that film is in post production. We have shot hundreds of hours of footage, so this one is going to take a while to finish up. That one I financed myself so I guess I have as long as I need to complete it to my satisfaction. I must mention my great producer and chief investigator Bill Scott, without him this film would have never been shot. I plan on having it completed sometime in 2010.
Apart from that, you have also co-produced the documentary Seven Signs: Music, Myth & the American South, directed by J.D.Wilkes. A few words about that film?
That was a adventure that I will never forget. We met some of the must brilliantly unique people in the world. It was great to work with J.D. and my good friend and fellow filmmaker Blake Judd. One thing I will never forget is waiting in Adams Tennessee with Blake on the railroad track for three hours in the 100 degree heat to get a shot of the train. We did a segment on the Bell Witch and we actually got to stay on the Bell farm. I have to admit, I was a bit freaked by sleeping there. I walk away with many fond memories with that production. I think Todd Tue did a really great job with editing.
Having worked in both feature and documentary filmmaking, which one do you prefer?
It's tough. I really like both of them. There is a certain charm about capturing something in the moment with a documentary. Film is a bit more like a stage production without the stage and the live audience. I would have to say film, because I love the production aspect of it and also the directing and editing. They all work together, and having your hands on all areas is a lot of fun, and for me essential.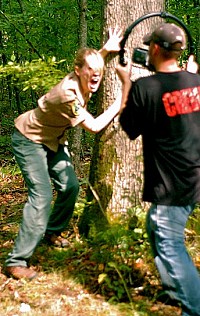 Red River
Any future projects you'd like to talk about?
Right now I am about to finish principle photography on my new feature Red River. It's a story that I co-wrote with my good friend and fellow filmmaker Gregory W. Brock. I was approached by the distributor (Alternative Cinema) due do the success of Stash and was asked to shoot a film for them. They asked me to come up with a concept, and Red River was what came out of that. I had wanted to do a film based around that area for some time. The name was too obvious.
When it comes to filmmaking, you are pretty much a hands-on guy, doing everything from writing, directing and producing to cinematography and editing, with even a bit of acting on the side. Is there any aspect you actually prefer, or any you could do without?
That is a tough one actually. I truly do love all aspects of it. The writing process is a lot of fun. There is this adrenaline type rush that goes on with it. When the dialogue and story is unfolding under your fingertips, or note pad. I do still write a lot of free hand, there is nothing like that feeling. Sometimes after I write a scene I will go back and not even remember doing it. It is very trance like at times. Another cool thing about that process is co-writing with my partner Gregory W. Brock. We have written two feature length scripts together now and the process has truly been unbelievable. I don't think there is another person on the planet that I could do that process with. It's as if we are on the same wave link or something when we write together. I can start a scene and write a few pages, then send it back and he will pick up and add something to it, that maybe I would not have thought of. The scary part is we constantly pick up on each other's ideas and will come up with the almost exact same shit or story ideas. Pre-production other than the script is the most important stage of production. I cannot stress this enough. The way that this film came about is we are pretty much under the gun. We have a very limited amount of time to get the film done and handed over to the distributor. With Stash, a film that lingered on for years, I now had to turn one over from concept to a finished film in around six months. The whole process has been a whirlwind, and I feel that some of our pre-production might have been a bit rushed. We were lucky enough to have so many talented people around us that we pulled it off. Let me also add scheduling is so important. Keeping things rolling and on schedule is crucial. You need a solid person on the set that this is one of their key roles. Usually the AD handles this task alongside the production manager. These are key roles.
The production phase whenever all of your hard work in pre-production and scriptwriting is complete, now you get to see your vision come to life. I refer my projects to a movie fetus. Whenever I get that initial idea that is the moment the egg is fertilized. I then go into the scriptwriting stage and that little sucker starts to sprout some arms and legs. As we go into production the fetus begins to grow inside the womb. During editing the baby is nearing its completion. After all of the many hours of cooking that movie fetus it's time for its birth. The birth is the first time you show your completed movie fetus to a real audience. Will they accept it? After that screening the film will hopefully be able to walk on it's on. I know that is a silly little analogy but I have always thought of it that way.
The production part of it can be very stressful at times. It can be tons of fun, but you will run into many problems guaranteed. It's all about what you can do on the spot to make the shot happen. So all in all the editing process is my favorite. All the stress of getting the shot ready, dealing with the outside elements that you deal with in an outside shoot, worrying about coming in under budget, dealing with that crazy person who got on your set and tried to extort you, you get the idea. As long as you got your coverage on set than the editing process for me is tons of fun and very little stress. This is where all the hard work pays off, and you soon forget about all of the little aggravating things that happened to you during production.
What can you tell us about your production company, TuckyWood Productions?
I formed TuckyWood Productions in late 2003. I wanted to be an official company and be an LLC before I started Stash. After we wrapped Stash I made the leap, and operated the company full time. I shoot a lot of TV commercials and music videos. That is a big part of my income. I hope to be able to make enough money from filmmaking to do it full time. People think that because you have your movie in major rental chains and retail outlets that you are rich or something. I will tell you that the odds of that happening while making indie films, are really slim. It's all about building your resume and keep getting your work out there for a mass audience to see. Hopefully this will lead me to some bigger budgets.
Your or your company's website/MySpace/Facebook/whatever else?
Filmmakers who inspire you?
One of the first horror films I remember watching as a kid was Night of the Living Dead, so of course George Romero has been a huge influence. Llyod Kaufman is another one. I would spend my late night weekends watching USA's Up All Night, and getting hooked on Troma films, especially The Toxic Avenger. And wrote a sequel to it when I was like 9. Sam Raimi has inspired me immensely. Some other indie filmmakers I respect is Brett Piper (Shock-o-Rama, Bite Me), I love his work. I think Eric Stanze (Deadwood Park, Ratline) [Eric Stanze interview - click here] does some good stuff, Ryan Cavalline (Day of the Ax) [Ryan Cavalline interview - click here], Scott Goldberg (The Day They Came Back) [Scott Goldberg interview - click here], Jerry Williams (Purvos, Zeppo), Tim Ritter (Killing Spree, Truth or Dare).

Feeling lucky ?
Want to
search
any of my partnershops yourself
for more, better results ?

The links below
will take you
just there!!!

Find Jacob Ennis
at the amazons ...

amazon.com

amazon.co.uk

amazon.de
Looking for imports ?
Find Jacob Ennis here ...
Something naughty ?
(Must be over 18 to go there !)

Your favourite films?
I'm a big fan of 80's horror. There are so many I don't even know where to start. A few of my all-time favorites are: Killer Klowns from Outer Space, Gremlins, The Monster Squad, Night of the Creeps, Halloween, Return of the Living Dead, Dead Alive and The Evil Dead.
... and of course some films you deplored?
The kind of films I hate are really Blockbuster type films. I get really bored with huge budget action stuff. I know that sounds odd maybe but I really don't care for Super Hero movies or multimillion dollar action films. I absolutely hate Romantic Comedies, and movies where black dudes dress up like old black woman.
I like my movies like I like my woman, dirty and cheap. I would rather watch a B-Movie any day. I even like Z grade films. I respect anyone that actually gets off their ass and makes a film. People have no freaking idea how hard it is to make a feature film, until they get out there and try it. A completed film gets the utmost respect out of me for sure. Even if it needs some work it's a great accomplishment. There are tons of people who will sit around and bash non-Hollywood films and say they are not real or whatever. Hey it has picture and sound and acting (most of the time). What is fake about that? There will be more people that will try and bring you down than up. Just ignore the naysayers and make your film. I can't tell you how many people over the years have come up to me and said hey I'm making a movie. Most of the time they never do, and all they do is make excuses and talk about it. They will say well when I get that new camera that is coming out I will shoot it, or I don't have enough money , or insert reason here. Just because you might not have access to all of the fancy new gear on the market, you don't need it. When you start out, hell use your mom and dad's old VHS camcorder that is collecting dust in the closet. It's not about the equipment when you first get started (or anytime really). Just go out with your friends and start shooting something. About all respected filmmakers I like got their start when they were kids making their little backyard movies with friends. You will learn hands-on and each time you will get better. Study up on the subject and help out on other people's projects. One more thing is, don't start out shooting a feature or an over-ambitious action script. Start shooting short films with things that are accessible around you. Do you have a gnarly old rusted out truck in your back yard? Add that to a scene, maybe make it a sub plot in your film. Just get out there and do it, and as I like to say "Let's shoot this bitch!"
Thanks for the interview!