Your upcoming movie Desolation - in a few words, what is it about?
On it's own and at it's simplest, Desolation is a hitchhiker horror film. It's about a couple that pick up a woman in need of help and just like in any horror film, no good deed goes unpunished as this woman is not who she claims to be.
What were your inspirations when writing Desolation?
My original inspiration for Desolation, years ago, was wanting to make a film that metaphorically put The River Styx as a real place on Earth, and I envisioned Route 66 as being that representation. So I was inspired by the "Mother Road" of America. Also when I was younger, I remember seeing a mysterious woman at a rest stop who was hitchhiking. Though it was probably harmless enough, she didn't look like the kind of person that would be hitchhiking so I started creating a crazy backstory for her and eventually I combined it with the story.
But I shelved the script for a long time. It just wasn't right. But when the opportunity came up to make this film, I did some re-writes, focusing it more on the hitchhiker element and it just seemed to fall into place. A mysterious woman hitchhiking down a desolate road.
Desolation is part of Jessica Cameron's Kill the PA-project [Jessica Cameron interview - click here] - so do quickly explain the concept, and how did you come on board?
Kill The PA is a project that saw two feature films shot across country. Instead of being shot privately in one location, it was brought to the fans with the intention of it being shot all over the place. It was an idea conceived and executed by producers Jessica Cameron and Jon Higgins [Jonathan Higgins interview - click here]. Jessica was shooting one of the films and after looking at different options for the second film, they came to me about it and I immediately thought of Desolation. I polished it up and gave them the script. They loved it and we went back and forth on some of the ideas and after a few more re-writes, it became a part of the project.
What I found most interesting about the concept was how we would get the locations. It really appealed to the artist in me. It felt like something David Lynch would be totally into. Instead of creating it, it was a more organic approach where we had to find it as we went. If we couldn't find it, we couldn't do it.
It was exciting because, as one example, by chance we pulled off the highway at a completely random exit and we stumbled upon a ghost town. And in this ghost town there was a beautiful church, so since there was a scene in the script that required a church, we thought this would be perfect. So the producers hunted down a priest, who ended up being 20 miles away and they went to see him and got the proper paperwork filled out, allowing us to shoot there.
The downside to this process was the prep. I couldn't prep this film how I prep everything else and I (and the rest of the crew) had to go go into it blindly. Many shots would have to be changed on the fly to fit with the locations and we didn't have a lot of resources either. We were traveling across country in an RV. We could only bring what we could fit, so we had limited gear, FX, set deck, limited everything.
I embraced it and decided the best thing to do is approach it in a non conventional way, since it's a non conventional shoot.
Do talk about your key cast for a bit, and why exactly these people?
Well Jessica Cameron plays one of the leads and of course she created the project and produced it, so it was a no brainer to have her in it. But it wasn't like 'oh, gotta find a character for her,' she actually just fit this one character perfectly.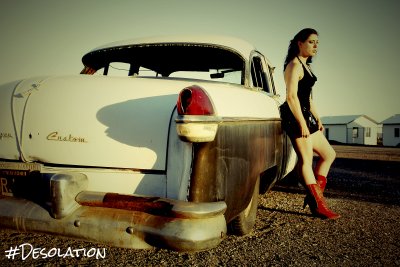 Tristan Risk
Tristan Risk [Tristan Risk interview - click here], I had recently worked with on Save Yourself and for the few months leading up to doing Desolation, I had been staring at Tristan daily while dealing with the editing of the film. So when the idea was offered to me to be able to work with her again, I immediately jumped on it. She did such an amazing job on Save Yourself. Very committed to the role and to the production. Without hesitation, I said, 'yes please.' Her look also fit perfectly for the mysterious hitchhiker.
With Carlo Mendez, who plays the lead male in the film, the producers showed me his audition tape and I was sold right away. He didn't deliver the lines the way I planned for them to be said, but the way he interpreted and delivered it was really impressive. He conveyed such emotion that I knew this guy was the guy. So I let him run with it.
Ali Ferda, who plays Jessica's sister in the film, was another one that just clicked when I saw the audition tape. Like it had to be her and no one else. Her interpretation was spot on and she had all these little, subtle mannerisms and nuances with her character that made her stand out in all the right ways. I am excited to work with her again and again.
But it's not just the key cast, I think I was really blessed with the entire cast I had been given on this project. Ryan Kiser, Teresa Parker, Tiffany Arnold were all dedicated to their craft and a pleasure to work with. Shortly before shooting I saw a trailer for a film called House Of Manson, starring Ryan Kiser as Charles Manson. And having grown up reading true crime novels and studying various serial killers, I can say Kiser did a brilliant job portraying Manson. I was excited to not only meet him but work with him.
With Jessica Cameron [Jessica Cameron interview - click here] and Tristan Risk [Tristan Risk interview - click here] you filmed another movie, Save Yourself, not too long ago - and even if we have talked about that one at length before [click here], do give us an update, what is that one about?
Save Yourself is five women on a road trip who are in the wrong place at the wrong time and cross paths with a deranged scientist who uses them for his experiments.
As far as an update goes, we just released our first teaser trailer for the film along with a couple stills: https://www.youtube.com/watch?v=xUC977962QQ
And it is exciting to get the film ready to play festivals later this year. I worked with Allen Ormerod and Pino Halili from Post City Sound on this film. And these guys come with so much experience in the industry. Honestly they've got more years of experience in this business than I've got years of life. So it was great to create this with them and such a solid team. I definitely was able to take a step up with this film. So I really want to spread the word about the film, get the trailer out there and get people excited for it. On the surface it has a simple premise. Five girls, road trip, bad things happen, but there is so much more to it. There is a heavy science element and a heavy art element to the filmmaking and the story telling and the character development.
How do these two films compare in their look and feel, their approach to horror and the like?
I think they are very different regarding look and feel and I purposely try to do that with all my films. I always try to switch it up, just because I have a vast range to play with in the world of horror. As far as my approach to horror, my preferred choice is to create more artful horror because horror is an art form to me. I love and respect the macabre.
It's interesting to compare these two. Because while Save Yourself is a simple setup of five very attractive women who essentially wind up in a house of horrors, the execution was very technical and precise. Meanwhile, Desolation is a very layered and complex story and timeline, but with a simpler approach to the shoot. First of all you need to work within reality. Yes you need to shoot for the stars and yes you need to push yourself beyond your limits, But things can easily get away from you if you're busy trying to pound a square peg into a round hole. Even if you succeed, you still end up destroying the peg.
So knowing this, I looked at Desolation within the confines of reality. We're traveling across country with limited equipment, let's capitalize on what we have. We have some awesome moments of gore, thanks to Jordan Pacheco [Jordan Pacheco interview - click here], but for the most part we left it more cerebral which really fit the delivery of the story.
Josh Chiara was my cinematographer and we both have a passion for the artistic expression of film and we developed a look and texture for the film that fit within what we were doing. We shot with the KineMini with Leica R lenses. Great cinematic look and it's a very light and mobile camera that shoots 4K which was perfect for traveling across country. Frankly if we had an Alexa we would never have been able to get half the shots we got, simply because of the size of that thing. So while technical wise, we kept things simple, I left the story more complex. If you just want to see a story about a young couple traveling and crossing paths with a sexy hitchhiker on a killing spree, then you've got it. It's all right there, but the delivery and timeline is definitely more obscure, offering the viewing something bigger.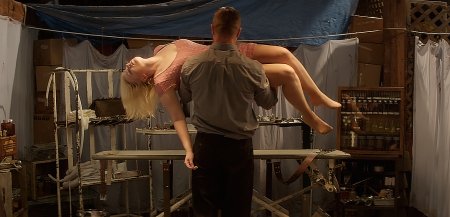 For Save Yourself, it's a totally different look and feel. We used anamorphic lenses and lots of track, multiple dollies and a 30 foot jib and that is simply because I wanted specific shots for this kind of story. It's funny when people say all you need is a story and equipment and everything else doesn't matter. Yes, story comes first, but film is a visual means for telling your story so you gotta make sure you put just as much attention into how you shoot it. And just like the picture and just like the story, sound was a huge element for this film. From day one I always imagined huge sound design that would really set the tone for the fear and drive the tension. And obviously I've got nothing to worry about in regards to sound because Allen and Pino have that end of things covered with Post City Sound. Honestly the sonic elements for this film will blow you away.
But back to the look, my cinematographer Michael Jari Davidson knew exactly what I wanted and how to make it happen. And having worked with him before, I could leave him to create that, while I put my attention on the characters and the story.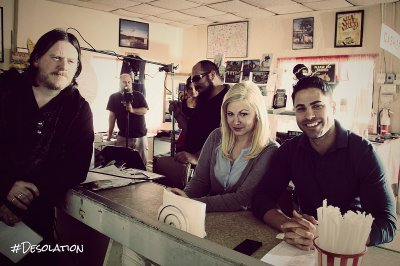 Ryan, Jessica Cameron, Carlo Mendez
Save Yourself is set to be released later this year, right? Could you go into any more detail?
We're currently putting finishing touches on Save Yourself, so it will be ready to hit festivals this year. As for when it will premiere and where, that's a waiting game for us all. But we will play the festival route with it and I look forward to showing it to everyone.
Jessica Cameron [Jessica Cameron interview - click here] has produced both Save Yourself and Desolation - so what sort of a producer is she, and since Desolation was (I presume) more her show than Save Yourself, did she at all demand more creative control?
She's a tough as nails business oriented woman, so she makes one helluva producer.
I brought Jessica onto Save Yourself and she brought me onto Kill The PA. So with Save Yourself I brought her in to work with me, Allen, Pino, Emma Sutherland (producer) and Chris Cull (co-producer/editor) and together we all busted our asses in pre production, during the shoot and post production.
But Kill The PA is her baby. She brought me in to direct a film of my own for it. So she definitely did NOT demand more creative control, which was great. She let me tell my story and was hands off. She and Jon Higginss [Jonathan Higgins interview - click here] provided notes for re-writes early on, as all producers do, but when it came to making the film, Jessica had her film to make and I had mine. And they are two totally separate films. If they were the same, or Jessica and I had the same style, then the whole point of the project would be moot in my opinion. What works is these are two totally different types of horror. Jessica is more about a visceral shock rock kind of style and I'm more of the brooding, psychological burn.
Back to Desolation - what can you tell us about the shoot as such, and the on-set atmosphere?
Desolation was a gruelling shoot. Since we had to shoot so much in a short amount of time, while still driving a few thousand miles all in the span of a week. I don't care who you are, that is tough. Especially when you don't normally work crazy hours like that. There were some great people I met making that film, some of them I call family now, but it was not easy. I think it was an anthropologist's wet dream. Seriously, you put a bunch of us in an RV and we are shooting two films back to back in three weeks (meanwhile most of the time one film takes more than three weeks to shoot) And a third film is being shot the whole time, documenting us, giving us no downtime. I am surprised no one physically punched out anyone else. You really gotta give credit to the whole team. We were there for each other and that is what made it work. Thank God for Scuba Steve, that's all I can say.
Any idea when and where Desolation will be released onto the general public yet?
I never rush a film. Because once it is out there, it's out there, so it's gotta be right. I still have to do a day of pickups and honestly the majority of my time has gone to finishing Save Yourself first, because Save Yourself was shot first and I took time off from Save Yourself's post, to go shoot Desolation, But now that Save Yourself is in the home stretch, it's getting Desolation done, but I honestly don't how long that will take, because I don't want to half ass it just to get it done quick or to get it done in time for a festival.
As far as I know, your earlier movie Sick - Survive the Night has only recently been released in the USA and Germany - so how's the reception of the movie been in these markets?
Yes, Sick - Survive the Night came out in Canada and the USA January 6th and then it came out in Germany a couple weeks later under the title of Zombie Wasteland. Art is subjective and what one person likes, someone else will hate for the same reason. So there are people that love what we did with Sick - Survive the Night and enjoyed it and there are others that didn't. And I'm okay with that because that is what art is all about. It's about opinions and no one is right or wrong. It's just there to enjoy. At the end of the day I wanted to tell a story that was a realistic zombie film. And realistically speaking, two years after the zombie outbreak, there really wouldn't be any good guys, just different degrees of people with nothing to lose. There also wouldn't be any hope. Day after day of struggling to get by just to struggle again tomorrow, it would create a depressing sense of despair. And that I think is where the original horror angle plays into it. It's not about the zombies, it's about the will to keep going or lack thereof. It's a very bleak film and some get that and appreciate it while others are bothered by it, because they want something more fun or gory, but if we didn't play this angle then it would be like so many others out there.
Any future projects you'd like to share?
My life this year has been focused so much on the release of Sick - Survive the Nightt and post production on both Save Yourself and Desolation, so I have been keeping extremely busy with that.
Still, Chris Cull (who I co-wrote Sick - Survive the Night with and co created the story for Save Yourself with) and I have been finishing up a couple new scripts. And they are ready to go. So I am looking forward to moving forward with those films as the post production work load lightens. So look for something new soon.
Your/your movies' websites, Facebook, whatever else?
My Facebook page: https://www.facebook.com/DirectorRyanMAndrews
Save Yourself Facebook page: https://www.facebook.com/SaveYourselfMovie
Sick - Survive the Night Facebook page: https://www.facebook.com/sickthemovie
Desolation Facebook page: https://www.facebook.com/DesolationtheMovie
Black Eve Facebook page: https://www.facebook.com/BlackEveMovie
Twitter: @RyanMAndrews1 and @SaveYourselfMVE
"> Save Yourself website: saveyourselfmovie.com
Anything else you are dying to mention and I have merely forgotten to ask?

Feeling lucky ?
Want to
search
any of my partnershops yourself
for more, better results ?

The links below
will take you
just there!!!

Find Ryan M. Andrews
at the amazons ...

amazon.com

amazon.co.uk

amazon.de
Looking for imports ?
Find Ryan M. Andrews here ...
Something naughty ?
(Must be over 18 to go there !)

Just keep checking out the indie Canadianhorror scene. There is so much talent here it is insane. Most people know about the amazing Soskas [Soska Twins interview - click here] having done American Mary, ABC's Of Death 2 and See No Evil 2. But those lovely ladies are just the tip of the iceberg.
Kingdom Come is out now, starring Save Yourself star Ry Barrett.
Gavin Michael Booth's [Gavin Michael Booth interview - click here] The Scarehouse, starring Teagan Vincze [Teagan Vincze interview - click here], Sarah Booth [Sarah Booth interview - click here] and Emily Alatalo is out now.
Tricia Lee's [Tricia Lee interview - click here] Silent Retreat with Jen Pogue and Robert Nolan [Robert Nolan interview - click here] is out.
Gabriel Carrer's In The House Of Flies is out there (the director is also getting ready to release an action packed revenge film called The Demolisher).
Chad Archibald's The Drownsman is coming out soon and AntiSocial 2 will be hitting festivals this year.
There is so much talent in the horror genre coming out of Canada, and I am excited to be a part of it with these people.
Thanks for the interview!
Thank you.