In our last interview from quite a while ago [click here], we talked about your science fiction thriller Terminal Legacy - so it's only fitting to start this one talking about its sequel Terminal Legacy: Lost Souls - so what's that one about?
Terminal Legacy was about a group of scientists who develop a miracle drug and begin human trials illegally. The experiment goes horribly wrong when test subjects begin dying. Terminal Legacy: Lost Souls is about a woman's search for her cousin, Jordan (my character from the first film) who disappeared after entering said experiment. Her search uncovers a dangerous conspiracy
What inspired you to make a sequel to Terminal Legacy, and what were your sources of inspiration when writing it?
It's an interesting story behind this short sequel. When we were putting together a marketing plan for Terminal Legacy we wanted to develop some additional content that would entice viewers without actually effecting the events of the first film. We came up with this idea of a moc-documentary told from a new character's perspective - an investigation into the events of the film. Similar to what the Blair Witch Project did for the Sci-Fi Channel. After we shot this promotional content, we realized there was another story to be told, so we wrote an ending, shot it, cut it all together.
With Terminal Legacy: Lost Souls being a science fiction movie, is that a genre at all dear to you?
I love the sci-fi genre. I grew up on Aliens, Predator, Terminator, Blade Runner. These are some of my favorite films. Terminal Legacy was our first low budget foray into this amazing genre of film. We wanted to make a thinking man's action film, so sci-fi lends itself to that creative process.
You also directed Terminal Legacy: Lost Souls - so do talk about your directorial approach to your story at hand, and how would you describe yourself as a director in the first place?
I consider myself as a director and writer out of necessity. I truly enjoy directing, but my primary focus is and has always been acting. Brian Kazmarck [Brian Kazmarck interview - click here], my partner on Terminal Legacy, likes to focus on the art and creative process, so when we were brainstorming marketing ideas, he was pretty much hands off. I took it upon myself to write, cast and shoot Terminal Legacy: Lost Souls (who better than the cowriter of the first film?). It was only after us shooting the promo material did we realize we actually had a worthy follow-up.
You appear on camera in Terminal Legacy: Lost Souls only in a small cameo - so why that, and is there anything you can tell us about your character still?
In Terminal Legacy, I played one of the lead characters, Jordan. In Terminal Legacy: Lost Souls, Jordan is referenced multiple times, but he doesn't actually make an appearance in the film. My cameo in the sequel is just as a masked henchmen to our villain
What can you tell us about your key cast, and why exactly these people?
How do we start? I'll make a list!
Courtney Cavanagh as Tracy. Wow. I met her a few years ago when we did an off-off broadway show. I instantly noticed how confident, easy to work with and talented she was. I knew I wanted to work with her again We ended up casting her in Standing Eight. A few months later when we were putting together the promo for Terminal Legacy and I immediately knew I wanted to cast her as the lead. No audition. No need. It was written for her. I think when you watch the film, you'll see why. She's just fantastic.
Marcos Sotomayor as Ike Marcos is a great actor. It's amazing that his acting skills are matched only by his work with the camera! So he was a shoe-in to play Tracy's best friend and cameraman.
Brian O'Neil as Dr. Lebowitz. Brian also worked on Standing Eight and I thought he would be the perfect fit for our doctor with a dark secret.
Lawrence Ballard as Jacob Gosling. It was only fitting that our "money man" behind the scenes of the events of the first film returned to our sequel to continue his villainous streak.
A few words about the shoot as such, and the on-set atmosphere?
The shoot was literally the easiest thing we've ever done. There were literally no complications. Everyone was ready to go. As far as the actors' work, I allowed them to improvise. I always feel that actors need to bring some of their own words to characters I think it really allows them to get lost in their roles.
Another new movie of yours is Standing Eight - so what's that one about?
Standing Eight is about Dusty Abrams, a professional boxer who after being diagnosed with Systemic Lupus is forced to retire and contend with his new life outside of the ring.
You play a boxer in Standing Eight, so how did you prepare for that aspect of the role, and what did you draw upon to bring him to life?
I used to box in the amateurs in my past life, so I've kept up that skill since I began acting. Preparing physically for Standing Eight just involved a bit more lifting weights (for aesthetic purposes). As far as creating a character, I've seen my mother fighting the disease for my entire life, so I was able to draw a lot from what I've witnessed in my own life.
How did the project fall together in the first place, and how did you end up co-writing and producing it?
At the time I wrote the first draft of Standing Eight, I had been acting in New York for about five years. I had never been cast as a boxer. This was frustrating due to my extensive background in the sport and skill set despite having auditioned for countless times to play one So, the initial spark to do Standing Eight was to finally have the opportunity to play a boxer. When it was suggested to me by one of our producers to make the screenplay personal, and involve lupus, I was completely with it.
My mother has lupus, and she's had it for as long as I've lived. Most people don't even know what the disease does to the human body. Basically, the immune system attacks the body. It effects millions of people around the globe - primarily women. I felt it was pertinent to use my creative talents to raise awareness. I wrote the first draft of the script, showed it to Brian Kazmarck (the director) [Brian Kazmarck interview - click here] and Louis Peduto (our lead producer) and that was it. We committed to making this film.
And that's why this film is so much more than just a boxing film. This film is dedicated to my mother, who has stuck with me through every bonehead decision I've made and really my way of giving back to her.
What were the main challenges when producing Standing Eight, actually?
Money. Always money. Being an indie filmmaker, that's always the biggest issue. So I put on my producer hat, went to Kickstarter and ran two successful crowdfunding campaigns.
The second challenge was really nailing down the story with Brian. We had some creative differences when it came to the story we wanted to tell. Eventually we nailed it down and worked through it, but there was a lot of back and forth prior to production. It mostly had to do with how we wanted the climax of the story play out.
Standing Eight was directed by your frequent collaborator Brian Kazmarck [Brian Kazmarck interview - click here] - so what was your collaboration with him like on this particular project?
Brian is an incredibly talented filmmaker and writer. Once we were able to agree on a vision for the film, the shoot was a cake-walk.
Do talk about your co-stars in Standing Eight for a bit, and as producer, did you have any say in casting?
Courtney Cavanagh - she was fantastic as Dusty Abrams' fiance Skylar.
Quincy Chad, was perfect to play Dusty's nemesis, Quinn Durbin. He's also up-and-coming big time in Hollywood. He made a huge splash last year with his guest star on Netflix's hit show Orange is the New Black.
Brian O'Neil, he played Dusty's trainer, Mack. He had that old school boxing trainer grit down. We knew the second he walked into the audition room.
We held auditions for the larger roles. Brian, Louis and I all made the casting decisions together. We knew pretty much right out of the gate, who we were going to cast. We then filled all the supporting roles with those actors we didn't cast as the leads. It worked out splendidly! I think the casting for the film was perfect
Again, a few words about the shoot?
Putting the film together was just an overall incredible experience. Through fundraising I met a lot of lupies (a nickname for those diagnosed with Lupus) on social media. Seeing their journeys was so motivational to me. It really pushed me to want to tell a story that did them justice. I think we did just that.
The film has been in the festival circuit now for almost a year. So far it has been recognized all over the world! The Caymen Islands, Spain, the UK. We've taken home awards for Best Short Film, Best Cinematography, Best Actor and we've been nominated multiple times. I think the recognition in festivals is a statement to the story we've told
The $64-question of course, when and where will these two movies be released onto the general public?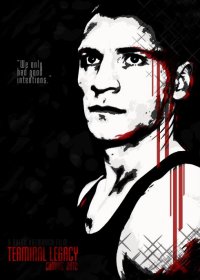 Feeling lucky ?
Want to
search
any of my partnershops yourself
for more, better results ?

The links below
will take you
just there!!!


Terminal Legacy: Lost Souls is on the festival circuit, but that will be released early 2018.
Standing Eight will run in festivals through May 2018. After that time, I'll release that as well. Although I've made no decisions as far as the platform. But I'll definitely let you know when it happens.
Any other present or future projects you'd like to talk about?
Well, I've come to grips with the fact that if I want to take control of my career, I need to wear multiple industry hats, so I've dug in and written several screenplays. I've just finished the third draft of a feature length modern day Western. I think it's best thing I've written so far. God willing, this will be the next film that gets made. I'll keep you updated!
Your/your movies' website, Facebook, whatever else?
The first Terminal Legacy is actually available for rental and digital download at www.terminallegacy.vhx.tv - please feel free to support independent film and check it out!
Our Facebook page is https://www.facebook.com/Terminal-Legacy-151777284874466/ - the trailers for both Terminal Legacy and Terminal Legacy: Lost Souls can be found there.
Our Facebook page for Standing Eight is https://www.facebook.com/StandingEightFilm/ - the trailer, festival updates and a plethora of stills can be found on there.
Anything else you're dying to mention and I have merely forgotten to ask?
Not at the moment
Thanks for the interview!
Thank you!