You've recently been assistant director on the movie Maturing Youth - so first of all, what's that movie about?
Maturing Youth from R&F Entertainment is about an irresponsible and immature young man named Roger, played by Sean A. Kaufman [Sean A. Kaufman interview - click here], who doesnít want to accept responsibilities with his life and the only thing he does is live off his parents' income. Soon after finding out that he has a child, named Junior played by both Joshua St. Leger [Joshua St. Leger interview - click here] and Albee Castro [Albee Castro interview - click here], and has to take care of him, he starts to change his ways and be more responsible towards his son.
So how did you end up being assistant director on Maturing Youth in the first place?
Originally, I was offered to be second assistant director for Maturing Youth by producer Chase Michael Pallante [Chase Michael Pallante interview - click here] and I accepted the role because Iíve directed my own films before and I had a good understanding of the job that was needed. A few weeks later into pre production, Chase informed me that he wanted to give me the first assistant director role instead and I was more than happy to accept.
Do take those who have never been on a filmset through the process, what does an assistant director do, actually, both in general and specifically regarding your work on Maturing Youth?
The first assistantís role is not only to handle the schedules and cast/crew call sheets, but we are also responsible for the health and safety of the entire set. Besides working side by side with the film's director Divoni Simon and the producer to make sure everything runs smoothly, we also make sure that everyone is doing their respective jobs.
What can you tell us about your director Divoni Simon [Divoni Simon interview - click here], and what was your collaboration like?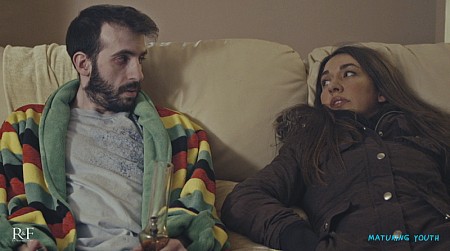 courtesy of R&F Entertainment
Divoni Simon is a great film director. To know that this was his first film, he sure did an amazing job working side by side with the director of photography Zach Mayor to get his vision out there, and get the shots and angles that he wanted to tell the story.
You also appear in front of the camera in Maturing Youth - so do talk about your character for a bit!
I played the babysitter that was hired to take care of Junior. I had volunteered to be the babysitter, since there was no one else that wanted to play the character from the crew. I thought it was pretty cool to not only be in charge of the set but to also have fun in front of the cameras.
A few words about the shoot as such, and the on-set atmosphere?
As an assistant director, I learned so much about what really goes on in the behind the scenes and the level of responsibilities from pre-production to on-set and post production. It wasnít easy for me at first, since Iíve never worked as an AD in a professional set with so many crew members. But little by little, I got the hang of it learned from Chase and other crew members as well.
Any future projects you'd like to share?
I have been working on a webseries called Beyond Scope which will be premiering December 8th at the AMC Disney Springs Theater. Also I have published my first novel called Detarru Island, which is now available on Amazon and Barnes and Noble.
As far as I know, you initially entered the filmworld as an actress - so what got you into acting in the first place, and did you receive any formal training on the subject?
I never went to school for acting so when I first started as an actress it was really hard for me since I really didnít know a lot about the industry. Since I didnít even have a resume yet, I started off by getting into background acting and then little by little I made my way into speaking roles.
How would you describe yourself as an actress, and some of your techniques to bring your characters to life?
I describe myself as an badass actress. I always like to play powerful female characters because it is a mirror of my own personality. I can relate a lot better with these type of roles because I myself love challenges, and love to be in charge. Some of the techniques I use before I play a character, I always put myself in the characterís shoes. I analyze what sheís feeling at the moment and also stay in character before I shoot my scene.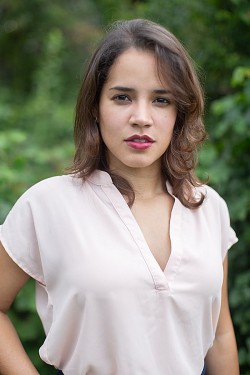 photography by Jillian Joseph
courtesy of R&F Entertainment
Of late, you have also stepped behind the camera on several occasions - so what prompted that move?
As I mentioned before, starting off as an actress and not knowing anything about the industry its really hard. But after working on a few films, I started networking with other actors and crewmembers and getting the experience I needed. I observed how the crew worked and what was necessary to film. Since then, I decided that I wanted to film my own productions and started writing my own scripts. Little by little I started building my brand and my name as well as my network.
Actresses, filmmakers, whoever else who inspire you?
From director's position, I was always inspired by Steven Spielberg because just like everyone else, he worked very hard to get to where he is right now and not a lot of people believed in his work. But even though he went through tough times, he didnít give up and was finally given an opportunity to proof his skills as a film director and it was in that moment that he came up with the movie Jaws and it made history.
Your favourite movies?
Aliens, The Collector, Predator, Jurassic Park, Dawn of the Dead, The Exorcist and Halloween.
... and of course, films you really deplore?
Love all movies, but if Iíd have to choose then I never really liked The Purge.
Your website, Facebook, whatever else?
My website is mickeydeymon.com
Facebook/mickeydeymon
Instagram: mickeydeymon
Anything else you're dying to mention and I have merely forgotten to ask?

Feeling lucky ?
Want to
search
any of my partnershops yourself
for more, better results ?

The links below
will take you
just there!!!


Maturing Youth is making its world premiere at the augural Cutting Room International Short Film Festival in New York City. For more information and details go to www.MATURINGYOUTH.com
Follow the film here:
Instagram: www.instagram.com/maturingyouthfilm
Facebook: www.facebook.com/maturingyouth
Website: www.MATURINGYOUTH.com
Thanks for the interview!