Your upcoming movie Dead Walkers: Rise of the 4th Reich - in a few words, what is it about, and what can you tell us about the several characters you play in it?
It's hard to define in a few words because it has so many facets - but in brief: It's the modern day, the Nazis are back and up to no good with all manner of sinister plots - can anyone stop them? Wait and see! As for my characters, I'm lucky enough to play (in various scenes) a kick-ass, wholly evil Nazi guard, a superhuman Vril plus one main character.
Without giving away too much, he's a very tortured soul, put into a dire and difficult situation he's not prepared for ... and it gets VERY dark for him, very quickly ...
The roles you play in Dead Walkers: Rise of the 4th Reich cover quite a spectrum of emotions - so as an actor, how do you prepare for a film like this?
I'm very fortunate to work with very talented people, such as Rachel Malone [Rachel Malone interview - click here], who was able to sit me down and talk me through my character's history, where he is mentally and physically when we first meet him, how his story arc changes. There's real sadness in his story, and Rachel was great in getting me to think about times in my life where I've been sad, or upset and how to channel that into my performance. My natural state is optimistic, so to go right through to abject depression was a real challenge and if it comes through in the film I have to take my hat off to Rachel for making me utterly depressed and miserable (in the nicest possible way!) and to Stephen Foster-Hunt [Stephen Foster-Hunt interview - click here], who, with Rachel, helped me 'come down' after the difficult scenes and get me back to my normal happy self. I needed a hug..........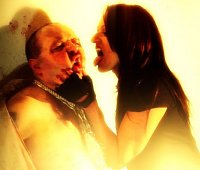 Paul with Nikki Webster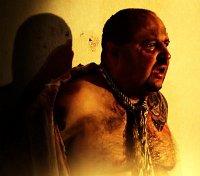 I also have to say that my guard character is also a polar opposite to me. Dead Walkers had me doing the worst possible things to the nicest possible people and the way we managed round it was by having absolutely the best, funniest, craziest people on set. Man alive, talk to Rudy Barrow [Rudy Barrow interview - click here] who plays one of the 'heroes' in Dead Walkers - we kicked LUMPS out of each other and laughed about it (and let me go on the record, in rehearsal he knocked me sprawling on my back, I got up and ran in again and took a hard punch to the ribs, then ran back in again and got an accidental kick to the groin - and he calls ME tough? My ribs were black for DAYS after, I swear his punches are like being hit by shovels!)
How did you get involved with the project in the first place? And what were your thoughts when you heard the title Dead Walkers: Rise of the 4th Reich?
I heard about the project from a fellow actor (Tony Cartwright, who pops up in Dead Walkers as, you guessed it, a Nazi!) and was told 'it's a great story, you'll either be a Nazi guard or a Vril and there are no zombies in it'. So, I turn up all in black but wearing white underwear (I could tell you why, but I may have to kill you) for a week's worth of filming. After day one, I get asked if I'd be interested in a meatier role with regards to fight scenes (because it'd been noticed that I knew how to give and take fake blows very well - didn't dare tell them Rudy was actually hitting me!), which then progressed to me showing some of the other cast members how to 'fake fight' (including letting the producer D Michelle Gent [Michelle Gent interview - click here] use me as a punchbag to demonstrate the finer points of hitting your co-stars without killing them!) and then onto 'we'd like to use you in a main role'. Very flattering for a guy who at that point only had 3 film credits to his name as an extra!
What can you tell us about Dead Walkers: Rise of the 4th Reich's director Philip Gardiner [Philip Gardiner interview - click here], and what was your collaboration like? And how did you first hook up with him?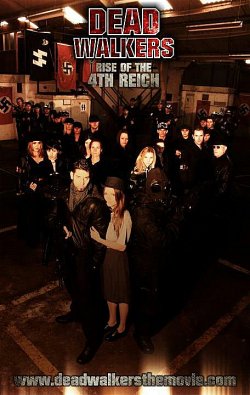 I was actually quite new to Phil, unlike most of the cast who've worked with him before on The Exorcist Chronicles and other films. He's very intense, because in the cinema of his mind he knows how he wants the film to look and he won't accept anything less than perfection. He's also the type of person who won't ask anyone to do something he wouldn't do himself. For instance, when I 'auditioned' for my main character on set, I was told it was a very physical and mental role so instead of just telling me what he needed, I watched as Phil and my co-star in the majority of scenes (the gorgeous and talented Nikki Webster [Nikki Webster interview - click here]) acted out the full scene. He has a passion for good cinema and good storytelling that makes me and others want to up our game to meet and exceed the standards he sets - very intelligent, likes to make people think about their performances and an all round great guy to work for.
That's got to be worth a few quid next time I see him, right?
From what I heard, at least parts of Dead Walkers: Rise of the 4th Reich were shot in an unheated warehouse during the coldest days of the year - so what can you tell us about the shoot as such and the on-set atmosphere?
Let me tell you about my Vril brethren and I. Naked, apart from a thin see-through paper boiler suit. Covered in freezing cold fake blood. Stood in a sub zero warehouse, shivering in between takes. Not. One. Complaint. Seriously - the work ethic, the camaraderie, the quick jokes that took the sting out of the day when people were looking cold and tired. These guys are like family to me now - even though at one point some of us had our boiler suits torn off us (and for the poor girl who walked in on me while I was having makeup applied to my naked body 1) I'm sorry and 2) it was cold OK?!?!?!?) Phillip managed to put together a great team of people who would do absolutely anything for him and each other. No divas, no egos, everything we did on that set was done willingly, happily and with great passion.
If there ever was a Dead Walkers II: Let's Go to an even Colder Warehouse for the 5th Reich, would you be on board?
In a heartbeat. And naked. I think it's in my contract, not sure whether that's down to Michelle or Phil ... I hope to God it's Phil, Michelle seems to take great delight in making me suffer, be it as punchbag or naked man in a cold room!
Let's go back to the beginnings of your career: You have an extensive background in theatre, right? So what can you tell us about Paul Sutton, the stage actor, and what can you tell us about your training on the subject?
I actually spent 4 years from 14 to 18 in youth theatre, learning to sing, act, dance etc. I'll be honest it was more my mum trying desperately to cure me of shyness (Dead Walkers cast, stop sniggering at the back!) than any great desire to act on my part. As a teen I was painfully skinny, shy, didn't make friends easily and bless my mum for trying something like this because it opened my eyes to a new world for me.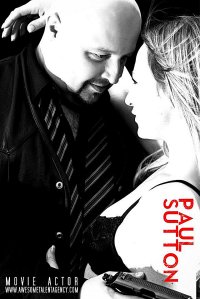 Paul with Melanie Denholme
From that point no-one's been able to shut me up! After 18 I faced the difficult choice of making it as an actor or getting a 'proper job' - and at the time I was already a manager for a retail outlet so I went left instead of right - and luckily enough I now have a second chance to be doing something I love with all my heart, and this time there isn't any stopping me! Pahahahahaaaaaaa *evil grin*
Performing on stage vs acting in front of a camera - how do the two compare, and which do you prefer, actually?
Good question! They both have their pros and cons actually - with stage acting, the rehearsals are generally longer which can be a benefit - but on the down side you only get one chance to get it right, so you'd better be good! I do enjoy the buzz (fear!) you get when you're just about to step on stage - but then again, there's nothing quite like that feeling when you're in position on set, someone shouts 'rolling' then 'ACTION!' Just at that point I'm totally zoned into the moment, and I'm so buzzed and ready - it's a unique feeling that stage work just can't get near.
Plus, being able to retake if you fall over your lines/shoes/co-star is cool.
As far as I know, your film debut was in The Eschatrilogy - so what can you tell us about that movie and your character? And how did you get involved in the first place?
It's weird but my whole film career has been a great deal of 'right place, right time' and this was the start! I'd seen an advert in the local paper for a 'local zombie film' and turned up for the last day of filming, in a paintballing wood outside Sheffield. I turned up with a few friends from theatre and we had a great time lurching around in the dark, invading this log cabin. Then some of us received a callback from the producer (Nicola Morter, wife of the director/writer/star Damian Morter [Damian Morter interview - click here]) saying that they wanted to reshoot a key section of the film and would we be interested.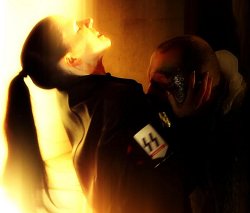 Paul with Eirian Cohen in
Dead Walkers
So, a few weeks later, in the middle of 8 days filming I'm stood on set near the stunt coordinator and overheard him bemoan the fact that he didn't have many qualified stunt people and he needed someone to take a bump (fall). Well, I'm not shy I tapped him on the shoulder, told him about my judo background as regards taking falls and ended up wrestling with the main actor for his shotgun before being shoved down a grass verge (but I got the shotgun, ha!) - pretty much every film since then I've put myself forward for fight scenes and stunts - I actually got blown up last week on the set of a film (not for real, though I did have a near miss rolling over the explosives in a rehearsal!). I'm not completely fearless but I'll give anything a go once!
Oh yes the film! It's 3 tales of terror round a great central plot, it's done the rounds of horror film conventions here and in the States (winning awards and commendations on the way) and it's getting a limited cinematic release in May before going onto DVD - check it out, Dead Walkers' Eirian Cohen [Eirian Cohen interview - click here] is also in it and kicks ass!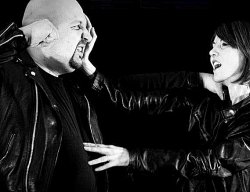 Paul with Sandy Slade
Other films of yours you'd like to talk about? Future projects you'd like to share?
Other than Dead Walkers and the Eschatrilogy, the works I'm most proud of are the short film Metanoia (playing a wife beater opposite Reality Films regular Sandy Slade [Sandy Slade interview - click here]) and a rare comic role in the soon to be released Narcissist by Michael Henry.
Dead Walkers is very much my first 'big' role though, and from my work on that film alone I'm now working with Michelle again (on the upcoming film Dusty the Demon Hunter), playing a villain (yes, I love playing the bad guy!), alongside Dead Walkers' Eirian Cohen in a film called Inner Demons. Phil has also mentioned the possibility of me working with the amazing Melanie Denholme [Melanie Denholme interview - click here] on an as yet untitled project and finally I've been asked to play the lead villain (who sings opera!) in a small project by one of the production team of The Eschatrilogy. Busy busy busy, but I wouldn't swap it for the world - actually for the world maybe, but you know what I mean!
Outside of acting, you are also a singer, right? Care to talk about that aspect of your career for a bit?
As yet I've not really had a 'career' as a singer but when I got into theatre it was natural that I'd gravitate towards musical theatre primarily because I love to sing, so a lot of my stage work is this genre. My first 3 months in an operatic society I was asked to sing several solos and like I said before it's a great buzz to be stood front and centre and have the spotlight and the audience focused on you as you sing (God I sound like a right attention seeker - calling Dr Freud!) Acting is something I love and something I'd like to make a career out of but singing is my 'off camera' passion and I guess when I do make it as an actor (and I will!) I'll trade my on-set Winnebago for the chance to record a song for the soundtrack - considering I'm a big, tough looking fellow it might surprise people when they hear me sing tender melodies.
How would you describe yourself as an actor, and some of your techniques to bring your characters to life?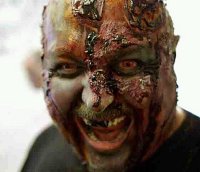 makeup by Pamela Clare MU'
In acting, as in life, I'm passionate about what I do. I know that if I as an actor am terrible, it reflects badly on the film and on my co-stars so I'm very tough on myself and I'm driven to get things perfect. I'm the life and soul until the cameras roll, but as soon as we're in place and ready I'm as intense as Phil Gardiner (OK maybe not that intense!) [Philip Gardiner interview - click here] because the last thing I want is people saying 'that film was crap because of Paul Sutton' - it's kind of like the analogy that on a long drive you may pass 200 cars but you only remember the idiot who swerves in front of you. I don't want to be that idiot, where people probably really enjoy the film but all they remember is a bit of poor acting. I mean I'm not De Niro or anything but I set myself high standards - if I'm given a role I want people to think that a) it was good and b) that no-one else could have played that role.
Actors (and indeed actresses) who inspire you?
Morgan Freeman's an obvious choice because of his iconic voice and gravitas he can bring to a role but my love of him as an actor is not just for those qualities. For one, he too got a late start in movies (born in 1937, first credited role in 1971, first starring role in 1989 at age 52) - so there's hope for me yet (just turned 39)! For another, look at him playing Nelson Mandela in Invictus. Given his status he could have phoned that in and still have had people raving about his performance - but look at the walk, the mannerisms, the little smile - when I first saw the trailer I thought they'd used stock footage of the real Nelson Mandela, Morgan Freeman was that convincing - I aspire to be that talented as an actor. I'd also say Ray Winstone because he's the template I most fit to - I don't have a six pack, I've got a certain rugged appeal but wouldn't say I was a 'sex symbol' (not without laughing!) and I specialise in playing the hard man - and he's given me big shoes to fill but that's the benchmark I'm going for (and Ray, if you ever read this, please don't fill the shoes with concrete and tip me into the Thames fella - you're still the daddy heh heh).
Actresses I'm going closer to home. Nikki Webster [Nikki Webster interview - click here], Kay Vardy [Kay Vardy interview - click here], Jane Haslehurst [Jane Haslehurst interview - click here], Sandy Slade [Sandy Slade interview - click here], Lauren Winchester and Demi Peters from Dead Walkers. If I said cold, semi-naked, covered in intestines (that smelled terrible!) bruised, battered and generally put through hell, it wouldn't cover half of it! To be able to go through that and give great performances - my hats off to them, I mean I may have had my buttocks greased with makeup by a man (off camera too!), but these girls are genuinely hard as nails, and gutsy, talented actresses. Would I work with them again? In a spit second - but can I keep my clothes on for some of the movie please?
Your favourite movies?
I'm a huge Stephen King fan, so Shawshank Redemption and The Green Mile are standouts for me (not Pet Semetary though - god that was poor). I like films that make you think (Inception), history based (Downfall, Schindler's List) and fantasy (Pan's Labyrinth). But for all that highbrow stuff, you'd better believe that I'm a HUGE Star Wars buff and if I somehow manage to blag my way onto the set of Episode 7 I think I might forget I'm a pro and hug an Ewok or something ...

Feeling lucky ?
Want to
search
any of my partnershops yourself
for more, better results ?

The links below
will take you
just there!!!

Find Paul Sutton
at the amazons ...

amazon.com

amazon.co.uk

amazon.de
Looking for imports ?
Find Paul Sutton here ...
Something naughty ?
(Must be over 18 to go there !)

... and of course, films you really deplored?
All the ones with Jar Jar Binks in ...
Your website, Facebook, whatever else?
Facebook: http://www.facebook.com/?ref=tn_tnmn#!/pages/Paul-Sutton-Actor/415540585204837
Twitter: @RealPaulSutton
Website: www.awesometalentagency.com
Anything else you are dying to mention and I have merely forgotten to ask?
Yes! I have 6 fingernails on my right hand, I'm a Pisces, a Chinese Tiger and I'll show my tattoos to anyone who buys me a double vodka (no ice). Oh and talking of singing this one's dedicated to Kay Vardy and Eirian Cohen [Eirian Cohen interview - click here] ... 'Baby Shark do doo do do do!'
Thanks for the interview!
Thanks for the chance to talk for hours non-stop! :-D