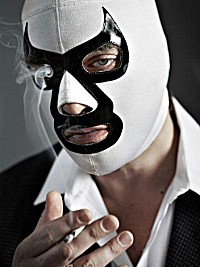 Sandez Rey
(in case you're wondering - yes, he's wearing a mask in this photo)
First of all, why don't you introduce yourself to all those not fortunate enough to know you?
I am a cartoonist from Minneapolis, Minnesota (USA). For those of you overseas, that is the town Prince is from, where they filmed the movie Purple Rain. And yes, that is a real nightclub where they film those concert scenes and yes I have been there many times, but to see punk rock bands and pro wrestling. In reality that club dosn't book much R&B music.
I have been on the fringes of the comics industry for about 10 or 12 years. Under my real name I worked for 3 different small press publishers and self published 3 different titles for my old Kidgang Comics imprint. I did one issue of comic called ATOMIC BUZZ SQUAD for Angel Comics, but they never printed it, they went belly up first. I did the first and third issues ever published by a company called Comics Conspiracy on a title called PARA TROOP. I penciled and inked one 32 page issue of a comic called BLUE MIDNIGHT AND THE MOONLIGHT LADY for a company called Twilight Odysseys that they printed and another 24 page issue that they didn't. (If you love laughing at bad movies like Plan 9 From Outer Space find a copy of this comic - I've read tens of thousands of comics and this is possibly the worst writing in ANY comic EVER!)
For my Kidgang-imprint I did one issue of JACK OF NINES (a poorly drawn learning experience - an attempt at spy/noir), two issues of BIG MONSTER FIGHT (still proud of those!) and three issues of MINNEAPOLIS FREE COMIC (and yes, it was free. Distributed to racks in local book stores and grocery stores and paid for in theory by local advertising. The passing out was a huge success - the selling of advertising less so). Do you get the feeling that if I published another comic it would last four issues? There seems to be a pattern there ...
I came into the adult end of the comics market about 5 years ago, when Michael Dowers, the editor of Eros Comix for parent company Fantagraphics dug a two year old sample page xerox out of a dusty file and gave me a call. The sample was so old and forgotten by me I almost hung up on him. I had no idea what he was talking about. But I did a 5 page story for the sex anthology BLOWJOB, which led to me doing 15 more 5 page stories for various sex anthologies (7 of them in BLOWJOB, which was the best seller and flagship title) and two full length 24 page books, THE CRIMSON GASH VS HITLER and THE CRIMSON GASH VS CRIME. All of the short stories except the first two also feature the CRIMSON GASH and her pals.
You have a new comicbook out, Crimson Gash vs Satan. Can you tell us in a few words what that one's about?
The CRIMSON GASH has a history with Satan and actually gave him a blowjob in and issue of (where else?) BLOWJOB. She indirectly does Satan a favor in "... VS HITLER" and gets in a nasty verbal confrontation with him in the end of "...VS CRIME". So this book picks up those dangling plot threads and sends the Gash and her sidekicks Summer Sky and Sheriff Judy (and Golden Age Hero The Blue Circle to carry the gear) on a quest across Hell to confront Satan and kick his ass for what the Gash percieves as a slight to her.
It's basicly me challenging myself, trying to do an epic story in a porno context. A lot of it is cribbed from Dante's Inferno and various classic sources.
A few words about this book's backup story, The Lair of Lamasthu, and your thoughts about that story's co-star Demi the Demoness [Demi the Demoness interview - click here]?
Demi is a great character, one of the few classic, enduring characers in porno comics. The CRIMSON GASH would be lucky to be as successful as her. I love working with Steve Crompton [SS Crompton interview - click here], Demi's creator and publisher of Carnal Comics. Steve is a great guy who is full of good ideas but not at all egotistical or hard to work with. We had done a story together for REAR ENTRY # 11 (the all Demi issue, still available from Eros Comix), so it was a natural to team up our gals again for the back up feature. This was a true collaboration, I pitched Steve the idea of doing a Lovecraft-story, he suggested including his Lovecraft-villian Lamasthu and wrote a detailed outline, I penciled and wrote most of the dialog, he then added dialog and inked and lettered. We were both thrilled at how well it came out on the printed page.
Despite all the sex, The Lair of Lamasthu has a definite Lovecraftian feel to it. What can you tell us about that aspect of the story?
I read the complete works of Lovecraft when I was a teenager. Dream Quest of Unknown Kaddath and The White Ship were two of my favorites stories, so it was just a matter of me trying to do a tribute to material I liked...
What can you tell us about Crimson Gash as such, her creation and evolution, and past appearances?
The CRIMSON GASH was actually on that forgotten adult sample page that got me my first work in adult comics. Her look was inspired by Go Nagai's adult manga superheroine Kekko Kamen. Like I said, I had pretty much forgotten that sample, so the first two adult stories I did had nothing to do with her. Then my editor suggested in an email in offering me the third story, "why don't you use that super character from the samples?" and the rest as they say is history. I had fun with the character and have had fun with her ever since. I like the idea of a porno comics universe, because there has never been much continuity in porno comics (with the exception of Demi and the adult mangas ...)
Even for porn comics, your stories usually feature an amazing amount of blowjobs, and ... well, I don't know how to turn this set-up into a question, but perhaps you'd like to remark on it anyways.
I plead guilty! But I must say in my defense that all the stories I did for BLOWJOB had to have a blowjob focus - to do otherwise is to cheat the readers of that august tome! And the CRIMSON GASH was created for BLOWJOB and 5 of her earliest stories were for that mag, so I could hide behind being true to my original fans' desires if I wanted to. But I won't. Two things:
Strictly from a practical nuts and bolts perspective, when you draw someone 'going down' on a woman it is almost impossible to get a decent camera angle on the action. There is no sense of movement or action because the tounge is the only thing moving. You can't really see the pussy because the head or leg are blocking it and you end up using the same above the forehead close up shot over and over. It's the opposite with a woman going down on a man. You have a sense of movement and action. There are endless angles and variations, and you have the beauty of the womans face in all its expressiveness interacting directly and proactively with a mans sex. So even if I didn't like blowjobs, I might well be drawn to including lots of them. And bloopy cum facials are fun to draw!
But I won't hide behind either of those. Yes, I am obsessed with oral sex, both doing it to women and recieving it from women. What can I say? It beats sniffing shoes or drinking someones pee! If any women reading this are also obsessed with oral sex - look me up on mySpace! Just don't tell my wife!
There is one more angle on this. There really are hundreds of thousands of real women all around the world who really do suck dick for a living. A few on film but most in person. A long time ago, back when I was a drug user in North Minneapolis, I used to sell weed in a area where a lot of hookers walked the streets. When word got around I had a fair number of them as MY customers. I got to know some of these women as individual human beings and that has always stayed with me. When I started thinking about the CRIMSON GASH I wanted her to be a heroine that a woman in the sex industry could enjoy - sucking dick yes, but only because she always wants to. She's one of the girls, but also kicking ass and taking names.
Your comics also always contain quite a bit of plot besides all the sex. Where do you get your inspirations from, and do you see your stories merely as hangers for the sex scenes or do you see the naughty stuff as a means to get your story across?
I'm a long time reader of pulp fiction, starting with E.R.B., Robert E Howard, Doc Savage and Shadow reprints, then Fu Manchu, Bradbury, Lovecraft, Haggard through my current favorite Edgar Wallace. I am an obsessive film fan, as you know, and I honestly believe that Professional Wrestling is the worlds greatest sport. Yes, SPORT. Basicly, I write my stories visually, deciding what I want on the cover or title page first, then if I can think of an ending to go with that image I just start drawing pages. I go with the visual flow and think of the dialog as I'm drawing and eventually get to the ending, which I sometimes changes before I get there. So it's all sort of a stream of conciousness process that mashes bits of books, movies and sex scenes together with whatever I feel like drawing or think is funny that particular day.
How did you break into the comic business in the first place?
My first published project was the self published JACK OF NINES. My first professional work for someone else was PARA TROOP #1 for Comics Conspiracy. My first adult work under the name Sandez Rey was BLOWJOB # 2.
Your comics usually contain tons of sex as well as horror/fantasy elements and quite some humour. Which elements do you prefer?
I don't know if it makes me a pervert, but my favorite CRIMSON GASH pages are usually the ones where a semi-nude woman is acting tough or kicking the shit out of someone or something. In my movie watching life I have always been steeped in horror and fantasy and I do like designing monsters and creatures off the cuff. One of the attractions of doing the "...VS SATAN" comic to me was the chance to set it in Hell and include a lot of strange demons and creatures. I love to sit down with a tracing pad and Marker and say "O.K. what is my version of Cerebus going to look like? How am I going to draw the Gates of Hell?" and so on. (I do all my design work on the back sheet of the tracing pad with a black marker and when I get a rough or partial I like I can flip down a sheet and clean it up or add to it or change it.) As for the humour, that's just me. I guess I have a humourous outlook, because I never put a lot of thought into the humour. I always approach the story as if it's a straight action story, but funny things always pop into my mind along the way and I can't resist putting them in.
For quite some years, you have been working for Eros Comix, but fairly recently you have moved to Carnal Comics. What can you tell us about that switch?
There's really nothing to tell. Fantagraphics (Eros' mother company) decided to cancel the sex anthologies and scale back its commitment to publishing adult comics. Not because they weren't selling - in fact it's fair to say that the adult stuff kept that company alive through several rough patches when steady cash was needed - they just decided to go in another direction. They are publishing more books and less comics across the board, and as far as the adult stuff goes, they are mostly just going to reprint thier old library of material.
I already knew Steve Crompton [SS Crompton interview - click here], I met him at the San Diego Comic Con when I was promoting THE CRIMSON GASH VS HITLER and we had already done a story together. So it was just a phone call and the switch was made. I'm perfectly happy with the switch, Eros never really promoted my work properly anyways and Steve is a good guy to work with.
Any future projects you'd like to talk about?
Too early to be specific, but I am planning on doing a non-adult (but very strange...) comic in additon to some CRIMSON GASH short stories this year. I am trying to work up a somewhat different style for that. And I have about 150 or so pages of stuff that was either self published or unpublished before the CRIMSON GASH. I'd like to print that stuff in a book, but don't know if that will happen this year or not.
Carnal Comics have only recently turned their Demi the Demoness into a movie (click here). Have you at all seen that film and do you think the same should happen to Crimson Gash?
I have seen it and I can only say that if someone likes hot girl on girl action, you could do a lot worse than the Demi movie. I met Sinn Sage (who plays Vampirooni) in San Diego this year and she is a living doll. As sweet as she is sexy. I think the CRIMSON GASH would make a great movie, but I am not sure it would make a great porno movie. What I'd really like to do, if I had a choice, is make a very hardcore, R-rated nudie movie out of it.
Like Russ Meyers Supervixens or Up. Where there is a lot of nudity, but the sex scenes are faked without showing genitals or penetration shots. This is NOT because I have anything against porno - and if someone offered to make a CRIMSON GASH porno I would say yes in a heartbeat - but I really think the characters are strong enough and funny enough that as a nudie film it could potentially be a cult classic that lovers of bad films still watch 50 years from now. Also I don't think you could find a girl with gigantic natural boobs who is willing to suck a lot of dick on camera and can also act and not embarass herself in fight scenes. I don't think that girl exists. Eliminating the actual on camera sex makes the pool of girls to choose from MUCH bigger. If you could find the girl who's got the boobs and has a funny way with sarcastic comment AND can throw a decent punch - that's a hit 'B' movie! So my ideal dream would be a company like Troma Films that has a fanbase and some minimal production qualities and knows how to shoot some action scenes. Are you listening Troma?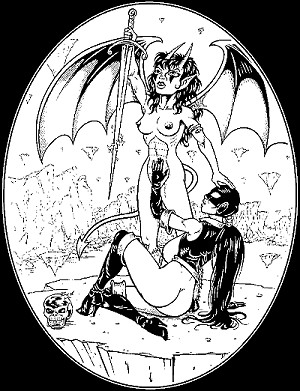 Where are your comics available?
Demicomix.com has the three full length CRIMSON GASH comics "...VRS HITLER", "...VRS CRIME" and the new one, "...VRS SATAN". That's probably the best and quickest way to get that stuff. I think all or most of the sex anthologies are still available at Eroscomix.com. I still have everything myself, so if you look up Sandez Rey on mySpace and scroll down my blogs you will find one titled 'how to buy comics from me' (or something like that...) and I can get you an autographed copy of anything you want. Beyond that, Last Gasp is a good source for adult comics, also Rose Comics and finer stores everywhere!
Comicbook artists who have really influenced you?
Jack Cole, the creator of PLASTIC MAN is probably my all time favorite. Jack Kirby, Steve Ditko, Milton Canniff, Al Capp, E.C. Segar, countless others. Spain and Crumb are my favorite underground artists and the whole Last Gasp roster of artist from the '70s. I am currently reading the collected HERBIE, (pub. by Dark Horse) which I love, it's one of the most surreal and dreamlike humor comics to ever be called mainstream! That's one of my 10 favorite comics ever. I am also devouring a Titan Books' reprint of the British newpaper strip JEFF HAWKE, which is excellent science fiction.

Feeling lucky ?
Want to search for books by
Sandez Rey
yourself ?
The links below
will take you
just there !!!


Your favourite writers?
Edgar Wallace, Lovecraft, Howard, E.R.B., Sax Rohmer. I am addicted to reprints of the pulp hero THE SPIDER which was written under the pen name 'Grant Stockbridge' but I think was actually Norvell Page. I love pulp heros in general, the Shadow, Doc Savage, etc. Some of Edmond Hamiltons Captain Future stories are great and the Purple Empire saga in Operator 5 is a masterpiece of relentless action!
And of course, your favourite comics?
PLASTIC MAN, anything by Jack Kirby esp. FIGHTING AMERICAN, FANTASTIC FOUR, THOR, KAMANDI. Gold Key Comics' MIGHTY SAMPSON, MANGUS ROBOT FIGHTER and THE OCCULT FILES OF DR. SPECTOR. The original DOOM PATROL. HERBIE. SUGAR AND SPIKE.
In undergrounds I love ZAP, DESPAIR, and the rest of the key Crumbs from the '60s and '70s. SUBVERT and TRASHMAN for Spain. Guy Cowells INNER CITY ROMANCE was brilliant. I always thought WONDER WART HOG and the FREAK BROTHERS were funny, and pretty much any title published by Last Gasp for Greg Irons, Jaxon and Dave Richardson.
I read a lot of newspaper strips too, TERRY AND THE PIRATES, STEVE CANYON, POPEYE, DICK TRACY, LIL' ABNER and MODESTY BLAISE are all favorites.
Since I know that you're a fan of obscure films and this is primarily a film-site anyways - some of your favourite films, the rarer the better?
The Face at the Window starring Tod Slaughter [Tod Slaughter bio - click here] is a must see. The Fiendish Ghouls with Peter Cushing. Kill Baby, Kill and Blood and Black Lace by Bava [Mario Bava bio - click here]. Doctor Jekyll and the Werewolf with Paul Naschy [Paul Naschy bio - click here]. Castle of Blood with Barbara Steele [Barbara Steele bio - click here]. I Bury the Living with Richard Boone.
In comedy some of my all time faves include Trinity is Still my Name with Terence Hill and Bud Spencer. They also made an excellent but forgotten one called All the Way Boys where they were pilots in the Amazon that was funny. The original version of The In-Laws with Peter Falk and Alan Arkin is classic. Repo Man is a film I described as my favorite movie ever for about 10 year straight.
I'm a big fan of Russ Meyer and if you've only seen Faster Pussycat, Kill, Kill! don't judge him by that - that film has a great title but is over-rated and not even in my top 10 Russ Meyer films! I think... Let's see... My favorite Russ Meyer films are Up, Supervixens, Beneath the Valley of the Ultravixens, Mondo Topless, Mudhoney, Vixen, Lorna, Cherry, Harry and Raquel, Wild Gals of the Naked West, The Immoral Mr Teas ... yup that 10. Faster Pussycat, Kill, Kill! comes in at 11.
Pam Grier's film Coffy is a must, all time top 10 fave in the action catagory. Anything with Santo in it especially Santo in the Wax Museum, The Witches Attack, The Diabolical Axe [Santo bio - click here].
If you don't know who Ray Dennis Steckler is, search out a copy of Rat Pfink a Boo Boo. Trust me, you have to see it. The film Atomic Rulers of the Universe, which is edited down TV episodes of Johnny Socko and his Robot is a blast. The Seven Vampires is crazy nudie/horror from Brazil and very rewatchable.
I recently say Royal Tramp 1 and Royal Tramp 2. If you liked Shaolin Soccer and Kung Fu Hustle, these are two earlier kung fu comedies from the same stars. Not quite as good, but still very funny.
And of course: Some films you really deplored?
UGH. Where to begin? I dislike the mindless slasher style of horror and have never been able to sit through a Friday the 13th-movie, or any clones of that type. I remember sitting at a hotel trying to kill a half hour with nothing on TV but the final half hour of Friday the 13th Part 3 and even though it was uncut on HBO and already at the climax I was still still bored and kept flipping away looking for something else.
Drug humor has gone downhill since the Cheech and Chong days and tho I'm an ex-pothead myself I hate a movie where all the middle aged squares get high at the end and see the world in a different light. Yeah right - an uptight college professor in 2008 is anti-weed because he has never tried it. Do the fucking math! That guy was in high school in the '70s! If he's anti drug it's probably because his little sister got high and drove a car off a cliff!
I hate nudie films where all the girls have fake boobs. C'mon! What is that? I'd rather see a flat chested girl take her shirt off anyday than see all these too big, too firm unnaturally shaped titties! Part of the magic of boobs is thier infinite varity of sizes and shapes. Can't we all agree on that?
Besides comics and film, any other hobbies?
I was one of the original punk rockers in Minneapolis and can prove it. If you get one of my early comics like BIG MONSTER FIGHT and find out my real name then google John Holmstroms original '70s fanzine PUNK (Holmstrom did the cartoon for the Back of the Ramones' 3rd LP and the cover of their 4th) you will see I had a letter printed in it where I take John to task for doing an article on the BAY CITY ROLLERS. John's comment back to me, "Anyone that offensive can't be all bad." I don't go to shows like I used to being married with two kids, but I try to keep my finger in a little.
I am also big booster, audience shill and unpaid promoter for our local Minneapolis Pro Wrestling federation First Wrestling. So called because we book cards once a month in FIRST AVENUE the nightclub from the movie Purple Rain mentioned in the first answer. See how this all ties together?
Anything else you'd like to mention that I've just forgotten to ask?
Just thanks for the interest,and anyone who wants to get in touch with me directly can look up Sandez Rey on myspace. I will be at Fallcon our big local comics convention Oct. 4 and 5 at the St. Paul Fairgrounds in the grandstand. At my table with me will be Alica Leafgreen the White Lesbian Rapper who will be selling and signing her new EP that I drew the cover for. The night before Fallcon is the big showdown between First Wrestling, Phillys Ring of Honor promotion and Californias Chikira Lucha Libre promotion at the West St. Paul Armory. Bell time is 7:30, doors open at 6:30, tickets are ONLY $10, and I'll be the guy down front yelling the loudest! Come down and see me at one of those places if you can! And once again, thanks.
Thanks for the interview.