Your movie The Girl Who Wasn't Missing - in a few words, what is it about?
There are many films about children who are kidnapped, or ones who run away, those who die in accidents, from illnesses, and, of course, child murders. I felt it was important to touch on a teenager who is simply not wanted. By her parents, by the system, by society. Isolation can be the scariest and loneliest place to be, especially for a teenager since they already feel this way in general at this time of their lives, and there are kids out there who have a story like this. So, I felt it needed to be addressed.
The Girl Who Wasn't Missing is actually a radical re-imagining or your earlier Warning!!! Pedophile Released [accompanying interview - click here] - so what can you tell us about that film and the controversy it caused to make you recut it in such a way?
Wow, are you really gonna get me started?! Well, my experience with that film, was, damn, where do I even begin? With Warning!!! Pedophile Released I wanted to make people question right and wrong, love and rape, good and evil. At what point does society and the system need to back the fuck off, and at what point should they intervene? My life changed drastically when I was 5 years old because of society and the system butting in, and again when I was 16, so I think, even though the story in the film was made up, I was, and always am, asking a lot of these questions myself. Never would I want my 12-year-old daughter (if I had one) dating an 18-year-old guy. But then again, if this guy honestly never would touch her beyond a simple kiss until she's of age or mature enough to say yes and understand exactly what sex is, versus her dating a 13 or 14-year-old boy who's just trying to score that very instant and lose his virginity to her, and possibly getting her pregnant, then who would she be better off with? The guy who loves her and respects her, or the horny kid trying to score one time who doesn't give a fuck about her? Well, obviously I'd pick the guy who loves her, but now we have the age factor, so shit, it's a Catch-22. And that was the question, the point of the movie. What would you have done, basically? Because in this particular case, taking him away from her ruins both of their lives forever, and the most vile and unthinkable things happen to both of them because society butts in and tells them no, when they probably would have lived great lives together if people had just let them be. So, in this case, he was not a threat, even though in most cases somebody his age would have been to somebody her age. And that was the point of the title, to make it out like a propaganda thing, "oh, no, 'Warning!!! Pedophile Released'." Only to find out that it's everyone else in the film causing the girl incredible harm (and getting away with it), so what hypocrites everybody but the so-called pedophile become.

But apparently that title, even though it says "Warning", not say "A Pedophiles Guide Book", was so bloody offensive, that practically everybody pussied-out and rejected the movie just because of the title. Even though there's nothing pornographic about it, and nothing in it promoting anything illegal. Like The Woodsman with Kevin Bacon, it's simply showing a side to humanity we aren't comfortable seeing. And the character in Warning!!! Pedophile Released isn't even an actual molester like in The Woodsman. But big companies are hypocritical little cock-sucking pussy lying bitches. Many places carrying my other films not only rejected Warning!!! Pedophile Released but then dropped all of my other films. And many of these places were companies which actually sell hardcore and pretty disgusting double anal-penetrating pornography. They have these porn categories along with their mainstream Hollywood films and indie films. Even Mr. Skin couldn't carry it because of some deal with their credit card companies cracking down on them. Netflix rejected it for the title even though they carry films with actual real sex, and carry other films with vulgar titles like "Young People Fucking". I mean, come one, fucking society, hypocrites, I tell you, much like the point of the film. It's so disgusting how fucking retarded and hypocritical everybody was being. So, a few months after that I thought, "well this is goddamn mother fucking horseshit. I spent nearly a year on this film and not only would hardly anybody carry it, it actually got all of my other films I've ever done now banned by many places." And those films had real sex in them and graphic rape scenes, but those were totally okay, by the way (the Amateur Porn Star Killer-trilogy). Fucking stupid hypocrites.
Even Joanna Angel's publicist refused to say one word about her appearance in the film because she was terrified of the title. I mean, this is a famous adult star who's known for especially being able to do tons of hardcore anal on-camera sex. But her appearance (with no sexual content) in a new non-adult arthouse film coming out with a strong social commentary and even a 4-Star Los Angeles Times review? No way, soooo taboo. Which is even more funny, last night I'm watching Paul Schrader's The Canyons with Lindsay Lohan. Her leading man is Joanna's many-times costar and former boyfriend, adult star (of over 1,000 films) James Deen. We see Deen go down on Lohan while another guy jerks off (who's junk we actually see right beforehand), Deen walks around fully nude with his junk also hanging out and forever (along with another guy and another girl), all of them participating in gangbangs, guys sucking guys off, Lohan girl-on-girl action, etc., and Deen even murders one of the girls he's banging by cutting her to death. All this totally okay and acceptable for even a soft R-Rating (versus NC-17) and all of these same stores have it on the front shelf, website, etc. Wow, wow, wow.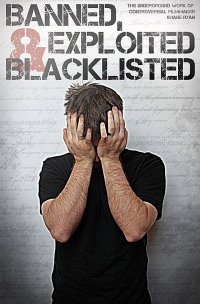 Anyway, I was pissed, obviously, and thought there's got to be another way of getting this movie out there. And I never in the first place even wanted to make films with titles like Amateur Porn Star Killer or Warning!!! Pedophile Released. Those titles all came as a joke because nobody ever paid attention when I used blunt (i.e. Isolation/Numb/The Cleansing) or more poetic titles (The Snake's Kiss Good-Bye). But then soooo many people suddenly took notice with the Amateur Porn Star Killer films simply because of their titles, so I thought I had to do it again with Warning!!! Pedophile Released. But then it backfired on me with Warning!!! Pedophile Released. So, I figured out how to re-cut it, make it a totally different story by eliminating many of the characters, including the pedophile character. Then I was able to think of a new title, and use the kinds of titles I actually like. Unfortunately, as I've proven, a title like The Girl Who Wasn't Missing is grabbing hardly anybody's attention (when you have no big festival acceptances or money to even enter festivals, and no money for advertising, and it's a no budget film with no actors who have really done anything before, then your little underground film is fucked unless it has an exploitative title) and the big indie arthouse type of reviewers and magazines which is what I truly aim for (versus horror/exploitation outlets - though nothing against them) never take notice (probably due to my Amateur Porn Star Killer titles) and if they only would that would really help put it on the map, but since they won't I can't get anyone to pay attention to this film. But hey, it's got a title I like, and eventually it might get another chance to be seen by people. I mean, you've already took notice, so there we go. And I think the story is important, to show that there are teenagers who go through this stuff. I feel I get my message across in this version without having to be exploitative in any way - not with the content, the story, or even the title.
How easy or hard was it to re-cut Warning!!! Pedophile Released? And what prompted you to put your focus on exactly the story you're telling in the new version?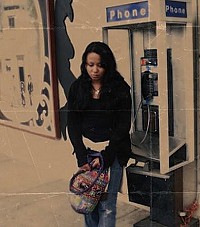 This was a while back when I re-cut it but I think I remember it being insanely easy once I decided to do it. I just figured out what I needed to cut out (which was a ton), and then add a new opening/ending credit sequence and do some new titles (which I tried to do in an old-fashioned stylized but very simple-silent film-type of way). So, I just added a little new touch to it. You know me, I like those silent films homages, which I guess makes sense since most of the movie is now dialogue-free. As far as putting the focus on the story, I'm not really sure. I know what I'm trying to say with the story, as explained earlier about putting focus on the forgotten and never-wanted kid, but not sure what exactly got me to think that way, or realize I could edit it that way and tell a new story out of the same footage. I edit all of the time so it might have simply been me fooling around with footage and then realizing, "oh, this works."
As far as I know, some of the story of The Girl Who Wasn't Missing was based on your lead actress Kai Lanette's [Kai Lanette interview - click here] actual experiences. So how big was her influence on the script, and did you do research beyond that for The Girl Who Wasn't Missing?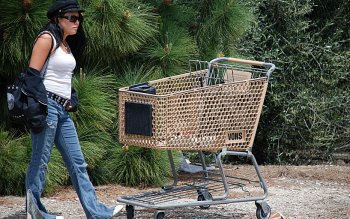 Again, been so long since we filmed this first version, hard to remember exactly, but she had ideas of real things and showed me real places she had been while homeless, and things that she'd do. And Sean Cain [Sean Cain interview - click here] had told me some real stories about things for the original version which I'm sure helped mold the rest of the film, so we all had real experiences we had been through and/or people we had known who had been through things, which all came together in making this, ultimately fictional, story. We were the only 3 people working on this the whole time, and we shot this like a documentary, with no script, so it all came together organically based on real stories. And I'm all about moods, feelings, emotions, so it was also whatever I was feeling and then I'd say let's shoot that, then Kai would be in the scene and she'd work from there and do what she was feeling. And in many cases real feelings became involved, especially because of the way we were shooting.
I don't believe I researched anything in particular when re-cutting the film, though, other than that I had been doing tons of research on teenage victims, runaways, etc., for another project, and I learned during that process that some teenagers end up where they do because nobody, including society, wants them. I know I read lots of stuff like that so I'm guessing that might have helped give me the idea for the new version as well.
As far as I know, you shot your movie pretty much guerrilla-style - so you obviously have to talk about the actual shoot for a bit!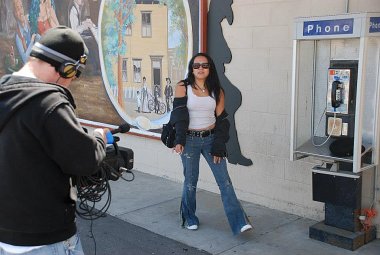 Well, nothing different from Warning!!! Pedophile Released since it's the same shoot! But trying to remember what I said back then. Hmm, I just remember we had to shoot everything in like two clumps of 3-4 days. The entire crew was Sean and me, that's it, and a couple of brief times we needed an additional actor aside from Kai, but it was as bare-bones as you can get. We would run from place to place and sometimes shoot only 5 minutes. Like at school when Kai's walking, we'd have to plan that for when school actually got out and have her run across the street and walk with the kids cause I didn't have the time or resources to get 15+ extras scheduled and standing there, so we had to wing everything, get out of people's way, or in people's way, depending. At the time Kai and I were dating and that was a headache. Working with your significant other is sometimes good, sometimes bad. I can't even remember the damn fights but they would hold us up or get in the way of shooting, making things really tense and awkward, especially for Sean since he was getting caught in the middle. Sean's always easy to work with, but since Kai and I became a couple, working together wasn't exactly easy once we started dating. And she wasn't, never intended on being, in the film business, so it was different for her than for me. She was doing it as a hobby or out of boredom, I was doing it because it was my life, it was all I had. So, throw that in the mix of everything else, shooting can become interesting. Though it always is.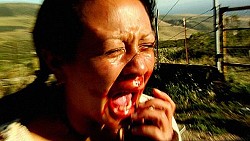 What can you tell us about the audience and critical reception of The Girl Who Wasn't Missing so far?
Not a whole lot of people have seen it. I had a screening at Pollygrind in Vegas back in 2011. My friend Chad, the festival director, actually liked this version much better. I do, too, because I didn't really like my performance in Warning!!! Pedophile Released. Because I was so focused on directing, it was really hard trying to shoot, direct, improvise, act, etc. But some people don't like this version because they actually liked my performance, and/or because they thought there was more to the original film, that it had more story. But my films aren't really about story anyways, they're about capturing a problem in society, and/or a character, and then organically following this tragic being and seeing what comes of it. And while I feel that happened in Warning!!! Pedophile Released, I feel it's much more real, I guess, in this new version. And while Warning!!! Pedophile Released is open-ended, this version really is open-ended, which I think helps raise the question even more, what do you do? In this situation, where do you go? How can somebody looking in on this problem help? Can they even help? So, we'll see what other people have to say but not many have seen it yet, and again, it's hard to get people interested in reviewing it because even though people give me goddamn hella amounts of shit for exploitative labels on my films, nobody's even turning their fucking eyes my way when I try to announce this movie. So, point proven. Fucking hypos.
Anything you can tell us about a potential release yet?
I might try and get this released by a distributor but still not totally sure. I might just release it myself on Vimeo, haven't decided. But I'd love to see this on DVD professionally, before DVDs are totally gone.
Any future projects you'd like to share?
It will be a while, but I'm still working on The Owl in Echo Park [The Owl in Echo Park interview - click here]. And My Name is 'A' by anonymous will be hitting DVD early next year from Wild Eye Releasing. I still don't know what happened to the theatrical release it was supposed to receive over a year ago, nor the VOD release, so I keep telling people if I hear anything on the film I will let them know. It's been the roughest journey of any movie yet. Plus keep an eye out for Sean Cain's Jurassic Block which I have a tiny part in [Sean Cain interview - click here], also American Girls, which is a film I co-produced, and the short film anthologies I have segments in, Treasure Chest of Horrors 3 (also hitting DVD from Wild Eye) and Theatre of the Deranged 2 (which includes the full cut of my Japanese film Tag). And, as always, trying to get more stuff going, but my hands are so full. I need a motherfucking assistant or something. A free one since I have no money. Any takers?

Feeling lucky ?
Want to
search
any of my partnershops yourself
for more, better results ?

The links below
will take you
just there!!!

Find Shane Ryan
at the amazons ...

amazon.com

amazon.co.uk

amazon.de
Looking for imports ?
Find Shane Ryan here ...
Something naughty ?
(Must be over 18 to go there !)

Your/your movie's website, Facebook, whatever else?
https://www.facebook.com/shane.ryan.77
http://www.imdb.com/name/nm1546474/
Anything else you are dying to mention and I have merely forgotten to ask?
Uhmm, Jean-Claude Van Damme's Volvo commercial was insane. Now do a Shane Ryan picture, JCVD!

Thanks for the interview!