I know that we have talked about this at quite some length before [click here], but do bring us up to speed: Your upcoming The Owl in Echo Park, what is it about?
Wow, seeing what I said before, it's interesting how much something can change, yet stay relatively the same.
I guess originally Kevin Gage's character was a cop who had been suspended from duty, but we changed it to an undercover cop caught up so much in his alter ego lifestyle that it's unclear whether he's still undercover or if he simply fell off the grid. Which therefore changed some other things I had originally planned. I said before that his wife kicked him out when instead he leaves his family. But the general idea is still the same; an aging cop who has lost himself to drugs, alcohol and prostitutes. We come into the picture at the end of his run.
As far as I know, you're presently running a fundraiser for your film, which is already in post - so what will the funds be used for, and what can you tell us about your campaign?
I've done a few campaigns for this because I'm always running out of money. I need to buy a hard drive here, some more blank DVD's there, send out promotions here, mail that, drive to this place (even the gas adds up big time). Since my own money barely gets me by I just can't put it into the film so all these little costs I'm trying to cover, and that's the idea of the campaigns. If somebody has a few extra dollars and wants a producer credit, all they gotta do is donate to the campaign and get credit, and I do the work. Plus I will need tons of money when the film's done. Film festival entry fees will cost mountains above the film's budget. And then, if we're accepted, you want to attend the festival if it's a big one, and there's a ton of more money you need, which I never have that kind of money.
http://www.indiegogo.com/projects/the-owl
What can you tell us about your directorial approach to your story at hand, and the look and feel of your movie?
I've been focusing a lot on trying to edit/color the look, and find the feel. I'm all about foreign films and 1970's films, so I've been putting in 70's films during, before, and after editing to try and really let it sink in and feel like it came from the 70's (but a present day story, since of course we couldn't afford to make it a period piece). The rawness of the character, the look. Like if Bad Lieutenant were made during the time of The French Connection on no budget. Something like that. I don't want it to be like a Tarantino 70's film, where he's so in love with 70's films that he's basically worshiping and paying obvious orgasmic homage to them (nothing wrong with that though). I want it to simply be a 70's film, know what I mean? Take away the film geek part and make it like you would back then, like you're living it, not re-creating it. Be dangerous, roll with it, run and gun. Don't make it look like you are, actually do it. And that's pretty much how we shot it. The approach while filming was constantly re-arranging what we're doing because we don't have the money to do this, we lost this location, we lost this actor, we gained some new actors, we have real drug dealers approaching us while filming a drug deal, hell let's use them, shit the cops are watching us, our lead actor was recently in prison for drugs, we really might get in big trouble in a minute, let's move, shit we're getting kicked out of here, it's 3 in the morning, let's crash this person's house, we don't have a stunt guy, Kevin don't crash, is that real blood, this person just got hit. Basically we made a documentary with a made up story.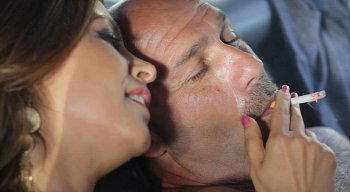 Do talk about your star, Hollywood veteran Kevin Gage, for a bit, and why him and what was your collaboration like?
I think this was the easiest and most fun collaboration ever. It was the hardest and worst shoot, but the best because Kevin was so great. He's just a great guy and made me feel confident to continue. Despite all of the problems we had, he got me through it, or I got him through it, so we got each other through it. At first I don't think he could believe what he was having to go through, but we had a minute talk, and we were on track. This is a guy who was used to having trailers to sit in while you wait, all kinds of catering, money, etc. We had no money for food, aside from a couple 5 dollar pizzas, no money for anything, not even a car to sit in, we had to hide from security, sit in the street in the middle of the night while trying to figure out where to move 15 people to next since the cops are coming to kick us out of this place, etc. And he was there every minute, supporting me the whole way. I've gotten worse attitude from an extra who had never acted in anything. He's just the way people should be when they make a movie, or do anything. Treats people right. I wish Ridley Scott and Michael Mann and all these directors he did great roles in would start putting him in films again, he's so worth it.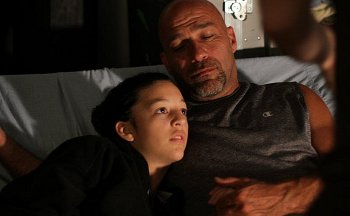 As far as why him for the role. He just has that character when you look at him. He's been through so much in his life, and I think it just shows. But not only that, he's got so much charisma and charm with the camera, so that mixed in with age and character, he's just a joy to watch. And this role I thought was just right for him. It was tailored to him. Usually he's not in enough of the film when his character is so great. Like in Heat, everybody loves him, cause he's so great in that character, but he's not really in that much, that's how effective he was. And especially in Con Air. Nicolas Cage kills him off at the beginning, but that was one of his best performances and we didn't get enough. So, I wanted to see him in something like that but where you actually get to see him deliver everything. I honestly wish I had more than 3-4 days to shoot because I wish I could have gotten so much more. But in the very short time we pulled quite a bit out of him. I basically wanted to see him release any pain or anger he was going through. It was just what the character was going through, only the character was just a complete fuckup.
Anyway, I would work with Kevin on everything if I could. We did like 5 projects together in a year, it was awesome.
What can you tell us about the rest of The Owl in Echo Park's cast, and why exactly these people?
Most people were last minute strangers to me, and it all worked out. People were able to just sink right into my improv way of doing things. I got to hand it to all the other actors, I mean they were getting slapped around, naked, screamed at, cursed at, all in a very real type setting with everything being improvised and no time to do it. I literally was telling people that when they show up they got 30 minutes to do their scene and get out so we can move to the next. And some people it was the opposite, they had to stick around for the whole day, or two days straight and wait til the timing was right then I'd throw them in for 5 minutes and say thanks and now we're moving on. It was crazy and these fresh faces to me (and even acting) were down to do it.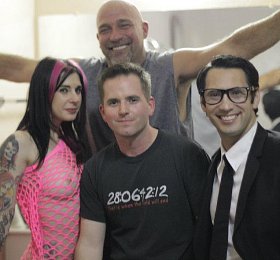 Joanna Angel, Kevin Gage, Shane Ryan, Aramis Sartorio
The people I did know was Aramis Sartorio [Aramis Sartorio interview - click here], a mutual friend of Sean Cain [Sean Cain interview - click here], who was also in it. Aramis did a scene with adult superstar Joanna Angel. And she had previously been in Warning!!! Pedophile Released, in which case she had to improvise as well. And Aramis actually works with Joanna all of the time, so they already had a working relationship. Aramis I didn't actually meet until he was showing his film The Gruesome Death of Tommy Pistol at Pollygrind. He's just another awesome guy, he helped me promote My Name is A by anonymous, and came on board as an associate producer, so I was eager to work with him as an actor. I'd seen him in Sean's film Breath of Hate. And Sean and I have worked on everything together. Sean co-produced Warning!!! Pedophile Released and was in it, and was also in My Name is A by anonymous. We also co-starred in some stuff together, and I had a bit part in his new film Jurassic Block, which Kevin went on to co-star in after he did The Owl in Echo Park. Aramis is also Jurassic Block, so some of this is a bunch of friends getting to work on each others films.
Then there's some families who were in it. Kevin's son plays his own son. His daughter is played by this girl, Alexis Hamer, whose whole family is in the film (not playing her family though). They play in another scene, as Kevin's former snitch family. Then Alex Damiano came over from My Name is A by anonymous to play a scene. And finally Kevin's wife he walked out on is played by Rose Stahl, who's married to Nick Stahl in real life. Rose got in touch when Nick was all over the news for missing, so I think a lot of real-life atmosphere and issues were brought into this film. I've been a huge fan of Nick's since I was a teenager and he handed over some very encouraging words when Kevin was being hassled by a certain somebody to not do the film, so that was cool. It would have been awesome to get him in the film, I actually wanted him to to play the role of Kevin's older son, but we never shot it, so I never got to ask. And Rose was great, I wasn't sure if she would be able to act or not, but she laid it in on Kevin as if they were really a torn family, and it was completely natural, so she was a nice surprise.
Do talk about the actual shoot and the on-set atmosphere for a bit!
Well, I think I basically covered that here and there: Totally hectic, everybody, like everyyybody, was totally fucking against us doing this movie aside from the people actually involved in making it. But everybody involved in making it stood by my side the whole shoot and went through it with me and delivered. The worst shoot, but the best people and most educating and thrilling experience.
Any idea when and where the film might be released onto the general public yet?
Unfortunately the only problem with the way we shot it is all of the shit I've been left in post-production because of it, so since I'm doing everything in post pretty much entirely by myself it's taking me awhile. So, wait and see. Hoping to enter it in fests when I'm done, but that won't be for at least several months and then you have to submit months early so we're looking at 6 -8 months minimum before the possibility of it playing anywhere. And then from there it needs to find distribution, and hell that can take 2-3 years as I've experienced with My Name is A by anonymous, but I hope sooner!
Any future projects you'd like to share?
I'd hope so. I want to be directing another film already, I think I need an editor - hell a crew - for next time, so I can start making 2-3 films a year instead of one film every 2-3 years. Funny, last interview I mentioned wanting to put Bianca Bree in a film, and just a couple months ago I ended up playing a zombie in a movie she produced/stars in, where I try to eat her and she ends up stabbing me. But I didn't get a chance to talk to her, just eat her, and would still love to put her in this revenge action drama I want to do. It's called The Birmingham Cycle, a sorta true story about these covered up murders that happened in my hometown involving this family. I also have this small artsy film I'm dying to do, I basically just need a camera. It's called The Bloody Penguin. Kind of hard to explain what it's about. Sort of like My Name is A by anonymous, I just have the idea, see it all in my head, but don't know how to explain it.
And I want to act. That's why I started directing years ago in the first place. So, I've been making small attempts at trying to get parts but with everything I've done and all of my connections I haven't been able to barely get dick, so trying to figure that out as well. I don't have money to drive to auditions or even sets when I get an unpaid part, that's one problem.
Your/your movie's website, Facebook, IndieGoGo, whatever else?

Feeling lucky ?
Want to
search
any of my partnershops yourself
for more, better results ?

The links below
will take you
just there!!!

Find Shane Ryan
at the amazons ...

amazon.com

amazon.co.uk

amazon.de
Looking for imports ?
Find Shane Ryan here ...
Something naughty ?
(Must be over 18 to go there !)

The campaign will be over soon and I didn't push it this time til just recently but you submit through my site as well.
http://www.indiegogo.com/projects/the-owl
http://www.madsincinema.com/the-owl-in-echo-park.html
https://www.facebook.com/shane.ryan.77
http://www.imdb.com/title/tt2393212/
http://www.youtube.com/watch?v=vWlwpkDCCpA&feature=share&list=UUJX7PxovtdL9jGlZkMnIZcw
http://youtu.be/F5F5AkApUlA
Anything else you are dying to mention and I have merely forgotten to ask?
Nope.
Thanks for the interview!
Thanks Mike.