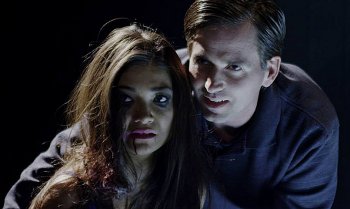 with Tommie Vegas
Your new movie The Interrogation of Cheryl Cooper - in a few words, what is it about, and what can you tell us about your character in it?
I'm actually not sure how without giving any of it away. I play Detective Ben, so at least I can say that I'm the detective in the interrogation...or am I?
It's a one-shot film, so I can definitely say that it was like doing a play, there was no room for error, no "cut, okay moving to the next shot." We had to get it right from beginning to end (which was 70 minutes straight). It's a very intense dialogue driven conversation between two people who would love nothing more than to tear the other one to pieces. It's a dance, really, with every thing, every move, choreographed. And we had like 3 days to get it all down before filming!
What did you draw upon to bring your character to life, and how much of Shane Ryan can we find in your sadistic detective?
Probably more than I'd like to admit. I didn't really have any time to get into character, I just had to become it. I got the script 6 days before filming. I had dialogue on every single page for half of each page! It's just dialogue back and forth non-stop throughout the entire film. About 40 minutes after I got the script my ex, who was still living with me, told me she had been dating somebody else. So, that really completely fucked my goddamn head up. After spending 3 days wanting to just say fuck life, I hate people, I hate movies, I hate everything about this fucking planet, I remembered I made a commitment to doing this. And I'm lucky to get it. Other actors really wanted this part. And I'm working with a director I grew up watching, and this part was just handed to me! Not even my own friends give me parts in films and I was handed the lead by a filmmaker who's films I grew up on, wishing I could be in, so fuck goddamn women and memorize your shit! So, I got on the bus to head to the shoot in Vegas the next day and just re-read the script the whole trip until I didn't have to look at the page anymore. But by that time it was time to shoot. Early on the first thing I had actually tried to do was think of my character but my friend Molly Wryn, who I directed in Warning!!! Pedophile Released, told me "no, memorize the script first, that's the hard part, once you get that down finding the character will be natural and easy." Plus, I've played this character before anyways. But I've never had to memorize more than a page of dialogue so memorizing the script was the only thing I needed to be concerned about. If she hadn't told me that I might have really fucked myself by trying to find the character first.
Director Albert Pyun had told me to watch True Detective and sent me some scenes from it for reference, but I realized that there was no way I should try to mimic this character, I need to find it and create it myself and see if he wants me to change anything, which he didn't, so I guess it worked! And I think that all of my anger I was feeling towards women that week, well, I just let it come out on co-star Tommie Vegas [Tommie Vegas interview - click here]. And I accidentally really hurt her by slamming her face into a glass table. I guess it was accidental. Maybe not. Sorry, Tommie.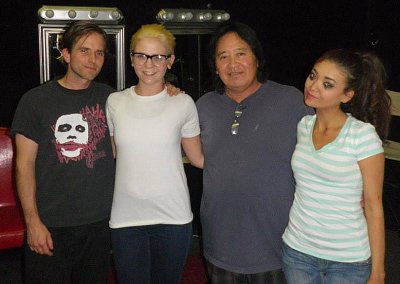 Shane, Brittany Bochart, Albert Pyun, Tommie Vegas
The only thing I really asked Albert about that I stole directly from another actor and wanted to try out was when my character really lets out his creepiest side - I was borrowing from a particular way Nick Stahl delivered just a couple lines in the film Bully. I thought he was so brilliant in that and especially creepy in these few lines. I tried it briefly for one take and then Albert gave Tommie and I a chance for another take so in between takes I asked Albert if I could really go for that impersonation. He hand't seen the film but said sure, go for it. So in the second take I really let it out, but that's not the take in the film, unfortunately, though it was my favorite take as an actor. But I totally copied that from Stahl's performance.
How did you get hooked up with the project in the first place?
All thanks to Chad Clinton Freeman of PollyGrind. I've known Chad since 2006. He's one of the first people to get behind me and my first film Amateur Porn Star Killer. I've been a part of Pollygrind every year with a film as either an actor or director and a couple years back Chad started working with Albert Pyun doing screenings and stuff and I did a panel with Albert at Pollygrind in 2012. So when Albert came up with The Interrogation of Cheryl Cooper, he asked Chad if he had recommendations for actors, Chad recommended Tommie and ne, along with half a dozen other actors. Luckily, Albert decided to go with us, and I think we were a great match together, so I'm glad it all worked out perfectly somehow.
The entire film was shot in one single take - how much of a strain was that for you as an actor?
Aside from freaking out about memorizing the lines I absolutely loved it. Then again I've done this multiple times with my own films, the one-take thing, but those were all improvised and I was also directing. But as just an actor and with a script, I can say it was the best experience. I'm much more of a method actor and this way you really do get to become your character. Not always an easy place to come back from with these types of characters, which can be a little straining, and if this were a play I acted in for several months at a time over and over and over then I'm sure it'd be too much on my psyche, but as a quick indie film shoot it's the way to go.
What can you tell us about your director, the legendary Albert Pyun, and what was your collaboration like?
I wish it had been a longer shoot, actually. The thing about working this way is that we don't see Albert during the whole shoot, only before and after. So it's not like you do a minute take, or shoot for a day and get feedback at the end of the day, or get direction between scenes, it's all up front. And I think that what he had been planning on was let us do one take, see how we are, give us direction, then do another. But, and I guess the good thing is, is that he loved the first take, so there wasn't much direction to give, really. He had to oversee everything at the beginning, pick the right people for this type of shoot, and just sit back and let us do our job. Which, indeed, is the director's job; picking the right people and letting them do their job. Plus he had just recently been diagnosed with MS so this was an experiment for him as well; to see if he can still direct while battling this disease, meaning he had to take it easy and make it an easy shoot for him. But all in all it was a perfect collaboration, he let us invent our characters based on the script, and just let us bring it. At least for me. Perhaps he and Tommie talked more about her character, especially since her character had already been portrayed once in another film of Albert's. But the only time I really discussed anything with Albert about my performance was blocking the scene, and then borrowing that performance of Stahl's from Bully, and giving Albert an example of that. Plus the couple notes he gave me upfront about True Detective. So, really, I'd love to work with him again, because it was so easy and perfect, and also so I can actually see what he's like to work with, I still don't really know! It's a bit of an enigma, really.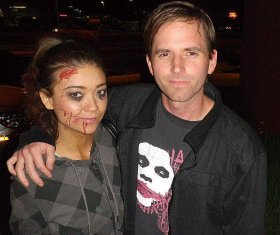 with Tommie Vegas
You also have to talk about your co-star Tommie Vegas [Tommie Vegas interview - click here] for a bit, and what was working off her like?
Now Tommie and I were the ones working together the whole time so that I can tell you in detail about. To put it simply, she was a pro. On time, ready to work, script in hand, no attitude, no bullshit, strictly an actor. I'm not sure how many of these people actually exist. Kevin Gage is another. They're a rare breed.
It was really nerve wrecking before meeting Tommie because I had no idea how we would get along. I met her the day before rehearsal, just on our own terms because we both were so nervous about getting the dialogue memorized. At that level it's not even about memorizing but about chemistry big time. Knowing your co-star, knowing how much time they want between lines, not cutting them off, not giving them too much time that your following line gets lost; again, really, it's a dance - you must be coordinated with each other. And neither one of us had ever done this before. So when we met, things felt a lot better, we went over the script, though both of us were still freaking out about it. We rehearsed the next day which was really just blocking. It was only then that we met Brittany Bochart, the other actor in the film who shows up later in the movie. So, at that point the 3 of us hung out after rehearsal to again try and get coordinated together. Then the next day we shot it.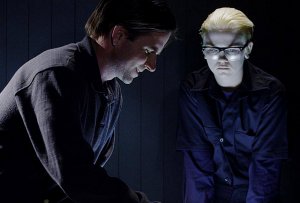 with Brittany Bochart
There was one take when I forgot some lines and Tommie carried me, and one take where Tommie forgot some lines and I guided her through it, it was totally 50/50. A very mutual collaboration. We had to know when the other stumbled and pick each other back up without anyone else noticing. Make it part of the film. You gotta be totally in sync for that, and that we found that in each other over the course of just a day and a half means it was simply meant to be I guess. And that we both were there because we really wanted to be there and get it right and do a good job. No diva bullshit, no money motivations, no favors pulled in, we just wanted to work and get it right, and I couldn't have been more happy with a co-star. I've had to put up with lots of bullshit and Tommie was as far from that as possible.
What can you tell us about the shoot as such and the on-set atmosphere?
For how small it was just being in one room, one location, it still felt like a big shoot. It was at a studio, with our section designed to look just like an interrogation room, sort of a futuristic one. I thought it'd be just Michael (the cinematographer) with a simple camera on a tripod, just a static 2-shot of us, but he had this big setup shot with an amazing Red, a huge dolly track, very specific and brilliant lighting, all the mics and sound set up a certain way. It was technically far beyond my comprehension given my run and gun shaky cam DV upbringings. And it was as easy going as one can get. I was sad it was such a quick shoot, I wanted to stay much longer.
Any future projects you'd like to share?
Well, still editing The Owl in Echo Park [Owl in Echo Park interview - click here], been a tough one. Shooting God Got Ill, prepping for Ted Bundy Had a Son [Ted Bundy Had a Son interview - click here]. Doing some acting and producing for Samurai Cop 2: Deadly Vengeance. My Name is A by anonymous [My Name is A by anonymous interview - click here] finally came out last month. I might be directing this film called The Madam in a few months, most likely with Bai Ling in the lead and talking with Dominique Swain for a supporting role. Trying to get more acting work, still working on the script for The Birmingham Cycle, and looking for an actress for Burning Jupiter (again; this film has been impossible to cast and all we need to shoot is a fucking actress... well a good improv actress who doesn't mind a film about sex and fucked up relationships). Hoping one of these motherfucking projects just really takes off!

Feeling lucky ?
Want to
search
any of my partnershops yourself
for more, better results ?

The links below
will take you
just there!!!

Find Shane Ryan
at the amazons ...

amazon.com

amazon.co.uk

amazon.de
Looking for imports ?
Find Shane Ryan here ...
Something naughty ?
(Must be over 18 to go there !)

Your website, Facebook, whatever else?
https://www.facebook.com/shane.ryan.77
http://www.imdb.com/name/nm1546474/
Anything else you are dying to mention and I have merely forgotten to ask?
The world premiere of The Interrogation of Cheryl Cooper is on Thursday,! October 30th, 7:30 pm in Las Vegas. Get your tickets here: http://www.eventbrite.com/e/pollygrind-5-victory-night-tickets-13906256989
Thanks for the interview!
Thank you.