Your new film My Name is A by anonymous - in a few words, what is it about?
Coming to terms with what you might have done. Figuring out how you got there. Searching to find out why you are the way you are. Discovering what you're capable of.
The film is said to be "inspired by true events". Would you like to comment on that?
So much to comment on. Most of what I make is based on something real. Then again everything created is in some way inspired by something that happened or didn't get to happen in the artist's life.
The Amateur Porn Star Killer-films were heavily inspired by Ted Bundy. Warning!!! Pedophile Released was based partly on co-star Kai Lanette's [Kai Lanette interview - click here] time being homeless and the time I was arrested for a crime I didn't commit and almost convicted (though I should add I never was involved with a 12 year old at the age of 18, it was something totally different but helped mold the idea of asking the question "who is a perpetrator and who is a victim" and the fine line in between). Then there was the disaster that would have been Abducted Girl, an American Sex Slave. That was inspired by everything I knew about what went on with human trafficking. Then I made the mistake of quietly announcing that the Jaycee Dugard case helped me mold the story, and as some know this bitch reporter got a hold of the story, completely twisted it, and then nearly ruined everything I spent my whole life working towards. But that's another story. Sort of. It's because of her that I actually dropped the project (temporarily, but I will not give up on telling a story about trafficking because that needs to be heard). And instead fucked myself again by making a movie inspired by an accused killer, instead of a rescued victim.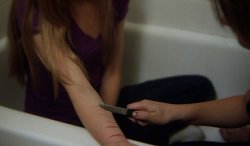 My Name is A by anonymous, I should add though, is not a true story, but as put, inspired by a tragic event. I saw a story about this 15 year old girl who had strangled, stabbed, and choked to death a 9 year old girl from her neighborhood. What grabbed me was the way the media latched on to this. They sensationalized it the way the film Natural Born Killers portrayed the media (and the way I saw Columbine sadly sensationalized, which is what really brought back memories for me and why I originally called it The Columbine Effect - the way the media covered Columbine was what made me quit watching TV). Some of these reporters reminded me of Robert Downey, Jr.'s character in NBK. They would get all hyped up and intense with this fake emotion like they gave a shit about what happened with Elizabeth and Alyssa when in fact they probably just got handed a paper minutes earlier and went "wow, what a great story." I've spent nearly two years deeply involving my emotional state to tell this story and handle it with total care and concern, though if any media picks up on it I'm sure I'll be labeled as making an Alyssa Bustamante slasher porn vomit gore film. But back to these sleaze bag reporters. One reporter made fun of the accused teen killer, Alyssa, for trying to kill herself by scratching open her arms with her finger nails, saying she just wanted attention. That's what got me, I think. Whether this girl did it or not, this is a child we're talking about. What if she didn't do it? You sick fuck media so-called journalists, fucking so-called grown-ups, making fun of this little girl for trying to rip open her arms so she'd bleed to death? What the fuck is wrong with this situation? This girl was known for being depressed, for having tried to kill herself when she was only 12 or so years old. She obviously needs help. And putting a kid on prozac, popping them with pills, is not a cure. Many times it makes things worse. And if the reporters didn't notice, the way they should be observing things, is Alyssa's popular picture, where she's clawing at the camera, shows numerous self-inflicted wounds on her arm. That's what really made me want to make the film. I have, on my left arm as well, in the same spot, the same amount of scars from self-inflicted wounds. It's not a cry for attention, it's a serious need to relive the emotional pain you're in. And unfortunately, it works. So you keep doing it, and the scars keep building. I just felt that immediate connection to her. And wanted to tell a story about a girl who cuts herself, who might have killed somebody. But that's about all that is true. I felt I needed to spend time with this story and this girl because I actually felt a connection and care, and sadness for both girls, unlike these evil media vultures who will most likely attack me and make me look bad if they ever pick up on this film when really they don't give one shit and should look in the mirror and be goddamned ashamed of what they see. Sorry.
Anyway, we based it on the pictures we saw, and on the fact that a little girl was murdered, everything else is made up, and not meant to side with either family, or claim Alyssa's innocence or guilt. And it shows Elizabeth in a very bright, full-of-life light. Regardless of whether Alyssa did it or not, has remorse if she did it, etc., doesn't take away the fact that a 9 year old child brutally lost her life, and that I felt was incredibly important to show. That's why there's that long grieving sequence in the film. To me, it matters. Everything about what happened is tragic, is sad, is a loss.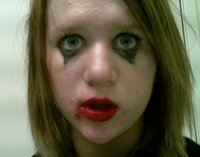 As far as Alyssa's innocence or guilt, I believe both are possible. I don't buy into a self abuser harming another person, that's not likely to happen, though it could, so I don't rule it out either. But there are many things that weren't brought up in the mainstream media (there never are, those fucks are completely full of shit) and it led me to greatly believe that this girl could be innocent. But either way she had a bizarre life, and wasn't in the best state of mind. So, the film explores many ideas. Some based on what I read, some based on what I believe, some based on what others believe, some based on theory, some based on complete fictional storytelling.
Other sources of inspiration for My Name is A by anonymous?
My cast and crew. And my subconscious.
Well, that and being dumped. I really think that changed the film. I shot it before I was dumped but weeks later my relationship was over and boy did I fall completely the fuck apart. Since editing is my background and many times where I really mold together the idea, I'm sure if I hadn't been going through a breakup the film would have been much, much different. It probably came out better this way, since great art sometimes comes from great depression in the artist. I thought I had been majorly depressed when I was younger being beaten at school everyday, when I was in foster care, when I buried my grandmother who did much of the raising of me, when I was dumped before, when I was arrested and accused of something terrible I could never conceive of doing. But no, all that shit combined wouldn't have prepared me for how I felt after this break up. It was that bad. And I know that the movie came out the way it did because I literally had no desire to live anymore when I was editing it. I even started severely self abusing again, and watching it onscreen in the film over and over sure didn't help, I was completely fucked. I didn't see daylight for about 6 months I think. I'd be awake all night, sleep all day with the windows blocked out. I literally saw no sun for half a year aside from about 10 minutes. Normally I work at night but would still see several hours of sun a day, but I just couldn't face anything, other than the film. I only hung out with people maybe 5 times that whole time. I was in total isolation, misery, and depression. I think I completely broke down at least once in front of each family member. But for how goddamn bad things were, it probably saved the film. Either that or killed it, just depending on who sees it and what they think I guess. I can say I never feel like having a goddamn girlfriend again.
How would you describe your directorial approach to your subject matter, and what triggered you to use non-linear storytelling techniques?
It was weird because I was just directing. My first time making a feature without being an actor in it, so I found it to actually be quite relaxing. Though I don't think anybody else was, as some put, it was quite exhausting. We had four days to shoot the whole thing. But I've been trying to act in other people's films and not act much in mine if at all and it's been so great doing that, because you get to just focus on acting or directing, so it feels, for now, so free and less stressful.
Originally I was going to shoot this like Amateur Porn Star Killer. Just a couple of actors, do it on a small camcorder, mockumentary style of Alyssa documenting things leading up to the murder. Hopefully shoot it in a day or two. No money at all. But then I asked Alisha Rayne if she wanted to help me produce it and it quickly grew into a bigger project. That happened with Warning!!! Pedophile Released. I was going to shoot it the same way, like a video diary, but then Sean Cain [Sean Cain interivew - click here] approached me about shooting it on an HD camera, adding ideas and characters, and it became a bigger project (though big for me is still somewhere around the lowest budgeted feature films ever made with no crew). I'm used to running around and shooting without permits and money, so I can't really say my approach was anymore than, "okay, let's shoot here next, in this scene you're doing this." Though this time we had 10 to sometimes 15 people with us so running around became a challenge but one of the moms had a big SUV that fit most of us, so it actually wasn't too bad, we lucked out. I guess the big thing was just prepping the actors beforehand, giving them enough info to know what kind of characters they were to become, or, in some cases, not giving them much info at all and letting them bring themselves to the character because I liked their approach just as who they were.
I'd like you to talk about your four leading ladies and their characters for a bit. And how did you get these girls?
They all came through casting notices and then referrals.
Katie Marsh as Alyssa, the loud-mouthed teen?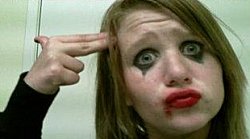 I saw multiple girls for Alyssa, actually everybody came in for Alyssa because originally it was just going to be Alyssa's character, in which case it required nudity so I needed somebody who was 18 but looked 15. Katie was only 14 but I decided to see her anyways in case I could shoot without the nudity and when she came in I knew I had to use her. She was the right age and resembled her so closely. Of course, people who knew Alyssa are complaining she doesn't look like her but most actors look far different than the people they're portraying. If you look at the re-creation pictures Katie just nails the idea of her. That's what her character basically is - is the media's idea of who Alyssa was. All we see are these loud-mouthed videos of her, these crazy photos, it's so one-sided. If you dig beyond the mainstream media you see a sweet girl, a caring person, and also somebody in need of help. So, Katie basically portrays the media's idea of her, and Katie really did her homework and looked up everything she could on Alyssa and brought everything the mainstream media put out on her. Her character, her portrayal of Alyssa, is what the media wants us to see.
In real life Katie is quite different than that. She's very polite, calm, not foul mouthed or spazzing out. She did a great job.
Demi Baumann as Alyssa's quiet sidekick?
What started happening is instead of using one character to play Alyssa, I saw that multiple characters could play/portray/be different sides of her. Demi was only 13 but still had a resemblance of Alyssa in a quiet way. Demi comes from a showbiz family. Her brother, Ken, stars in the hit show, The Secret Life of the American Teenager, and her mom, Vicki, is an acting coach and make up artist, and that's how we ended up with Demi. Vicki was Katie's acting coach when Katie was in town and Katie had shot some videos with Demi when she was preparing for the role. She sent me the videos and I saw Demi, and was like, "Who's this girl? We need to use her, too!" So, as usual, my ideas started flowing, and once Demi was on board, I knew I needed to expand on this idea of having multiple girls and characters portray the idea of Alyssa. Sort of like the opposite of Hollywoodland. Adrian Brody's character, the main character, was made up but the idea of him was real, using multiple things/situations from real people/events and molding them into one character. I took one real person and decided to expand her into 4 characters. And just like Hollywoodland it's about a real crime that was open to interpretation, so a similar idea, though totally different movies. Each character in A is pretty one-dimensional but all 4 girls together are a spectrum of personalities and emotion. Demi was the quiet, reserved part I saw in Alyssa. But also the side that you think is perhaps normal though underneath something is boiling and could overflow at any time yet instead she might let out little sparks here and there to stay calm and let others do her dirty work.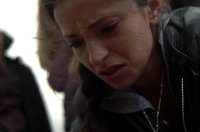 Teona Dolnikova as "the performer" - and how did her wonderful Russian song find its way into your film?
When I saw Teona I was in love with her as a performer. I thought she was incredible. And when somebody speaks or sings in another language it just draws me in even more. I knew we had to use her somehow. Originally I think she applied to be in Abducted Girl but I asked if she'd be interested in My Name is A by anonymous. Then when I looked her up and saw what a star she was in Russia I couldn't believe she'd do my non-budget little movie. At first I didn't think we'd get her because she was so busy and I almost lost her but insisted we need to figure out a way to accommodate her schedule. I actually think she's far greater than you get to see in the movie. She's got so many other songs, performances where she really shines (not that she didn't in My Name is A by anonymous, but she's so much more amazing on stage) that I wish we had got to showcase, but either way it was great to work with her. And I would any day in the future. We've been trying to work on more films to do together but it's just very hard between getting everyone together, finding even the smallest budget, etc.
As far as her performance in the film, she's the caring part I saw in Alyssa. She's the dreamer. The one who wants to be happy, for people to be happy, for the world to be happy. She's the side of Alyssa that if anybody was going to kill a child she would be the one to do it to make sure it's the best way for her to go. She would be the one who would want to carry all the burden and grief so others don't have to. She's a very passionate side. The one who believes somehow everything has got to be okay, even if she knows it's not possible.
Alex Damiano as "angst" - and what can you tell us about the worrisome condition she was in when filming My Name is A by anonymous, and how's she doing now?
Alex we cast at the very last minute. We saw 3 girls who could play that particular character (again, everybody came in for Alyssa but everyone had different looks so we put some into the category of actually looking like Alyssa, like Katie did, some into a more goth category, like Alex, etc). Actually I had talked to Devanny Pinn, who I know has been interviewed by you [Devanny Pinn interview - click here], for this character but she was filming something else and unfortunately couldn't do it. I had pretty much decided on another girl who I liked and had a great meeting with. Then we met Alex very last and I really liked her but was conflicted because I had such a great rapport with this other girl. But Alex fit the part much better and Alisha pushed for her and she really was the perfect choice.
This side was the character who really gets the worst of every situation. She's the one who's at her emotional end, the one you could see killing somebody at any time out of all the rage. The abuse has gotten to her head and there's no turning back. She'll do anything she can to detour her thoughts from the pain in her own life. She's the only one you can see having a real reason to hurt somebody else and actually going through with it and not regretting it because there's just too much rage in her.
As far as working with Alex, I had some worries. She got very method in many parts to the point of causing some panicky moments for us. I'm sure you can tell from watching the film there are some real moments of certain things in there. It was quite disturbing to shoot, I'll tell you that, as if we were shooting a documentary and watching something tragic play out. I believe she's doing well though, I hope, and she's quite sweet, and really brought it.
During the making of My Name is A by anonymous, which character have you grown the most fond of, and how much of yourself did you put into each of your characters?
I'm fond of all the girls in different ways. Maybe partly because I respect each performance for how different they are. Katie's loud and aggressive attitude just makes me smile sometimes. Not the idea of somebody behaving that way but just that she nailed it as an actor, plus I do tend to get very hyped up a lot but not like her. Demi I connect to as being a fairly quite person myself (the opposite side of me when I'm not hyper) in many ways. I feel there's more going on with her than what you see. I don't think she's quiet because she's boring or has no depth, there's actually a lot to her underneath. I saw either some artwork or photographs she took that were quite striking, very creative, and I think you can really feel that in somebody. You can feel it in their performance, even if their performance is quiet, subtle, and you can see it in their face and expressions. Alex I connect to because I do have lots of rage in me, I mean, listen to the way I get sometimes. I have a huge rebellious attitude towards the system, the courts, the media, everything that's happened to me when I was younger. Things that happen now. If I were crazy enough I'd want to burn the goddamn system down, I'm furious inside about a lot of things. I just don't express myself the way Alex's character does but I sure as fuck feel it. But deep down I'm the most found of Teona's character because that's the only true, good-hearted character in there (aside from Elizabeth). She tries for a better place, as do I, but constantly fails, which I feel like everyday. But for some reason we try again the next day. We just want everything to be okay, even if it's not possible. Plus I've always wanted to be a singer and a painter and she's both. I rather do either or both of those than make movies. I have the need to express myself immediately and film you have to wait months, years, decades, to express that idea, and you have to depend on dozens, maybe hundreds of other people. And most of the time it never even happens. That's one reason why I end up just grabbing a person or two and film with no money, just to get something done. I envy the painters, the singers. They can get something done with a brush, a guitar, simply their vocal cords.
You also filmed with two kid actors, Kaliya Skye and Joseph Marsh. How easy or hard is it to direct kids, and to cast them in the first place for a rather bleak picture just like yours?
Four kids, actually, since Demi and Katie were just 13 and 14 years old. I've worked with kids a couple of times before, it's always been pretty easy. The only time it was hard was with Abducted Girl (and it wasn't really difficult just minor things). I shot concept trailers with then 13 year old actress Lia Marie Johnson. She was great but it was the one time I used a script with a child and she got it the night before and had a ton of dialogue. So, there was too much pressure on her. And there were many words she didn't know, which is what was the bleak part about it. It's an anti trafficking film but it's how she learned the word "pornography" which I had to teach her how to say because she just couldn't pronounce it. Now that didn't sit too well with me, even though the whole point was to bring awareness to an issue, and she would have learned it probably any day after that anyways heading towards high school. But there was a little bit of awkwardness there. She did great, though.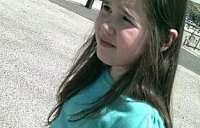 Kaliya Skye
With My Name is A by anonymous there were lots of harsh words but one thing which made it easy was that Katie and Joseph actually are brother and sister, so it was all fun and games. No hard feelings. And that's how I ended up with Joseph, he came when I met Katie and Alyssa actually had a brother (coincidentally named Joseph) around the same age, and Joseph was also an actor so I asked if he'd want to be in it, too. And Katie and Demi are young but old enough and professional actresses and know it's just pretend. Kaliya had to get bloody, but again, it's no different than putting on make up for Halloween. And Kaliya was referred by Vicki, we got her at the last minute after we started filming. I had been checking into another girl but saw Kaliya and instantly thought she looked the part and she was great. The only part that was bad was that it was really cold, so it was more important to make sure the kids' health and comfort was okay. A few bad words here and there when it was all make-believe wasn't a big deal. Maybe the only thing that made it tough was having a parent for each kid therefore adding more people to have to run around with, but they made themselves completely available and they all helped tremendously, so the whole thing was just a great and easy going experience.
The kids, actually, were probably the easiest to work with. Kaliya is like a mini adult. She would just sit there and have a whole conversation with you. Like how Dakota Fanning was when she was little. It's not fake, like some think, it's not an act, some real young kids are just like that. They're smart and have a lot to say and can hold up their own with an adult. Teona is a foreigner, and Kaliya was just 10 years old, but they sat there in the diner and played out a whole scene without much direction or help at all. It went on for way more than I even used, and they had multiple scenes, and it flowed no problem for them, despite the age and language difference.
Your outdoor locations that show various stages of decay greatly contribute to the atmosphere of My Name is A by anonymous. Where did you find those, and what do you look for in a location?
Location is almost always the biggest character for me. If you look back at my first real short film, Isolation, you'll see. It was written around locations. So was Warning!!! Pedophile Released. Which normally always meant filming in Lompoc, where those films were shot, because there's so many locations like that. But everybody who worked on My Name is A by anonymous, aside from myself, was based around Hollywood. So, that seemed impossible for everyone to make the drive. But I have family in Valencia, which is only a few miles away from Hollywood. Except Valencia is a pitch-perfect mini-city full of fancy malls and housing areas, etc. So at first I didn't know what to do but I remembered Newhall (right next to Valencia) had the old school locations. That's were the first several minutes of Warning!!! Pedophile Released was shot. So, I went back there to see if there was more stuff like that, which would look more like Lompoc, and as you saw I found plenty.
One reason I felt it should look that way is simply because I love that look in a film. But since it was being partially based on what we saw in the media, well, that was also a very small town in Missouri, so a place like Hollywood or the city wouldn't suit the story. I just preferred people not know exactly where it was, like in Warning!!! Pedophile Released, people knew it was America, but had no idea where.
And I look for decayed locations. It has character. Lots of things have happened there. You see it, you feel it. There's all kinds of good and bad history in this building or that street, etc. I see a shopping cart in the middle of nowhere I take a picture. I wonder who left it there, why here, what happened? It just makes things a wonder, I guess. And it's tragic. This place is gone, fading away, it's dead inside and out, just like the characters. In Lompoc the locations I use are usually like that. The locations in My Name is A by anonymous were very similar but more deserted and isolated than run down. Lots of nothing. Another reason was to show the character and mood of kids trapped in nowhereland, where boredom can get the best of you. On top of depression, rape, abuse, the locations add the idea that these kids might be going crazy just from their surroundings, or lack of them.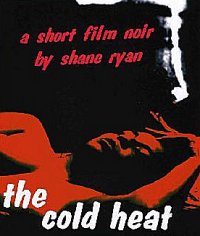 While your first handful of features, specifically the Amateur Porn Star Killer-movies, are plot- and character-driven, your later films, including My Name is A by anonymous, relie more and more on atmosphere. Any explanation for this?
Actually many of my first films were very atmospheric, though they were short films and not widely seen. Isolation, as mentioned, was one, and The Cold Heat, another big one. I guess when doing things mockumentary style, I've always been character/story driven because it's like doing a documentary on that person and their story. And the Amateur Porn Star Killer-films were all done in real time, or close to it, so all you had was that story and the character to focus on. Though funny enough when I set out with a story stuck in my head then it usually becomes driven by the atmosphere it's set in. Isolation and The Cold Heat had scripts, as did the recent T is for Tag, but they all focus on atmosphere, plus all of those were ghost stories in different ways. Warning!!! Pedophile Released and My Name is A by anonymous are about people not ghosts, but people trapped in sort of a ghost world, a place they can't escape, almost like their hell, or a form of purgatory, so their surroundings and the atmosphere molds who there are. I'm realizing this as I look think over everything so it's obviously a subconscious thing I've been doing but it makes sense now that I'm looking back at my last decade of work. Glad you asked. I think I understand my own style and my own self better all of a sudden.
For My Name is A by anonymous, you used the alias Bonéshin. Why?
Oh, man, gonna set me off again. It was a tough call, but I've been slowly putting my name back on it. Like doing this interview, for instance, obviously opens up that I made the movie. What happened was after I made Amateur Porn Star Killer, people think they knew me as a filmmaker. If I had made just one of those it probably wouldn't have happened but making 3 before I had anything else released is what did it in. People who liked my films saw me as an extreme filmmaker, or horror filmmaker or whatever. People who didn't like my films tried to place them in the horror-porn category, or just call them straight pornos, and assumed everything else I made would be the same. A big thing that hit me was when somebody reviewed Warning!!! Pedophile Released. They had a shorter version of the film which was only made shorter because it had to be cut down for it's theatrical release to fit the time spot. But because I made the Amateur Porn Star Killer-films, the reviewer said, "well, it must have been explicit penetration shots that were cut" or something like that. That pissed me the fuck off so bad. I mean, did that look like the kind of film that would have used penetration shots? Seriously? But because the Amateur Porn Star Killer-films featured some, it was assumed everything I make must. But what people don't bother with, is that I made about 50 films before Amateur Porn Star Killer, none of which featured real sex, more than half had no nudity at all. It was simply Amateur Porn Star Killer where I decided to show it because I felt it called for it. An established filmmaker like Lars Von Tier gets away with it because people are aware of his other work. Since people weren't aware of mine, and since I work on no budget, it's only assumed you're a pornographer, fucking ridiculous. When you have no money the world still manages to spread something on you, and it's called bullshit.
So, since My Name is A by anonymous only has a few seconds of nudity and not even in a sexual way, the last thing I wanted was these stupid fucking assumptions that because Shane Ryan made it there must be this in it, blah, blah, bullshit. I made Amateur Porn Star Killer on a whim because nothing else I made was getting noticed. The other big reason was the media, of course. When the story broke out about Abducted Girl, this piece of shit sorry excuse for a news site called The Huffington Post, said a Jaycee Dugard porn film was being made. Even though it was from an AP-release that called me a "low budget horror filmmaker" though I found both offensive. They could have said "independent" not "low budget" and "dramatic" not "horror". But either way it shows how corrupted the media is by changing the word "horror" to "pornographer". Again, the mainstream media only gives you the news the way they want people to get news, and it's not news, it's bull gossip, to get them ratings and make them money (and of course these things stated I was just trying to find a quick way to make money, yeah, like indie filmmakers make a goddamn buck you greedy fucks). Since I got the idea for My Name is A by anonymous from a real crime, I didn't want to hide where I got the idea from, but knew if my name was associated with it, and it broke loose, it would be the same bullshit from these scummy pathetic pricks all over again. And that still might happen. They don't care about anything. They don't invest themselves in these girls' tragic lives but they will do anything they can to make somebody else look bad when in fact they're the ones tragically exploiting them. I at least wanted to have the film done before a story broke out. If I had had the Abducted Girl-trailers done when the story came out it might have saved me a lot of trouble. But they came out afterwards, and, of course, the media wouldn't cover that at all, since the trailers clearly showed we were taking this film seriously, making it important and mean something about the issue of trafficking. Now that My Name is A by anonymous is finished I'm slowly revealing my name so at least if something happens, I can say, "here's the film, does it look like it makes fun of Elizabeth's death? No, it cries with it. Does it look like it makes killing somebody fun? No, it begs you to feel it for the tragedy it is. Does it give you a guilty or innocent verdict before Alyssa's trail even begins? No, it leaves it open to interpretation, the way the current state of things actually are." And, of course, it shows that it's obviously a fictional story (to those who are aware of the crime) but clearly was inspired by things surrounding something that really happened.
The $64 question of course: When and where will the film be released, tentatively?
That's about how much a submission fee costs! Lol. We've entered a few festivals, were hoping for a good premiere screening, been rejected by all so far. So we've been trying to raise funds to get it out there, hold a screening, after about 6 months we got 25 bucks. So, with that said, I have no idea. Right now we're approaching distributors but with no festival play and no big stars it's hard getting people to look at it, so we're stuck in the Catch 22 I'm fucked situation. Our last hope was to start getting out for reviews and get enough good reviews that we can go back to these distributors. So far 3 out of 4 great reviews, so we'll see. It's a hard film to enjoy, for obvious reasons.
Any future projects you'd like to talk about?
I probably shouldn't, I always jinx them! Trying, as mentioned, to put together a film starring Teona. Trying to work on another project with the Japanese girls from T is for Tag, Eri Akita and Mariko Miyamitsu, both really great actresses. Want to do some more foreign films, entire features, though. A French film, a Japanese film, a Spanish film. Trying to get more acting work, did a few things the past year but no features, sadly, short films and a music video but they were all great experiences. There's some other filmmakers I'd like to work with. Other countries I'd like to work in. Lots of stuff, we'll see if anything happens. Also trying to once and for all get some old films edited and released but they're so old I don't know if it's worth it. Have about 5 unreleased features, and a gazillion shorts.
Your/your film's website, Facebook, whatever else?
Ha, I had made a blogspot to keep the film off the Alter Ego Cinema site but doesn't matter anymore, you can check out both, I'll probably be adding stuff about the film to the AEC site.
http://madsincinema.blogspot.com/
http://www.alteregocinema.com/
Our indiegogo page if you want to help us raise enough to hold a screening or enter more fests, etc.
http://www.indiegogo.com/My-Name-is-A-by-anonymous
I finally let people talk me into joining Facebook. I hate it. You can add me here
http://www.facebook.com/profile.php?id=100002423021058
Anything else you are dying to mention and I have merely forgotten to ask?
Here's the stuff Teona did I really found amazing
http://www.youtube.com/watch?v=vzIbbew8Z3U (clock in at 2:28 till the end, she's at her peak)
http://www.youtube.com/watch?v=LoeQWRt2ygc
http://www.youtube.com/watch?v=fcJBfc29s6I
http://www.youtube.com/watch?v=BWnqKkQkEqI
http://www.youtube.com/watch?v=31lcE06Mzbo
And a music video for My Name is A by anonymous: http://www.youtube.com/watch?v=qFEQiVaNihQ
This all shows Teona's incredible range.
And, while you're at it, the shorts mentioned in the interview.
T is for Tag (2011) also shot by My Name is A by anonymous cinematographer Arturo Guerrero
Isolation (2001)
Part 1 http://www.youtube.com/watch?v=g_5cmcaqYjY
Part 2 http://www.youtube.com/watch?v=vTLPCm9ckIg
The Cold Heat (2003)
http://www.break.com/usercontent/2007/2/13/Sex-Film-Noir-225740

Feeling lucky ?
Want to
search
any of my partnershops yourself
for more, better results ?

The links below
will take you
just there!!!

Find Shane Ryan
at the amazons ...

amazon.com

amazon.co.uk

amazon.de
Looking for imports ?
Find Shane Ryan here ...
Something naughty ?
(Must be over 18 to go there !)

And some trailers for My Name is A by anonymous:
http://www.youtube.com/watch?v=JulWJ4QgGIk
http://www.youtube.com/watch?v=pR7YuSFM3cg
http://www.youtube.com/watch?v=qP9M9P36oS8
http://www.youtube.com/watch?v=83L-S7WXXhM
Also check out co-star Sean Cain's film, finally released, called Silent Night, Zombie Night [Sean Cain interivew - click here]. I'm a zombie for about 1 second, you can see me get my head blown off in the film, and also at the very end of the trailer.
http://www.youtube.com/watch?v=MOMo-GeXDWs
And co-star Domiziano Arcangeli's latest release, Virus X [Domiziano Arcangeli interview - click here]:
http://www.lionsgateshop.com/product.asp?Id=24235&TitleParentId=7054
Here's the music video I just starred in
http://www.youtube.com/watch?v=sQYnAEqMm6s
Trailers to my "released" movies. Apparently the first Amateur Porn Star Killer just went out of print. Better get your copy!
And one of the Abducted Girl concept trailers http://vimeo.com/9598212
Thanks for the interview!
Thank you, of course.