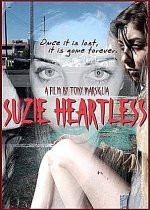 To help Tony Marsiglia fund his next feature, buy Suzie Heartless from his
Your upcoming film is called Suzie Heartless. Can you tell us what this movie's about in a few words?
Suzie Hearthless tells the story of the last few days in the life of a teenage prostitute. Most of it based on true stories from people I have known trying to keep alive on the streets of Los Angeles.
Honest difficult stuff.
People either love it or hate it.
Most hate it.
For me it's the best of all I have done - was finally truly free to make the film I intended.
Will it be an erotic film like most of your earlier work, and does it bother you that your films are usually labelled as erotica?
Yes - I do hate - not the word - it's a great word - but that or any - label. Woof - I mean, either a movie works or it does not.
I don't care if it's Disney or Vivid or Pop Cinema producing - either the film connects and holds the audience or it does not.
No easy task for all three.
When (and where) will the film be available?
End of this January through the Pop Cinema label and website. Ideally, lots of other places as well. Am waiting to hear from them exactly where. The world of distribution is constantly changing. I do not envy them - times are not nice to indie film makers and their producers.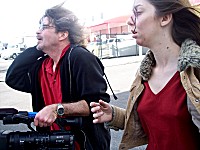 Tony Marsiglia directs
Wendy McColm
A few words about Suzie Heartless' lead?
There would be no film without it's lead actress - Wendy McColm. So beautiful, brave and brilliant. Without her, there would be no film.
Why she is not a household name I will never understand.
One of the actresses in Suzie Heartless, Andrea Davis, was in quite a few of your earlier movies as well. Would you like to talk about her for a bit?
The sexiest actress I have ever worked with.
Ever.
And the smartest.
Have tried several times to get a film produced with her as the lead - No go every time.
What is wrong with these producers?
In the past, you also cast Misty Mundae aka Erin Brown quite frequently, and got some of the best performances out of her [Erin Brown bio - click here]. A few words about her?
I honestly feel that Misty and I have a mutual respect for each other - which makes working together fun. Every film I have made with her is a revelation to me.
Misty can do anything!
Truly hope she gets noticed before it is too late for her.
Let's go back to your debut feature film Phoenix: What can you tell us about that one?
Phoenix was a mixed blessing of a film.
Please listen to the commentary on that DVD.
It remains the turning point of my life.
A few words about The Witches of Sappho Salon?
A great cast and crew - a clever script by Bruce Hallenbeck - undone by a low budget. The one feature I haven't viewed since the last cut was made.
With Dr.Jekyll and Mistress Hyde and Lust for Dracula, you re-interpreted two iconic horror stories in a rather unusual manner. What can you tell us about your approach to these stories and the resulting films?
The great thing about working with Mike Raso of ei Independent Cinema/POP Cinema at that time was the incredible freedom he allowed me in the making of those films. Mike Raso was and is a visionary for indie films [Michael Raso interview - click here].
I look forward to working with him again.
Soon I hope - and with Misty.
Sin Sisters on the other hand is a comparatively straight erotic thriller that actually seems a bit out of line with your other films. How easy or difficult was it for you to follow genre conventions?
Sin Sisters came from a suggestion from Mike Raso that I write and produce a film using Misty and her half sister. Since I have a sister of my own, I'd long cultivated the idea of a horror script involving that close a relationship. Took very little time to write - and played out as a fun vehicle for the sisters. Only difficulty was the time element - I believe that one was the shortest of all I have done - e.g. we did all the cabin scenes in one LONG day.
What can you tell us about the Nick Philips-inspired Chantal [Nick Philips interview - click here]?
Most tell me that it is the most 'cinematic' of the films I've made. Strangely, was a breeze making after the problems I had with Lust for Dracula - which we shot on film -- back to back -- with each other. I love what Misty does in that film (although her work in Lust for Dracula remains my favorite) - takes that archtype and plays it just on the fence of truth and farce -- no easy task.
Like all the films, time and money was always an issue - but Misty in the lead and Raso as producer behind me -- somehow we managed it.
Truly miss those days.
Your most stunning and disturbing film (apart from Suzie Heartless) so far was probably Sinful though. What inspired you to make a film like this?
Sadly, was largely a biographical portrait of two relationships in my life.
Both I miss and regret.
Can't watch that film anymore either.
Any future projects?

Feeling lucky ?
Want to
search
any of my partnershops yourself
for more, better results ?

The links below
will take you
just there!!!

Find Tony Marsiglia
at the amazons ...

amazon.com

amazon.co.uk

amazon.de
Looking for imports ?
Find Tony Marsiglia here ...
Something naughty ?
(Must be over 18 to go there !)

Have the script and am ready to shoot two films: The Xtra and Sprung.
Ideally will shoot both this summer - with Misty!
Your main influences as a director?
As a kid I never missed an episode of The Outer Limits - especially the ones that featured Martin Landau.
Thanks to DVD - I watch them weekly.
Others: The Usual Suspects.
Hitchcock - Lynch - Waters - Lean!
On the stage - Reza Abdoh - I feel sorry for those who were not able to experience his work live.
Your website, mySpace, whatever else?
I can always be contacted at reddogxie@yahoo.com.
A few words about Seduction Cinema, the company that produced most of your films?
The only ones who continue to still believe in me as an artist.
Without them I would be another anonymous filmmaker.
Mike Raso is the best.
Only wish he'd produce more Marsiglia-films!
Thanks for the interview!