Your upcoming film Wrath of the Crows - in a few words, what is it about?
The film is set in a dirty and narrow jail, Larry, Deborah, Hugo, Hernest and Liza, the prisoners, are obliged to suffer injustices from the guards and from their chief, the officer. Yet above all of them there is the Judge. Nobody ever saw him, but he is the one who sets the rules and he's feared from inmates and guards alike.
Suddenly, a new prisoner appears out of nowhere: Princess. She is a beautiful lady, dressed only in a crow feathers coat, shining, sweet-smelling, sensual.
Her appearance causes curiosity in the others inmates, but also envy, suspects and a deep sexual agitation.
In a very short time Princess reveals her dark and supernatural nature: she can move objects with the power of her mind and she is extremely strong...
You wrote the original story for Wrath of the Crows, right? What were your initial inspirations, and how did it grow into Gerardo Di Filippo's screenplay? And what was your collaboration like?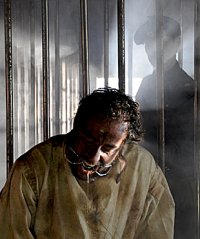 I wrote this short story a couple of years ago, right after the writing Iíve put it in a drawer and forgot about it. The story was divided by chapters and was about 12 pages, the title was The Prison of the Lost Souls. After almost a year I was reading all my old stuff and found this story - it was a true discovery. It was very interesting and I decided to send it to one of my scriptwriters, Gerardo Di Filippo. A few days later we were already on writing the script of Wrath of the Crows! Our work flow is this: Gerardo writes a scene and then he sends it to me, I correct and resend to him... Then we discuss the changes a lot. Gerardo wrote some amazing scenes that we were forced to cut out for budgetary reasons, it was hard at times to explain this to him, but at the end we found a great compromise and the final script was really great!
With Tiffany Shepis [Tiffany Shepis interview - click here], Debbie Rochon [Debbie Rochon interview - click here], Tara Cardinal [Tara Cardinal interview - click here] and Suzi Lorraine [Suzi Lorraine interview - click here], Wrath of the Crows features no less than four popular North American scream queens. Why, how did you get them, and what was your collaboration like?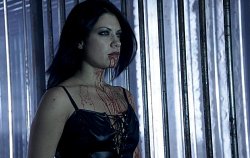 Tiffany Shepis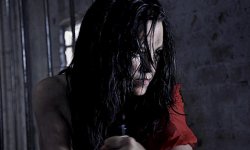 Debbie Rochon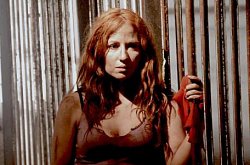 Tara Cardinal
The only reason Iíve called them is because I always want to work with talent actors and certainly they are. Tiffany Shepis is the perfect actress, every time you need her sheís ready with all the emotions you need for the scene. Itís incredible how fast she enters into the character, in every take she shows an outstanding performance.
Debbie Rochon is a true artist. I really love working with her because it is like digging inside of your soul. She deeply works with the character and we often discuss the role and the movie, not only on set but also during the breaks or in the car when we were moving from one set to another. Sheís a complex person and I have a great feeling for her. At the end, when she gives you the perfect take, itís really a touching experience.
Tara did an amazing job on set, especially with the dramatic scenes. She has a special talent when itís time to cry or work with emotional stuff. Sheís great with the stunts too, but the aspect I really love about her is the emotional one.
Suzi was another fabulous discovery, another ďmachineĒ that gives what you need exactly when you need it. She was fantastic on set.
I've read somewhere that Suzi Lorraine plays no less than four different roles in Wrath of the Crows. Would you like to elaborate on that?
It was supposed to be a secret but... hey, itís impossible to keep secrets in this world wide era. Iím kidding... Yes she plays four different roles and the reason is very simple: She entered on the cast after the main casting was closed and I was forced to assign her just one little (but very nice) role. I thought that was a shame and I decided to assign her some other small things relying on her great talent. It was the right decision. She transformed herself so well and sheís so different in any role that she'll be very hard to discover.
A few words about the rest of your cast and crew?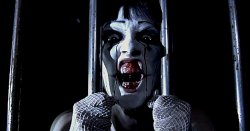 Suzi Lorraine
Iím glad you asked this question because Iím really proud of the whole cast and crew of this movie. The other actors are the super talented Domiziano Arcangeli [Domiziano Arcangelo interview - click here], Brian Fortune (another actor that works very well on an emotional level), Gerry Shanahan (that was great especially because he was blind in every scene due the FX-eye-lenses) and John Game (very young but a bright future ahead). At last, but not least, thereís the Italian ones. Iím proud of my Italian roster, and the names are Michael Segal (who plays the head of the guards and he is really nasty), Emanuele Cerman (who will surprise you all with his ďSpoonĒ), Giuseppe Gobbato (another super talented man who plays a nasty role) and the ever great Matteo Tosi.
I also want to say some good words about the FX guys: The staff I called was CreaFX from Florence (Italy) and they did an excellent job. I worked with them in the past on the film NyMpha but on Wrath of the Crows they improved a lot and showed talent and innovative techniques.
What can you tell us about the actual shoot and the on-set atmosphere?
The set was an amazing experience. The atmosphere was relaxed and very focused on the project. We respected the schedule without any delay. We shot the movie during the last summer, in August, for 5 weeks. I still miss all actors and all the crew members, canít wait to see them all to show the finished film.
From what I've seen, Wrath of the Crows tends to get quite brutal at times. So what are fans to expect in terms of violence and gore?
Itís very gory and brutal, but everything is tied by a strong concept and the whole story is focused on the characters' development, so thereís not only splatter sequences but there are also atmospheric moments, few dream-like sequences and a final twist that will shock you all.
The $64-question of course, when and where will the film be released?
The film is in post-production right now. We have some very complex visual effects to make and this will take some time to be realized. I can say for sure that the world premiere will be in Los Angeles in February/March 2013. After that the movie will be released worldwide.
Your last released film is the H.P. Lovecraft adaptation Colour from the Dark. What can you tell us about that one?
Iím very proud of this movie. When you adapt the work of a writer you admire, you donít want to betray him. I can say that I have never felt I've betrayed Lovecraft. Never. I have the maximum respect for him and his work and I think I have always respected him with my adaptations. Of course in adapting The Colour Out of Space I have changed some points of the story - I was forced to do this in order to fit it for the screen, but the atmosphere I've created is very close to what he wrote. When adapting Colour I didnít just focus on the facts, or only on the characters, but also on the mood of the tale. From this point of view I would say my adaptation could be considered very close to Lovecraftís idea.
I worked a lot on the look of this movie - from this point of view I must admit my first inspiration was the work that Mario Bava [Mario Bava bio - click here] did with color in the í60. If you look at those movies you can see how color was important as a storytelling tool. I tried to do the same with my film, Iíve used the color to tell the story in the right way. The film start with vivid cinematography, full of the colors of the nature. Then, after the evil originated by the well starts eating everything and sucks energy from any living creature, the colors become flat. I consider the whole movie just like a fade to black. The last shot in fact is black and white and very very dark.
During your filmmaking career, you have returned to H.P. Lovecraft time and again. What is it that fascinates you about the man and his work, and would you like to talk about your other Lovecraft-adaptations for a bit?
I love Lovecraft. But rather than his stories I'm much more interested in the man. I'd like to make a film telling his biography as the real story it was. His literature comes across feeling like a "stranger", an "alien" to this world. Something I share with him. My interest in HPL comes from this feeling, not much by the terrible creeping creatures but by what they really meant to him. Often I get more exited by how one story was conceived than by the story itself. And I appreciate his terrible effort trying to describe what cannot be described.
Any other films of yours you'd like to talk about?
Another movie Iím proud of is NyMpha. Iíve always been obsessed by Catholic symbolism, and here in Italy we are surrounded by it. Some icons or statues of saints are so weird they often inspire me with ideas for a new movie, and this is what happened with NyMpha. Looking to some paintings with religious themes you can see how violent was the Catholic Church was in the past and how many obscure and horrific a film can be with the same subject.
Going back to my Lovecraft adaptations I think that also The Shunned House deserves a mention. It was in the year 2002 and my screenwriter and I were looking for three stories sharing the same location but taking place in different times, so we came up with The Music of Eric Zann and Dreams In The Witch House, which shared the inn's location. Then we used The Shunned House to glue the previous two together. At first we were undecided between The Music Of Eric Zann and Cool Air, but in the end we selected Music because we think it's a better and visually more interesting story.
Any future projects you'd like to share with us?
Actually Iím developing a couple of projects, Sudarium and Sick Sisters. I think that one of the two will be my next film to shoot in 2013.
Almost all of your films are of the horror variety. A genre you are especially fond of and why (not)?
The horror genre is very important to me. I donít think that itís a marginal one. Horror films can dig on a several psychological aspect of the human being and can help us to face our fears. From this point of view we can say that horror movies have a cathartic function.
Letís say I try and juxtapose the two main elements which stir a human being's actions: instinct and mind. Actually Iím not attracted by the beasty behaviours of men, quite the contrary they scare me. But of course when you want to tell fearful stories it is natural to tell what really scares you, and thatís why you can find such primary elements in my movies. In Colour From the Dark for example, the ďmindĒ is well represented by Pietro, with his moral stiffness, his stubborness in trying to find a logical reason to all the evil suddenly threatening his family. At the same time Lucia embodies the wildest instincts, the reason getting overwhelmed by the most violent and grimmest drives. At the very end the reason will be squeezed by the evil driving everybody, degrading and corrupting everything.
Let's go back to the beginnings of your career: What got you into filmmaking in the first place, and did you receive any formal education on the subject?
It's something that grew up along with me. Since I was a kid I was fascinated by cinema. I really loved Sergio Leone's westerns. I remember planning to shoot a si-fi western, and starting to put down a plot. The real passion came years after, getting acquainted with the horror genre. I had always been scared to death of horror movies, but one day I decided to face my fears and watch the movies of the horror masters. I rented ten movies and closed myself in a room, alone with my VCR. I was impressed by Mario Bava [Mario Bava bio - click here], Dario Argento, Sam Raimi and John Carpenter. I was mostly interested in the technical side of Raimi's films and the visionary approach of Bava's. I decided I would make horror movies, because they would allow me to use a more creative way in shooting techniques. I fished out my father's old super8 camera and shot some very short movies, which I edited myself. It was fun, and very gratifying. Since then I've never stopped thinking and making cinema.
Your favourite movies?

Feeling lucky ?
Want to
search
any of my partnershops yourself
for more, better results ?

The links below
will take you
just there!!!

Find Ivan Zuccon
at the amazons ...

amazon.com

amazon.co.uk

amazon.de
Looking for imports ?
Find Ivan Zuccon here ...
Something naughty ?
(Must be over 18 to go there !)

I really enjoyed Dan O'Bannon's The Resurrected, based on The Case of Charles Dexter Ward. I saw this movie many years ago during a festival. I don't remember it perfectly, but it had a great impact on me. The title is impossible to find in Italy, since distributors don't take the genre very seriously. In spite of its not being inspired to any particular Lovecraft's tale, I loved Carpenter's In the Mouth of Madness. It's evidently Lovecraft-inspired and a very peculiar movie. It tells a lot about the workings of fear and has a powerful and original structure. But if you want to know which is the best horror film of all the time, to me it's Shining.
... and of course, films you really deplore?
I donít like the only-splatters movies and the so called ďtorture pornĒ. If by Ďmoderní horror we mean those hyper-violent action movies with just a few true horror elements, like the Saw saga for example, then I really don't like them.
Your website, Facebook, whatever else?
My website is www.ivanzuccon.com
My blog is http://ivanzuccon.blogspot.it/
My Facebook page is http://www.facebook.com/izuccon
Anything else you are dying to mention and I have merely forgotten to ask?
You asked me everything! LOL
Thanks for the interview!
You are very welcome!