What can you tell us about your film Won Ton Baby!?
Won Ton Baby! was birthed out of my own twisted hopes and dreams ...
To take you back to the begininning, I was working on a low budget horror short film, and I was playing a maid. The director asked me to speak in a sexy accent - he said I could speak in any accent, Spanish, French, whatever. So being the wiseguy (girl) that I am, I decided to speak in a broken Japanese accent, Mainly because it amused me, and the other actors. It sounded ridiculous, but was cracking everyone up. I was talking to the guy who was staying in the hotel room, saying, "Your room too messy! Messy! Messy!"... the antithesis of sexy, I believe! So I had so much fun with it, I told everyone on set, "One day I will make a movie, and in it I will speak with a bad Japanese accent!
So then during the scene where the maid gets killed, we are in the middle of a take, and my stomach starts growling like that demon beast from The Howling, so much so that it was affecting the audio and everything, and we had to wait for the "Beast" to subside. So we started joking around, and talking about lunch, and won ton soup, and all things Asian. Somebody said, "Sounds like you have a won ton baby growing in there" - we laughed some more, and I told him, "One day I will make that movie. And I will call it Won Ton Baby!". The devil baby will burst out of my stomach and go on a killing rampage.
We started going back and forth, and developing the rough idea for what became Won Ton Baby!.
I had always loved movies of that nature, such as Child's Play, Basket Case, It's Alive, you get the idea. So I thought to myself "Yes! One day I will make this movie." I figured it would probably be many moons down the road though, as I had no way to finance it. I figured it would be a pet project of mine maybe 10 or 15 years down the road when I had access to the funds to make it. So I kinda shelved the idea, or more or less kept it on the back burner ...
Then, about 6 months later, I was watching this show on the Discovery Channel about "fetus infetu"
Which tranlates to mean "baby within a baby". It's a rare medical condition that can actually happen. Instead of two twins in utero forming properly, something goes awry, and one twin envelops the other. The one twin is able to grow, but the other one doesn't develop fully, and acts as a parasite. When the strong/main twin is born, his brother or sister twin is still inside his belly, continuing to be a parasite. I thought this was remarkable. Incredibly interesting and fascinating. I've always been interested in genetics, and mutations. So this parasite is generally no more than maybe some teeth and hair and tissue. It's really grisly and gnarly. Sometimes the child carrying the fetus infetu can have a big extended stomach, and often the best approach is to remove the fetus infetu. So I thought about this show for several days afterwards, and started to brainstorm how I could combine my won ton baby with a fetus infetu. It just seemed to go hand in hand. Or fetus in fetu.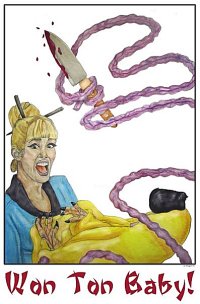 About 6 months after that, I was talking to my good friend James Morgart [James Morgart interview - click here], and I told him about my idea. He listened closely and intently for about 20 minutes while I rambled on about this concept. He loved it! He really got it, and understood the concept and the "dark humor" aspect of it it. He said, "We should make this movie!" I was like, yeah, right? With what money?
He said, "I can talk to some business investors I know, and see what I can do". A very short time later, James had found investors who believed in our project, and gave us the funds to make it a go. I worked closely with James as he wrote the screenplay. He would send me 10 or 15 pages at a time, and say, "Is this right? Is this on target with what you were thinking?" We would bounce ideas back and forth, but ultimately everything he wrote was beyond what I could have hoped for. I have since read alot of scripts, but I truly believe James is one of the best writers I have ever had the pleasure to work with.
We wrote one of the roles (the female lead) for Debbie Rochon [Debbie Rochon interview - click here], hoping that she would read it and say yes. We sent her the script when complete, and ultimately she became our Madame Won Ton. Madame Won Ton is the mother of Little Wing (who is the girl with the parasitic twin in her belly). She ran a brothel back in the late 70's but has since cleaned up her act, and is now a restaurant owner. Her daughter, Little Wing, works with her at the restaurant. Because of Little Wing's misshapen belly, she is subjected to much discrimination and scorn by other kids. They mock her condition, and accuse her of being a "retard".
When Little Wing's pain becomes unbearable, she is rushed to the hospital, where Gunnar Hansen (Leatherface from Texas Chainsaw Massacre) performs the surgery. Out sprouts a beautiful baby... beast
named Won Ton Baby. He has a long umbilical cord which he uses as a utensil and as a weapon. He has a big Elvis pompadour of hair, and he talks in a gravelly Asian accent
Little Wing loves her brother, despite his, uh, failings, and unusual appearance. He's covered in slime, and resembles a Sumo wrestler. Others mock Won Ton Baby, but Little Wing adores him, and understands the discrimination he must endure. When Won Ton Baby begins to kill, Little Wing turns the other cheek, and refuses to admit he could be capable of such horror. She defends her brother to the very end.
Sorry, but shouldn't that be Little Wing's son, not brother?
Nope, it's her brother. Because both she and Won Ton Baby are the same age. They grew in their mother Madame Won Ton's belly. It's just that Won Ton baby didn't come out of Madame Won Ton directly, as he stayed in Little Wing's belly (due to Little Wing enveloping Won Ton when he was still in the womb) and you would think that Little Wing was his mama, as she seemed to have "birthed" him - although a caesarean section operation, Gunnar Hansen style - but she is his sister.
Oh, of course, I guess Leatherface as a surgeon has just thrown my mind off course ...
You should see the scar he left ;-)
How would you describe your approach to your character in Won Ton Baby!, Little Wing?
I wanted to make her very sweet, flawed, and endearing. I wanted people to be able to relate to her, and also laugh with her. There are moments of slapstick comedy, as she's incredibly clumsy. I wanted people to feel for her when she was faced with the possibility of Won Ton Baby being taken away by child services
I also wanted to make her very innocent, unassuming, and unaware of the greater world around her. She lives a very sheltered existence, as her mom tries her best to protect her from the world and thereby hurtful people.
Based on your writing experience on Won Ton Baby!, will you ever be tempted to write another film?
I came up with the concept and story idea, but the writing of Won Ton Baby! is all James Morgart's work. After working on Won Ton Baby! I would definitely be introduced in producing another film.
In terms of writing, I do write for a few horror magazines, most of them European. Including Shock Horror Magazine in the UK, Virus Magazine in Germany, Blood Ceremony Magazine in Finland, and BioGamer Girl in the US.
But getting back to Won Ton Baby!, I learned that I'm definitely more of a big picture person - I really enjoyed developing the story, casting, promoting, marketing, attending film fesitvals, etc
In Won Ton Baby!, you star opposite B-horror veteran Debbie Rochon [Debbie Rochon interview - click here]. What was it like working with her?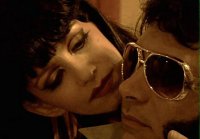 Debbie Rochon with Lou Martini jr
Amazing! In a word. I have been a fan of Debbie's ever since I began acting, and always looked up to her. She is one of the few indie actors who have had such longevity, and who keep getting better and better. She is a phenomenal actor, and even better than that, she is a sincere and wonderful human being. The reason she works so much is due to the fact that she is such a super star, and casting directors recognize her talents and all that she brings to a production. On set, she is very professional and prepared. She is also a cut up, and can be really silly and funny. I remember one scene in Won Ton Baby! where the puppeteers kept hitting her in the face with won ton's umbilical cord, and her expressions were priceless.
I worked with her on another film called Billy's Cult, and I remember one of the last days we got a little slap happy and decided to play a prank on the director Michael P.Lucas [Michael P.Lucas interview - click here]: Her character in that film, Detective Steele, was supposed to be tough and bad ass, but within reason. In this scene, she entered into my living room (I played the wife of the other detective), and she was supposed to begin talking to the detective. We decided it would be funny if she enters like storm troopers and acts really inappropriate. So during this take, she walks in, and pushes me out of the way so hard I nearly fall down. You have to keep in mind, we had done this take many, many times and were getting delirious. You had to be there! The things we do to amuse ourselves soemtimes ...
I'm going to work with Debbie on a project in Italy next month. It's a sci fi/action film called Solid State and it's directed by Stefano Milla.
What can you tell us about Won Ton Baby!'s director James Morgart, and that short you have done with him, The Legend of Suzi?
I've been friends with James, or as his friends call him, Jersey J, for about 10 years now. We met when he was casting a short film entitled Love, which was actually a dramatic film. J took a hiatus from film after making that movie.
He returned with the concept for Legend of Suzi. which was essentially an attempted rape/revenge story. He asked me to play Suzi. Go figure!
The movie is actually on a compilation DVD called Cult, which is being produced by scream queen Devanny Pinn [Devanny Pinn interview - click here].
Basically, Legend of Suzi is about a young professional on the straight and narrow, whose life is consumed by work. Her father passed away a few years ago, which left her with an incredible sadness. In her determination to please him, she began focusing on growing her career (at the expense of other aspects of her life). So she's this workaholic, almost machine-like, who has effectively turned her emotions off. It's a normal Saturday morning, and she's en route to work. She's intercepted by a would-be rapist, and this traumatic event sparks a major personality change/split in Suzi. The rest of the film deals with her coping with what (almost) happened, and deciding how she was going to handle the perpetrator. To say she goes bat shit crazy might be an understatement...
Let's go back to the beginning of your career: What made you become an actress in the first place, and did you receive any formal training on the subject?
It's funny how things worked out. I never dreamt of being an actor growing up. In fact, I was a bit of an introvert, and always shied away from any camera. Although, I've always had a passion/obsession for horror movies. I began modeling in college to make some extra money. I signed with an agency, and I began booking print work, and some limited runway (I'm pretty short at 5'7"). My agent suggested I take acting classes to make me more marketable. This way she could send me out on auditions for commercials and films in which they needed a model.
So on her recommendation, I signed up for an acting class, and fell in love with it. Who would have known? I think the last time I performed on stage prior to that was like 2nd grade, where I played the "Messenger" in an elementary school production of Cinderella. I only signed up for it because they made me, and I figured it would be fun to blow the trumpet. And every night I did. And every night it was offkey, and the audience would laugh.
So I'm in this Scene Study class, and realized how exciting it was to "become" someone else thru acting... I then began pursuing acting, and began submitting my resume specifically to horror production companies. It was funny, because, prior to one of my very first horror movie auditions, I was rehearsing, going over my script. It called for me to scream, and obviously react to the killer chasing me. I thought to myself, "Hmmm... Can I scream? I've never really tried." So I went into my room and let out a few high pitched screams. And I thought, "damn, I'm pretty good at this." LOL! So by the time I walked into the audition, I felt entirely comfortable screaming like a banshee!
So what can you tell us about your early days as an actress and your very first movie experiences?
In my early career, I did bit parts here and there, but I am particularly thankful to Sv Bell [Sv Bell interview - click here] for giving me my first juicy lead role in Cold Blonded Murder, in Montreal, Canada. This came about because I was friends with Isabelle Stephen, who is also an indie horror actress. She referred me to Sv, and he cast me. To this day, I am still really proud of that movie. It was my first movie with Sv, and since then, I believe we've done about 4 or 5 movies together.
You have so far been mostly in low budget movies, but you have also made an (uncredited) appearance in the Hugh Grant-Drew Barrymore vehicle Music and Lyrics. How does working on a big budget film compare to the work you're used to?
It was an amazing experience. I got an email from a guy named Scott Elias, entitled "Warner Bros casting". I read it, and at first thought it was a joke! I was like, Warner Bros emailing me? Yeah, right! Turns out Scott is the producer of Music and Lyrics. He told me they had gone thru thousands of headshots, looking for the perfect "Nurse" for the scenes with Hugh. He said they hadn't found anyone, and that they were holding final castings in the next couple days in NY. He asked me if I could stop by the set that afternoon (they were already filming on the upper east side). So I arrived, and sure enough, there were blocks and blocks of trailers, lighting, production equipment, etc.
I told a PA that I was there to see Scott, and they paged him. I met with him, and then met the director Marc Lawrence. Everything went well, and Scott told me they would be making the casting decision by Friday.
I heard nothing from them on Friday, and then by the time the weekend came around, I figured I had lost the booking. I get a call at 5pm on Monday, telling me the role was mine, and that I would be needed the next morning for rehearsals!
I was ELATED. I was on set for 5 days, just to shoot a very minor role. I had my own "green room", which I took tons of pictures of, hehe! You definitely don't get your own green room on most indie films. The hours were crazy, just like an indie film. We would have a call time of say 6pm, and then shoot thru the night and wrap about 4am.
It was quite surreal working with Hugh. He was super nice, and when Scott introduced me to him, he said, "This is Suzi, she'll be playing your nurse." And Hugh said, "Oh! Brilliant!"
When it came time for my close ups, the director told Hugh he could step out for a bit and take a break. Hugh said, "No. I'll stay here so that Suzi has an eyeline and someone to react to." I was like, wow! Hugh Grant is helping me act! How surreal is this? It was a very memorable and great experience.
My hair and outfit was very 1980's, and I remember Hugh lying on the hospital bed, and he would pose random questions to me - "Is that all your real hair?" And stuff like that.
Watch my scene at http://www.youtube.com/watch?v=xVkU8dDSC9w.
I'd like you to say a few words about a few films randomly picked from your filmography (and often based merely on the strength of their titles):
Bill Zebub's Skits-O-Phrenia and The Crucifier?
Bill Zebub is a riot. I was on the cover of one of "The Grimore" about 8 years ago. He has a great feel for completely un-PC, offcolor humor. I think Skits-O-Phrenia includes a skit I did with him about a cereal called Nun of Your Damn Business. In it, the girl kept asking the boy what he was eating, and he would respond of course, "Nun of Your Damn Business." The girl would get progressively more pissed off, and started hitting him. First with a slap, and then progressing to a frying pan... very slapstick
Satan's Schoolgirls?
I loved my character in that one! Sister Helen. Who had a penchant for S&M and corporal punishment. Very tongue in cheek and very funny. This was a Terry West film. I really loved the dialogue in this one. Great fun!
With my good friends Jimmy O and April Burril! Chainsaw Sally was complete by the time I came along, but Jimmy O wanted to add some extra gore and violence, so he wrote in a small part for me. We shot this in like 3 hours. I played Miss Busybee, a newsreporter whose curiosity got the best of her, and she was trapped by Chainsaw Sally.
Ryan Cavalline's Day of the Ax [Ryan Cavalline interview - click here]?
I really enjoyed this role, and working with Ryan and co. I played MaryAnn. My character was a backwoodsy type of girl, and I got to speak with a southern, almost Louisiana style accent. It was an interesting role to play, as MaryAnne was spiralling into insanity
Christian Viel's Recon 2022: The Mezzo Incident [Christian Viel interview - click here]?
I remember the gunshot blasts from that one. It was a bigger budget, and they had tons of explosions, gun fights, etc. The cast on set had to wear earplugs during the shootings. We shot this in Montreal, and I played a doctor. Very subtle, natural dialogue - nothing too theatrical for me in this one. I would love to work with Christian again.
Destined to be Ingested/Holocaust Holocaust?
Directed by Sofian Khan, who has a great eye for cinematography and filmmaking. I'm proud of this one for sure. We filmed in the British Virgin Islands (the cannibal stuff) and also in Vermont (the zombie stuff). We screened this film at a few international film festivals, which was great fun. Got to work with my good friend Ingrid Okola (who was the head makeup/sfx for this one).
Witchmaster General?
I got killed by Phil Lewis of LA Guns in this one. By proxy! He used voodoo in order to kill me, so it was literally a proxy killing. LOL! I relished this role - got to play a really nasty and obnoxious character. It's always more fun to play evil! ;-)
Any other films of yours you'd like to talk about, any future projects?
In July, I attended the New York premiere of Billy's Cult, directed by Michael Lucas [Michael P.Lucas interview - click here] and starring Debbie Rochon [Debbie Rochon interview - click here], Susan Campanaro and Lou Martini Jr. I play Mrs. Gates, the wife of Detective Gates (played by Martini Jr). The movie is great fun from start to finish. I had no idea what to expect, as I haven't seen Michael's previous work. I really think the horror fans are going to get a kick out of this one. It's non stop action and insanity, but also includes an intelligent storyline and characters you really feel for. It's a really fun and unique horror tale. I was really impressed by the passion of the entire cast and crew. They are doing this for all the right reasons. And they are tight and supportive like a family. A twisted and macabre yet loving family. ;-) http://www.billyscult.com/
I spent last month in Europe, filming Three's a Shroud with Dan Brownlie [Dan Brownlie interview - click here], and then continuing on to northern Italy, where I filmed Wrath of the Crows, directed by Ivan Zuccon [Ivan Zuccon interview - click here].
Three's a Shroud is a British horror anthology, much along the lines of Creepshow or Tales from the Crypt. I play a babysitter who decides to comfort a sleepless child by telling him horrific scary stories. It was a blast working with Dan and Co, and I can't wait to work with them again. Dan really has a knack for writing stories with a punch, and an unexpected "No he didn't!" twist. http://www.threesashroud.com/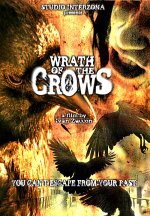 Wrath of the Crows boasts an incredibly talented cast and crew, including genre favorites Debbie Rochon [Debbie Rochon interview - click here] and Tiffany Shepis [Tiffany Shepis interview - click here]. This was my first time working with Ivan Zuccon [Ivan Zuccon interview - click here], although I had admired his work ever since I saw Colour From the Dark. I played 4 different roles in Wrath of the Crows, so it meant many hours in the makeup chair! Ivan wanted my roles to have some trivia appeal - can you "spot the Suzi"? She just keeps popping up throughout the film, under different disguise! I played the "Black Souls" (souls of Debby and Liza), Suzi (the wife of the murderer Skinny), Natasha (the hapless pierrot who works with Debbie's character, named Debby, who is a skilled knife thrower), and "Young Girl", another unfortunate girl who accidentally stumbles across the path of murderer and madman Larry. www.ivanzuccon.com
I'm going to Montreal next week to work with Geoff Klein on the sequel to the award winning Bikini Girls on Ice, entitled Pin Up Dolls on Ice, about a travelling pin up cabaret group (kind of like the Pussycat Dolls) who meet a maniacal gas station attendant named Moe. I'm thrilled to be working with Geoff again. Geoff is a horror fan who truly understands what horror fans want, and he delivers. Bikini Girls on Ice was one of the most commercially successful films I've worked on thus far. www.bgoifilms.com
Later this year, I'm going to Italy to work with Stefano Milla on his sci fi feature film Solid State. The film follows an American rock band touring Italy, as part of their comeback tour (kinda like Spinal Tap, but different). Their tour stops short when they encounter a deadly meteor. This is my 3rd film with Stefano. He is a brilliant director and has an incredible eye for cinematography and filmmaking. He is one of the few directors whom I would drop everything to work with. http://www.claang.biz/
As one can tell (not only) from your filmography, you are a big horror fan. To put it bluntly, why? And which kind(s) of horror do you prefer?
There's just something fascinating about the underbelly of society, and about things that go bump in the night. Horror movies to me are like a roller coaster. It's that thrill or high you get from the adventure, from being scared. It's fun. And in terms of watching horror movies, it's a vicarious thrill. Through the characters and events on screen, you can go to the most dangerous places, and be put in the most dangerous situations, but yet you're totally safe. Beyond that, it's just in my blood. I've gravitated towards horror films ever since I was 7 years old or so. I suppose you could say I was "imprinted" with the horror bug quite young. There's something quite compelling and interesting about the macabre. And also the evil that men (and women) do...
Besides actress, writer, model - any other talents of yours you want to talk about?
Much like a monkey, I can pick up nearly anything with my toes.

Feeling lucky ?
Want to
search
any of my partnershops yourself
for more, better results ?

The links below
will take you
just there!!!


Actresses (or indeed actors) who inspire you?
Christopher Walken, Will Ferrell, Anna Faris, Patricia Arquette.
Your favourite movies?
Basket Case, The Shining, Evil Dead, The Wicker Man, Creepshow, Rosemary's Baby, Psycho, Carrie, Red, White and Blue, and many, many more!
Your website, Facebook, whatever else?
Anything else you are dying to mention and I have merely forgotten to ask?
Look for the upcoming release of the terrifying ghost story The Haunting of Pearson Place, directed by Michael Merino and starring Joe Estevez, Ken Arnold, Tracy Teague, Regen Wilson, Julie Price and many more! http://mcmfilms.net/
Thanks so much for a great interview! Keep supporting independent cinema!
Thanks for the interview!