Your upcoming film Truth or Dare - in a few words, what is it about?
It's about a group of friends who become over night sensations thanks to their online video channel only to realize that fame comes with a high price, namely a number one fan who just wants to play with them...
According to my information, Truth or Dare is your first film as a director - so what made you decide to step behind the camera?
Honestly - it all comes down to telling this graphic story in all its beautiful glory. My co-writer (Jon Higgins) and I had gone out to our top picks for directors and the ones who loved the script could not do it till much later in the year, and those who could meet our proposed shoot dates wanted to "tone down" the script. My team actually approached me with the idea of me directing this film and because I love the story, and their horrific struggles, not to mention the cast and crew that we were aligning - I said yes.
Now how did the project come together in the first place?
My co-writer and I had this concept of a villain character whose sole motivation was to have friends, be famous, have the world know his name. I see a lot of this type of false belief in Hollywood. From there we flushed out story lines that could work with that type of character, and one of the prominent themes that kept popping up is the concept of internet fame, and how desperate some people are to get it. We had heard about this school in Montreal in which for one of their projects they are challenged to make a viral video, and if it gets over 100,000 hits then all the students get A's. So the story just came from there.
Any personal truth-or-dare-experiences that made their way into the film?
HA HA - fortunately I have never played truth or dare like this! However one of my childhood nightmares does make it in, and it is definitely not for the faint of heart. For years this would happen to me in my nightmares and I would wake up screaming and yelling covered in a cold sweat. So I am eager to see people's reaction to it on the screen!
You wrote Truth or Dare together with Jonathan Higgins - so what were your inspirations, and what was your collaboration like?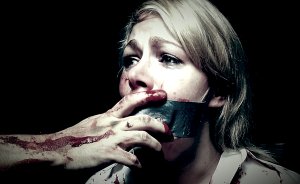 photo by Buz Wallick
We are both crazy horror fans at heart and are not afraid to go to those dark places that some find offensive. It was actually a lot of fun - every time I thought we could not push the envelope any further Jon found a way! I really respect that. It's helpful too to have a male and female voice in the room when writing all that dialogue. Since I had worked with Devanny Pinn [Devanny Pinn interview - click here], Heather Dorff [Heather Dorff interview - click here], Brandon Van Vliet and Ryan Kiser before, I wrote a lot of them into the script itself. And I knew that they would all go down whatever dark and twisted path Jon and I wrote for them, so that helps!
You also do acting duties on Truth or Dare - so what can you tell us about your character, have you written this one especially for yourself, how much of yourself is in your character, and what do you draw upon to bring it to life?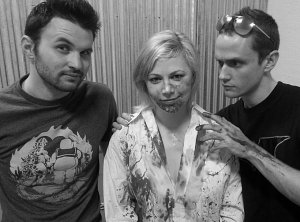 Jessica (center - duh!) with Buz Wallick and Jonathan Higgins
Yes - I play Jennifer Collins. She is more conservative than I am and more reserved, but she definitely has a bit of my "smart-ass attitude" and sarcasm. I actually tried to make all the female characters roles I would want to play as an actress, because I knew that Dev and Heather could handle it. I tried to write my character truthfully to how Jon and I saw her - and keep myself separate from that. I am definitely much more aggressive than she is, and my instinct in the situation that she finds herself in would be very different. But that's what I love about acting - getting to explore someone else ;)
I try to draw on those I know well for character models when acting, I find that it helps me to connect with the person on the page. Although it was written with me in mind we did consider casting another actress for the role once I agreed to take on directing duties, but in the end I really am the best choice for the role. Even though it's going to be harder for me personally it's the best thing for the story - and story trumps all.
Anything you can tell us about the rest of your cast yet, and why exactly these people?
I LOVE MY CAST! I am so blessed. The first four that were released - we actually wrote the roles for them specifically since they are just so damned amazing.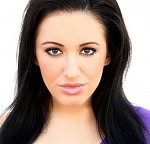 Devanny Pinn
Devanny Pinn [Devanny Pinn interview - click here] - is not only one of the most beautiful people I know, but she has this amazing heart. I have always been a fan of her work, even before we were friends in "real life" (we had been Facebook friends for a while before I had actually met her. I had the pleasure to work with her on a few projects (The Black Dahlia Haunting, Cut) and her acting ability always really impresses me. I wanted to write her a more complex character than I typically see her play - someone that she could really sink her teeth into, and someone who has a really complex character arc since I know as an actress she is going to blow it out of the water!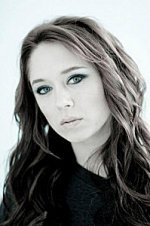 Heather Dorff
Heather Dorff [Heather Dorff interview - click here] - I rarely have an instant connection with people (yup I am picky), but Heather and I just kinda had this instant bond with each other from the moment we started talking, I knew her and just adored her instantly. I had the pleasure to work with Heather on a film early this year called Intrusive Behavior and was really impressed with her talent - I don't want to give anything away (cause you will need to see it for yourself ;) but in one scene Heather gave an academy award winning performance - to the extent that the rest of the cast and crew were silent and no one wanted to call cut since they were so enthralled with what had just happened. THAT is how good of an actress she is. Heather's character has probably had the greatest changes as the script progressed and she has been such a champ the entire time as we are constantly calling her with new details about her character.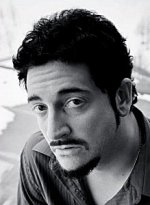 Brandon Van Vliet
Brandon Van Vliet - Brandon is the life the party, and is THAT GUY that everyone remembers. He is also fiercely intelligent and hilarious. He is a pleasure to work with and great on and off the set. I have worked with Brandon before (Potpourri and an unfinished film that is unworthy of a name) and am always surprised that he is not on some hit show since he has such a strong screen presence and is so quick-witted with flawless comedic timing. When people read the script they often call out his scenes as the most memorable and it's because we incorporated his sense of humor into the character.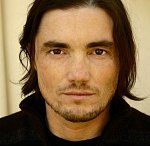 Ryan Kiser
Ryan Kiser - Ryan is a dear friend who's been actively working in the indie scene for years. He really loves to explore these dark characters, which is why we knew he would be perfect for the role. He's actually very sweet in real life - ladies, don't let his ability to play questionable characters fool you!
Shelby Stahlin - Shelby was my first scene study partner when I arrived in LA a few years back and he was just so much fun to act opposite because his acting is just exceptional, he has this "Golden Hollywood era charm" about him. In our script he plays Ray who is Dev's brother and they look very similar with dark brown hair and gorgeous skin, so he was the first choice for that role.
The rest of the cast in TBA...
How will you approach the whole thing from a directorial point of view, anything you can tell us about the movie's intended look and feel?
From the directorial side I have made sure to hire AMAZING people for behind the camera. My producers, technical director, Director of Photography, Assistant Director, sound department and even my personal assistants are all great at their jobs. I hold the firm belief that films are a collaborative effort and require the best team - so I have worked to make sure that my team is perfect. We are going to go for a "Fincher"-look and feel. Everyone on my team and myself are huge fans of his work and felt that it would really add to the atmosphere in our script.
Your film's story at least suggests quite a bit of violence - so how far are you planning to go in that respect, anything you can tell us about your intended gore effects yet, and is there a line you refuse to cross (for other than budgetary reasons)?
Nope - there is no line that I would not cross if it was right for the story :) Actually at one point when writing one of the earlier drafts my co-writer looked at me after we had just completed a really graphic, stomach churning sequence and said "I have a thought, but we can't do it, it would be crossing that line... I think". Before I knew what it was I had told him "Then we MUST do it!".
We have been working with one of my favorite effects artists for a few months now to ensure that even the type of blood is perfect (yup - there are different types of blood). Her name is Carrie Mercado and here is her website: http://carriemercado.4ormat.com/
While I don't want to spoil any of the gory fun - I will tell you that we are using 4 different types of blood for this film... I will let your imaginations run wild with what those will be used for ; )
As far as I know, Truth or Dare is still in pre-production as we speak - so what's the tentative schedule, and even if it's waaay to early to ask, any idea when and where this might be released onto the general public?
Right now we are in full blown pre-production and start shooting on April 25th, which is literally around the corner. I am really excited. Honestly when it will be available will depend largely on the success of our IndieGoGo-campaign since it covers our finishing funds - http://igg.me/at/truthordare/x/2053176.
If we meet the goal we have set then we can pay the best people to ensure a short post production, if we don't then it will take longer. At this time I hope that it is sooner rather then later! I personally hate waiting to watch a film I really want to see!
You just have to talk about a few other current projects of yours, and your roles in them:
To Jennifer by James Cullen Bressack [James Cullen Bressack interview - click here]?
Love James - hes a great director to work with. He knows exactly what he is looking for and enjoys having fun on set. To Jennifer is the first film shot entirely on the iphone 5. I was blown away at how professional his team was! We actually shot all my scenes in Las Vegas - I do so love to travel and Vegas is always fun. Definetely a job "perk".
Brandon Slagle's The Black Dahlia Haunting [Brandon Slagle interview - click here], and what was it like to play Marilyn Monroe?
I am a huge fan so it was a dream come true for me. It was challenging to find examples of her voice for the time period that the script takes place in since it was right in the middle of her transformation from Norma Jean to Marilyn.So I worked hard to come up with a believable half way point that she would be at. Brandon is a dear friend and I am a huge supporter of his work. I was honored to be involved.
The Legend of the Grassman?
This was such a fun shoot - this group of people have more heart than most other shoots combined. They were so nice to me while I was on set filming. I really hope to work with them again - I think the director Tyler Meyer [Tyler Meyer interview - click here] is tremendously talented! I cannot wait to see what he does next (fingers crossed hopefully I am in it!)
Post Mortem, America 2021?
I look forward to seeing this when it comes out since I loved my character and working opposite Chainsaw Sally (who in real life is super nice). I will always remember this shoot since my car got towed on the first day that I arrived to town. We shot it in Northern Indiana (I think) and I parked on the street in front of the director's house, only to leave for the cast and crew diner and come back to no car. Turns out a neighbor was fighting with the director who lived next door and he had my car towed, told them it had been there for weeks. Luckily we got it back about 12 min before the repo lot closed for the weekend!
Let's go back to the beginnings of your career: What got you into acting in the first place, and did you receive any formal training on the subject?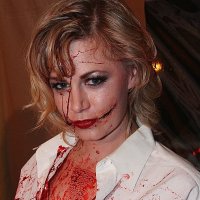 The Black Dahlia Haunting
photo by Bob Delgadillo
It's actually a funny story - I never took classes when I was in school for it. When I got hired at my first job after University (yup I am Canadian), it was at the 3 month review that they told me I spoke too fast and had to slow down. They suggested that I take classes on the subject, when I could not find any speech classes my boss at the time suggested that I try an acting class. I did - and found what has become my favorite creative outlet :)
Can you still remember your first time in front of a movie or TV camera, and what was that experience like?
HORRIBLE. I hated it. I was taking an on-camera class and had not memorized my commercial dialog enough (I actually hate commercial dialog since I think it always sounds so unnatural and fake, so this does not help when it comes time to memorize). I remember feeling so humiliated. But when I suck at something it just makes me want to do it more - so I kept at it.
You have also had a role in Camel Spiders, produced by Roger Corman [Roger Corman bio - click here] and directed by Jim Wynorski [Jim Wynorski interview - click here], both genre legends in their own right - so what was it like working with them?
Sadly I never got to meet Roger, but I really would hope to one day. Jim is a character - he is everything that everyone says he is. And I think he is proud of it. When I thanked him for casting me and mentioned that I never thought I would get to work with him since I had read in multiple articles he only casts women with a C bust or larger (which I am not), he told me how I needed to get a boob job. Specifically that my breasts should be visible from the back in silhouette... Needless to say I did not listen to him on that ;)
Besides making movies, you have also been a regular on a season of the reality TV series The Brides of Beverly Hills. Now what was that experience like, and how does doing a reality show differ from making a movie?
It was so much fun. Seriously. Every day was just dress up for me. I loved every minute of it. It reminded me of when I was a child and would play dress up with my barbies - excepts these dolls were life-sized! I didn't think it would be as much fun as it was, but it was everything I love about fashion - glamor, sparkles and puffy gowns :)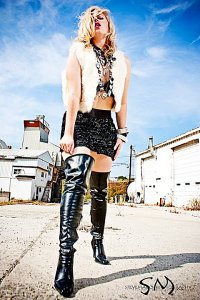 photo by Steve Maisch
You of course also have to talk about your series Two Doors Down for a bit?
That was my very first series regular role and it really helped me realize that I wanted to be an actress for real. That moment when you are on set and working with such an amazing team is addictive, I knew I wanted more of it. This is where I also realized that I had a love of improv. SO much fun!
Other films/TV shows of yours you'd like to talk about? And future projects you'd like to share?
Intrusive Behavior is going to be screened at the end of May in Florida, and I expect release details soon after. It's the story of a little girl with a bad temper ;) Its also where I got to see the awesome acting skills of Heather Dorff [Heather Dorff interview - click here], and why I cast her in my upcoming film Truth or Dare.
The Black Dahlia Haunting has a release date of October - so stay tuned for all the details on that film. Also expected out this year The Legend of the Grassman, Post Mortem America 2021 Part 2, Virginia Obscura, To Jennifer, and I will be shooting A Grim Becoming in June!
One can't help but notice that quite a number of your films are of the horror variety - a genre you're at all fond of, and why (not)? And does it at all bother (or flatter) you that women in horror are almost automatically labelled as scream queens?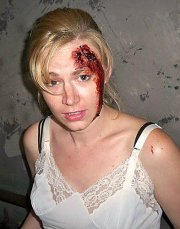 Mother's Blood
It does bother me - I feel like the power of social media is watering down what a SCREAM QUEEN is, or at least was. In my opinion a scream queen is a lady who has worked her ass off in the horror genre, understands the importance of a scream and really enjoys the art of horror films. I don't think you should be allowed to self label yourself a scream queen. It just trivializes the term.
How would you describe yourself as an actress?
Hard working, dedicated, determined, honest, truthful, deep, authentic, private, cat lover, intense, business minded, loyal daughter, loving girlfriend and passionate filmmaker.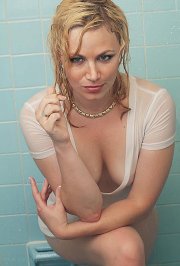 photo by Kam Gill
Actresses (or indeed actors), filmmakers, whatever else who inspire you?
Honestly my parents have always been my greatest inspiration - they taught me to work hard and to fight for my dreams.
Jamie Lee Curtis is an actress whose career I greatly admire - she has managed to work in all genres while still maintaining her horror icon status.
As far as filmmakers go there is such a long list: David Fincher, James Wan, Mike Mendez, Dave Parker, Jason Hoover, Ryan M. Andrews [Ryan M. Andrews interview - click here], Stanley Kubrick, Wes Craven, and Roger Corman [Roger Corman bio - click here] ... to name a few.
Your favourite movies?
Natural Born Killers, Se7en, Martyres, Saw, The Collection, The Godfather, The Shining, Taken, The Devil's Rejects - and there will always be more to add :)
... and of course, films you really deplore?

Feeling lucky ?
Want to
search
any of my partnershops yourself
for more, better results ?

The links below
will take you
just there!!!

Find Jessica Cameron
at the amazons ...

amazon.com

amazon.co.uk

amazon.de
Looking for imports ?
Find Jessica Cameron here ...
Something naughty ?
(Must be over 18 to go there !)

HA HA - I can ot answer this unless I want to:
A) give the films/filmmakers I don't like more press,
B) have to suffer through them hunting me down on EVERY single site known to man and bugging me about why I called out their film, etc, etc.
So I am just going to say... pass ;)
Your website, Facebook, whatever else?
Truth or Dare IndieGoGo: http://igg.me/at/truthordare/x/2053176
Truth or Dare Facebook: https://www.facebook.com/TruthOrDareTheMovie
Truth or Dare Twitter: https://twitter.com/FilmTruthOrDare
My personal page: facebook.com/ActressJessicaCameron
Anything else you are dying to mention and I have merely forgotten to ask?
HA - I think you asked literally EVERY single question possible ;) I have had to come back to finish my answers for the last week and a half just to get them all ;) But if you think of any more just ask!
Thanks for the interview!